Partying in San Sebastián:
drinks, music and good times
As the sun sets over San Sebastián, it's quite possible that a few drinks will turn into a whole night out on the town. This is a place where partying and making merry is very much part of the lifestyle. If you choose to sample the nightlife, you won't be disappointed.
The main watering holes for a good night out in San Sebastián are in Parte Vieja, Centro, Reyes Católicos and Gros. Every bar has its own quirks.
Parte Vieja: pubs and bars
San Sebastián's old town is as lively by night as it is by day. Once the sun goes down, many traditional pintxo bars such as Buga (Calle 31 de agosto) and Arkaizpe (Calle Mayor) transform from relaxed drinking spots into party central.
Herria (Calle Juan de Bilbao), in the heart of the Parte Vieja, is packed with young crowds alternating pintxos with drinks. It stays open until 4 a.m. at the weekend. Another classic place to include on your pub crawl is Txiki (Calle San Lorenzo), a tiny, loud joint with a rocker vibe. It opens from 7 p.m.
The Boulevard area is lined with lively terrace bars well into the night and you'll find decent drinks menus in many of them. The owner of Dickens cocktail bar claims to have the secret to the perfect gin and tonic.
Also on the Boulevard is the quirky Museo del Whisky, which opens every day except Sunday and stays open until 4 a.m. at weekends. Wood clad in true Scottish style, the bar boasts the largest number of whisky labels in town, though 'only' 200 are available to customers. At around 11 p.m. a pianist strikes up a selection of classic tunes to liven up the evening.
Free cancellation
Jazz bars
San Sebastián is passionate about jazz, as the annual international jazz festival makes clear. Beyond the festival dates you'll find a good jazz scene in the Parte Vieja area – check out Etxekalte (two floors, Calle Mari), Be-bop (Calle Salamanca) and Altxerri (Calle Reina Regente). The latter is a basement premises and opens from 5 p.m. to 2 a.m. (except Mondays). There is rarely a day (weekends aside) when there's not a live performance of jazz, Brazilian music, salsa or rock. Be-bop opens every day until 5 a.m. and after 35 years in the business it still hasn't lost its cool vibe. If you like jazz, blues, funk and live performances, this is the place for you. Check out the DJ sessions for a different selection of music.
Calle Reyes Católicos and Centro
Nightlife in the Centro neighbourhood is concentrated in the area around Calle Reyes Católicos and Calle Larramendi (next to the Catedral del Buen Pastor), and in Calle San Bartolomé where it meets Calle General Lersundi. The atmosphere is somewhat different from the liveliness of the Parte Vieja and the younger scene in Gros.
This is an area with summer terraces, where the bars are more laid back and the music is played in the background. Try El Nido (Calle Larramendi), Splash and Udaberri (both Calle Reyes Católicos). Udaberri opens from 6.30 a.m. to 1 a.m. and is a retro bar with a friendly atmosphere, alternative music and DJs at the weekend. El Nido is another non-raucous establishment that opens to 3 a.m. every day (4 a.m. on Saturdays). Its carefully selected soundtrack goes well with the quality cocktail menu.
Bars in Gros and around Playa de Zurriola
The proximity to the surf hub that is Playa de Zurriola has given the surrounding area a beach-themed, youthful and carefree vibe.
Caledonian (Paseo de Colón) is a good example. This spirited bar opens every day until 4.45 a.m. (6.15 a.m. on Saturdays) and mostly plays reggaeton and Latino music. Gintonería  Donostiarra (Calle Zabaleta) is a lounge bar open Tuesday to Sunday until 2.30 a.m. The staff will make you feel at ease as you sip a specialist cocktail in the huge terrace bar.
Nightclubs in San Sebastián
San Sebastián's best nightclubs are to be found near Playa de la Concha. Bataplan (Paseo de la Concha) is legendary on the local scene. Over the 40 years that its doors have been open, Bataplan has welcomed stars such as Keanu Reeves and Charlize Theron and had DJ sets from Bob Sinclair and David Guetta. The club has spectacular night-time views over the bay. Opens Thursday to Saturday from 1 a.m. to 7 a.m.
There's only one place in town that can outdo Bataplan when it comes to location and glamour: GU San Sebastián (Calle Ijentea), next to the entrance to the marina. The club is in the old Club Náutico building, originally built to look like a boat. GU San Sebastián opens every day and until 6.30 a.m. at weekends, offering unbeatable dawn views over the bay to the tune of sessions from resident DJs and guests.
The ground floor of the historical Teatro Victoria Eugenia is the venue for another prestigious nightclub: Discoteca Victoria Café. Choose from a menu of over 100 spirits and enjoy yourself right through to daybreak.
The LGTBI scene in San Sebastián
San Sebastián is generally a gay-friendly place and one of the most emblematic venues in town is the laid-back and relaxed Txirula (Calle San Martín). Open every day and until 4 a.m. at the weekend.
Related
plans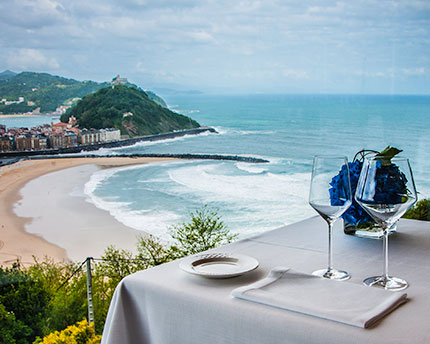 Food and Drinks