Tapas in Seville:
pure art
In Seville, you can leave home (or your hotel) at midday and kick things off with a beer or a glass of wine, accompanied by one of the huge variety of tapas that you'll find in the city's bars. And then you can carry on in another bar, then another, then another and, before you know it, it'll be late at night, and you'll have spent the whole day indulging in one of the customs that best sums up Seville's buena vida. When it comes to tapas there are, of course, options that will suit all tastes and all budgets. It's one of the best ways to discover the crème de la crème of traditional Seville food. 
The most emblematic Sevillian tapas
The most emblematic Sevillian tapa could be argued to be the serranito, which is small roll crammed with grilled pork, Serrano ham and green pepper. But just as common is a pot of spinach with chickpeas, a kind of juicy pottage with an intense flavour.  
Along with the classic puchero croquettes, there's another stand-out tapa you'll find at a lot of Sevillian bars, which in itself really sums up Sevillian cuisine: the mollete de pringá. It's made from the meats that go into the Andalusian stew (jam, pork, beef, chicken, bacon and black pudding), all blended into a kind of pâté.  
Other Sevillian tapas you'll come across a lot will be gazpacho and salmorejo, marinated fish (usually school shark), papas aliñás (potatoes with onion, pepper, tuna or melva dressed with vinegar and extra virgin olive oil), or shredded rabo de toro (oxtail) meat in sauce. 
There are also some relatively new Sevillian tapas out there, including chicken lagrimitas, accompanied by delicious sauces like honey and mustard, ceviche or tiradito made from local fish, or choco meatballs.  
Where to go for tapas in Seville
What's the best area for tapas in Seville? Simple. All of them. Tapas culture is so embedded into the city that, even in the poorest and most peripheral neighbourhoods you'll always find a bar where you'll be served an original and incredibly tasty version of any of the creations mentioned above, and many more. But it is true that there are areas with a higher concentration of the tapas bars that form part of this gastronomic tradition.  
Of course, there's the centre, which is considered to be the area around the Cathedral and the neighbourhood of Santa Cruz, the old Jewish quarter. It's worth stopping off at Bodega Santa Cruz Las Columnas (Rodrigo Caro, 1), with its unmistakable classic tavern vibe, at El Rinconcillo (Gerona, 40), at Los Claveles (Capataz Manuel Santiago, 1), where you should try the montaditos, or at Los Coloniales (Fernández y González, 38), which is great for cheap but good quality tapas. 
The Alameda de Hércules is another great tapas area in Seville. It's very much in vogue, especially amongst millennials and people open to trying new culinary trends. You'll find bars and restaurants like El Antojo (Calatrava, 44), which should be as high up on your must-do list as the Giralda is, la Bodega El 2 de Mayo (Plaza de La Gavidia, 6) or El Aljibe (Alameda de Hércules, 76). 
Tapas in Triana
Those who want to venture to the other side of the Guadalquivir River to enjoy Sevillian tapas will be rewarded with the neighbourhood of Triana. Specifically, Calle Betis, which runs along the riverbank, has bars with terraces that offer some of the best panoramic views of the city.  
Moving further away from the river, you'll find a few legendary spots. La Blanca Paloma (San Jacinto, 49), with its stuffed aubergines and fried fish, is one of them. Another is Las Golondrinas (Antillano Campos, 26 and Pagés del Corro, 76), which, in both of its locations, will please even the most demanding of palates. 
Trendier spots include Mariatrifulca (corner of Triana Bridge and Plaza del Altozano)—once the station for the steamboats that plied the Guadalquivir river—and Pura Tasca (Numancia, 5), the perfect place to discover what's new in Sevillian cuisine. In miniature, of course. 
The most creative tapas
If we're talking about creative tapas, it's worth pointing out that, as is the case in many other cities all over the world, many of Seville's old markets are being transformed into centres of haute cuisine. Accordingly, there are two places that foodies just can't miss if they want to enjoy the art of the tapa in surprising and creative ways, with no compromise on quality: the Mercado Lonja del Barranco (Arjona, no number), and the Mercado de la Plaza de La Encarnación, better known as 'Las Setas' (thanks to its eye-catching architecture). Here, as well as tapas, you'll still find stalls selling fruit, vegetables and meats. 
The San Lorenzo neighbourhood is home to Eslava (Eslava, 3), a multi-purpose space where you can enjoy some of Seville's most original tapas. Their incredible eggs cooked at a low temperature, on a boletus and truffle sponge are unforgettable. 
Last but most definitely not least are the offerings of Sal Gorda (Alcaicería de la Loza, 17), in the La Alfalfa neighbourhood. This is the perfect spot for alfresco tapas thanks to its welcoming tables, where you can sample, amongst plenty of other options, its ajoblanco, a classic cold Andalusian soup. 
Related
plans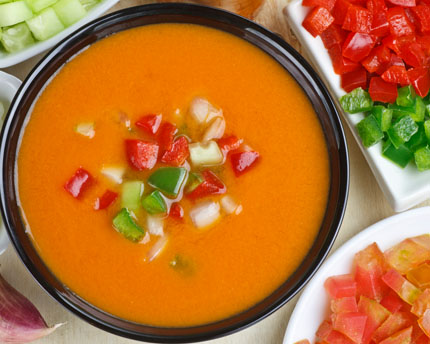 Food and Drinks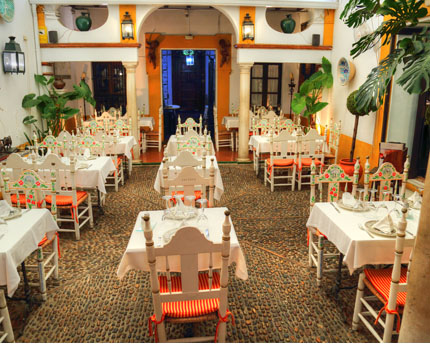 Food and Drinks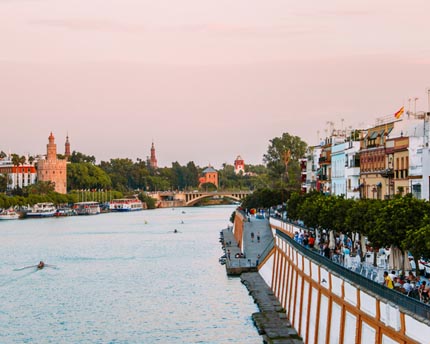 Places of Interest