Barranco del Infierno ravine,
nature at its "scariest"
The Barranco del Infierno ravine, located in Adeje, in the south-west of Tenerife, is a unique natural space. It is classified as a Protected Natural Area due to its singularity. Its unusual diversity of flora and fauna and its extraordinary geological and natural formations make it a site of great interest for locals and tourists alike. So much so that visits here are limited to 300 daily, since excessive traffic could potentially alter its ecosystem.
The Barranco del Infierno Special Natural Reserve spreads across 1,843 hectares dotted with ravines and steep rocky elevations which, in the Canary Islands, are called roques and which can be found both on land and in the ocean. Its altitude ranges from 100 to 1,300 metres, and it conceals many secrets, as it is filled with surprising natural formations and lovely waterfalls that emerge naturally from its watercourses. Here, we will find extraordinary vegetation, among which willows and other species that are native and exclusive to the Canary Islands abound, such as the dragon tree and bully tree (Sideroxylon canariensis)—a relic of the tropical flora from the Tertiary Period. There are also palm trees, wild jasmine and of course, the characteristic Canary Island pine tree in the highest parts of the reserve.
Fauna and flora of the Barranco del Infierno ravine
Which animal species can we find here? Over 400 species of invertebrates and 40 species of vertebrates living among the waterfalls, streams and ravines have been identified. In plain sight, we can see birds of prey such as buzzards, crows and sparrowhawks during the daytime, and the long-eared owls at night.
For those wishing to explore their territory, there is no better way than following the Barranco del Infierno Route, a trail of a medium-low difficulty that will lead you to the heart of the reserve. Along its length of approximately 6.5 kilometres (round trip), you will be able to spot different types of plants and animals, enjoy the fantastic viewpoints that will take your breath away and admire the spectacular Caidero, a huge waterfall dropping over 200 metres, which emerges from the waters of the Roque Abinque spring.
The Barranco del Infierno Route
Since access to the Barranco del Infierno Route is limited in order not to alter its ecosystem, it is recommended that you make a reservation in advance. Once you've secured your admission, in Adeje, you should look for the Calle de los Molinos, an ancient shepherd's path, where you will find the office providing access to the trail and all of the necessary information for your trip. You will also be provided with a helmet, whose use is mandatory.
From this point, situated at an altitude of 350 metres, your ascent of the Barranco del Infierno ravine begins. The first section runs across the northern side of the reserve. Here you will find Canary Island spurges or euphorbias, i.e., mixed plant formations—tabaibas (flowering shrubs) and cardones (giant cacti)—which are amongst the most exotic and atypical of the lower and coastal areas of the Canary Islands. You will also come across the first viewpoints and landscapes surrounding the watercourse, which are dotted with willows. Then, the Barranco del Infierno ravine begins to narrow, with the walls becoming more and more vertical. Here, alongside the dragon trees, other forms of plant life emerge from between the rocks: marshmallows, Crambe strigosa and other native plants. There's also wild jasmine, Canary Island St. John's wort, bully tree, Bosea yervamora and Pleiomeris canariensis—a type of subtropical vegetation that is endemic to the Canary Islands.
The route then continues to rise along a canyon formed by volcanic rocks that were slowly taking shape over thousands of years. When you reach Bailadero de las Brujas and La Cogedera, take a break, regain your strength and breathe in some fresh air. Here, you will find viewpoints overlooking the incredible landscape which you have left behind during your ascent.
A 200-metre waterfall
Towards the end of the route, you will cross a small river with nearby pools. Once reaching this point, you will have ascended a total of 317 metres. The effort will soon be rewarded, as you will come across an impressive waterfall of over 200 metres in height. Its beauty and the spectacular rumble produced by the falling water will make you feel as though you are witnessing a unique paradise. As soon as you arrive here, you will want to take a dip. Unfortunately, bathing is prohibited, since protecting this natural site is first and foremost.
Throughout the route, which takes approximately three and a half hours to complete, you'll have the opportunity to observe some of the animals living in the Barranco del Infierno ravine: the watchful buzzards, sparrowhawks, turtle doves, robins, Barbary partridges, canaries, etc., as well as other smaller inhabitants of the reserve, such as molluscs, spiders, snails and centipedes.
Finally, we shouldn't forget to mention that the entire Barranco del Infierno ravine area has great archaeological importance, as in its surroundings you can find hundreds of caves which used to be inhabited by the Guanches—the indigenous people of the Canary Islands. Cave paintings have also been discovered here. The mummies and aboriginal tools that have been found here are currently in the custody of the Museum of Nature and Archaeology in Santa Cruz de Tenerife.
Information of interest
How to arrive:
By bus. Routes 417 and 460 from Playa de las Américas. Routes 447 and 473 from Los Cristianos.
By car. Access is easy, since it is located between Adeje, Arona and Vilaflor.
Hours:
From 1 June to 15 September, from 8:00 AM to 4:00 PM. From 16 September to 31 May, from 8:30 AM to 5:00 PM.
Admission:
Safety measures:
Children under the age of 5 are not allowed to access the Barranco del Infierno trail. If weather conditions are adverse, the trail may be closed for safety reasons.
Related
plans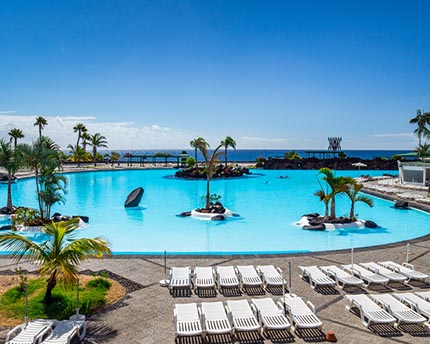 Places of Interest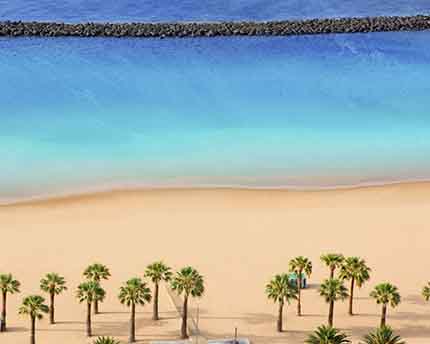 Sea and Beaches