The beaches in Tenerife,
an amazing range to choose from
"These landscapes look like a filming location", says a young traveller contemplating the sunset on a beach in Tenerife. The light, wind, waves, ravines, cliffs and areas surrounded by banana plantations merge in such a way that you can actually get the impression of being on a film set, far from the hustle and bustle of the cities. Heavenly, volcanic, with either agitated or calm waters, the beaches in Tenerife welcome both those who seek to disconnect and those who are looking for fun or adventure.
Exploring the island through its beaches and submerging yourself in an Atlantic that changes colour and temperature as you move along the coast from north to south, is quite an experience. Enjoying the most popular beaches in Tenerife and allowing yourself to be surprised by the island's hidden gems is an ideal holiday for any time of the year.
Playa de Las Teresitas beach
Only seven kilometres from Santa Cruz de Tenerife, the island's capital, lies Las Teresitas beach, one of Santa Cruz's favourite meeting spots. Bathing in its calm waters after a day of shopping or visiting the city's sights is a good holiday plan. Located in the fishing town of San Andrés, surrounded by the impressive Anaga mountain ranges, this artificial beach, which has expanded in 1973, by spreading white sand brought in from the Sahara Desert, has a breakwater damn and an artificial reef to calm its waters. Very close by, in Las Gaviotas, the palette changes colour. Black volcanic sand impregnates this cove that attracts lovers of natural and untouched environments, where they can sunbathe nude.
Benijo beach
The Anaga Massif area cannot be left without first visiting one of the most spectacular and unforgettable beaches in Tenerife: Benijo. It is reached from Santa Cruz, along a road full of undulations and splendid views. Located between two rocks, in the hamlet which gives it its name, in the charming village of Taganana, Benijo can only be accessed down a path with stairs. Once there, in that little, secluded space, close to the neighbouring beaches of Almáciga and the Roque de las Bodegas, time is easily forgotten, and you feel at one and in harmony with nature.
Playa de Las Américas and other beaches in southern Tenerife
The temperature rises as you move towards the south, in the direction of the tourist area Playa de Las Américas, in the municipality of Arona. Those looking for fun, sports and entertainment for all members of the family have found their place in this enclave. With one of the largest offers for tourists on the island, it is a top destination for many Europeans who are looking for sun during the cold winter months.
Here you can party at night and visit golden-sand and crystal-clear-water beaches during the day. Visitors can choose between Playa de Troya beach (the busiest), La Honda or El Camisón beaches—which are surrounded by greenery and palm trees and are located close to Los Cristianos. This is another very popular spot in the south, which gives its name to a small beach, whose boats anchored nearby give it a very colourful and vibrant air. It is popular with island families, as is Playa de Las Vistas beach—which is much longer, at almost one kilometre long, and has shallow waters.
Playa del Duque beach
One of the most attractive beaches in the south of the island is Playa del Duque, located in Costa Adeje, very close to the La Caleta fishing village. A sophisticated and tranquil beach, it is perfect for when you want to escape the hustle and bustle of the city, bathe in crystal-clear waters and enjoy sunsets while walking along the seaside promenade. It boasts beautiful views from all its viewpoints and is close to other beaches such as Fañabé, Las Torviscas and La Pinta.
Playa de La Tejita beach
Any traveller interested in the beaches in Tenerife must visit La Tejita beach, an oceanic corner where you will truly feel connected with nature. At one kilometre in length, it is located next to the Montaña Roja volcanic cone, a protected area in the heart of El Médano, an ideal place for surfing and windsurfing enthusiasts, where there are also spots for nudists.
Playa de Los Gigantes beach
If you move west, you will arrive at Santiago del Teide. At the foot of the impressive Los Gigantes Cliffs you find a beach that carries that same name. Strolling along its dark shore and bathing in its calm waters, with views of rocky, vertical walls that can reach up to 600 metres, is one of those experiences that you will never forget. Not far from here, there is a fishing port and marina, from which you can take a boat and go whale and dolphin watching, while heading north.
Playa de Masca beach
This beach makes you feel as though you are a pirate or have been shipwrecked. Isolated and unspoilt, Masca beach, in Buenavista del Norte, is an almost untouched paradise after the boats have left. Experienced walkers can reach the beach descending the Barranco de Masca ravine from the charming hamlet of the same name, amidst beautiful landscapes. If you are still travelling by sea, you can continue on to Punta de Teno, where the south meets the north and the winds and waves change.
There are spectacular views of the Los Gigantes Cliffs from a small beach-jetty, where you can take a refreshing dip before approaching the old lighthouse. This protected rural park, which can also be reached from Buenavista—complying with the schedule regulation in force since 2018—is one of the most beautiful natural areas on the island. You can also find the mysterious Playa de Las Arenas beach in the same municipality, whose fine black sands emerge as summer approaches.
Beaches in northern Tenerife
The lava, rock formations and black sand, are elements which you will see repeatedly on the beaches along the north coast of Tenerife. In the coquettish and historic town of Garachico, El Caletón—a group of natural pools between rocks—surprises and delights visitors. In Icod de los Vinos you find many charming dark-sand beaches, and Puerto de la Cruz, the most popular tourist centre in the area, boasts the beautiful Playa Jardín beach, surrounded by vegetation and with a magnificent view of Mount Teide in the background.
Playa del Bollullo beach
But if you are after unspoilt and uncrowded beaches in Tenerife, head to La Orotava. Almost hidden away in the agricultural area of El Rincón, there is the breathtaking Bollullo beach, next to Los Patos and El Ancón beaches—all lying amongst volcanic formations that jut out into the sea. After leaving the car at a distance and walking there, you are rewarded with silence and nature, where you can disconnect completely. Surf addicts will find many reasons to fall in love with the beaches in Tenerife. More unspoilt beaches can be found in Los Realejos, such as the blue-and-green La Fajana and Rambla de Castro beaches, surrounded by vegetation.
Related
plans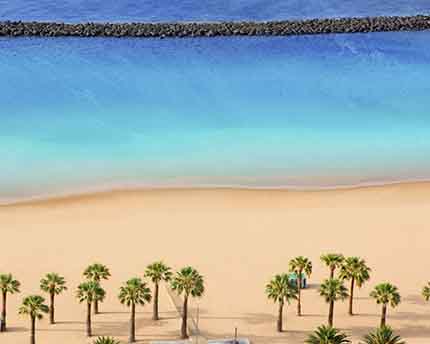 Sea and Beaches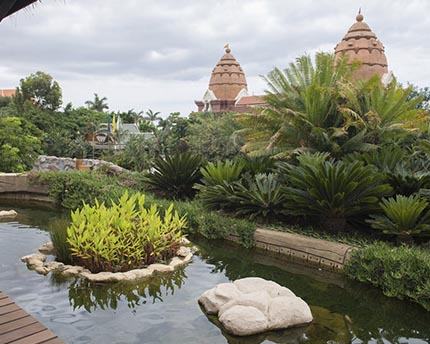 Sea and Beaches