Roques de García,
guardians of Mount Teide
Despite their surname, Roques de García are exceptional rock formations located in one of the most beautiful and magical landscapes in Tenerife. They can be found in Mount Teide National Park, a UNESCO World Heritage Site since 2007, and their vertical shapes seem to guard the true star of the region, Mount Teide, the largest volcano in Spain and the third-tallest in the world. This stunning landscape is a must-see stop when visiting the island.
The area around Roques de García is beyond impressive. To the left we have Pico Viejo, which has an elevation of 3,155 metres; and the majestic Mount Teide is to the right, standing tall at 3,712 metres. These unique rock formations have been created by millions of years of erosion that split the large Las Cañadas volcanic caldera into two craters (or volcanic chimneys).
Over time, the most famous rock formations in Tenerife have absorbed various volcanic materials that seem to have belonged to an immense ancient volcano that existed prior to Mount Teide. Volcanologists continue to search for an explanation as to the origin of these rock formations due to their strange and unique appearance. Their reddish colour gives the landscape a golden hue, reminiscent of a science fiction film. Also worth mentioning are the interesting endemic plant species that cling to the rock formations, colonising this world of lava. It is also easy to catch sight of a Gallot's lizard and its peculiar blue colouring among the rocks.
Roque Cinchado or the Stone Tree
Roque Cinchado is one of the most famous rock formations in Mount Teide National Park. It is also widely known as the Finger of God or the Stone Tree due to its tree-like shape, minus the leaves and fruit. Roque Cinchado is so symbolic and unique that it was chosen to appear on the back of the now defunct 1,000-peseta bank notes. The island is home to other famous rock formations, such as La Catedral and La Cascada, which have striking shapes, as well as smaller structures like El Torrotito, El Burro and Roque Blanco.
The erosion that shaped Roques de García is primarily linked to wind, rain and changes in temperature. Roque Cinchado, on the other hand, underwent a different process because it is composed of materials layered successively in a unique manner. This has resulted in an odd yet gorgeous boulder in equilibrium that seems to defy the laws of physics and gravity. It is located 2,100 metres above sea level and 300 metres from Mount Teide. The structure stands 27 metres tall and features an interesting combination of earth hues that range from red and ochre, to copper and brown. When Mount Teide's peak is covered with snow, the resulting image is even more spectacular in light of the contrasting colours.
Roques de García from Mirador de la Ruleta scenic viewpoint
Mount Teide National park has a total of 26 scenic viewpoints for visitors. Whether you are travelling on foot, by car or bicycle, they are the perfect excuse to take a break and gaze at the breathtaking panoramic views. Of all the scenic viewpoints, Mirador de la Ruleta is one of the most popular. Its views are impressive because they include everything from the Ucanca Plains to the southern end of the Las Cañadas del Teide caldera, where Roques de García are located.
Las Cañadas and the Ucanca Plains are the edges of the historic volcanic calderas that eroded over time. This sedimentary land is sometimes covered by the water that trickles down the volcano walls, forming small lakes. This area, with the ever-present Roques de García, will remind you of the lunar landscapes that appear in fantasy films and make you feel like you are on another planet. In fact, many scenes from Clash of the Titans (2010) were filmed at this location, where mythological Greece was recreated and Perseus led a dangerous mission that involved facing giant scorpions.
Additionally, Mirador de la Ruleta scenic viewpoint is the starting point of one of the most beautiful hiking trails in Mount Teide National Park. This easy circular itinerary covers 3.5 km and takes approximately two hours, with Roques de García to the left. The trail descends to the Ucanca Plains, the largest valley in the national park. Along the way, visitors will pass by La Cascada and La Catedral, and combined with Roque Cinchado, these are the most spectacular of the park's rock formations. The trail will then begin its ascent, taking us back to the starting point.
The area around Mirador de la Ruleta scenic viewpoint features a fenced path that crosses through Roques de García, so there is no risk of getting lost. Note: Visitors must stay on the fenced path.
Related
plans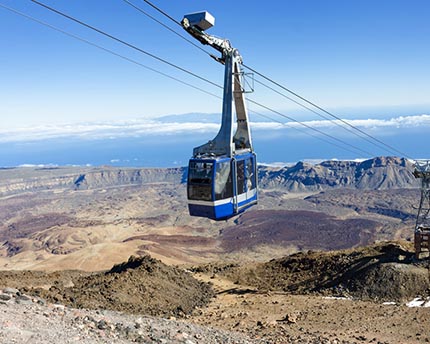 Places of Interest