The best beaches for
surfing in Tenerife
It is well known that surfing in Tenerife is almost a religion. This is probably because the islanders are lucky enough to be surrounded by spectacular beaches with unique conditions where they can surf every day, or practice one of many other sorts of water sports for that matter: stand up paddle surfing, bodyboarding, longboarding, kitesurfing, and windsurfing.
Surfers will find an endless number of spots (places with ideal conditions for surfing) in Tenerife, and such a variety of waves (right- and left-handers, tubes, peaks, etc.) that they will never want to leave. If we add to this the ideal weather for this sport, the temperate waters all year round and the scenic beauty of its coasts, we can almost guarantee satisfaction. So, you have decided to go surfing in Tenerife. Well then, this article is for you: it is a review of the best beaches for surfing, surf schools and camps on the island.
Which beach should I head to if I want to surf in Tenerife?
Although the best time of year for surfing in Tenerife is between November and February, the island has spots where you can enjoy the board all year round. The key is to talk to those in the know, they can tell you which beaches are the most suitable for each season of the year. However, as a general rule to follow, go to the southern beaches for the winter season and the northern ones for the summer. That said, here is a selection of the island's surf-lovers' favourite beaches:
Igueste de San Andrés (Santa Cruz de Tenerife). Just 15 kilometres from Santa Cruz de Tenerife, this 5-star beach stands out because of its famous left-handers—between 1 and 3 metres high—and is a favourite amongst those who prefer bodyboarding.
La Caleta (Garachico). Those looking for a bit more of a challenge should take note of this beach, as it has waves that can reach between 2 and 5 metres. It is also given 5 stars.
El Socorro (Los Realejos). With a slightly lower rating (4 stars), this coastal area stands out because of its natural beauty and the atypical black colour of its volcanic sand.
El Conquistador (Playa de las Américas). Leaving the north, we head to this 5-star beach located in southern Tenerife. It is one of the most famous and has that surfer vibe that can often be found in these types of spots. If you travel to the island in winter and would like a day out surfing in Tenerife, head here.
Las Palmeras (Playa de las Américas). We end this tour of the best spots for surfing in Tenerife with this 5-star beach of medium difficulty. A variety of championships take place here in winter, which is why it has all the essential services such as parking, bars, restaurants, showers, etc.
Surf camps and surf schools in Tenerife
Given the above-mentioned conditions, it is no surprise that there is an infinity of surf schools in Tenerife. Two stand out from all the rest:
Atlantik Surf. Although its headquarters are located in the coastal town of Puerto de la Cruz, the great advantage of this school is that it moves its students around the different spots on the island, according to where the best waves are.
Fitenia Surf School. Fitenia is actually both a surf shop and a surf school. Its teachers are expert monitors who give their classes on the beaches of Roque and Almáciga, in Taganana. They also use webcams to check the waves on different beaches, and in this way find the best maritime conditions every day.
There is also a wide variety of surf camps in Tenerife. Some theme camps last 2 or 3 days and others can last up to a week or even more. They are a great way to learn or improve your technique. Usually, the Tenerife surf camps include transfer from the airport, equipment you'll need and insurance. So the only thing you'll have to worry about is keeping your balance on the board.
Where to windsurf and kitesurf in Tenerife
If you prefer windsurfing (riding on water on a sailboard) or kitesurfing (riding on a small surfboard while holding on to a specially designed kite) the best place to head to is undoubtedly El Médano. Why El Médano? That's an easy question: on this beach the wind blows for 250 days per year, and wind is essential for both these sports. In fact, contests for the national kitesurfing and world windsurfing championships are held in El Médano. There must be a reason for choosing this location!
If you need one more incentive to visit this beach, right next to it you'll find the Montaña Roja volcano, which can be climbed on foot to enjoy a magical sunset from its lookout.
Paddle surfing in Tenerife
Finally, if what you are looking for is a beginner's initiation into water sports, then stand up paddle surfing is your best option. This trending sport from the Polynesian islands has also caught on along the coast of Tenerife, where there is no shortage of establishments that rent boards and oars so you can paddle away into the ocean. Anyone can paddle surf, and it is a highly recommended way to enjoy unique spots, such as the Los Gigantes cliffs.
Related
plans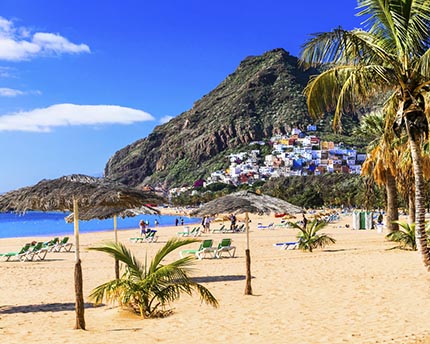 Sea and Beaches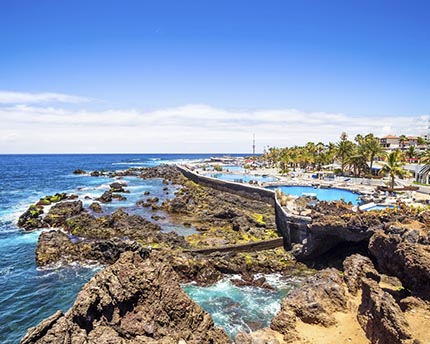 Leisure and Entertainment