Discover our hotlist of the top holiday destinations with a baby
You don't have to travel to the ends of the earth to find something that all the family will love. Discover these 10 best holiday destinations with a baby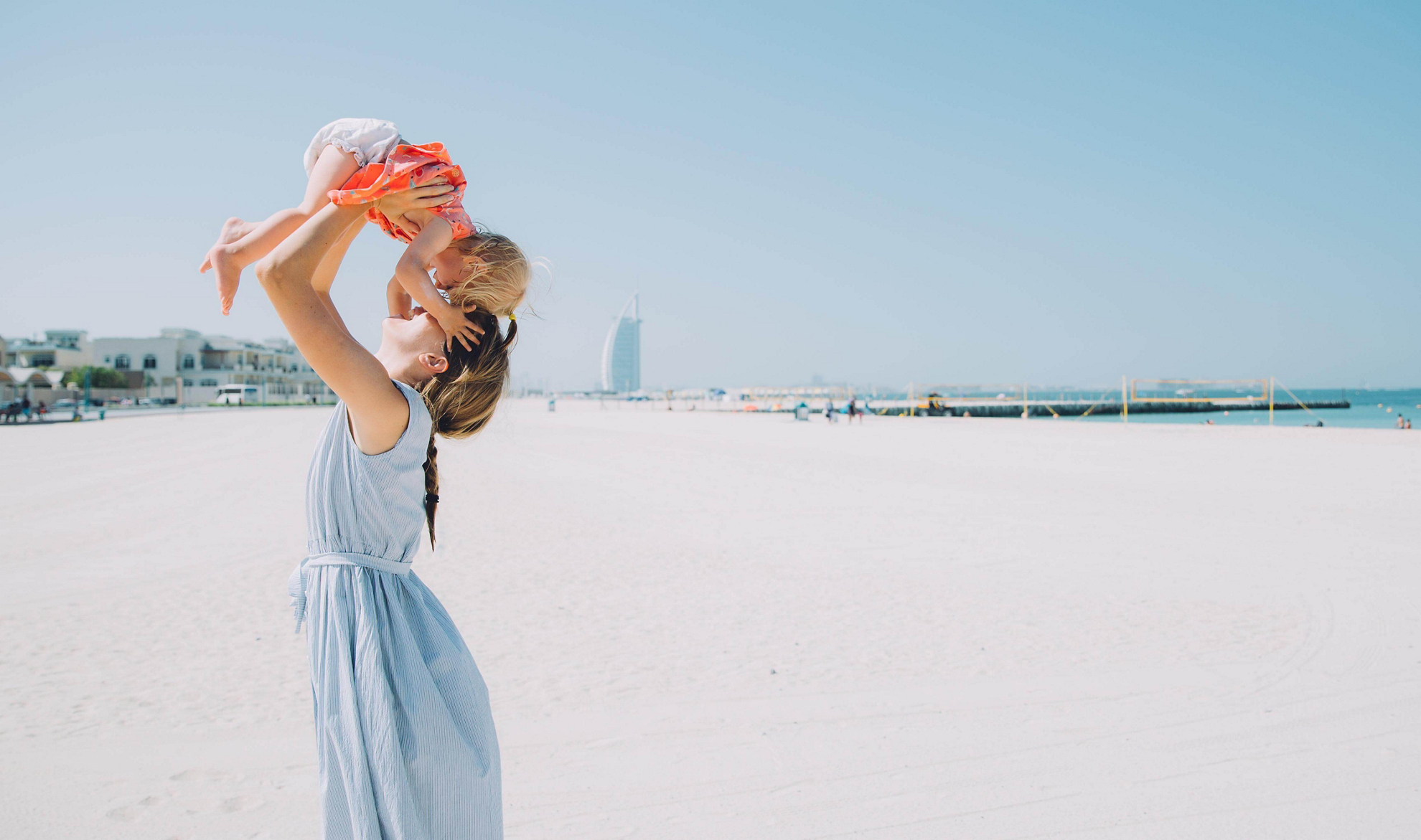 Life as a parent got you feeling all stressed out? We've got you! Travelling with a baby can be an exhilarating and rewarding experience, but it is not a synonym for a spontaneous (or a relaxing) adventure. This kind of travel requires careful planning and consideration. But fear not, for there are plenty of breathtaking destinations that cater to the needs of both parents and their little ones. Uncover the pick of our favourite holiday destinations with a baby and enjoy a harmonious blend of relaxation and family-friendly activities.
Contemplating baby travel overseas? The key information for travelling with your infant
Travelling to the best holiday destinations with a baby is a nerve-wracking experience. No one tells you how to travel with a baby on a plane but it isn't as scary as you may think. It is recommended to wait until the baby's immune system is fully developed before enjoying plane travel together. This can take one month but most doctors urge parents to wait until the newborn flying on the plane is at least three or six months old. However, most airlines allow babies as young as 2 days to travel on flights. Be sure to pack the birth certificate and passport and think about booking seats on the aisle for easy access to the bag storage and bathroom. Most babies cope well with flying but make sure you have a well-stocked diaper bag and if breastfeeding, you stay hydrated to provide enough milk since flying is a dehydrating experience.
1. Flying with a baby to Mexico
Step off the world with a trip to the Riviera Maya, one of the top baby-friendly destinations on the family travel list. Cancún International Airport is a stone's throw away from excellent family-friendly hotels, perfect for indulging in some much-needed R&R. To make life easy, settle into an all-inclusive resort and enjoy the luxury of not having to lift a finger. If you have recently given birth, give your body some love with a trip to a luxury hotel spa to enjoy a massage. Some hotels even own a kiddy spa so that no one is left out at pamper time. Looking for great activities? For a real cultural trip, don't leave without visiting the Mayan ruins of Chichen Itza, a UNESCO World Heritage Site. Or, if the beach is more your scene, the Riviera Maya is full of relaxing beaches for you and your little one. If in Playa del Carmen, Playacar Beach offers an ideal resting spot and if you are in Cancún, Langosta Beach's calm, warm waters are the perfect place to while away an hour or so.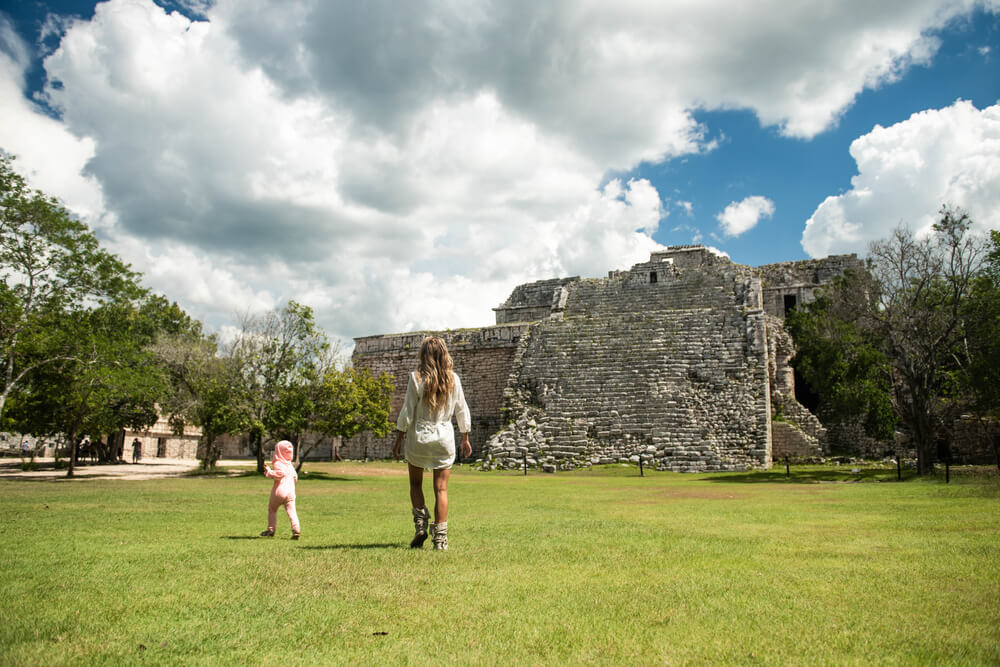 The Mayan ruins are a fascinating choice for young and old
2. Visit Tenerife, a top holiday destination with a baby
Hidden away in the Atlantic Ocean, off the coast of northwestern Africa, Tenerife in the Canary Islands offers the perfect recipe for a family-friendly holiday in the sun. The perfect balance of serene beaches and vibrant cultural experiences makes Tenerife a number one choice for many families keen to enjoy some winter sun without having to fly to the Caribbean. Check into the island's top family hotels and spend your days exploring the picturesque villages, taking leisurely strolls along the sandy shores, and indulging in mouthwatering cuisine while your little one enjoys the calming sound of the ocean waves. If you want a truly indulgent experience, check into the Royal Hideaway Corales Suites and arrange for the chef to come to your suite to rustle up a tasty feast. Not only will it be tantalizing to watch, but it will also save you the hassle of having to hunt for a place to eat - baby in tow.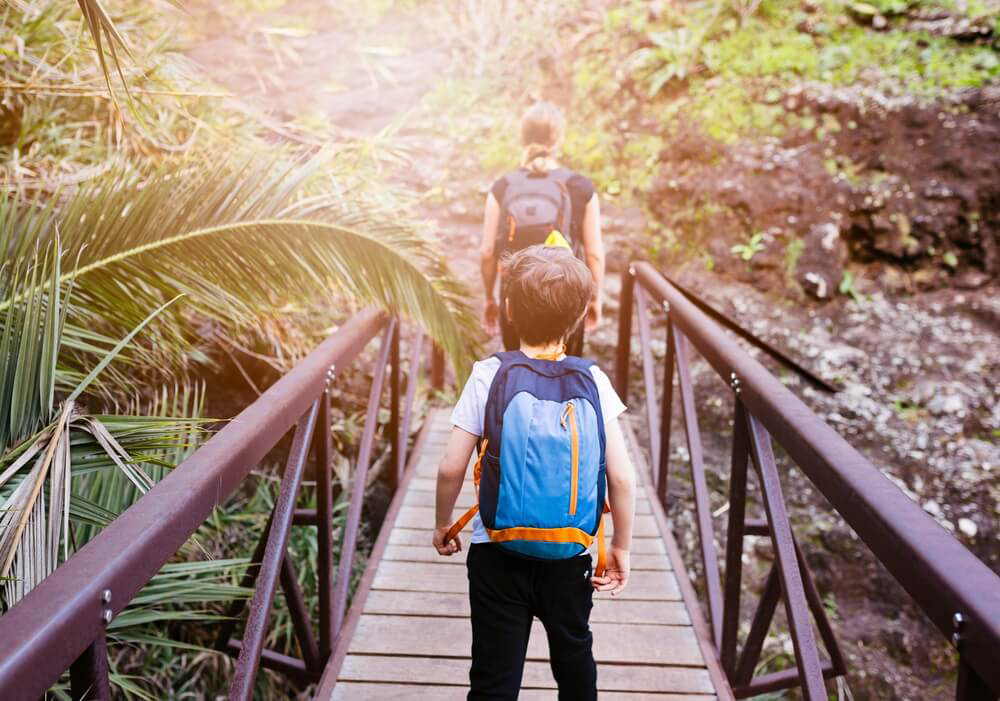 Tenerife's natural spaces make wonderful playgrounds for children
3. Add Punta Cana to your baby travel list
The Dominican Republic is one of the top Caribbean destinations for travelling internationally with a baby. Begin getting your baby used to long-haul newborn flight travel and enjoy the warm hospitality of the Punta Cana family-friendly hotels. To ensure that both kids and parents feel like they are on holiday, pick a hotel that offers a variety of kids clubs and even a babysitting service. 
To ensure that both kids and parents feel like they are on holiday, pick a hotel that offers a variety of kids clubs and even a babysitting service
The beaches of Punta Cana are ideal holiday destinations with a baby. The gentle, warm Caribbean Ocean is the ideal way to get little ones used to swimming in the sea. And the beaches are equipped with sun loungers, parasols, and all the amenities for a stress-free day out. What's more, many of the beaches have direct access from your hotel allowing you the luxury of being able to pop down to the beach for an hour before returning to the comfort of your hotel to cool off.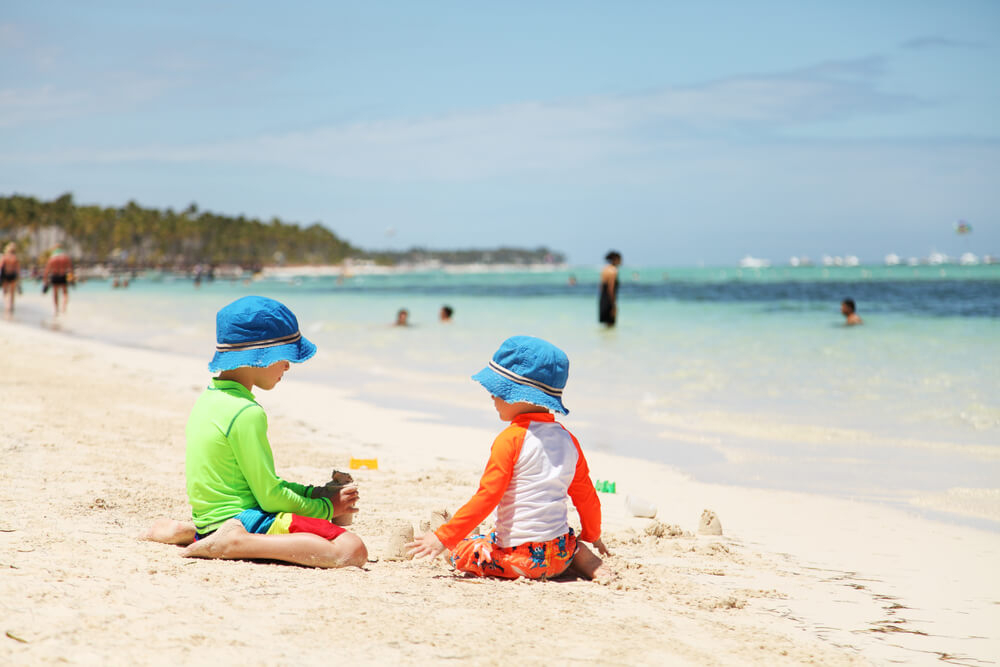 The beaches of Punta Cana are a wonderful choice for families
4. Travelling with a baby to Dubai
Dubai may be home to dizzyingly tall skyscrapers, opulent resorts and world-class attractions. However, this dynamic city has worked hard to become one of the best holiday destinations for families with babies. From Dubai's open-air parks with interactive attractions and air-conditioned malls full of the latest toys to Palm Jumeirah's pristine beaches with dedicated children's play areas, Dubai guarantees a memorable vacation for the entire family. If you want breathtaking city views without the queues of the Burj Khalifa, head to the Dubai Frame where you can gaze at the old and new city views without the crowds. It is worth noting that babies under the age of 3 gain free entry to most of Dubai's attractions. The best time to visit is during the winter months when the temperatures are not soaring and you can enjoy everything that the city has to offer.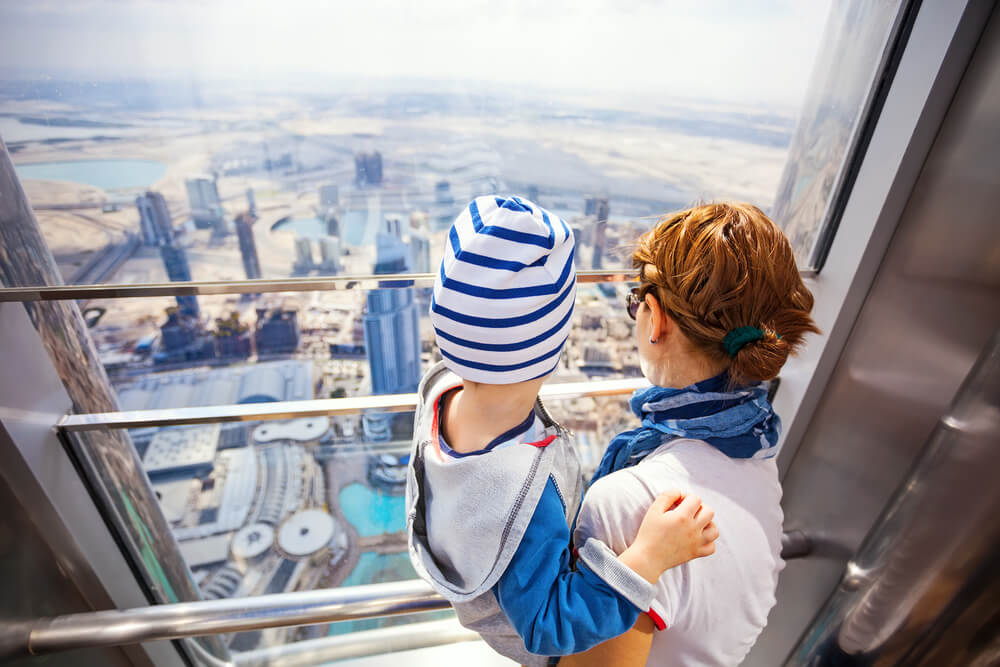 Dubai hosts a wide array of child-friendly attractions to explore
5. Travelling internationally with a baby to Aruba
When searching for the best holiday destinations with a baby, there is no place that does it as well as Aruba. It is one of the best places to go on holiday with a baby thanks to its all-year-round temperate climate and spectacular white sand beaches that gently slope into the ocean. Despite the long flight, Aruba is a beach lover's paradise and a great worry-free holiday for a young baby.
Despite the long flight, Aruba is a beach lover's paradise and a great worry-free holiday for a young baby
Head to Palm Beach to get access to the best all-inclusive hotels, complete with kids' clubs and kid-friendly activities. The relaxed pace of island life plus the high levels of safety allow parents the confidence to enjoy all the excursions on offer. Explore the Aruba Butterfly Farm, teach your little one to swim at Baby Beach, or let yourself be pampered in the comfort of your hotel. Whatever you choose to do, one thing is certain - it will be relaxing.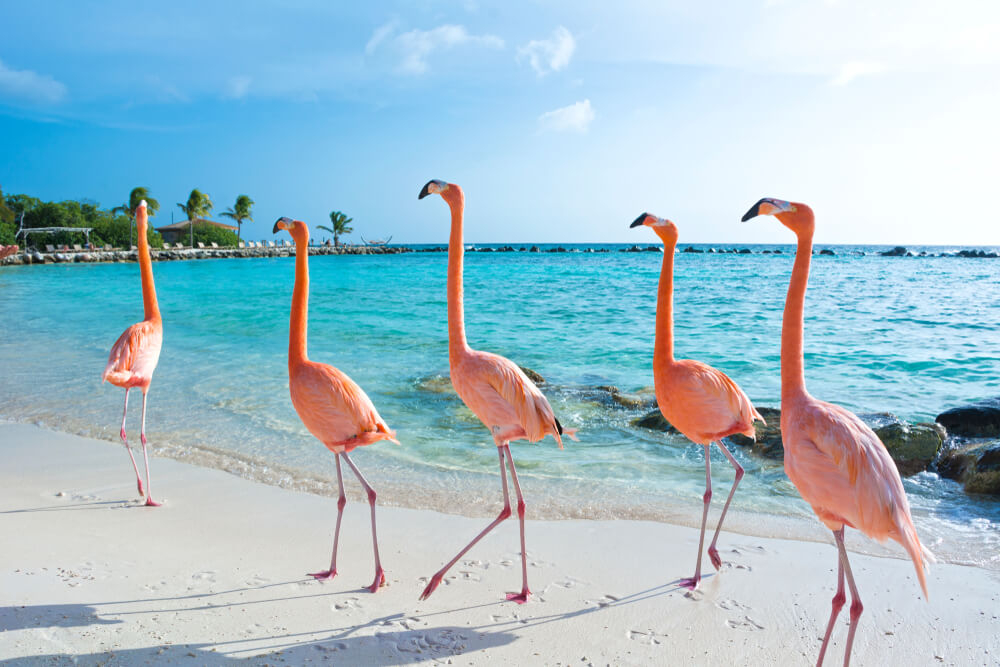 Despite the long flight, Aruba is a beach lover's paradise and a great worry-free holiday for a young baby
6. Fly with a baby to Ibiza and swap the nightclubs for kiddy clubs
Looking to travel to holiday destinations with a baby but want to skip the long flights? Ibiza, famous for its world-class nightlife, is an excellent island getaway for families seeking a mix of relaxation and entertainment. Create sandcastle kingdoms on its beautiful beaches, indulge in quality time together at the island's family-friendly resorts or get out into nature and explore plenty of outdoor activities. The crystal-clear waters of Port des Torrent beach are ideal for taking your baby for a dip and if you want to broaden your child's taste buds, the delicious Mediterranean cuisine will be a hit for sure. And once you are done exploring the island, check into a baby-friendly hotel such as the Occidental Ibiza which offers welcoming family suites complete with all the luxuries and a children's pool to make your stay as relaxing as possible.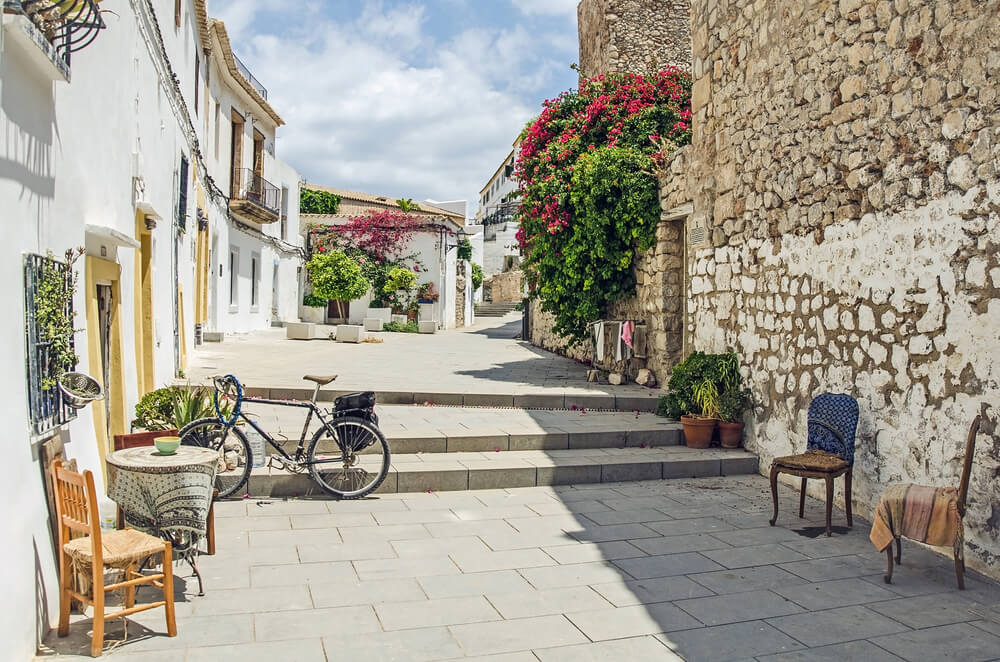 The quaint traditional towns of Ibiza are a wonderful place for families
7. Barcelona is one of Spain's top baby-friendly holiday destinations
A city break may not spring to mind as one of the top holiday destinations with a baby. Yet, Barcelona is different. If you are nervous about how to fly with a baby, the short flight time makes Barcelona an attractive choice for parents in search of world-class facilities, a beach, good food and culture. Book into the Occidental Barcelona 1929 and make use of their spacious family rooms and explore the enchanting Park Güell, designed by Antoní Gaudí or take a leisurely stroll through the Gothic Quarter. Don't miss the opportunity to visit the Barcelona Aquarium, which offers an immersive experience for both young and old. With numerous parks and child-friendly attractions, Barcelona ensures a memorable adventure for the whole family.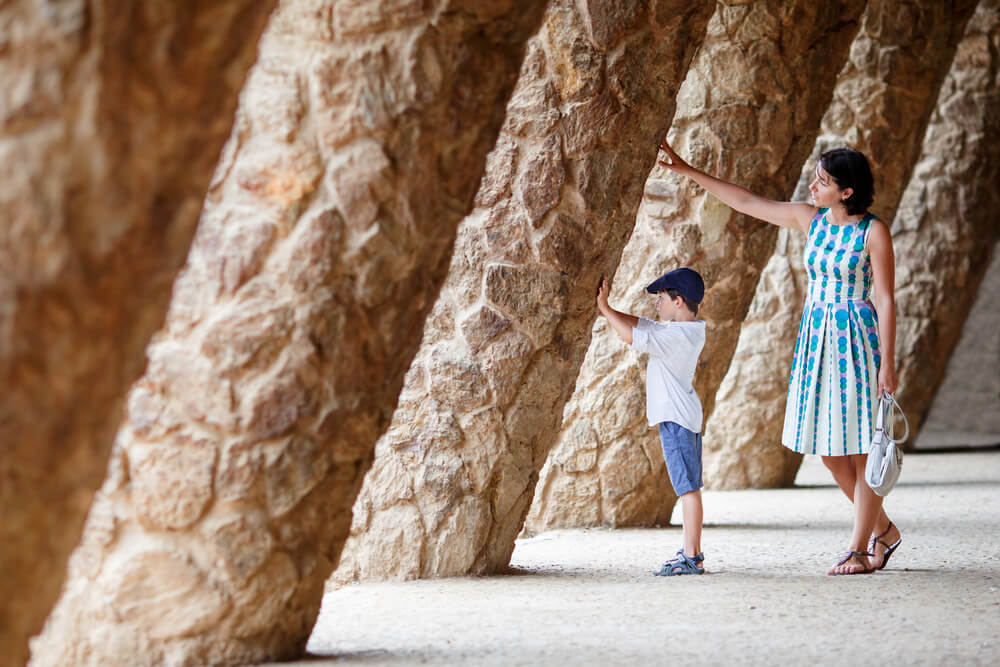 Kids will love the eye-catching architecture of Barcelona
8. Add Oman to your travel list for babies and toddlers
So, you've tied the knot and are now looking for exotic baby-friendly honeymoon destinations? If an all-inclusive luxurious break complete with guaranteed good weather are what you are after, Oman is the perfect choice. Travel outside of the summer months when the temperatures are cooler and you can explore the plethora of family-friendly activities on offer. 
Travel outside of the summer months when the temperatures are cooler and you can explore the plethora of family-friendly activities on offer
Check into the Barceló Mussanah Resort and turn your phone onto aeroplane mode so that you can completely switch off and enjoy some quality time with your baby. Cool off from the heat in the Children's Pool which also boasts incredible views of the sea. Tuck into an all-you-can-eat buffet at the hotel and introduce exciting new flavours into your baby's repertoire. Or, participate in some of the Kid's clubs activities such as painting, aimed to please even the smallest of guests. Don't forget to indulge in some R&R too with a trip to the Zayna Spa where you can treat weary, tired muscles. For adventurous souls, explore historic forts, wander through vibrant souks, and let the body rest for an hour at one of the tranquil beaches. Oman may not be the first place that comes to mind when thinking of holiday destinations with a baby but it is certainly not one to be ignored.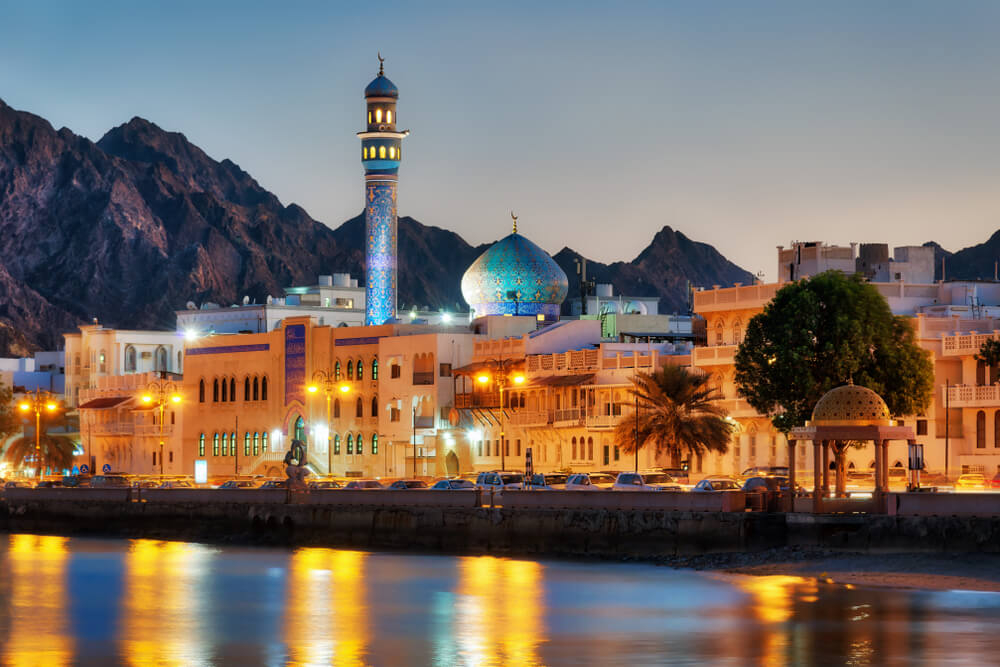 Oman offers a vibrant family holiday experience 
9. Looking for baby-friendly holiday destinations in Europe? Head to Budapest
Sometimes the best adventures are the ones to unconventional places. If you don't want to travel to the typical holiday destinations with a baby, Budapest is an interesting choice. The Hungarian capital is famous for its rich history, thermal baths, and captivating architecture, and has a lot to offer parents travelling with a baby. Visit the city during the springtime when the temperatures start to warm up. Take in the sights as you stroll along the banks of the Danube River. A visit to the Botanical Garden is a wonderful sensory experience for young and old and a great way to see the country's flora and fauna. Of course, no trip is complete without a relaxing bath at one of the many thermal spas. Budapest's family-friendly vibe ensures that you and your little one will feel welcomed at every turn.
Soak up culture and history in Budapest
10. Isla Sal: Off-the-beaten track baby friendly vacation destinations in Europe
Dreaming of a treasure island escape? Venture off the beaten track and look no further than Isla Sal in Cape Verde. This idyllic island destination will make you think that you have walked into a computer screensaver with its breathtaking landscapes and laid-back atmosphere. This is one of the best places to go on holiday with a baby if you want sun, sea, sand and safety. Babies will love splashing in the sea for the first time in the shallow and calm waters of Isla Sal's beaches. Parents, on the other hand, will have fun enjoying all the benefits of an all-inclusive stay at one of the island's most luxurious hotels, indulging in fresh seafood, and letting the warm island breeze melt any stresses away. When it comes to no-fuss, off-the-beaten-track, holiday destinations with a baby - Isla Sal is on our list.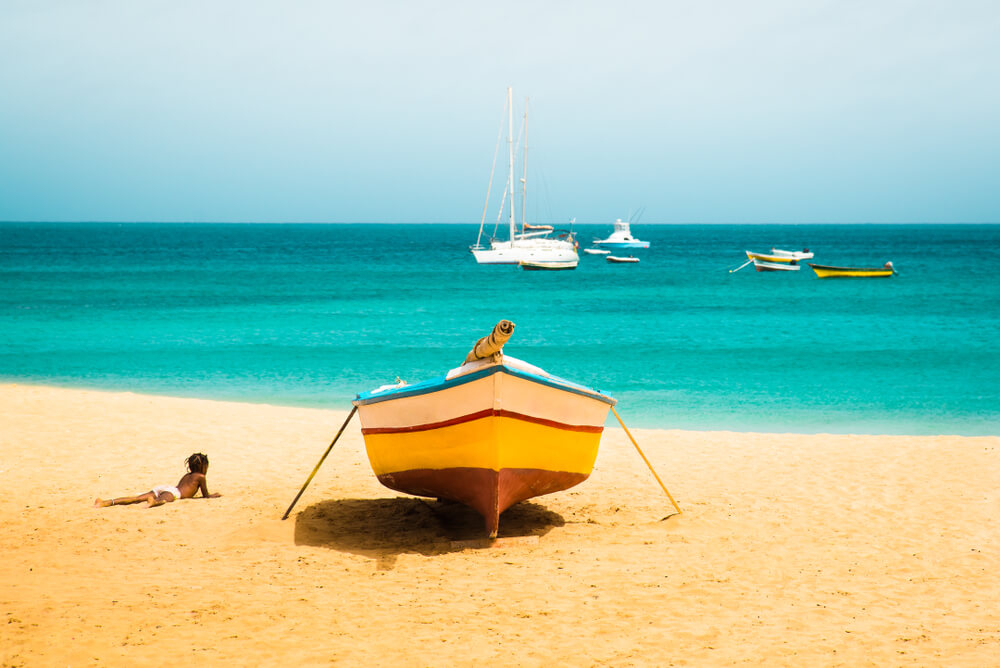 Soak up the sun in Isla Sal