Isla Mujeres: Welcome to paradise
On a day trip to Isla Mujeres, you'll discover secluded beaches, pristine natural landscapes, incredible snorkeling and scuba diving.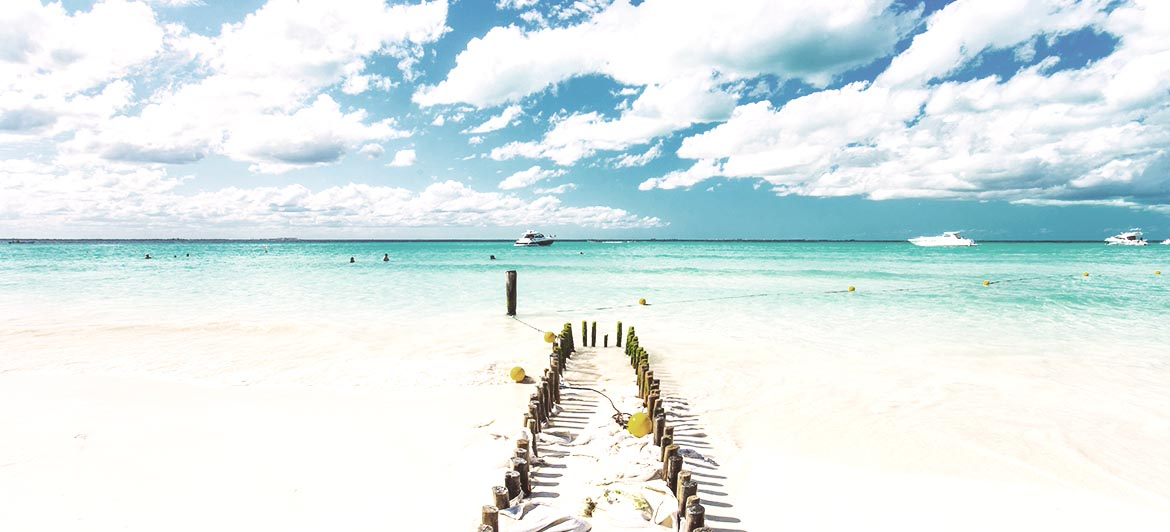 In search of an authentic island paradise? Isla Mujeres located off the coast of Cancun, is one of the greatest destinations you'll ever experience. On a day trip to Isla Mujeres, you'll discover secluded beaches, pristine natural landscapes, incredible snorkeling and scuba diving … and much more. Here's your guide to your new favorite place on the planet, easily accessible from the all inclusive Occidental Costa Cancún and Occidental Tucancún, as well as other Barceló Hotel Group properties in Riviera Maya.
Isla Mujeres feels like a world aways from everything. But it's actually not that far away. The island is located in the Caribbean Sea, just 13 kilometers (about eight miles) off the coast of Cancun. A ferry ride from the safety of Cancun to the island takes only about 15 minutes. That's right – when you're in Cancun, you're only a quarter hour away from paradise … as if Cancun wasn't already its own kind of paradise!
Where did Isla Mujeres get its name?
In English, "Isla Mujeres" translates to "The Island of Women." The story of this name takes us back in time. Long before Europeans arrived in the Americas, the island was an important spiritual spot for the Mayan people. It was a place that the Mayans traveled to in order to worship the goddess Ixchel, who represented the moon, fertility, health and happiness. As a result, the island was filled with ornate statues depicting the goddess, made of silver, gold and clay. When the Spanish conquistador Francisco Fernández de Córdoba discovered the island in the early 1500s, he found many of these goddess statues. Not knowing the name Ixchel, Cordoba dubbed the island Isla Mujeres – the Island of Women.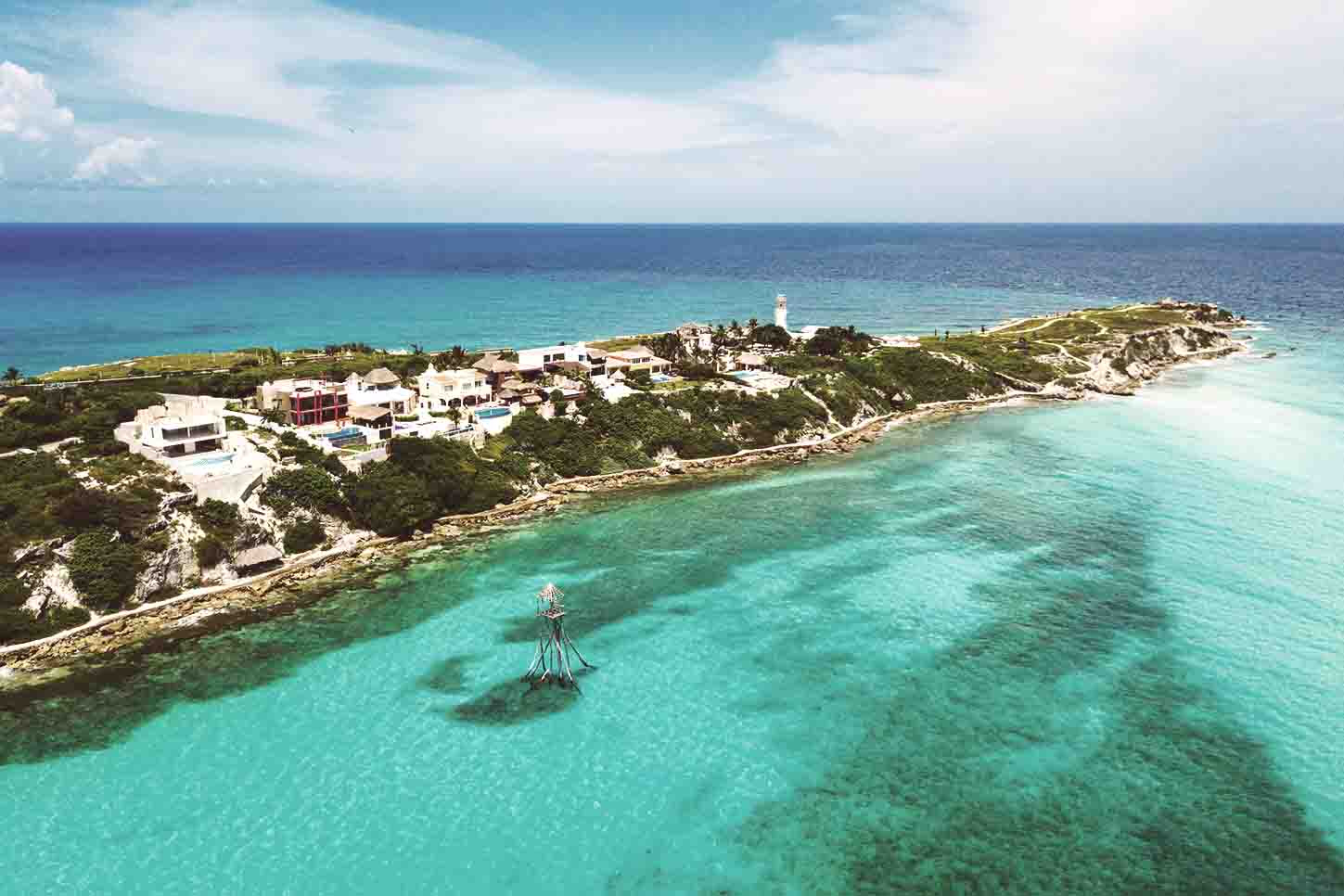 How to get to Isla Mujeres
Getting to Isla Mujeres is easy. You can just go down to the Gran Puerto Cancun (Ultramar) ferry dock, located a few minutes from downtown Cancun. There, you can catch ferries to the island from 5:00 am until 9:30 pm and every hour after that. Visit www.ultramarferry.com/en for full information.
Want to get to Isla Mujeres in luxury and style? Via Vacaciones Barcelo, take a catamaran journey to the island. You'll enjoy an open bar, live music and spectacular Caribbean Sea views. On the way out, there will also be opportunities to stop and snorkel in the beautiful waters. Then, you'll dock at the island, take part in a buffet lunch and have plenty of time to discover this amazing destination.
Things to do on Isla Mujeres
Once you've made it to the island, there will be no shortage of things to do on Isla Mujeres.
Scuba divers won't want to miss a truly amazing attraction off the coast of Isla Mujeres. A massive underwater contemporary art museum called MUSA (Museo Subacuático de Arte/Museum of Underwater Art) features more than 500 life-size sculptures on the ocean's floor. It's an incredible, once-in-a-lifetime beneath-the-waves experience. Tip: If you're not ready for scuba diving, you can still see MUSA aboard a glass-bottomed boat.
Looking for that perfect stretch of sand? Playa Norte (North Beach) is considered one of the very best beaches in the Caribbean. Once you're there, it's easy to see why. Playa Norte's gently swaying palm trees, soft white sands and turquoise waters are the definition of gorgeous – and extremely Instagram-friendly.
If you're on the hunt for unforgettable eco-adventures on Isla Mujeres, make your way to Garrafón Reef Park. Here, you can enjoy incredible snorkeling in crystal clear waters (Garrafón Reef is one of the longest reefs in the southern hemisphere), kayaking across the waves, ziplining through trees and swimming with dolphins.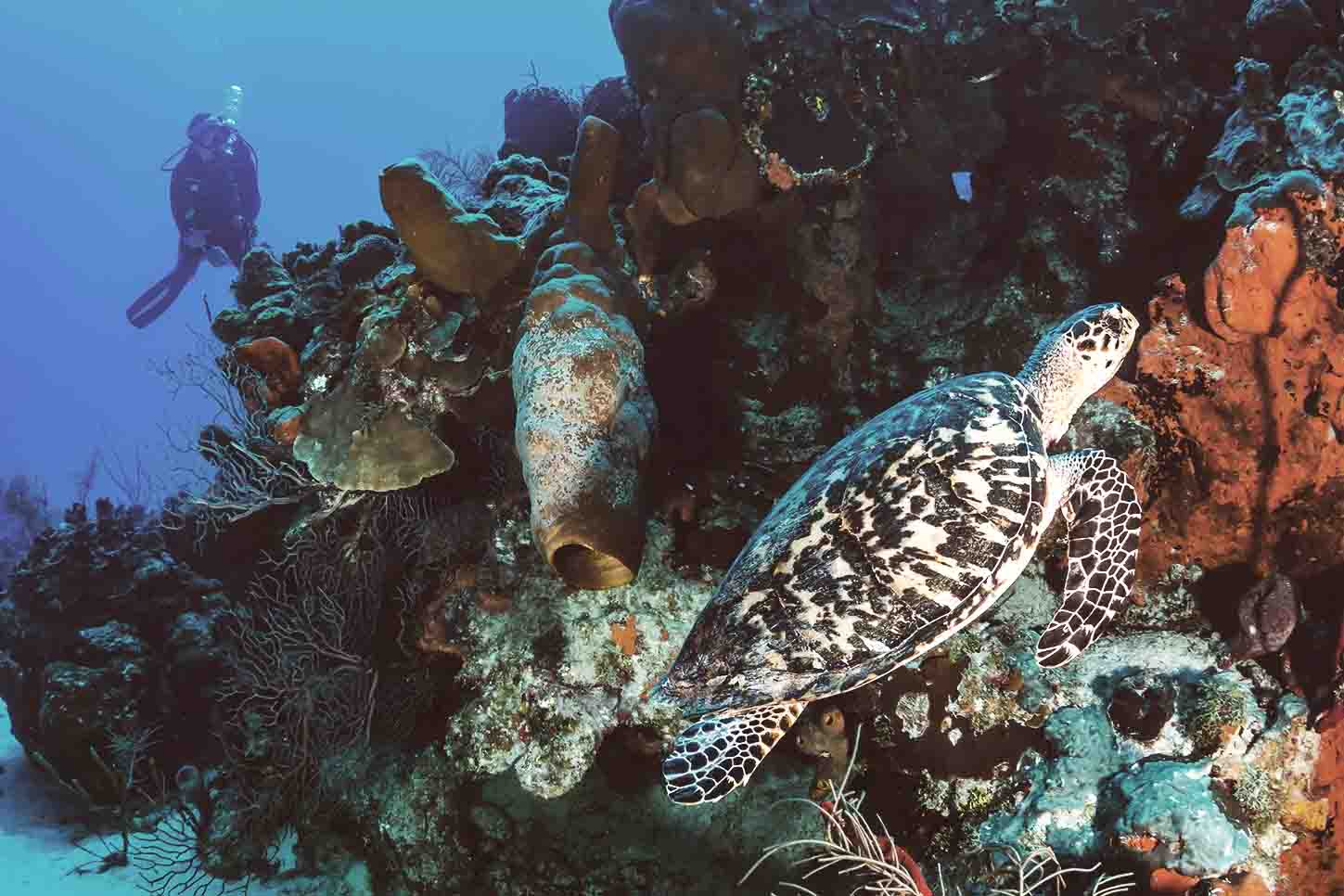 Explore the "town center" of Isla Mujeres. The Zocolo is a plaza filled with artisans, shops, restaurants and more. The lively atmosphere is enhanced by colorful murals that tell the story of the island through vivid colors and creativity.
Watch out, New England: Isla Mujeres is world renowned for its romantic lighthouses. Indeed, the Mayans were the first to build lighthouses on the island. Today, you can visit three different historic beacons: El Faro, which was built during World War II, El Farito, located near the harbor entrance, and Punta Sur at the southernmost tip of the island. Punta Sur is particularly impressive, located at the highest elevation in the Yucatan. Here, the Mayans honored Ixchel at an ancient temple.
Pay a visit to some of Isla Mujeres' most amazing residents. The island is home to the La Tortuga Granja (The Turtle Farm), an amazing spot that the whole family will love. From May through September, giant sea turtles lay their eggs in the sands here. In order to protect them, volunteers gather the eggs until they hatch, and are released into the wild by children in August, September and October.
There's truly no place on earth like
Isla Mujeres
. A visit here during your Occidental Costa Cancún or Occidental Tucancún vacation is guaranteed to be unforgettable.