Discover Mallorca from the water: sailing in Mallorca
Some of Mallorca's gems are best discovered from the water. We share some of the island's best-kept secrets that can be explored by sailing in Mallorca.
Are you a keen sailor? Or are you yet to discover the delights of getting out on the open water and harnessing the power of the wind? Whether you've been doing it all your life or you've never so much as tried water sports or stepped foot on a sailing boat, sailing in Mallorca isn't an experience you'll forget in a hurry.
Experienced sailors can take charge of the ropes themselves, but if you don't know the stern of a boat from the bow then you can also explore Mallorca by boat whilst kicking back and letting someone do all of the hard work for you.
Either way, you'll see this beautiful island from a different angle, and discover hidden coves, some of which you'd never know were there unless you reached them from the water.
So, get your sea legs at the ready, pop your life jacket on, and get ready to discover this Mediterranean island by boat on the best Mallorca sailing holidays.
We're going to share some of the very best places to visit in Mallorca by boat, including escapes to some of its neighbouring Balearic Islands.
Sailing the Balearic Islands: discover the isle of Cabrera
Cabrera is an island just to the south of Mallorca and is the fifth largest island in the Balearic archipelago. It's uninhabited and is protected as a national park.
It's number one on our list for sailing in Mallorca because there are few places where you can escape modern life quite so effectively and immerse yourself in nature. It's about an hour and a half from the port in Palma, and just 40 minutes from Colònia de Sant Jordi. The journey itself is stunning, as you'll pass lots of other small islands on the way.
You'll need to apply for a permit to moor at one of the buoys. Anchoring is not permitted and visitor numbers are limited, which means you're guaranteed peace and tranquillity. There's a charge to moor your boat here overnight.
If you don't have your own boat, you can opt for a charter boat, or join one of the limited Mallorca day trips which bring tourists out to the island during the summer months.
Take a Formentor boat trip
The Cap de Formentor, or Formentor Peninsula, is one of the most beautiful parts of Mallorca, up in the north of the island. Like Cabrera, it's another spot where you can lose yourself in the beauty of nature whilst sailing in Mallorca.
It's important to be aware that it's not cheap to moor to one of the buoys up here overnight, so you'll probably be in the company of some stunning and extremely expensive yachts, especially if you come in high season. But, if you can afford it, then it's more than worth it, as it's an incredibly tranquil, unique spot.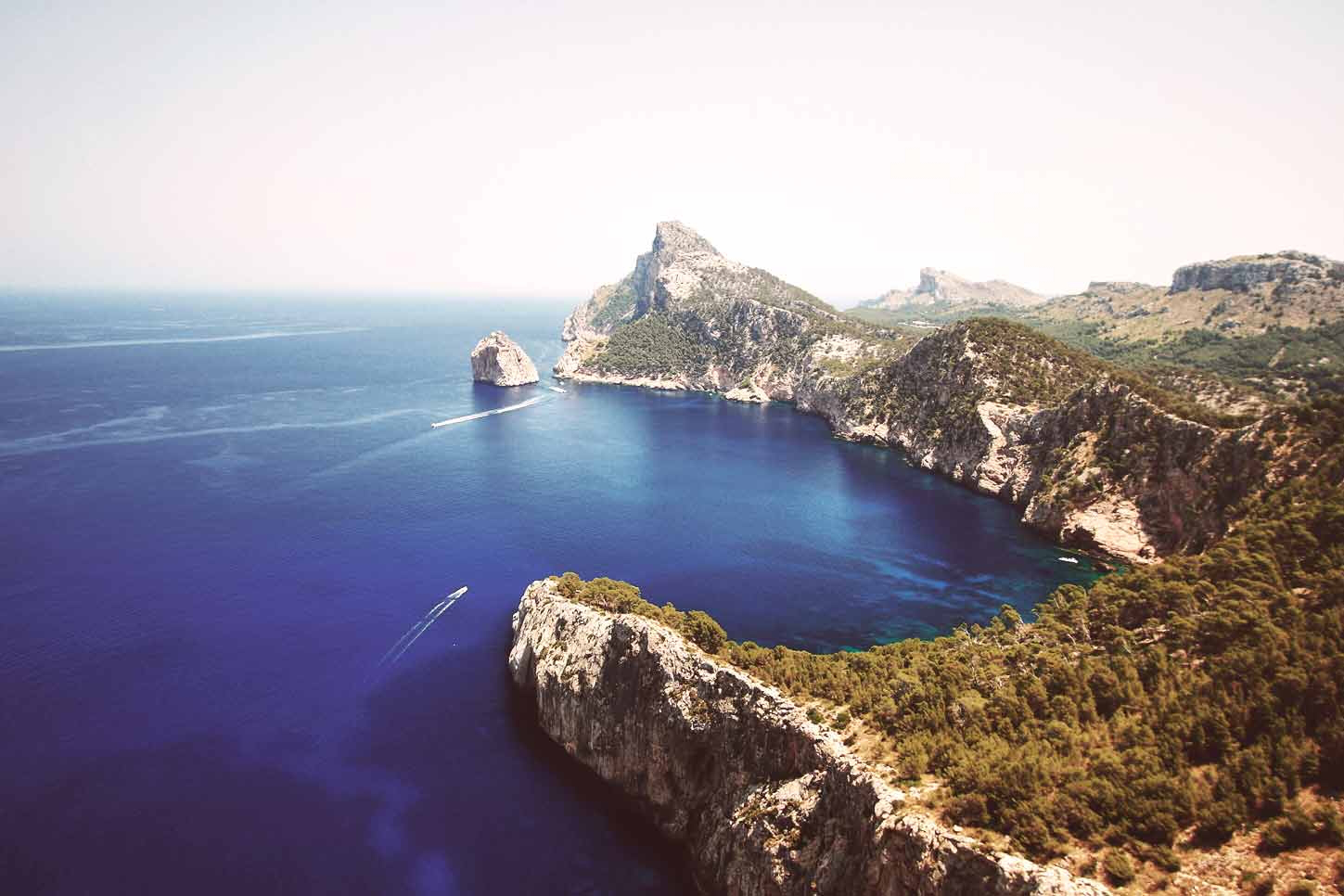 Calas de Mallorca boat trips: Cala Torta and Cala Mitjana
To the east of the island, you'll find these two stunning, adjacent coves, which have turquoise waters and sandy bottoms. They're both perfect U-shaped coves, meaning that you can easily more up here overnight, sheltering from the wind.
Sailing in Mallorca: discovering more of the east
Es Trenc is a stunning white sand beach not far from Colònia de Sant Jordi, in the southeast of Mallorca. There's a little more going on here than there is at a lot of the other beaches we've mentioned, with a few beach restaurants and bars to choose from and sunbeds for rent.
It's also wonderfully long, so there's plenty of space for everyone, even on the busiest of summer days when it seems like all the world and his wife are enjoying holidays in Mallorca.
Unlike a lot of the beaches on this list, here you can safely anchor without harming a delicate seabed, and spend the day enjoying the sun, sea, and sand.
West Mallorca: cruising to Cala en Basset, Sant Elm
Just north of the picturesque village of Sant Elm, in the far west of Mallorca, you'll find the dramatic Cala en Basset. This isn't somewhere you come to lie around on the sand, as there is none.
It's a rocky cove, so make sure you bring your snorkel, as there are treasures to be found under the surface of the water here.
This cove was once used by pirates thanks to its strategic position, as from here you can see the island of Dragonera.
No boat? No worries: boat hire and boat trips in Mallorca
Most of these tips have been geared towards the lucky people who'll be sailing in Mallorca with their own boat. But if that's not you, then that doesn't mean you can't still enjoy the fun on the water.
There are all kinds of options for Mallorca yacht charter and boat hire. Charter a yacht or a boat with or without a skipper, depending on your skill level, for less than you might think.
One of the best places to organise your Mallorca boat hire is in the capital of Palma, as you've got plenty of choice. From here, you can reach most spots on the island within just a couple of hours. Choose whether to just take a boat out for the day, or even spend the night on board.
If you're not interested in having your own boat, the most budget-friendly options are the multiple Palma boat trips on offer. There's everything from snorkelling trips to glass-bottom boat trips to sailing experiences, so your biggest problem will be trying to decide which one to go for.
Ask at your hotel for advice on the very best Mallorca day trips you can take.