Things to do in Phuket: 3 itineraries for every kind of traveller
From exploring rich, tropical jungle landscapes to soaking up the sun on the island's paper-white beaches, discover our pick of the things to do in Phuket
If you are looking for a passionate adventure, relaxing escape or awe-inspiring nature, Thailand ticks all the boxes. The wow factor can be found all across Thailand, yet if it is icing-sugar beaches, ancient temples and buzzing city life that you are after, head to the island of Phuket. Explore Thailand's largest island and get under the skin of this fascinating nation. Ready for adventure? Discover our 10+ 1 ideas packed with insider knowledge of all the things to do in Phuket. 
1. Phuket's best places to visit for sun-seeking couples on a romantic getaway
When looking for the best places to visit in Phuket for couples, your list will be as long as your arm. This island is a fantastic honeymoon destination offering an idyllic setting to recover from post-wedding fatigue. With 35 beaches to choose from, there will be no shortage of dreamscapes to make you fall in love all over again. Uncover the romantic things to do in Phuket and ease into your holiday basking in the welcoming charm of this island paradise. Kata Con Beach awaits with its golden sands and azure waters. Take a hand-held stroll along its picturesque coastline, soak up the sunshine or, if you can peel yourself away from the lounger, admire the sea life as you snorkel in the crystalline waters.
Spend your holidays soaking up the warm Thai sunshine at one of the island's top beaches. Phang Nga Bay takes your breath away with its secluded sandy shores and untouched coastline. Kamala Beach is ideal for those looking for absolute peace and tranquillity and visitors can even enjoy a Thai massage while lying on the sun-kissed sand. Yet, if you have a bit more time, head to James Bond Island, known locally as Khao Ping Kan, for truly spectacular scenery.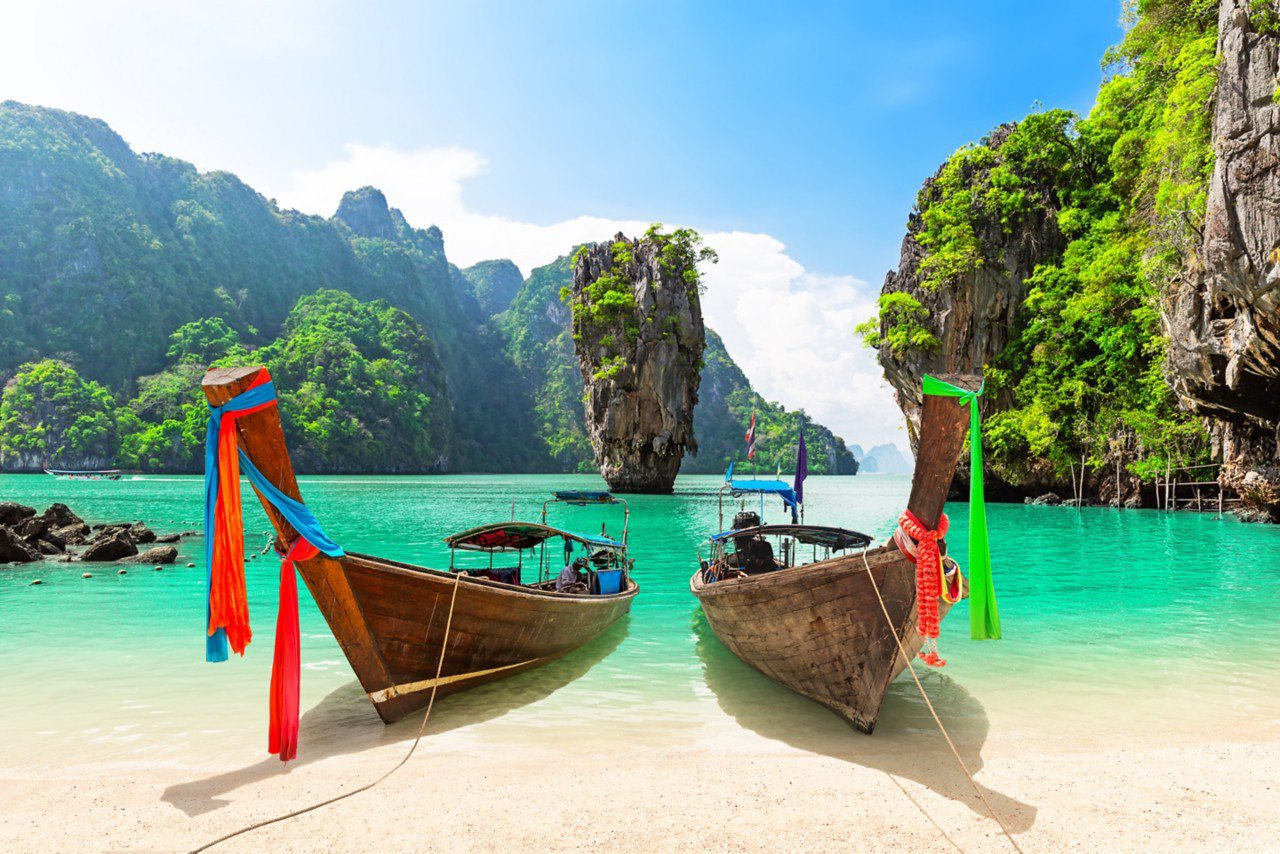 Spend a day on the idyllic James Bond Island
2. Karon viewpoint: one of the best places to go in Phuket for spectacular views
Ready for a change of scene? Continue your adventure with a trip to the iconic Karon Viewpoint, a must-do in Phuket, where you can take in awe-inspiring panoramic views of the pearly beaches and luscious natural surroundings. Located in the east of the island, it is a star attraction so be sure to arrive early in the day to avoid the crowds. It can be reached on foot (after an uphill walk), by bike, by rented car or motorbike, or by taxi. If you wish, you can also hire tours to make it easier to get there. Spend the rest of your day sunning yourself on Karon Beach. But, if you are feeling active, explore the nearby, ornate Wat Suwan Khiri Khet Temple, an iconic place of worship guarded by two massive snake statues.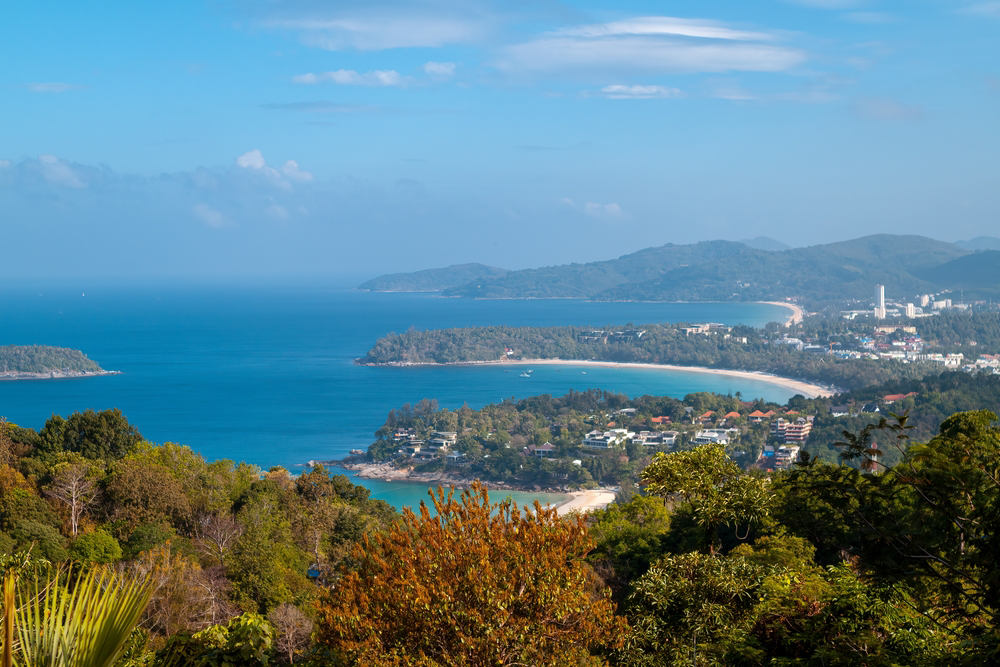 Views from the Karon Viewpoint
3. Old Phuket Town: Enjoy discovering the places to visit in Phuket City
Leave the vibrant buzz of Karon behind and head to Phuket City. Dive into Phuket's history in Old Phuket Town, where colonial-style architecture and temples await your exploration. While it may seem small, the city's historical centre hosts a wealth of eclectic cafés, restaurants, boutiques and museums. 
While it may seem small, the city's historical centre hosts a wealth of eclectic cafés, restaurants, boutiques and museums
Spend your day strolling through the streets and admiring the Phuket attractions. The Hai Leng Ong statue, a golden dragon sculpture at the entrance to Sirikit Park is a must-see along with the streets of Thalang and Dibuk, lined with Instagrammable and colourful colonial-style buildings. One building in particular is worth a visit: the Chinpracha House, a Sino-Portuguese architecture house (still inhabited by the owners) whose first floor is open to the public as a showcase of the town's cultural heritage. Take time to explore the area before heading out for a romantic dinner in the heart of the old town.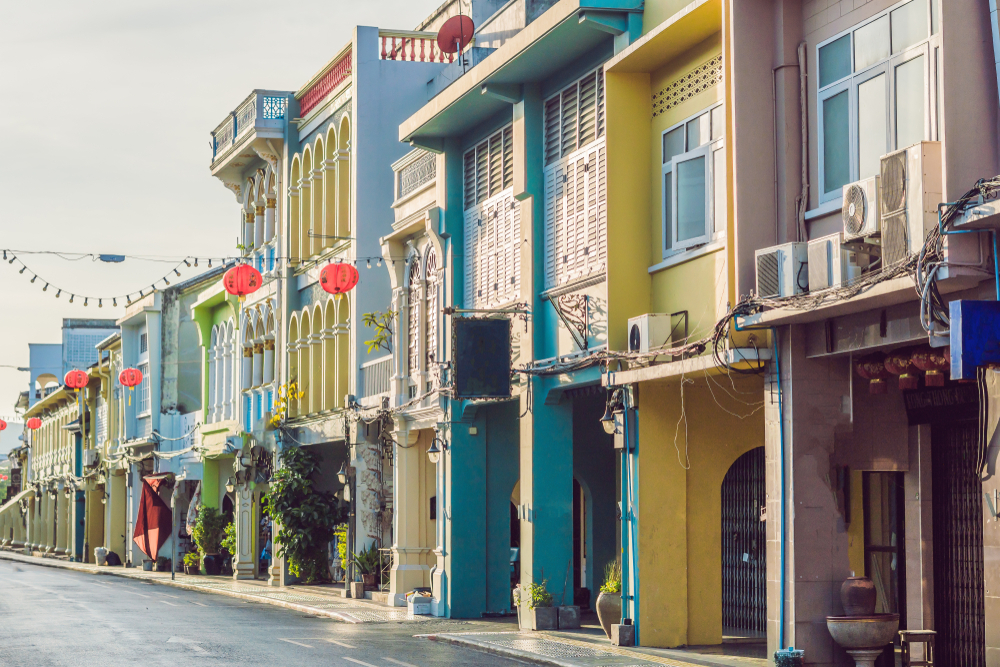 The colourful streets of Old Phuket Town
4. Explore things to do in Phuket and discover its history by visiting the temples
As the sunrise bleeds through the city's colourful streets immerse yourselves further into the culture of Phuket city. One of the cultural things to do in Phuket is to visit historical landmarks and the Jui Tui Shrine is an ideal place to start the day. It is at this shrine that they celebrate the Phuket Vegetarian Festival, and if you are lucky you may just be able to sample some deliciously home-cooked veggie dishes during your visit.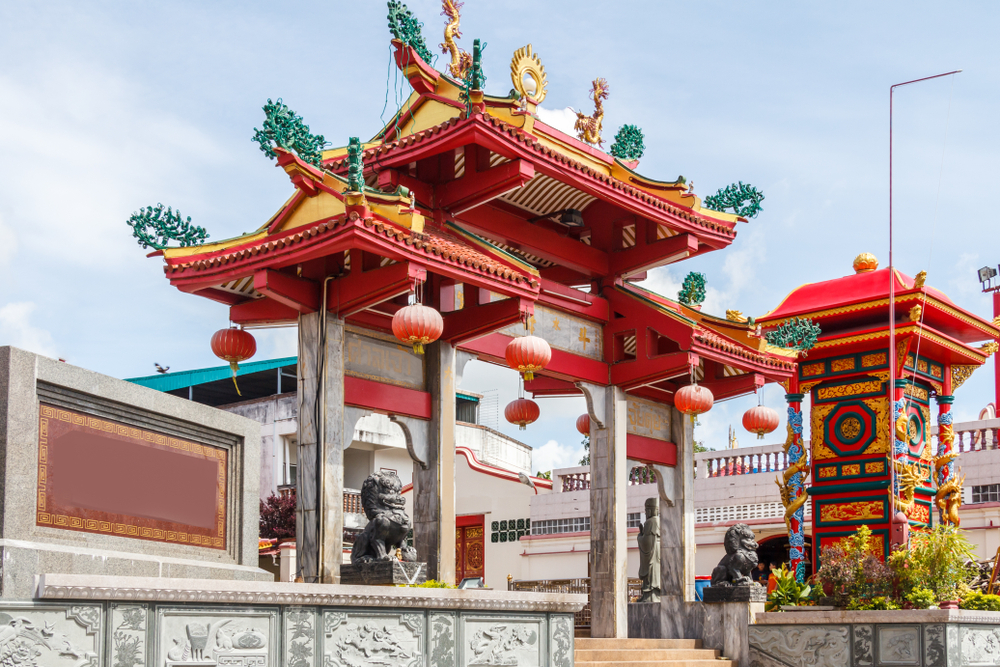 The Jui Tui Shrine
If you want to explore more ancient Buddhist temples, venture further afield. Without a doubt, the Wat Chalong Temple is one of the most iconic sights on the island. It is famous for being a pilgrimage site for Thai Buddhists and there are many activities on offer to entice curious minds. Take part in a guided tour of the grounds and marvel at the views of the nearby Chalong Mountain. Just remember to respect local customs when visiting the temples and dress accordingly. 
The impressive facade of the Wat Chalong Temple
Once acclimated to the buzz of the island's daily life, head off for some sightseeing in Phuket. While not strictly a temple, the iconic Big Buddha marble statue is a must-see. Look out for the resident monks giving blessings to visitors.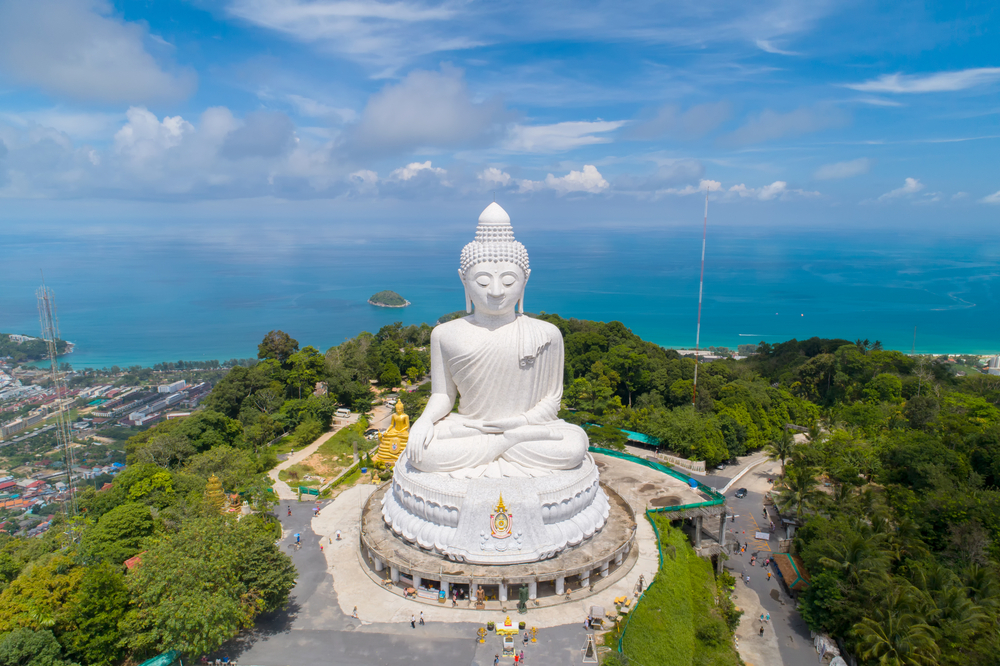 The white marble Big Buddha statue
Things to do in Phuket: 3 itineraries for every kind of traveller
When it comes to places of interest in Phuket, there are endless adventures to add to your bucket list. Adventure lovers will be astonished by the things to do in Phuket. Yet, for those wanting a real treat, dive into the island's inviting topaz waters and explore the intricate coral reefs of the Andaman Sea at the best places to go in Phuket for snorkelling. The best time of year for this is from November to April, when the sea is at its calmest. The warm water temperature (27-28°C) means that wetsuits can be left at home yet a T-shirt is recommended to avoid possible sunburn.
The best diving spots are found just metres from the sandy coastline. For interesting sea life and coral reefs, head to Nai Yang Beach where you can spend the day relaxing on the paper-white sand, soaking up the serene atmosphere or exploring the kaleidoscope of colours that awaits you under the sea. 
If shallow waters and a calm sea are what you are craving, hop on down to Sirinat Bay
If shallow waters and a calm sea are what you are craving, hop on down to Sirinat Bay, an ideal place for beginners keen to explore the beach activities in Phuket.

Additionally, just a few hours away by boat, the Phi Phi islands are famous for their crystal clear waters and coral reefs. If multi-coloured underwater life, tropical fish and sea turtles sound like perfect dive buddies, a dip in Maya Bay and Loh Samah Bay is a must for your trip.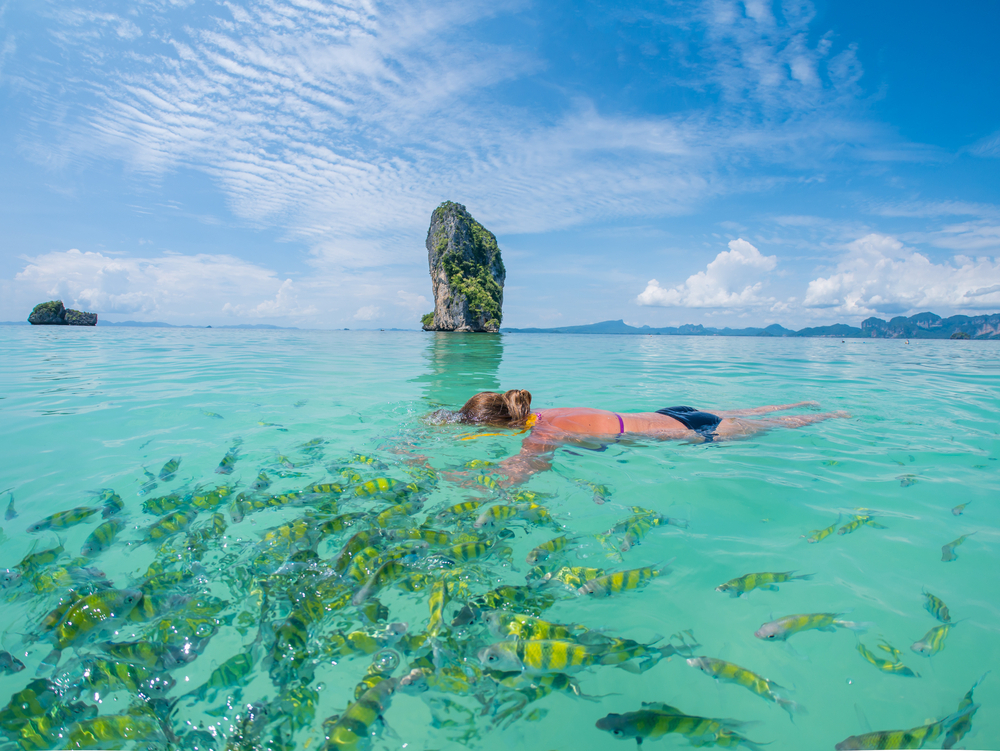 Phuket is home to stunning snorkelling spots
6. Khao Phra National Park: Explore nature through Phuket's top attractions
Embark on a guided trek through Khao Phra Thaeo National Park's lush rainforests. Located in the northeast of the island, the park spreads across 22 kilometres of luscious forests. Seek out exotic wildlife, including the white-handed gibbon- an endangered species, the long-tailed macaque and the monitor lizard. The park is home to over 100 different species of birds filling the sky with colour and song. This place offers a unique experience and the chance to see species such as the giant kingfisher, the Malayan woodpecker and the long-tailed bulbul.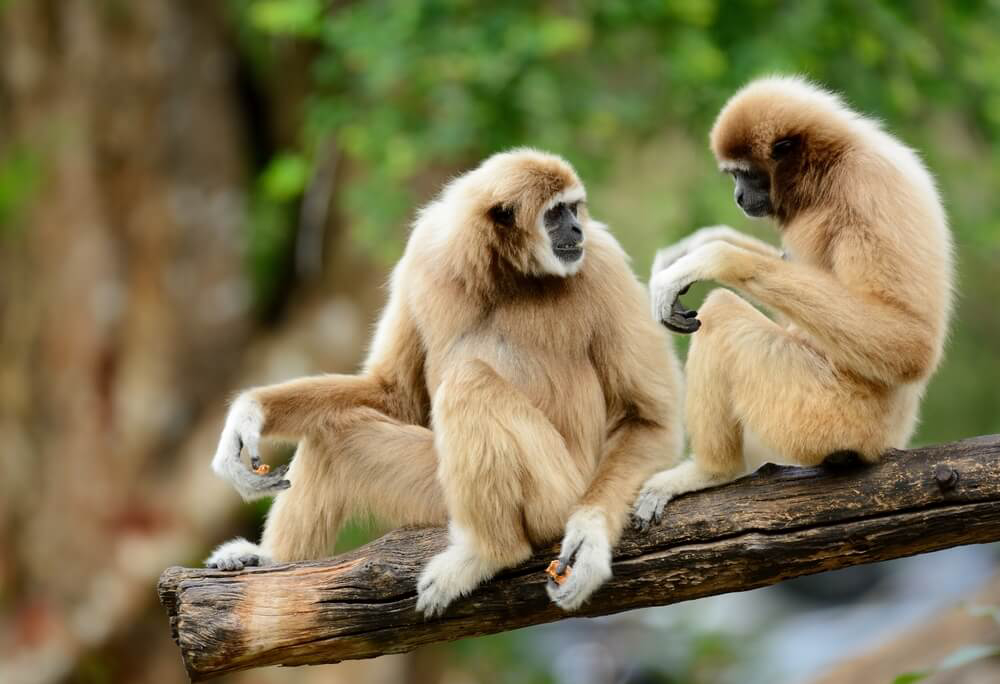 Two gibbons in the Khao Phra Thaeo National Park
7. Cool off in Bang Pae waterfall
Of course, no trip to the Khao Phra Thaeo National Park is complete without visiting the two magnificent waterfalls: Ton Sai and Bang Pae. Bang Pae is the largest waterfall in Phuket and has a fall of 10 metres. Be sure to visit during the rainy season to see the water falling at full force. The jungle-like surroundings and the pristine natural pools make this an idyllic place to enjoy a dip while you cool off from the sun.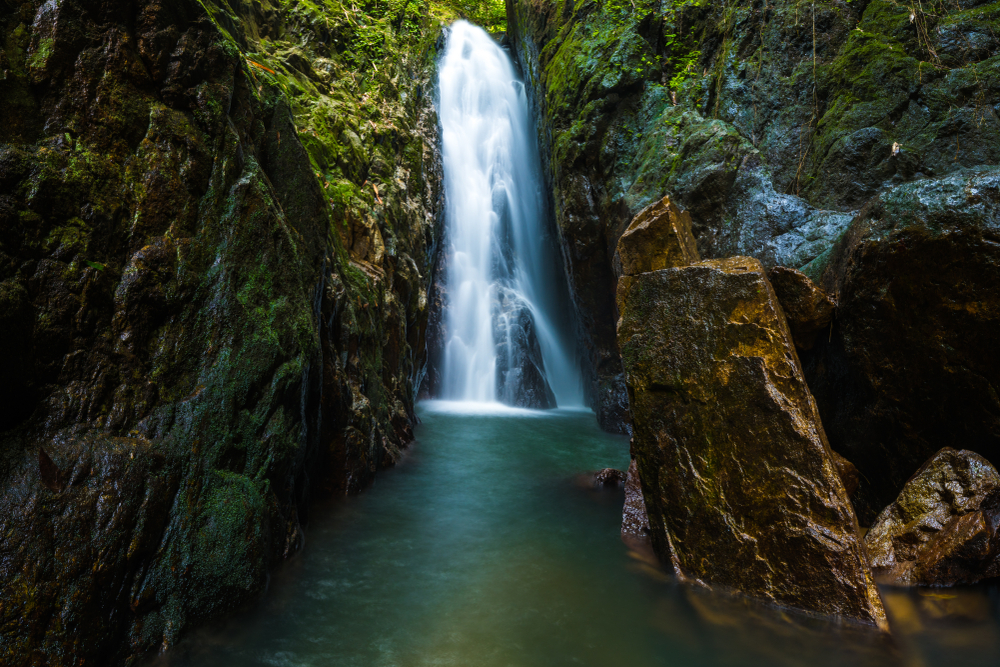 The Bang Pae waterfall
8. Try delicious Thai food
From exploring the vibrant sights of Phuket city to venturing into nature, excitement and dynamic energy can be found on every corner. To really immerse yourself in the local scene, sample local street food. It is hard not to love authentic Thai cuisine, known worldwide for its richness of flavours, freshness and balance of ingredients. With sweet, salty, spicy and sour elements, every bite is an explosion of flavours. Some iconic dishes to try are spicy green curry, heartwarming Pad Thai noodles or sticky sweet mango rice. Don't forget the salty and spicy Tom Yum soup or the irresistible satay skewers.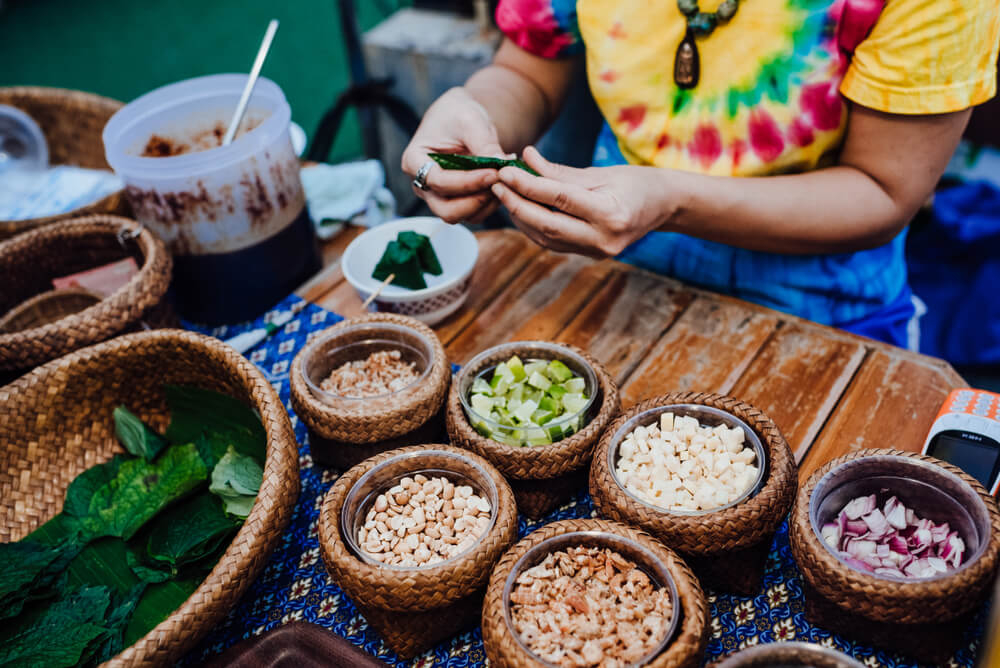 A Thai lady preparing authentic Thai food
9. Explore the museums: the best things to do in Phuket for all ages
Balancing the needs of all family members can be tricky, yet thanks to the array of Phuket famous places to add to your sightseeing list, there won't be a dull moment on your travels. Start your adventure in the big city where you can learn all about the island's rich history.
Start your adventure in the big city where you can learn all about the island's rich history
Immerse yourself in the island's cultural scene with a visit to the Museum Phuket which explores the development of the island through the four key eras (Forest, Mine Town and Tourism eras). Explore the fusion of Chinese and Malay cultures and see the fascinating story of the island first-hand.
If you still have an appetite for exploring the city's museums, head to the Upside Down House where kids will adore the mind-boggling installations. Snap a selfie in this topsy-turvy world before heading into the city centre to feed hungry bellies with delicious street food.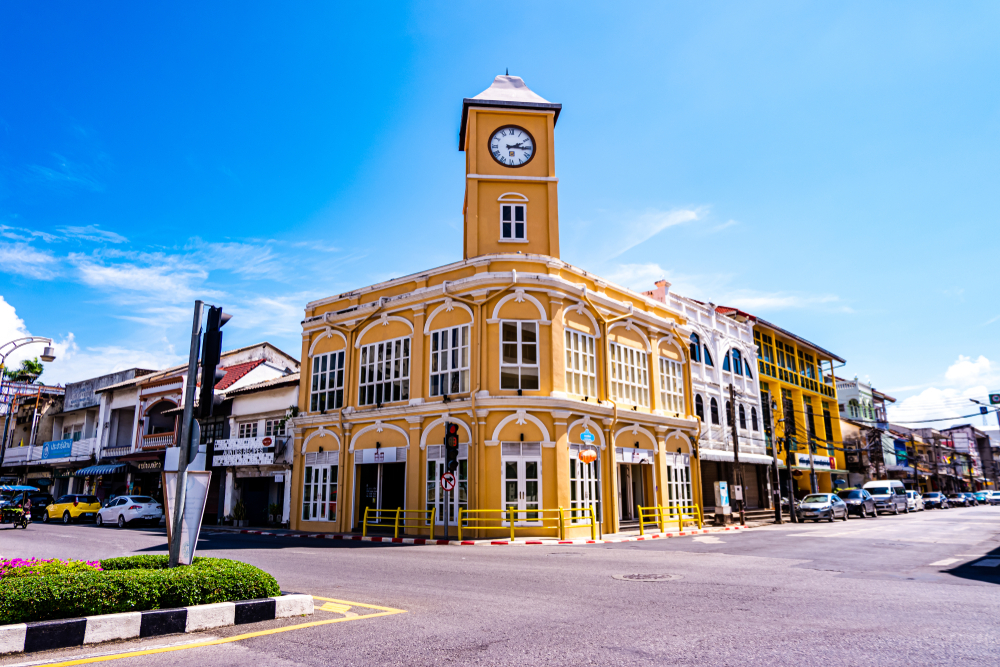 The Museum Phuket in the heart of the city
10: The markets are one of the top places to visit in Phuket
To get an authentic taste of local life, a trip to one of the markets is a must. Dive head first into the bustling atmosphere of Talad Tairod Market in Phuket, where a vibrant tapestry of colours, flavours, and aromas awaits your exploration. This bustling weekend market, known by the locals as a treasure trove of delights, offers a sensory journey that captures the essence of Thai culture. Stroll through the labyrinthine alleys lined with stalls brimming with fresh produce, aromatic spices, and handcrafted souvenirs. Engage with friendly vendors, sample delectable street food, and uncover unique items that make perfect keepsakes of your Phuket escapade.
If you didn't quite shop till you drop, head to Lard Yai Market on Thalang Street, an obligatory stop on your Phuket travels. This market turns the Old Town into a thriving neighbourhood of commerce and tradition every Sunday evening with its sea of stalls offering authentic Thai crafts and souvenirs. Discover a variety of stalls displaying everything from intricate handcrafted jewellery and clothing to decorative arts, souvenirs, and vintage treasures. Lard Yai Market is a haven for those wanting to support sustainable tourism by seeking distinctive pieces that reflect the local culture and creative spirit of Phuket.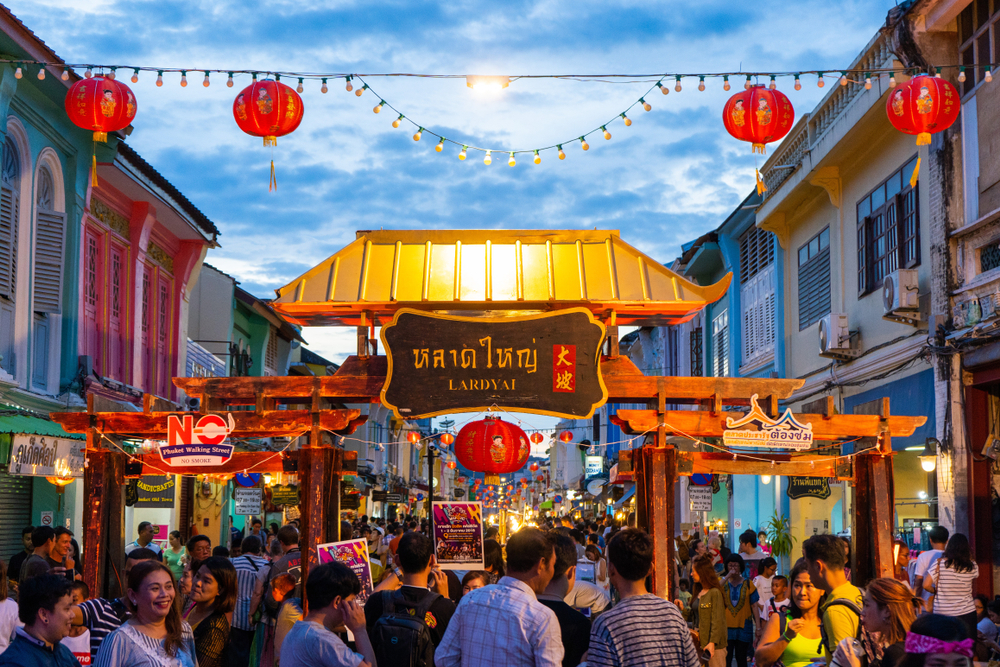 The Lard Yai Market at sundown
10 + 1: Head to Coconut Island, one of the places to go in Phuket for sun-worshipers
A short boat ride brings you to Koh Maphrao Island (Coconut Island). This hidden gem, off the east coast of Phuket, offers a serene escape and an authentic taste of Thai culture. Engage in water sports, unwind on pristine beaches, and savour authentic Thai cuisine - there are endless things to do in Phuket. When staying in Phuket, Coconut Island is one of the wonderful places to visit in Phuket with family to rest and unwind on your final day of holidays. It is also worth mentioning that this island still remains a hidden gem allowing you to escape the crowds and enjoy an authentic Thai island experience, just like a local.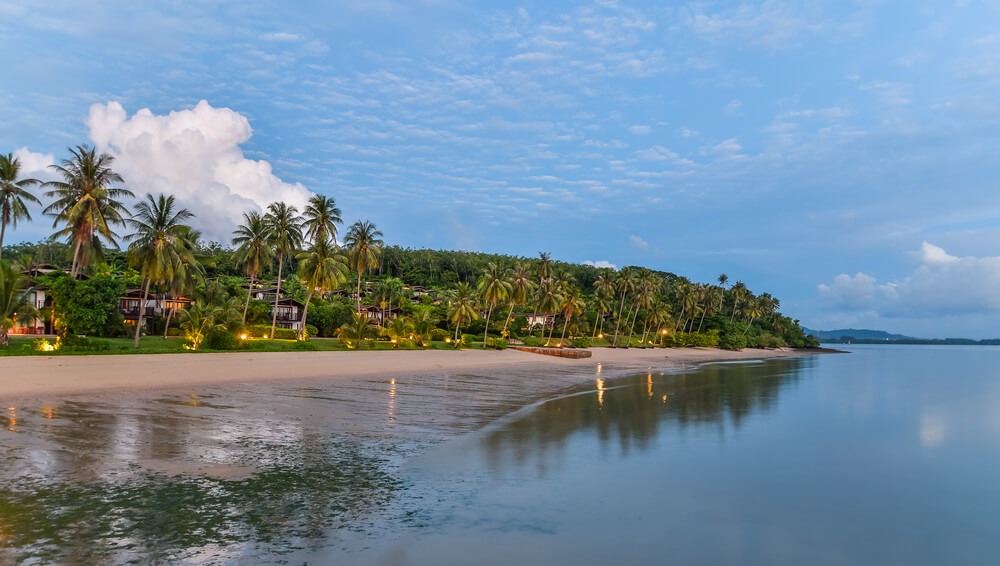 The sunrise over the golden sand shoreline of Coconut Island