Gulf of Oman Getaways: Unveiling unforgettable holidays to Oman
Uncover the eternal, alluring beauty of the Gulf of Oman and fall under the spell of this Arabian paradise during your holidays to Oman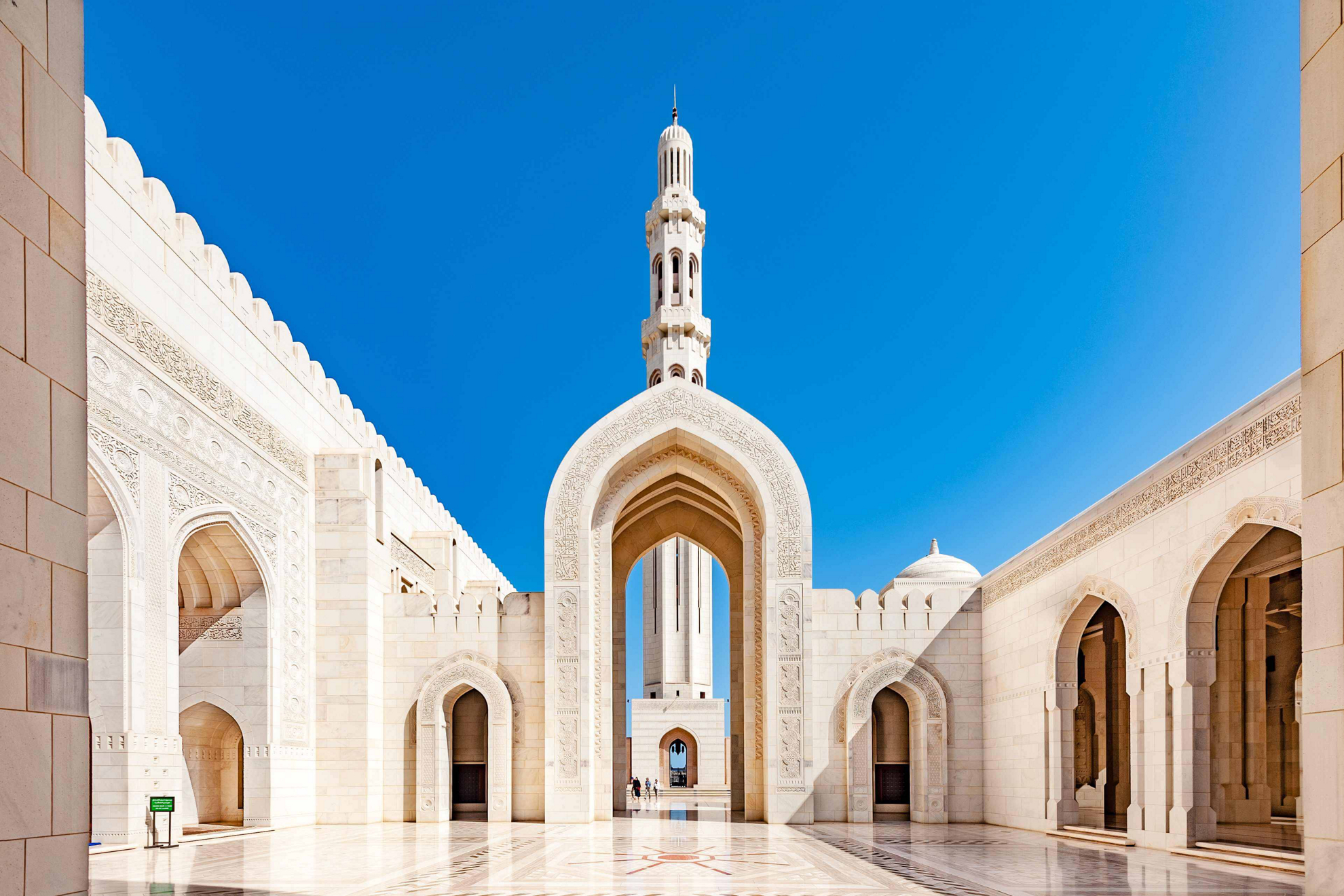 Shrouded in mystery and steeped in captivating history, the Gulf of Oman beckons curious minds to venture off the beaten path and live an experience that is as luxurious as it is enchanting. This hidden gem in the heart of the Arabian Peninsula is an alternative to Dubai and offers a diverse range of dream-worthy attractions and activities for travellers seeking an immersive and enriching vacation. Ensure that your holidays to Oman are filled with magic and delight with our hotlist of the top places to discover on your travels.
When to book holidays to Oman
Embarking on holidays to Oman is a journey worth planning meticulously. The best time to book your getaway to this Arabian wonderland largely depends on your preferred climate and activities. For those seeking a pleasant winter escape, the months between November and March offer cooler temperatures and are ideal for exploring Oman's rich cultural heritage. If you crave sun-drenched beach days and underwater adventures, consider the summer months from June to August, but brace for the sizzling heat. Ultimately, the choice is yours, and with a bit of careful timing, you can make your Oman holidays an enchanting experience filled with memories to cherish.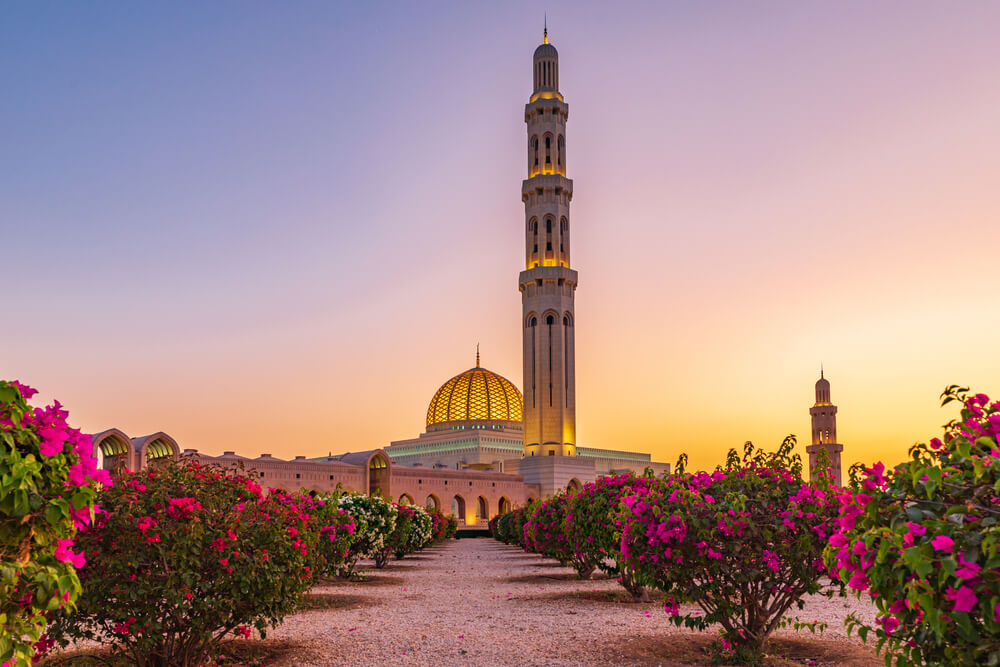 Sultan Qaboos Grand Mosque
Head to the capital city and uncover the famous sights in Oman
Journey back in time as you explore one of the oldest cities in the Middle East. Muscat, located in the Gulf of Oman, is the capital of Oman and home to a host of cultural treats to tempt creative minds. Whether you are visiting this city as a family or with friends, it is worth setting aside an entire day to explore the Oman attractions that you can find hidden in its meandering streets. 
Muttrah Corniche: one of the top Oman tourist spots
Start your day with a visit to the Muttrah Corniche, a boardwalk straight from a fairytale that runs along the bay and offers one of the best walks in the capital. Take time to admire the Arabian architecture around you and enjoy the fresh sea breeze - the best wake-up cure.
Take time to admire the Arabian architecture around you and enjoy the fresh sea breeze - the best wake-up cure
Step into one of the city's many cafés for a bite to eat before venturing to the souk where you can haggle for the best price on an array of eye-catching souvenirs. 
The Muttrah Corniche
Muscat's mosques are one of the top things to see in Oman
Muscat's mosques are well worth a visit on your holidays to Oman. The Sultan Qaboos Mosque - with its impressive 50-metre-high dome - and the Mohammed Al Ameen Mosque, which at night is lit up in bright colours are two spectacular examples of Oman places of worship and provide a picturesque way to explore the local culture. If you have time, head to The Sultan's Palace and the Royal Opera House to immerse yourself further in authentic Muscat life.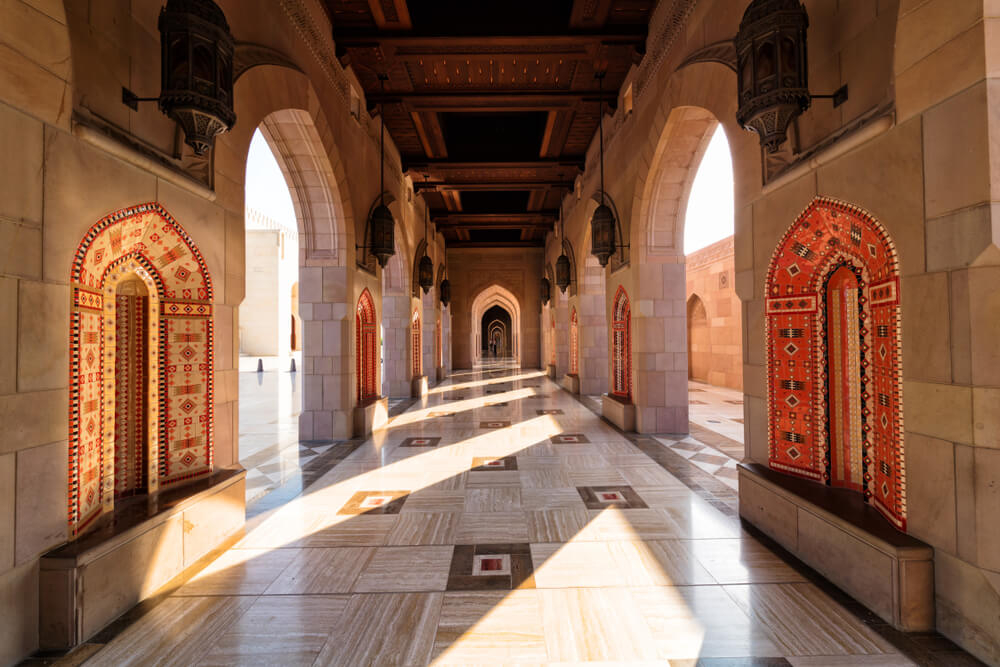 The Sultan Qaboos Mosque, Muscat
Soak up the sun on the best beaches in Oman
With more than 1,700 kilometres of sun-kissed, sandy coastline Oman is a top destination for those craving some winter sun. Discover our hotlist of the best beaches in the Gulf of Oman, without straying too far from the influence of the capital.
Soak up the Oman winter sun on Khalouf Beach
Khalouf Beach, shrouded in pristine beauty, is the perfect spot if you like to seek solace in nature's embrace during your holidays to Oman. Whether you're strolling along the shoreline, gazing at the Arabian Sea's azure expanse, or simply unwinding with the rhythmic lullaby of the waves, Khalouf Beach offers a retreat that is as serene as it is rejuvenating. 
Al Sifah Beach is one of the top beaches in Oman
Al Sifah Beach is a coastal gem, with its soft sandy shores and tranquil waters which beckon travellers to escape the hustle and bustle of daily life. Just an hour away from Muscat, this beach offers a peaceful retreat amidst unspoiled natural beauty. 
Just an hour away from Muscat, this beach offers a peaceful retreat amidst unspoiled natural beauty
Visitors can take a leisurely stroll along the shoreline, unwind under the gentle coastal breeze, or enjoy an Oman sea tour from one of the many boat trip companies operating in the area. Al Sifah Beach is also a great place to explore Oman's marine life by snorkelling in the azure waters. 
Enjoy an Oman beach holiday at Al Sawadi Beach
If you are visiting Oman, be sure to head to Sawadi Beach. This coastal gem, blessed with golden sands and gentle waves, invites travellers to escape the daily grind and immerse themselves in its tranquil beauty. Couples can enjoy a leisurely beachfront stroll, relishing the panoramic views of the topaz Arabian Sea while sun worshipers can simply bask in the sun's warm embrace. Sawadi Beach provides an idyllic retreat that promises both serenity and rejuvenation.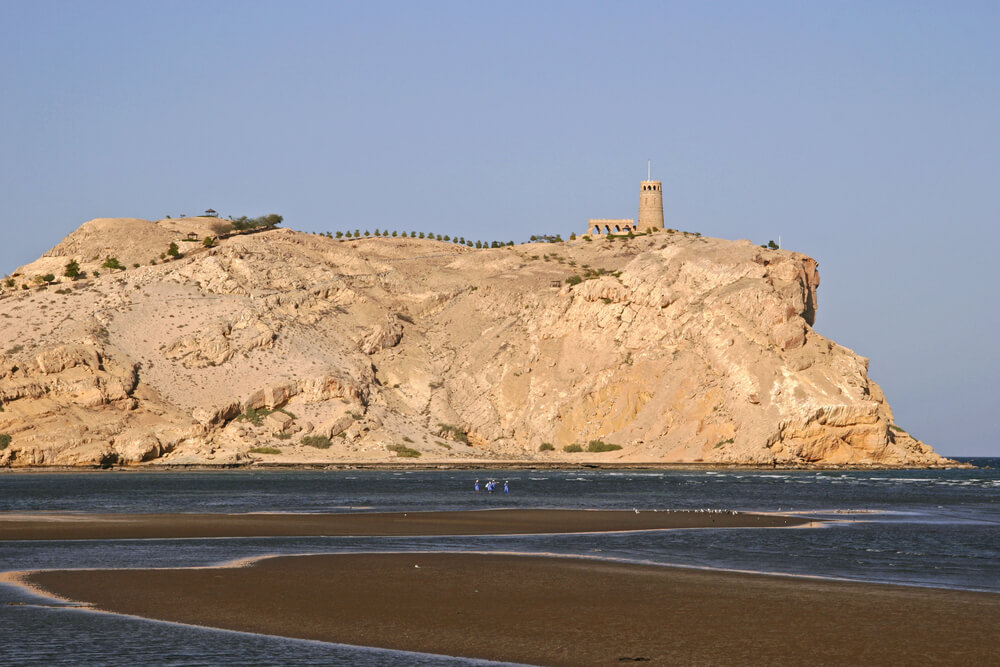 Al Sawadi Beach
Admire Oman's landmarks and nature
To get under the skin and discover the authentic side of Oman the best thing to do is to get out into nature. Luckily, Oman offers breathtaking vistas in spades. Whether you are an intrepid traveller or are just keen to experience the natural surroundings during your holidays to Oman, there are plenty of plans to keep you falling in love with this mesmerising region. 
The Nizwa Fort: one of the most beautiful places in Oman
Omani heritage is as alluring as it is captivating and there is no better place to discover Oman's storied past than the Nizwa Fort. Enveloped in an aura of mystique, this architectural masterpiece is one of the places to visit during your holidays to Oman. Explore its intricately designed corridors and ascend the towering watchtowers while you imagine a bygone time. 
The Nizwa Fort 
Explore the Musandam Peninsula, the fjords of Oman
In search of mesmerising landscapes during your holidays to Oman? The Musandam Peninsula, one of the country's separate enclaves in the Strait of Hormuz is a natural wonder veiled in serene allure. Its rugged cliffs and pristine fjords beckon explorers to delve into its untamed beauty. Hire a dhow (a local boat) and cruise along the winding waterways and dramatic landscapes while you admire nature's artistry. Snorkel in the crystalline waters and if you are lucky, you may even catch a glimpse of the dolphins that inhabit the waters in this area. The Musandam Peninsula is an idyllic sanctuary for those yearning to escape the ordinary and immerse themselves in the raw, unspoiled grandeur of Oman's breathtaking landscapes. 
Swim in emerald waters at Wadi Shab - one of the famous sights in Oman
For those travelling to Oman outside of the summer, a hike across a wadi (gorge) is a great way to experience the region's natural beauty. The Wadi Shab is a 45-minute long hike with many natural pools scattered strategically along the trail - ideal for a refreshing dip. The best is saved for last, however. Once you reach the end you will find a large natural pool with a cave that when swam through takes you to a waterfall.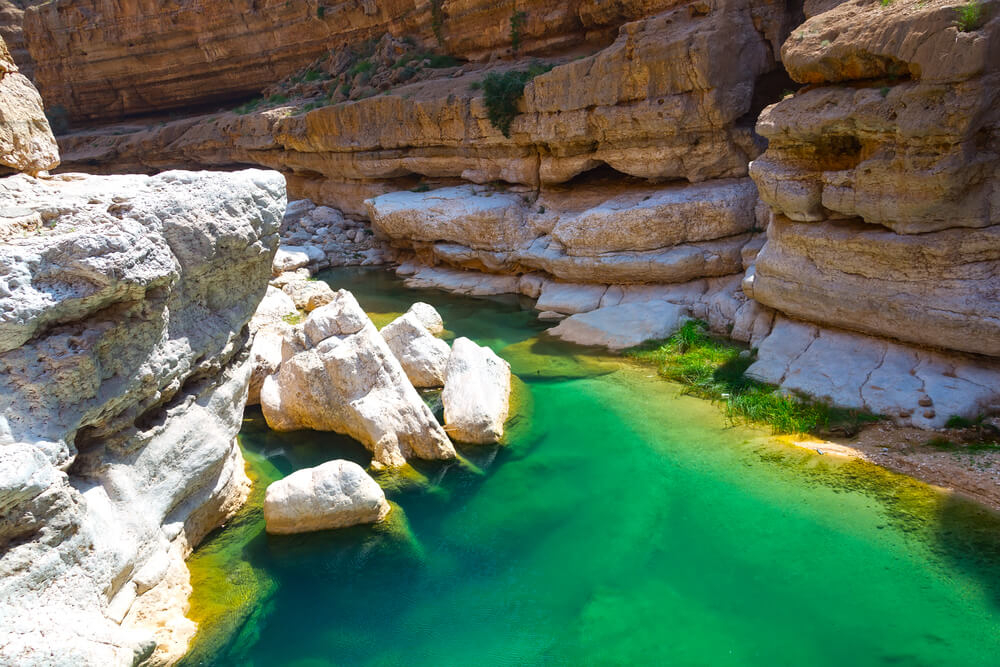 The Wadi Shab Gorge