Scuba diving for beginners
Discover tips for scuba diving beginners. Discover a world of wonder beneath the waves during your stay at Allegro Cozumel when you learn to scuba dive.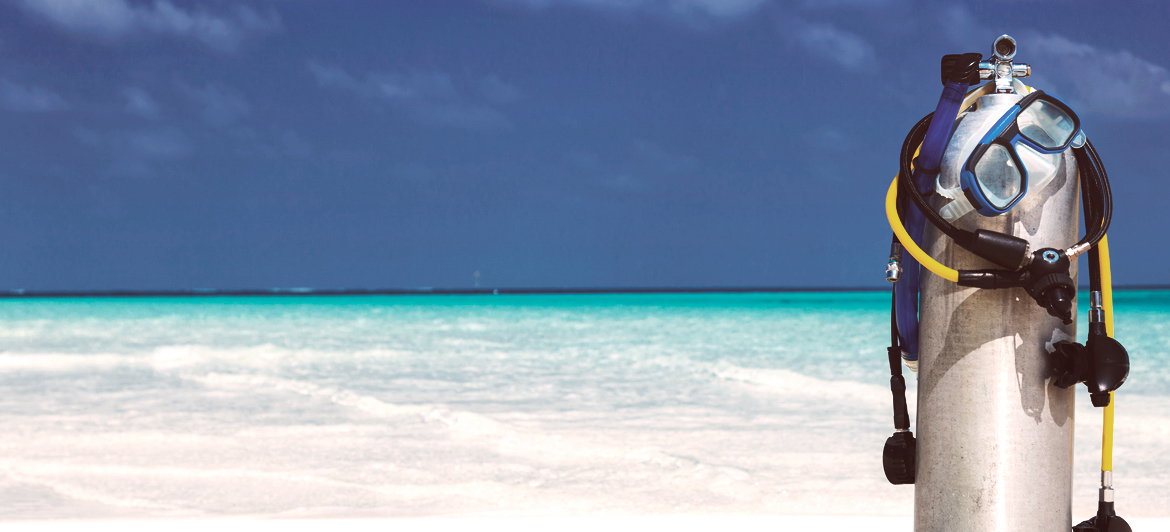 Discover a world of wonder beneath the waves during your stay at Allegro Cozumel when you learn to scuba dive. Scuba diving for beginners starts with training courses to be sure you can dive safely before you start exploring Cozumel's famous Palancar Reef, where you'll swimming alongside incredible marine life. The all-inclusive Allegro Cozumel's Ultimate Dive Experience package gives guests diving experiences at one of the world's top destinations for scuba divers. The resort can also guide you in getting tips for scuba diving beginners, as well as your scuba diving certification.
Below, you'll find a few key terms and tips for scuba diving beginners that a certified diving instructor will teach you before you begin your underwater adventure. Think of it as scuba diving 101, how to scuba dive step by step. There's plenty to learn about scuba diving basics, but you'll be beneath the waves in no time.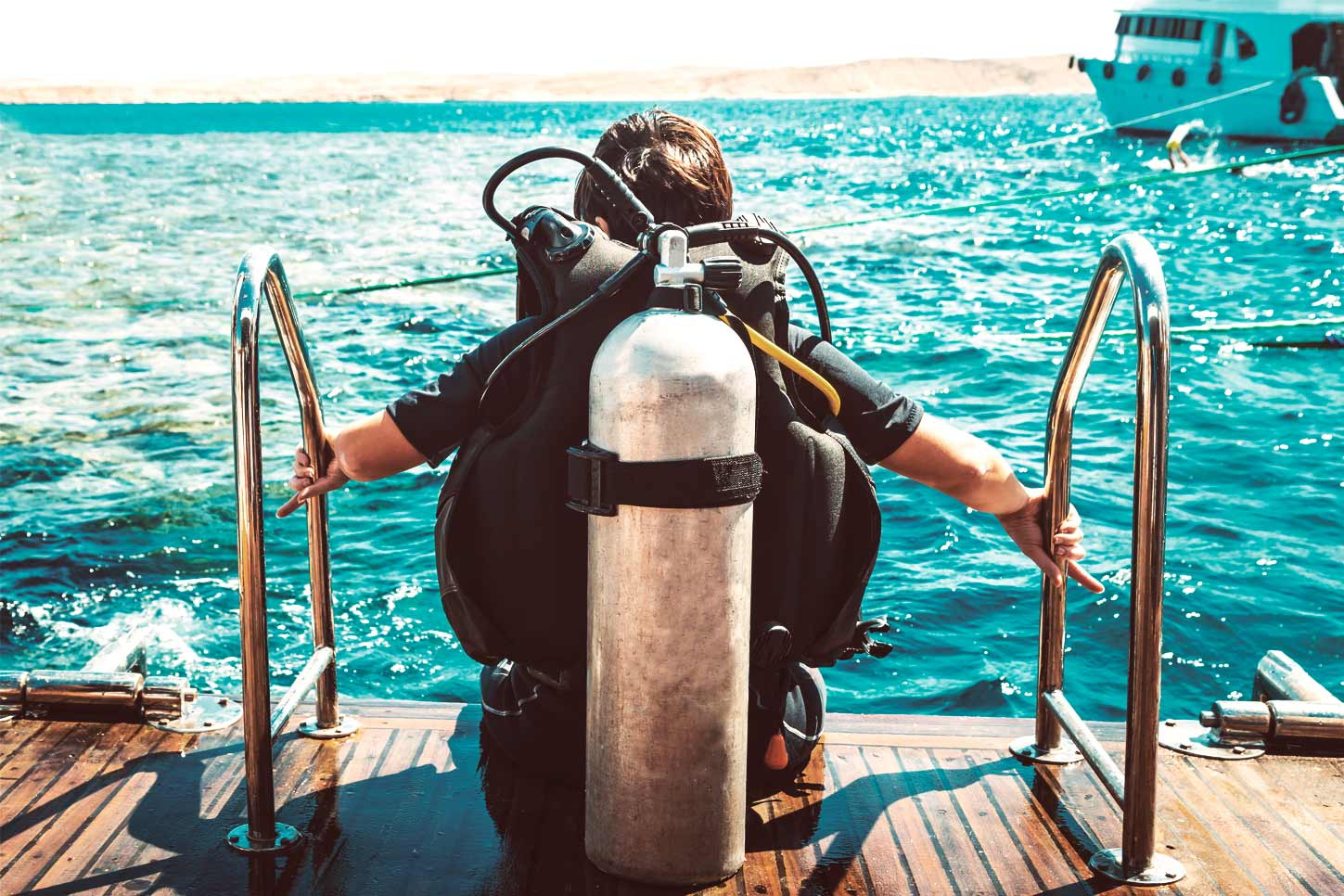 Every dive starts with a pre-safety check. This check makes sure all of your equipment is in working condition and you're ready for a safe descent.
Once you've completed your pre-safety check, you're ready to get in. Your scuba diving for beginners entry method will depend on the type of surface you plan to enter the water from, and your diving instructor will be able to teach you the best way depending on conditions during your dive.
Before you head beneath the surface, you'll take a moment to complete a five-point descent. This step uses hand signals to communicate with your diving buddy and serves as a final check before you begin to explore.
Signals include:
Signal: Show your partner that you are ready to begin your descent.
Orientation: Use a compass or pick a point, like the shore or sun, to orient your descent.
Regulator: Swap your snorkel for your regulator, or ensure your regulator is properly positioned in your mouth.
Time: Check your watch, dive computer, or dive watch to set your bottom time and calculate your maximum dive time accurately.
Once you're ready to take the plunge, a controlled descent under the surface ensures a safe and stress-free start to your dive. Your scuba diving for beginners instructor will be able to guide you through the best descent practices during your training.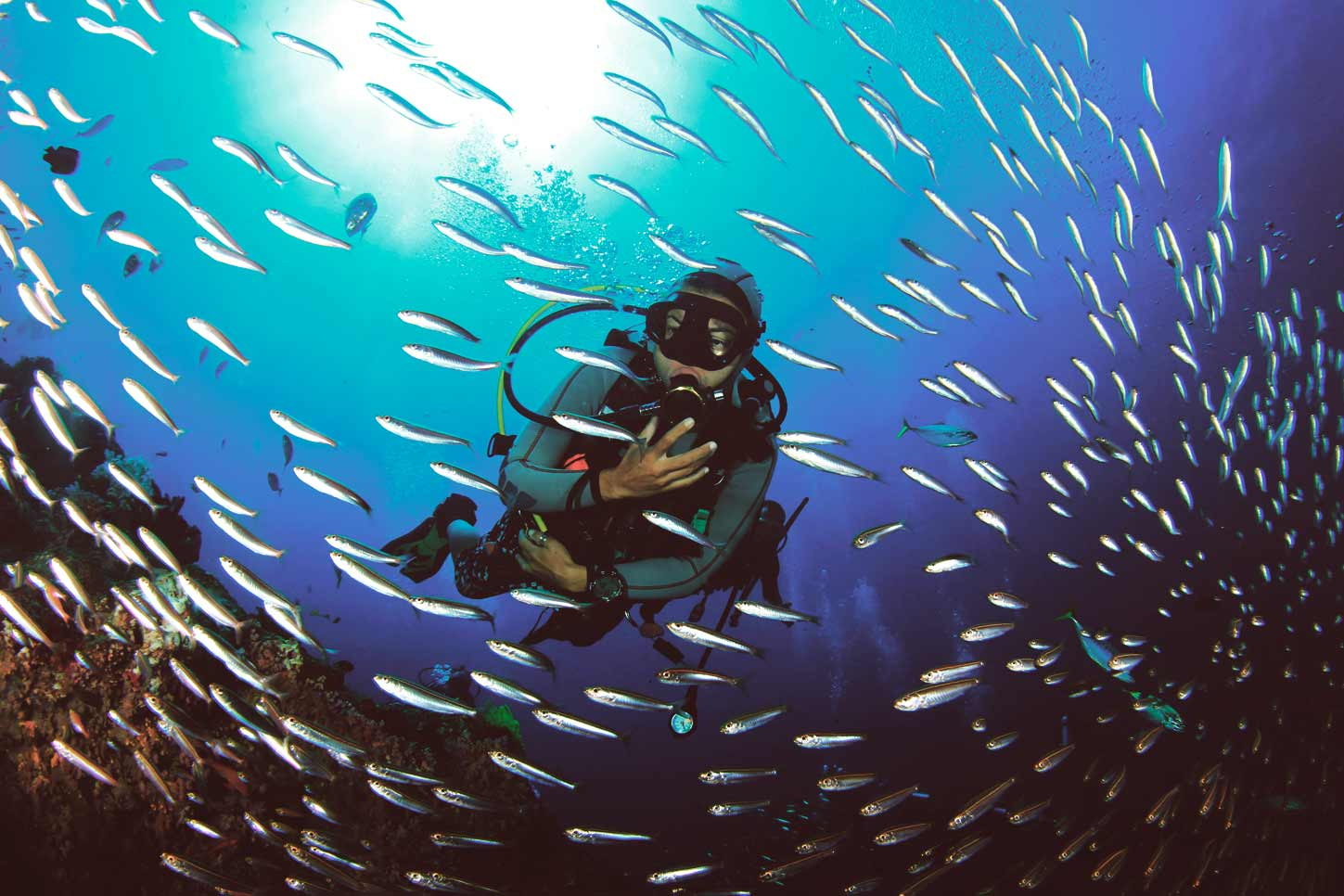 Now that it's time to begin exploring the incredible sights and undersea life that awaits just beneath the waves. Here are a few tips for scuba diving beginners to ensure a safe and fun experience.
Remember to stay calm. The best way to stay safe during your dive is by preparing ahead of time with practice paired with proper training and keeping a level head.
Communicate with your diving buddy often. Point out remarkable undersea life and be aware of how they are doing.
Look, but don't touch. Remember that you are exploring these organisms' home. In addition to respecting and preserving their habitat, some animals will have defense mechanisms that can be poisonous to humans.
Give your fellow divers enough space. Diving with bulky equipment can be awkward, especially as a beginner, and it's best to keep a safe distance from your diving buddy until you've mastered diving.
Look up! Take a moment to take a peek towards the sky every once in a while, as many amazing sea creatures, including larger animals and schools of fish, will be swimming overhead.
Ascending to the surface is just as critical as a controlled descent. It's important to follow your trainer's tips for scuba diving beginners, take your time, and keep a level head as you end your dive.