Milan with friends — a few days of
football, glamour, and fashion
Milan is one of those cities which it is impossible to pin down. Not as beautiful as Florence (link: guide to Florence), nor as richly endowed with monuments as Siena, nor can it compete with Rome in terms of historical interest. Nevertheless, Milan has attributes that other Italian cities lack, and which make it different — that unique ingredient needed in order to enjoy a trip with friends and which cannot be mistaken for anywhere else.
For many visitors to Milan, the star attraction as far as historic monuments are concerned is the Duomo (internal link) and its immediate surroundings. The cathedral's exterior is, without the shadow of a doubt, superb. It overlooks an iconic square that has become a focal point for people to gather socially and to hold political demonstrations. Then there is the captivating Galleria Vittorio Emanuele II, which leads to the La Scala opera house.
But there's much more to Milan than that. There had to be somewhere to celebrate the legacy of the Sforza dynasty. Their heritage is kept alive in this capital of northern Italy by the Castello Sforezesco. This impressive fortress, dating from the fourteenth and fifteenth centuries, stands in the centre of Milan.
But this trip is not simply about sightseeing: the idea is to travel to Milan with friends, and do different and exciting things.
Milan, the footballing capital
Milan lives and breathes football. The city has had few finer ambassadors than AC Milan and Inter Milan. Two teams sharing a single stadium: the Giusseppe Meazza, or San Siro, as it is known to traditional football lovers. Both teams play at this cathedral to football in the San Siro district, in the north-west of the city.
This veneration of sport is one trait that distinguishes Milan from the rest of Italy. Apart from Juventus, who hail from a small city (Turin), neither Rome nor any other major Italian city can match Milan's achievements in footballing history with two top-flight teams. To find anything similar, you would have to look to Madrid or London.
As both clubs play at the same stadium, it should not be a problem to see a game during your trip with friends. And, of course, this must include a tour and a visit to the San Siro stadium's museum. A unique place to relive the history of football through the eyes of the two Milan teams and the Italian side. The tour reveals fascinating facts about San Siro. As the stadium is home to both teams, there are two home changing rooms, each decorated in its own team's style and with its own rituals.
But AC Milan also has another home where you can learn about its glorious history. Casa Milan is the true museum of the Rossoneri [the Reds], and here you can see their trophies, discover the club's history and hear all sorts of anecdotes about this top Milanese football team. Casa Milan is not far from San Siro, in the Fiera Milan area.
Visiting the fashion capital with friends
Are you crazy about fashion and style? You and your friends could make your trip to Milan into a proper fashionista experience. Milan Fashion Week (internal link) is one of the world's four most important Fashion Weeks — along with those of Paris, London and New York. It is held in February/March (autumn-winter collections) and September/October (spring and summer collections), and it turns Milan into the fashion capital of the world.
On the days when fashion shows are taking place, the city becomes a veritable shop window for the most prestigious brands, with over 40 events. Even if you don't have tickets for a show, you can enjoy the Fashion Week ambience, and you might even be able to attend an official outdoor event. In addition, the Brera and Navigli neighbourhoods are great places to explore during Fashion Week.
But there are other places to visit, such as the Spazio Maiocchi (Via Maiocchi 5/7), a cultural centre that combines art, design and fashion, or the Armani Museum (Via Bergognone, 40), which charts the career and creations of the renowned Italian designer. Milan also has the Fondazione Prada (Largo Isarco, 2), although this is more a hotbed of art and design, rather than of fashion.
And as if that wasn't enough, nothing can beat the Milano Fashion Tour for getting to know the city through its illustrious brands. After all, Milan is home to Armani, Prada and Versace, to name just a few. You will certainly want to visit the Quadrilatero d'Oro (or Quadrilatero della Moda), a district bounded by four streets where you can find the city's main fashion and jewellery boutiques and design workshops. A place unique in the entire world. Wouldn't you love to go there?
Navigating La Belle Époque
Milan's glamour transcends the boundaries of the city, and is also evident around the great Italian lakes, not far away, and located between this capital of the Lombardy region and the Alps. Lake Maggiore, Lake Como and Lake Garda are three breathtaking locations that have left their mark on the history of Milan and on that of northern Italy.
The scenery is almost magical. Throughout history, celebrities from all over the world have sailed around these lakes, with the Alps providing the backdrop for photographs. Politicians, artists, actors, and countless well-known figures have been keen to spend time here in the quiet villages, enjoying the perfume from the the lemon trees and the haven provided by the calm waters of the lakes.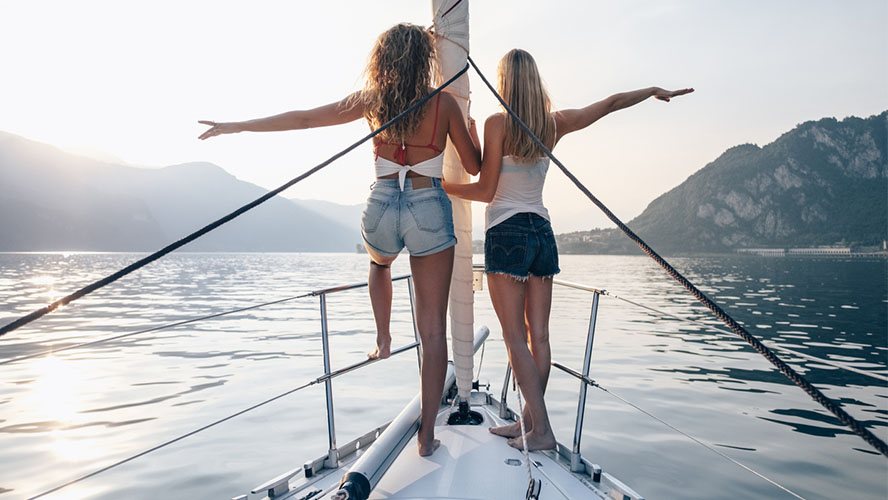 So, it could be a great idea while on a trip to Milan with friends to visit one of the Italian lakes. The best option for a change of scene for a day would be Lake Maggiore, as it is the nearest to Milan. You could hire a boat at one of the many little ports, sail out onto the lake to relive the Italian Belle Époque, perhaps stopping for lunch on one of the Borromeas Islands, and sampling mouthwatering Italian cuisine at one of their famous restaurants. Or you could let yourselves be seduced by any of the little villages dotted along the shores of the lake. A very easy excursion from Milan.
As you can see, Milan has much to offer, and is very different from other Italian cities. Have you made up your mind to go for it?
Related
plans