Parco Sempione: Milan's green heart
In spring and summer, Milanese families, couples and groups of friends head to Parco Sempione to charge their batteries and escape the busy city. The leafy treetops create delightful shady spots where you can lie down and relax. This small 50-hectare oasis is a place where time slows down and you'll often see people on the lawn reading a book, listening to music and playing the guitar. Just like every city park, picnics, bike rides and couples holding hands are typical sights.
Scene of English Romantic novels
The park was built in 1890 on top of an old military square next to Castello Sforzesco (internal link), the spectacular 14th century castle in Milan's historic centre. The park's design was inspired by 19th century English gardens, which were famous for recreating idyllic pastoral landscapes. Lakes, perfectly pruned plants, rows of trees, a network of carefully laid out paths and picturesque architecture are typical features of this style, as seen in stories by Mary Shelley and Charlotte Brontë.
A small artificial lake lies inside the park and is frequented by ducks and other small animals. It can be crossed using a wooden bridge that is decorated with padlocks, a symbol of eternal love left by visiting couples; this romantic gesture is now common in European cities. There are also spaces for dogs, kiosks with terraces where you can have a drink, and free WiFi – an essential requirement for millennials.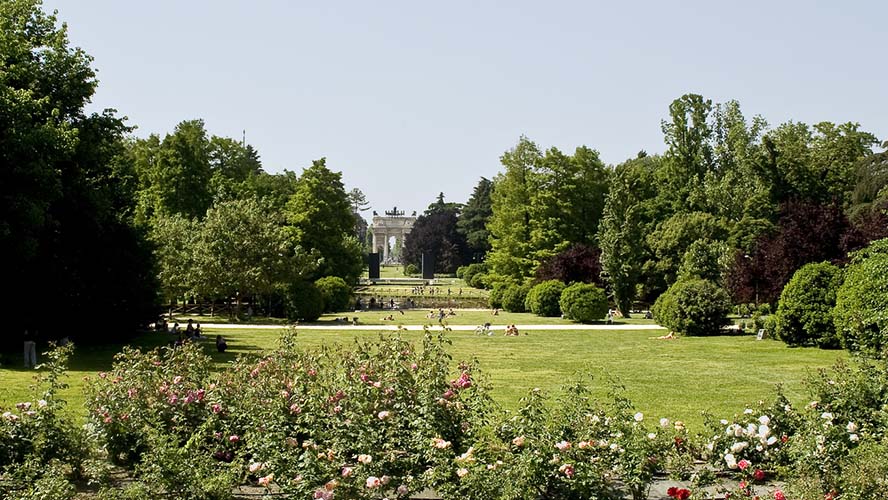 Un recorrido por el Parque Sempione
What to see in Parco Sempione: Arco della Pace and other sights
As well as going for a long walk and enjoying the peaceful atmosphere, we recommend visiting the following essential sights in the park:
Triennale di Milano: located in Palazzo dell'Arte, to the south-west of Sempione, this museum is famous for its contemporary art exhibitions and for promoting Italian art and architecture.
Civil Aquarium: the only building that remains from Milan's Universal Exhibition of 1906 and one of the oldest aquariums in the European Union. Its famous Art Nouveau façade welcomes visitors who are interested in the aquatic life of the Italian coasts. It also has a library that specialises in marine biology.
Civic Arena: opened in 1806 before Napoleon, this amphitheatre was, and is, a multi-use space for all kinds of events, from concerts and athletic trials to naval battles when the space was filled with water.
Arco della Pace: construction started in 1807 to commemorate Napoleon's victories but work was interrupted and resumed later, in 1826, to commemorate the peace reached in 1815. It's in Piazza Sempione and was once part of the park entrance.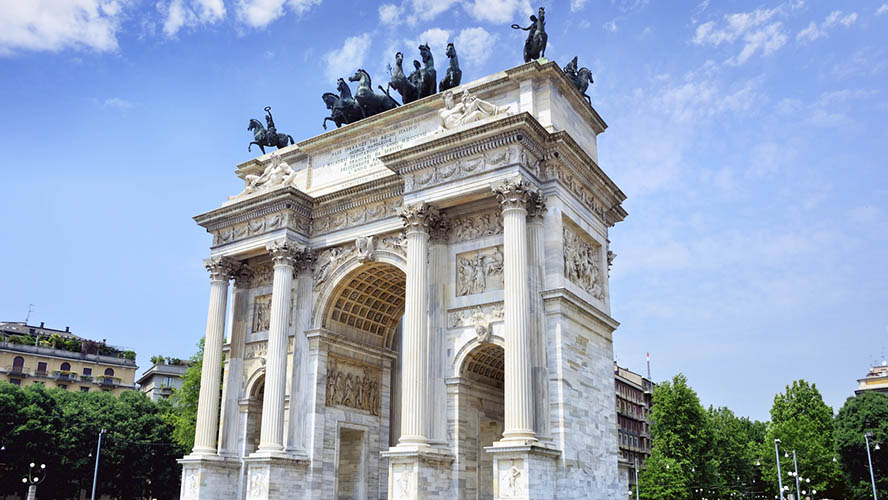 Branca Tower: this tower is almost 109 m tall, making it the second highest in Milan after the Pirelli Tower. A hexagon-shaped covered viewpoint at the top offers 360-degree views of the city. It was built as part of an art exhibition in 1933 and today is sometimes hired out for private parties and events. It's also home to the Just Cavalli Café, a restaurant created by famous designer Roberto Cavalli and one of Milan's most chic venues.
Sunset in Parco Sempione
Parco Sempione's great location, less than a 10-minute-walk from the centre's main tourist attractions such as the Cathedral of Milan, means this green oasis can be enjoyed at any time of day. We recommend visiting at sunset, after a busy day of sightseeing, to wind down and enjoy the natural setting. When the sun starts to head towards the horizon, the paths that wind between the trees become cooler and local residents meet to relax and switch off after work. It's also perfect if you're travelling with children because they'll love spotting the fauna that is hidden around the park.
Practical information
How to get to Parco Sempione:
Metro: lines 1 and 2 (Cardona and Triennale).
Tram: routes 1, 3, 4, 12, 14, 27, 29 and 30.
Bus: routes 43, 57, 61, 70 and 94.
Opening times
Every day from 6.30 a.m. to 9 p.m.
Frequently Asked Questions
¿Qué se puede ver en el Parque Sempione?
Algunos rincones que tienes que visitar son: La Trienal de Milán, el Acquario Civico, la Arena Cívica, Arco della Pace o la Torre Branca.
¿Cómo llegar en transporte público al Parque Sempione?
Metro: líneas 1 y 2 (Cardona y Triennale).
Tranvía: líneas 1, 3, 4, 12, 14, 27, 29 y 30.
Autobús: líneas 43, 57, 61, 70 y 94.
¿Qué horario de apertura tiene el Parque Sempione de Milán?
Todos los días de 06:30h a 21:00h.
Related
plans