The Triennale di Milano:
a modern art laboratory
The Triennale di Milano is like a testing ground for new ideas. It could be described as a museum, but also puts on plays, cooking shows, jazz and Baroque music concerts and has an experimental chemistry lab. It isn't easy to say exactly what kind of museum it is either: any form of artistic or intellectual expression imaginable has a place here, provided that it contributes some kind of reflection or support to the complex.
The Triennale has a permanent collection that focuses on the finest examples of contemporary Italian art. However, for many its strong point is the temporary exhibitions it puts on that last a few months and cover an extremely wide range of subjects: urban planning, biology, music, industry, ecological solutions for the new millennium and more.
What is the Triennale di Milano?
The Triennale di Milano Museum aims to connect all these various disciplines around an idea, a humanitarian or industrial problem that is explored through sculpture, nanotechnology, photography or fashion design. The possibilities are immense – what matters is the way these points of view are combined to address the problem in a comprehensive, organic and lively way with multiple variations.
From the time it was founded in 1923 up until 1996, the Triennale di Milano held nineteen international events, with a twenty-year break until 2016 when it was resumed. Since 2003, the Triennale has also awarded another prize every three years: the Gold Medal for Italian architecture.
The Triennale di Milano, far more than a museum
The building that houses the Triennale di Milano Museum is in the east of Parco Sempione, next to impressive Sforza castle, which belonged to one of the region's most famous and wealthiest families. The park's paths lead to a lake and several monuments, including Milan Aquarium, and the building designed by architect Giovanni Muzio for the Triennale Museum also lies amid the lush trees.
The Palazzo dell'Arte, home of the Triennale Museum, was built between 1931 and 1933. Giovanni Muzio designed a multifunctional building that was innovative for its time, capable of transforming and adapting to the needs of each specific exhibition with a versatility that is highly prized today. Visitors are welcomed by its impressive granite portico, which heralds the powerful structure of the brick building that follows. But it's the interior of the palace where the real treasures lie in wait.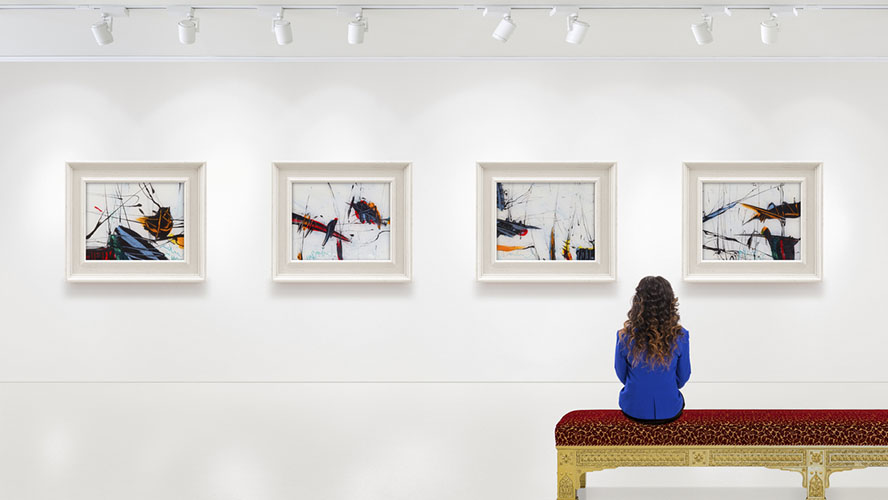 Apart from exhibitions on every subject imaginable, the Triennale Museum has other surprises that delight visitors:
Michele De Lucchi bridge. Internationally renowned architect Michele De Lucchi, whose distinctive bridges are undulating metal and glass structures with a wonderful play of light, was commissioned to design this walkway. It's found inside the building, suspended above some stairs, and is made of bamboo. Narrow and vertiginous, more fantastical than functional, De Lucchi's bridge has become a favourite spot of visitors to the museum who love experiencing the feelings it generates.
Design Café. Living up to its name, the Design Café offers visitors to the museum the chance to relax on one of hundreds of seats and pieces of furniture in different styles that are the work of famous designers. This space is also used for the Triennale Design Museum exhibitions.
Art Theatre. Designed by Italio Rota, this room is used for conferences, debates, conventions and plays. Note the scent of the Lebanese cedar wood panelling. The theatre has enough attractions to justify a visit here by people who didn't initially plan to visit the museum.
Almost 100 years of Modern Art
The Triennale di Milano emerged in a turbulent period for Europe, at the end of the First World War, and for Italy, with Mussolini's rise to power after his famous march on Rome joined by his faithful 'black shirts'.
During the first years of Mussolini's rule, many artistic groups were formed around the figure of Il Duce, the 'conductor' of the Italian people; some, such as the Futurists, were true avant-garde revolutionaries who were attracted to modernity, machinery and the noise of cities and factories. Tommaso Marinetti, their leading figure, explained that: "a roaring car that seems to ride on grapeshot is more beautiful than the Nike of Samothrak".
The Novecento Italiano was another extreme – it wanted to create art associated with fascism and Italian nationalism but based on Italy's glorious past, particularly the quattrocento and cinquecento. Novecento artists therefore chose a name for their movement that evoked the beautiful Renaissance.
The Triennale di Milano dates from 1923 when it began as a triennial universal exhibition on architecture and industrial design based in Monza. In 1933, it was moved to the Palazzo dell'Arte, a building designed by architect Giovanni Muzio with financing by the family of industry magnate Antonio Bernocchi. Muzio was an important figure in the Novecento movement and left his mark on the region in the countless civil and religious buildings that he designed. This was under the patronage of Margherita Sarfatti, a writer and art critic who played an important role in the Novecento; of Jewish origin, she was Mussolini's biographer and one of his lovers.
Useful information
Website: https://www.triennale.org/en/
How to get to the Triennale di Milano:
On foot. The museum is 15 minutes on foot from Piazza del Duomo in the centre.
Metro. Line M1 (red), Cairoli Castello stop.
Bus. Line 61, Triennale stop.
Opening times
Tuesday to Sunday: from 10.30 a.m. to 8.30 p.m.
Prices
See updated fees on the official website. Discounts are available for under-26s, students, groups and over-65s.
Frequently Asked Questions
¿Cómo llegar a la Trienal de Milán?
A pie. El museo se encuentra a unos 15 minutos a pie de la céntrica Plaza del Duomo.
Metro. Línea M1 (roja), parada Cairoli Castello.
Autobús. Línea 61, parada Triennale.
¿Qué precio tienen las entradas a la Trienal de Milán?
Los precios dependen de la exposición. Consulta tarifas actualizadas en web oficial. Los menores de 26 años, estudiantes, grupos y mayores de 65 años cuentan con descuentos.
¿Qué horario de visita tiene la Trienal de Milán?
De martes a domingo: de 10:30 a 20:30 horas.
Related
plans