Eating out in Marrakesh:
Morocco's great restaurant
When eating out in Marrakesh you will no doubt have to pass through Jemaa el Fna square at some point, above all when evening falls and dozens of temporary restaurants set up tables and long benches to serve their culinary offerings.
It is true that you won't find anything other than the usual tagines, couscous, chicken and lamb skewers, harira soup, chicken pies, mezze, Arabic pastries and so on, and the quality is nothing to write home about. But what it does have is tons of authenticity, and eating on the square is also one of the most fun experiences that you can have in Marrakesh: touts from each one of the stalls try to persuade passers-by to eat at their businesses using jokes and funny lines in an array of different languages.
Not only is Jemaa el Fna one of the most popular places for eating out in Marrakesh, it is also one of the cheapest, since you can have a hearty meal for just 10 to 15 euros.
However, aside from the square there are hundreds (or even thousands) of options for eating out in Marrakesh, both in modest restaurants and terraces and upscale establishments. In terms of the latter, many can be found in the medina as well as the Guéliz and Palmeral neighbourhoods.
Three good options for eating out in Marrakesh
At the hotel Barceló Palmeraie Marrakesh itself you can eat like a king at any one of its restaurants. Below are the main highlights:
Mezze: specialising in traditional Moroccan food, it is the perfect place to dine in relaxed and atmospheric surroundings.
L'Olivaraire: at this buffet restaurant you can sample a wide range of Mediterranean and international dishes. It also has à la carte options for the most picky diners and you can also eat on the terrace, which has a great atmosphere.
L'Oasis: the hotel's swimming pool bar, which serves tasty snacks, sandwiches and salads.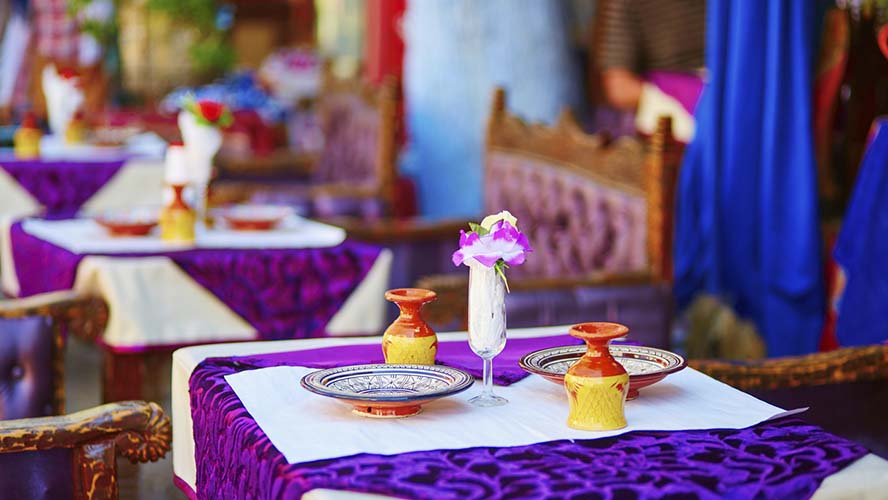 Some of the most popular restaurants in Marrakesh
As we already mentioned, in Marrakesh the most difficult thing is making a choice, given the huge number of restaurants, street stalls and terraces spread out over the length and breadth of the city. But here are just a few of its most popular and, of course, high-quality options:
La Cantine des Gazelles (Rue Dabachi Kennaria, 6): traditional Moroccan food (the couscous and tagines are as delicious as they are generous), just a short walk from Jemaa el Fna square.
Bazaar Café (Rue Sidi el Yamani, 24B): restaurant inspired by the international trend for street food, served in a very charming establishment. And, of course, it's not the kind of place for wolfing down your food but instead savouring the mouth-watering flavours.
Roti d'Or (Rue Kennaria, 17): fun, varied, international cuisine (quesadillas, hamburgers, wraps, chips, etc.) made using local produce.
Henna Art Café (Rue Derb Sqaya, 35): an excellent place to enjoy two of Morocco's most appealing traditions – on the one hand, its delicious cuisine and, on the other, its elaborate henna tattoos, which are applied on site.
The best restaurants in Marrakesh
Many of Morocco's finest cooks offer their dishes and creations at upscale accommodation in Marrakesh. But it's also possible to enjoy gourmet cuisine in restaurants such as the following:
Dar Moha (Rue Dar el Bacha, 81): a luxurious palace is the setting for the skills of chef Moha, who trained at some of Europe's finest restaurants but gets the best out of the Moroccan and North African produce he uses in dishes embracing both continents.
La Table du Marché (corner Ave. Echouhada and Rue des Temples): Moroccan and international, market-fresh cuisine (as the restaurant's name suggests) in a sophisticated interior with views of a peaceful garden.
Le 68 Bar (Rue de la Liberté, 68): marketed as a wine bar with over 200 national and international wines, it also serves refined food that makes the perfect pairing.
Le Salama (Rue des Banques, 40): sophisticated couscous and tabbouleh on one of the prettiest and most striking terraces in the medina of Marrakesh. An excellent place for dinner, where you can watch over the hustle and bustle of the city.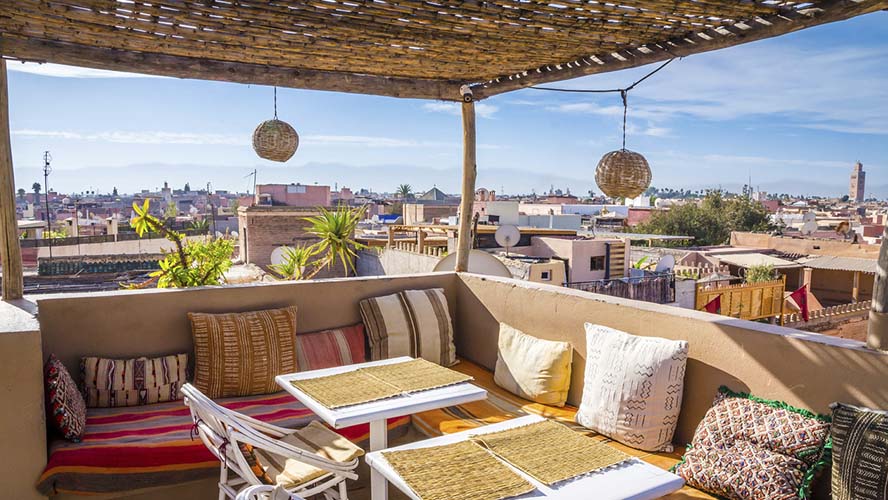 The magic world of Marrakesh's tea houses
The mint tea ritual is a way of life for all Moroccans, who drink it at home, in the street and also in lovely establishments such as these:
Café des Epices (Rue Derb Rahba Lakdima, 75): situated in the spice market, one of the city's most flavoursome places, this café is a classic where mint tea is prepared to perfection.
Nomad (Rue Derb Aarjane, 1): in the heart of the medina, over recent years its terrace has become one of Marrakesh's hippest places. The best time to come is as evening falls.
Kif Kif (28 Rue Koutoubia): despite its name, it is one of the most recommended places to try a Moroccan-style tea. It also serves coffee, as you would expect, as well as some classic Moroccan dishes.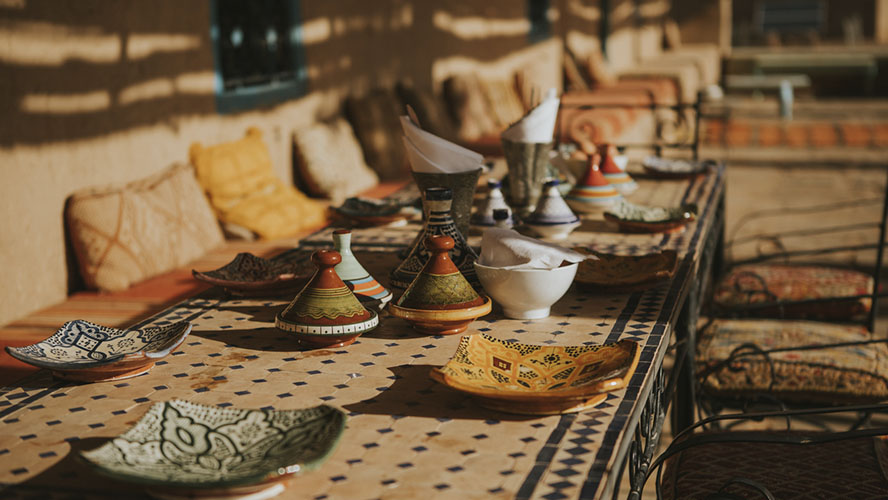 Eating on the cheap in Marrakesh is possible and safe
Without a doubt, the best way to eat on the cheap in Marrakesh is at one of its many street stalls, which are mostly found in the medina. Many of them cook the food on the spot and in view of customers giving the most scrupulous diners peace of mind.
In general, it is advisable to avoid food that has not been boiled or cooked, such as salads and fruit. Not because they are not good enough quality, but because you cannot be sure if they have been washed or not.
And, of course, whenever possible, be sure to sample the sweet treats that are sold at many of these stalls, accompanied by a good mint tea.
Related
plans