Where to eat in Cáceres:
from cheap eats to haute cuisine
Visitors will not be disappointed by the wide range of bars, restaurants and terraces in Cáceres. You have a chance to sample both typical local dishes, as well as some of the best creations of Spanish haute cuisine.
There are plenty of options to choose from in places such as Plaza Mayor, but it is always a good idea to get recommendations from those who know the best, in other words the local cacereños. For example, the staff at your hotel might be able to give you good tips.
This guide also includes a number of good recommendations for all budgets, and of course, for a wide range of culinary tastes.
Where to eat in Cáceres
Hotel Barceló V Centenario hosts two of the best restaurants in town: the main hotel restaurant and erraza barbacoa Colón, a pleasant barbecue terrace.
The hotel restaurant offers excellent meals at both lunch and dinner time, giving you the opportunity to try some of the best dishes of Extremaduran, Spanish and international cuisine. As for the barbecue terrace, it is an unbeatable choice whenever there is good weather. You can enjoy the soft evening air while sampling the delicious grilled foods on offer.
Free cancellation
Read on to find out about other food options in Cáceres:
Javier Martín (Juan Solano Pedrero, 15): The chef Javier Martin has been serving excellent Mediterranean dishes in this Cáceres restaurant for over 15 years, always with a strong focus on seasonal produce. The food is served in five different spaces, from a traditional dining space to the restaurant kitchen. There is also an attractive terrace.

Sibuya Urban Sushi Bar (San Pedro de Alcántara, 16): You might be surprised to find a Japanese restaurant in Madrila, one of the main tapas areas in Cáceres. But this restaurant, part of a chain that operates throughout the country, is all about quality and authenticity.
Calenda (Adarve del Padre Rosalío, 14): Located right in the middle of the Old Town, Calenda's menu fuses together traditional and creative avant-garde flavours. The result is highly satisfactory, backed by the fact that this restaurant is popular amongst both locals and visitors.
Madruelo (Camberos, 2): Both stylish and cosy, Madruelo is without doubt one of the best restaurants in Cáceres. Its classic dishes pay tribute to seasonal Mediterranean cuisine. You should try the rice with beans and repápalos, a type of bread-based meatball.
Where to have dinner in Cáceres
While most visitors in Cáceres prefer to eat out for lunch, there are also some excellent dinner places on offer. It is also much easier to enjoy a quiet meal out in the evening than during the day. Read on to find out about the best restaurants for both lunch and dinner.
B-nomio Restaurante (Madre Isabel Larrañaga): Chef Benjamín Caballero breathes creativity into the local culinary scene with his unique twist. Although the dishes on offer are based on seasonal local and national produce, they also include some interesting international touches.
Tápara (Islas Filipinas, 4 R-66): Although the name 'Tápara' is linked to 'tapas', the delicious and creative meals in this place are in fact served in generous portions. You should try the delicious king prawns wrapped in kataifi with guacamole and tomato concasse on the side.
Torre de Sande (Condes, 3): Although people normally come here for the tapas, it is worth sitting down and taking your time to sample some of the tasty traditional meals on the menu, including, for example, the delicious Iberian ham.
Mastripiero Gastrobar (Fuente Nueva, 4): This place offers rather eclectic cuisine, a pleasant surprise in the normally quite uniform food scene of Cáceres. In addition to delicious meals, this restaurant boasts a beautiful garden and a lounge area, where you can sit down and enjoy an after-dinner cocktail.
Atrio: one of the best restaurants in Cáceres
The restaurant Atrio (Plaza San Mateo, 1) deserves special mention in any guide to eating in Cáceres, as it has been an important point of reference both in the local and national culinary scene since it was opened by the culinary couple Toño Pérez and José Polo in 1986.
Together with other famous industry names, such as Juan Mari Arzak, Ferran Adrià and the Zalacaín restaurant (Madrid), Atrio has achieved a high level of recognition in the world of gastronomy, including two Michelin stars.
In addition to external recognition, Atrio is also well-known for its loyal clientèle (national and international) that returns season after season to explore the novelties of the restaurant's exquisite menu. A combination of subtle and original flavours, first-class products and incredible talent is guaranteed in each dish.
Atrio is a genuine gastronomic temple for those looking for highest-quality haute cuisine in Cáceres.
Cheap eats in Cáceres
It is not difficult to find good but affordable restaurants in Cáceres. When it comes to food, Cáceres is not an expensive town, but this guide will give you a list of particularly affordable places.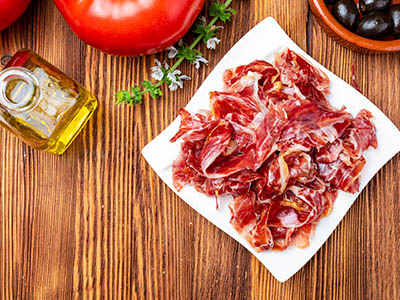 Burger Dino (Rafael García Plata de Osma, 2): Don't let the easy-going atmosphere and simple décor fool you; this is one of the best burger joints in the whole of Cáceres. At Burger Dino you can get large portions and high-quality meat at an incredibly low price.
La Casa del Goloso (General Ezponda, 4): A café and pastry shop, ideal for quality breakfasts or snacks at an affordable price. You should try the delicious carrot cake, although the list of equally exquisite homemade pastries (including vegan options) is long.
Tony's Bocatas (Gómez Becerra, 5): In addition to sandwiches (different sizes, for all tastes and with a variety of ingredients), this place also offers generous hamburgers, as well as a lunchtime menu on weekdays.
Zeppelin (Virgen de la Montaña, 1): This place offers everything from breakfast to dinner, including enticing appetizers (with tapas of your choice). Here you can enjoy the best regional and national dishes at a very affordable price.
Free cancellation
Related
plans