Travelling to Fuerteventura with children:
an exciting adventure
What better incentive for children than enjoying the wonders of nature? Fuerteventura, the island of winds, idyllic beaches and volcanic landscapes, amazes children with its unique features. Joining a hiking or boat excursion along the island's different routes makes a perfect plan the whole family will love.
Fuerteventura has a wide range of attractions that give you the chance to discover its wildlife, visit water parks for fun days out or sign up for courses that help you take your first steps at doing sports among the waves. You'll find activities for all ages, because Fuerteventura is an open space where virtually everything catches your eye and invites you on a journey of discovery: exploring the island is an adventure in itself. If you're looking for exhilarating activities there is something for everyone, such as the classic camel ride or a boat trip to the Island of Lobos on a pirate adventure.
What to see and do in Fuerteventura with children
There's no better plan with children than a day at the beach. Nothing makes them happier than feeling free, running happily along the shore and playing in the waves. Fuerteventura has numerous beaches where parents can relax while their children play at ease. La Concha beach and its nearby coves are a great example. Situated near El Cotillo fishing village, its crystal-clear, calm waters are a wonderful choice for a day out with children. Caleta de Fuste never fails to delight thanks to a peaceful beach that is sheltered by a horseshoe-shaped bay. La Guirra beach is also close by and has the added bonus of a children's playground.
Morro Jable, an important tourism hub, is home to Playa del Risco del Paso beach where the changing tides form natural pools where little ones love to play. Another great option is Gran Tarajal beach, which is popular with local families. It's located in the town of the same name in Tuineje municipality and has a wide range of services.
The Corralejo dunes and Lobos Island, family excursions
Some places are simply unforgettable for younger family members and Corralejo is one such place thanks to its impressive sand dunes. Little ones can slide down a series of white sand banks as if they were a natural slide and it's impossible for them not to have fun in this spectacular setting.
To round off your plans in this area of Fuerteventura, another great recommendation is heading to Corralejo dock and taking a ferry to the Island of Lobos. A boat trip will make children feel like pirates in search of Treasure Island. Lobos Island is a protected area with a great ecological wealth and the entire island can be circuited on foot. The route takes just over an hour and is truly inspiring. Once you've finished your walk, tuck into a dish of fresh fish at the Isla de Lobos restaurant, the only one on the island. It's a good idea to book in advance.
Visit Oasis Wildlife Fuerteventura
Riding a dromedary—they might be called camels but they're not really—is a popular experience on Fuerteventura and never fails to delight children on a family holiday. A visit to Oasis Wildlife Fuerteventura (formerly the Oasis Park) is an action-packed day out, starting with a ride through Fuerteventura's astonishing landscapes on the back of a dromedary. During the ride, you'll learn all about these animals' habits and the properties of camel milk, which is really good at controlling blood sugar levels.
Oasis Wildlife Fuerteventura is a huge theme park with a zoo, botanical garden and garden centre. Over 3,000 animals from 250 different species plus an enormous number of plants are waiting to be admired. During a visit to this impressive space in southern Fuerteventura (in La Lajita, Pájara municipality), children can enjoy fun parrot shows, feed the lively lemurs, swim with sea lions and get up close to reptiles and birds of prey.
Children who are interested in plants can also sign up for a guided visit to the Botanical Garden. During July and August it also runs week-long summer camps. A unique way to enjoy being in touch with nature inside the zoo.
Acua Water Park, perfect for holidays with children in Fuerteventura
Fuerteventura has an outstanding water park in Corralejo: Acua Water Park. The whole family will enjoy a day out here, especially the children. Dizzying slides, jacuzzis, white-water rivers and wave pools make your visit an invigorating experience. There are attractions suitable for all ages.
Smaller children will love the Laguna Splash kids' zone with water jets and a children's pool that has smaller slides. Finally, there's even a Kids' Club where children can take part in hilarious games while their parents relax.
More things to visit in Fuerteventura with children: the Oceanarium Explorer
A visit to the Oceanarium Explorer, at Caleta de Fuste marina should definitely be included on any list of fun things to do in Fuerteventura with children. When you explore its facilities you'll discover the marine species that inhabit Fuerteventura's waters, have the chance to swim with sea lions, enjoy a catamaran trip and go fishing, among other activities.
Exciting pirate trip along the Jandía coast
Another thrilling activity involves your whole family boarding the Pedra Sartaña schooner to experience a pirate adventure along the spectacular Jandía coast. This craft is one of the last remaining sailing ships that transported goods in the north of the peninsula. Today it has been converted into a boat where young cabin boys and girls can learn to do sailor's knots and different sailing skills including hoisting the sails. Children can also take part in games and go diving and fishing. The excursion lasts five hours and, if you're lucky, you might spot dolphins and whales, or even sharks and flying fish.
Related
plans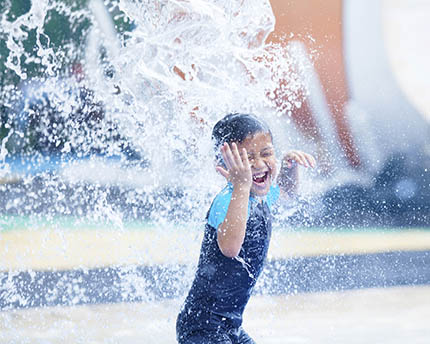 Leisure and Entertainment