Oasis Park,
el parque salvaje de Fuerteventura
Southern Fuerteventura is home to a genuine oasis that spreads out across over 780,000 m² where flora and fauna intertwine to create one of the loveliest and most entertaining places on the island. Oasis Wildlife Fuerteventura (formerly Oasis Park) is one of the largest theme parks in the Canary Islands. It has over 3,000 animals and runs all kinds of activities, attractions and services, but its main objective is education, research and the conservation of wild flora and fauna.
A vast tropical garden with over 7,000 species from every continent marks out the boundaries of the park, creating a microclimate that replicates the natural habitat of the animals that live in the zoo.
In addition to Oasis Wildlife and Oasis Botanic, this theme park also has a Garden Centre that focuses on gardening, garden upkeep and landscaping, and an agro-artisanal market (Oasis Market), which is held every Sunday (free entry).
Oasis Wildlife Fuerteventura, more than a zoo
What's a theme park without its attractions? Oasis Wildlife Fuerteventura works on education, research and conservation but it also provides entertainment and has created various shows and interactive experiences for visitors.
Fauna Live: A programme of live, environmental education experiences where reptiles are the stars of the show. Spend time up close to crocodiles, lizards and incredible snakes.
Sea Lions Live: The most eagerly awaited show where sea lions, the stars of the park, jump, dance and entertain spectators.
Birds of Prey Live: An outdoor show where incredible birds of prey (eagles, vultures, hawks, owls, etc.) dance and do acrobatics up high and near the ground.
Parrots Live: A fun, educational show that reveals the intelligence of parrots and macaws. The first few rows are reserved for children, but the birds fly over the heads of all spectators. If the show leaves you open-mouthed, imagine experiencing these incredible wild animals first-hand.
Sea Lion Experience: Wearing diving suits and a life-jacket, children can swim in the pool alongside friendly sea lions. This experience is for over-7s (children between 7 and 11 must be accompanied by an adult) and can be booked at the ticket office or online.
Lemur Experience: Join biologists and specialists to observe and interact with these small primates. There are no age limits, provided that children are accompanied by an adult.
Safari Experience: Choose between two routes on a camel ride through incredible landscapes inside and outside the park. A unique experience in the largest camel reserve in Europe.
Photo with animals: Visitors can book the services of a professional photographer to capture their favourite moments during their visit. Photographs are collected at the Oasis Shop.
Bag of food: There are several stands that sell specific bags of food for each animal species so that you can feed them yourself. Each bag has an instructions label and details about the animals' diet.
A zoo in Fuerteventura for the smallest family members
One of the most popular attractions for little ones is the children's zoo, which is home to goats, cows, ponies, emus, horses, tortoises, ducks, guinea pigs and rabbits. Set in a natural environment, more hesitant visitors can simply observe their favourite animals while braver ones can stroke and even feed them.
There is a children's playground next to the farm with swings and a sandpit to carry on the fun. Parents can take a break while their children have a fantastic time with their new animal friends.
During the holidays the park runs camps and dozens of activities for children between 4 and 14 years old with transport included and non-stop diversion.
Services and restaurants at Oasis Wildlife
The park is accessible for persons with reduced mobility. All the facilities are well connected and there is even a scooter hire service—a new way of exploring Oasis Wildlife by taking a spin on an electric scooter around the park or any area of the botanical gardens. This is highly recommended for people with mobility problems.
There is also a free eco-tour that makes it easy to move between different areas, with stops at the educational exhibits and most beautiful areas of the park. The journey lasts approximately 45 minutes and passengers ride two wooden trains with room for 180 people.
And when you start to feel hungry? There are three restaurants to choose between. Check their opening and closing times in advance on the official website. The Oasis restaurant is next to the park entrance and is surrounded by lush vegetation. It opens every day of the year and on Sundays serves churros with chocolate for breakfast.
The Leones Marinos restaurant is in the centre of the park and has an outdoor terrace that is the perfect spot for recharging your batteries. It's also very close to the kids' zone, so children can play under the watchful gaze of their parents.
The Patio Majorero, is part of the Botanical Gardens and has spectacular views from its terrace.
And if you'd like to visit another theme park after your fun-packed day out, we recommend heading to the Oceanarium Explorer. You won't be disappointed!
Information of interest
Cómo llegar
Si no tienes coche propio el parque tiene un servicio gratuito de traslado en autobús. Consulta en web oficial los lugares exactos donde se realizan las paradas y el horario correspondiente a cada una.
Tarifas
Consulta tarifas actualizadas en web oficial. Descuentos para residentes, niños, discapacitados y mayores de 60 años.
Related
plans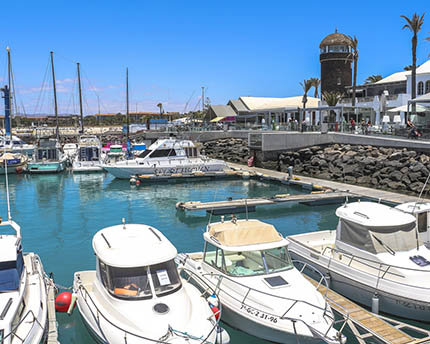 Places of Interest