La Oliva:
discover the wonders of northern Fuerteventura
La Oliva is a highly attractive destination for travellers, spanning the entire northern part of Fuerteventura. Visitors to this area can discover unique locations such as the Lobos Island Natural Park, the Dunas de Corralejo Natural Park, the Tindaya Mountain and the beaches of El Cotillo. La Oliva belongs to the Las Palmas province (representing the eastern part of the Autonomous Community of the Canary Islands), borrowing its name from its main town, La Oliva. Incidentally, the town of La Oliva has the largest number of bars, restaurants, cafés, ice cream parlours and bakeries per square metre in Fuerteventura. It should therefore come as no surprise that the restaurant industry—with highly regarded traditional cuisine—is the town's second biggest industry after tourism.
Must-see attractions in La Oliva: the House of the Colonels and the Casa Mané Canary Island Art Centre
Let's start our tour in the small town of La Oliva, which is home to 20,000 inhabitants. The main tourist attractions in La Oliva are the following:
Casa de los Coroneles
This stately home, constructed in the seventeenth century, is undoubtedly Fuerteventura's outstanding privately-owned property. The House of the Colonels was built by the Cabrera Bethencourt family. It hosts the La Oliva Traditional Market (also referred to as the Handicrafts Market) every Tuesday from 10:00 AM to 2:00 PM.
Casa Mané Canary Island Art Centre
(Salvador Manrique de Lara, no number). Opened in 2010, this venue showcases a broad collection of art from the Canary Islands. It includes pieces from César Manrique—the Canary Islands' most internationally famous artist—and various temporary exhibitions. In its shop, visitors are able to purchase certain pieces in addition to books, ceramics, prints, engravings, posters, etc. The Casa Mané Canary Island Art Centre borrows its name from its founder, Manuel Delgado Camino, who held a burning passion for local art. Mané's legacy now lives on in the hands of his daughter, Belinda. The centre covers a total area of 10,000 square metres, including a garden with many different sculptures. Admission is free.
Iglesia de Nuestra Señora de la Candelaria
One of the largest churches in Fuerteventura, this building is attached to a unique square bell tower made out of dark stone.
Casa del Inglés
This eighteenth-century residence embodies the economic power of the agricultural and commercial bourgeoisie that settled in La Oliva. Built across two stories, its rooms are distributed around a large courtyard containing a cistern.
La Casa de la Cilla
Constructed in the nineteenth century, this building now holds the Grain Museum.
Once you've had the chance to enjoy everything that the beautiful town of La Oliva has to offer, you should consider discovering its surrounding natural landmarks, each of which are well worth visiting during your trip to Fuerteventura.
Excursions from La Oliva
The Tindaya Mountain, of huge archaeological value, stands at 400 metres above sea level and can be seen from various points around northern Fuerteventura. When skies are clear, you can make out Mount Teide from here. This is home to the Barranco de Tinojay archaeological site and the El Llano cave room, where Guanche remains have been uncovered. There are also funeral caves, such as the Esquinzo cave and the Guriame cave. The Tindaya Mountain, located in the south-west of the La Oliva municipality, conserves various cave carvings, funeral structures and stargazing platforms. Despite it being relatively easy to reach the summit, we recommend walking at a slow pace. It is very steep in places, and walking at a slower pace will give you greater opportunity to enjoy the attractions along the way.
Corralejo
This is probably one of the most visited destinations in Fuerteventura. Formerly a fisherman's village, Corralejo has managed to strike a nice balance between its historic centre and the more tourist-oriented area. It is home to the Dunas de Corralejo Natural Park. This park comprises a large field of sand dunes and a volcanic landform called malpaís, the Montaña Roja [Red Mountain] and the Island of Lobos, which was once home to a large colony of monk seals who have since disappeared. We also recommend visiting the Malpaís de la Arena Natural Monument, which is home to several unique plant species. The Corralejo Fisherman's Guild is the oldest in the Canary Islands, and the second oldest in Spain. From 9:00 AM to 2:00 PM every Tuesday and Friday, a Handicraft Market is held in the Acua Water Park.
Lobos Island
This small island, covering barely 5 square kilometres, is located in north-eastern Fuerteventura. Clearly seen from Corralejo, this island's name is borrowed from the monk seals—also known as 'wolf seals' (lobos meaning 'wolves' in English)—that once inhabited it. The family of a lighthouse keeper known as Antoñito el Farero lived here until 1968. The small island is part of the Dunas de Corralejo Natural Park, and is home to more than 130 different species. Its landscape is dominated by hornitos, a type of intriguing volcanic formation that is created when lava comes into contact with water. The park is also home to several salt marshes: depressions of land that flood regularly, home to a great natural wealth.
El Cotillo
This coastal town is renowned for its fantastic cove-shaped beaches surrounded by imposing cliffs, where visitors can enjoy a refreshing dip before marvelling at an incredible sunset. El Cotillo is flanked by its lighthouse and the Castillo del Tostón castle. Here, you can also reserve a fantastic lunch in one of its wonderful ocean view restaurants, where you can enjoy the finest freshly caught fish on the island. The Sunset Handicrafts Market is held in the Plaza Pública in El Cotillo every Friday evening from 7:00 PM to 10:00 PM.
Miguel de Unamuno Monument
This sculpture stands on the Quemada Mountain. This statue, crafted by Juan Borges, commemorates the time spent by the Salamancan writer and intellectual on the island.
Gastronomy in La Oliva
If you're into food, you should know that many interesting culinary events are held in La Oliva throughout the year. These include the Tapas Route, in June; the Deluxe Barman Cocktail Making Competition, in October; and De boca en boca, in November. Despite being a dry and arid land, Fuerteventura produces meats, cheeses, fruits and vegetables of the highest quality. One of the best known indigenous species is the Fuerteventura goat. As such, one of the most famous typical Fuerteventura dishes is goat and kid stew, and fried or baked kid. These dishes are primarily enjoyed in island's inland towns and villages, such as Lajares and Villaverde, with the latter being one of the greenest towns in the La Oliva municipality. Another product with a Designation of Origin (D.O.) is Majorero cheese, which is produced in artisan cheese shops and small factories. Let's not forget the famous papas arrugadas ('wrinkled potatoes') and gofio flour: staples of the Canarian diet that can be enjoyed at breakfast, lunch and dinner.
Related
plans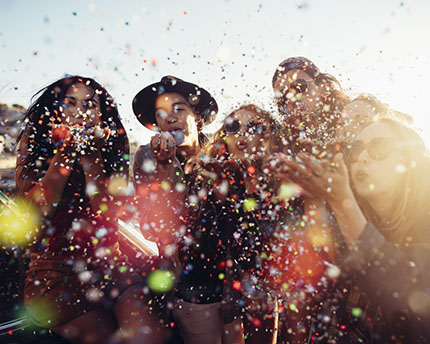 Leisure and Entertainment