The best spots for a night on the town
in Granada
Granada is a city to be enjoyed during the daytime by visiting monuments and going on tapas tours, but it is also a city that has a lot to offer at night.  Several hotspots throughout the city centre are guaranteed to have a great atmosphere.
Evenings in Granada begin at 11:00 PM; after dinner and a stroll, it's time to go out for a drink. Granada's nightlife has something for everyone, so for a laid-back atmosphere, visit any pub that serves drinks. There are also establishments with live music as well as nightclubs for dancing until dawn.
Granada's bar and terrace district
There are many summer terraces for a leisurely drink at Las Gabias. If you will be near Calle Reyes Católicos, be sure to keep several great stops in mind, such as Lemon Rock Bar. This establishment has non-stop live music and a chill-out terrace where customers can enjoy mojitos with music in the background (Calle Montalbán 6). With its adult atmosphere and alternatives for everyone, this is considered to be one of the more 'posh' nightlife areas.
Also take note of the high-end Café Ámsterdam. With its quality drinks and exceptional service, this is a more refined establishment. Its customers are older on average and it also features billiard tables (Calle Pedro Antonio de Alarcón 52).
Descending along Paseo de los Tristes, we come across a peaceful part of the city that also has a lively atmosphere at night, but more in the form of pubs and terraces for drinks. El Huerto del Loro, for example, has a great outdoor terrace with views of the Alcazaba that is perfect for summer nights (Calle Cuesta de la Churra 4).
Calle Elvira is one of the most renowned in Granada's nightlife scene. This street with a somewhat hippy style has numerous establishments that serve beers and tapas as well as mixed drinks. One of these is the pirate-inspired Pato Pala, which caters to fusion rock music, reggae, cumbia and Latin beats (Calle de los Naranjos 2).
In the heart of the Realejo district, there is an area that stands out above the rest as a perfect place for incredible 360° panoramic views of Granada. B-Heaven is located on the rooftop of the Barceló Carmen Granada hotel. In a short period of time, this new terrace has become Granada's coolest hotspot and a place where guests can try the exciting tasting menu created by Dionisio Palma in addition to designer cocktails under the moonlight.  (Calle Acera del Darro 62).
Granada's nightclubs
The areas around Calle Reyes Católicos, Paseo de los Tristes and Calle Pedro Antonio de Alarcón are home to the city's best nightclubs. The places on Calle Elvira and Plaza Nueva are the most varied and feature live music, jazz, flamenco and more.
Here is a list of the best nightclubs and pubs in Granada so you can enjoy the city at night.
Calle Pedro Antonio de Alarcón has the best university atmosphere in the city. This street is filled with bars, pubs and tapas establishments that younger customers flock to because of the low prices and extended hours.
For example, fans of rock and heavy metal music will feel at home at La Guarida del Lobo, which has an arcade section where you can play table football while listening to AC/DC and have a beer (Calle Pedro Antonio de Alarcón 73).
On Calle Sócrates, directly behind Calle Pedro Antonio de Alarcón, we have Chupitería 69, a favourite among Erasmus patrons. This establishment has over 100 different shots and they each cost €1. As a bonus, points are earned with every shot that can then be redeemed for the bar's promotional merchandise (Calle Sócrates 12).
Many young people in the area usually go to tapas bars first and then nearby nightclubs. One of the most popular nightclubs in this part of the Realejo district is Sala Vogue, an indie favourite. Located in the heart of Granada, it has two levels with different atmospheres. There is no cover charge for people who arrive before 1:30 AM or have requested a ticket from their waiter while dining at a nearby establishment. Otherwise, admission is €6, which includes one drink (Calle Duquesa 39).
However, the trendiest nightclub is just outside the city, near the Ciudad Jardín neighbourhood. Mae West is housed in the Neptuno Shopping Mall and has two levels and three different halls, making it a favourite in Granada's nightlife scene. Admission is €10 (which includes one drink) and the music depends on the day and the hall you are in (Calle Arabial s/n).
El Granero is the perfect place to dance the night away. This nightclub is open Tuesday through Sunday and the music features the DJ's top picks. Admission is €4 or €5, depending on the day (Plaza Isabel la Católica 2).
Lastly, in the heart of the city's historic quarter, Calle Elvira is home to establishments such as the Boom Boom Room nightclub, which is less than 100 metres from the cathedral. This is one of the most exclusive hotspots. Continuing along this street, near Puerta de Elvira, there are also pubs with a more relaxed atmosphere (Calle Cárcel Baja 10).
Have you taken note of these establishments? Because a trip to Granada involves more than just visiting the Alhambra, so be sure to also enjoy the nightlife.
Related
plans
Leisure and Entertainment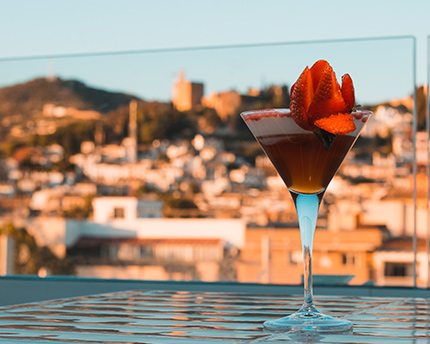 Food and Drinks