Spas in Huelva,
wellbeing in the heart of nature
The province of Huelva is a must for any visitor in search of relaxation, wellbeing and pampering. This far corner of Andalusia, tucked away on the border of Portugal, inspires everyone to put on their walking boots and take to the mountains and coastal routes but it is also the ideal place to kick back, relax and take some well-deserved personal time.
Huelva has a plethora of health and wellbeing centres in places of such awe-inspiring natural beauty that you can really lose yourself for a couple of weeks and return home a new person. Barceló Group is proud to present such wellbeing centres as Barceló Punta Umbría Beach Resort; Barceló Punta Umbría Mar and Barceló Aracena..
Barceló Punta Umbría Beach Resort, an idyllic locale
Barceló Punta Umbría Beach Resort has everything you need to spend your time relaxing and pampering yourself. From its magnificent gym, thermal bath circuit and a full menu of health and beauty treatments, this resort has everything you could need in a paradisiacal enclave.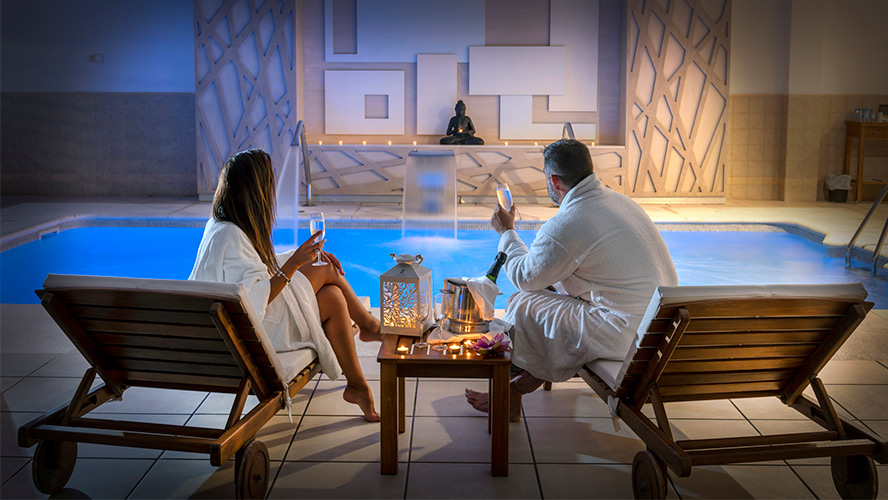 Just 15 minutes from Huelva capital, this hotel spa is located in Los Enebrales Natural Park and the marshlands of the UNESCO Biosphere Reserve Marismas del Odiel. What's more, Punta Umbría Beach, with its 12 kilometres of fine golden sands, is right on its doorstep.
In this delightful corner of the Costa de la Luz, the visitor has the option of taking a dip in both the Atlantic Ocean and the calm waters of the Huelva Estuary. Hikers and nature-lovers are also spoilt for choice thanks to the excellent walking paths through the mountains and along the coast, and those more active types who like to try their hand at wind or kitesurfing can do so to their hearts' content along the Atlantic coast. Anybody considering a getaway to Barceló Punta Umbría Beach Resort has all of this and more at their fingertips.
Spas and Fitness at Barceló Punta Umbría Beach Resort
Rest, relaxation and fun are guaranteed at this resort whose facilities occupy an incredible 2500 square metres. Within the grounds, there are four open air swimming pools for adults and also four children's swimming pools, games areas and an array of activities to make sure the kids don't get bored while the parents are pampering themselves.
The beach resort also offers a spectacular culinary experience too, with expert chefs who can rustle up traditional Andalusian delicacies as well as national and international cuisine to be found in their four buffet restaurants. If there is one menu that is guaranteed to please, it is the menu of health and beauty treatments on offer at the spa. These, along with the full equipped gymnasium with highly qualified trainers warrant a closer look:
Spa and Wellness services: relaxation and renewal
In the Spa and Wellness area everything is laid out to give guests a deep sense of revitalisation both inside and out. Here, the relaxing and toning power of water works miracles in the hydrotherapy and hydromassage pools. There are also foot spas, spa water jets, thermal beds, contrast baths as well as saunas, Turkish and Roman baths.
In terms of health and beauty treatments there is plenty to choose from thanks to the spa's philosophy of 'Betterism'. The key to this philosophy is offering an ample menu of massages adapted to all tastes and needs with the goal of creating wellbeing both inside and out.
Full body hydration, cellulitis treatments, muscle cramp relief and pain relief treatments are all available in the spa centre. There are also a number of massages from different places around the globe, such as the Indian head massage (Shambala), the Hawaiian Lomi Lomi, the Chinese Tuina, the Japanese Kobido and the classic Tibetan massage too. There are also reflexology and aromatherapy treatments as well as Pilates.
Personalised Fitness Services
At Barceló Punta Umbría Beach Resort fitness buffs have everything they could possibly need to keep fit while away and the gym even offers personalised training services and assessment from highly qualified training staff.
The Fitness Centre also has a 250 m2 open-air training area, a pioneering facility created by Barceló Group on the hotel grounds. The area contains assault bikes, rowing machines, climbing ropes, weight-lifting equipment including bars and dumbbells, gymnastic rings and much more in an area surrounded by natural beauty. And, of course, you can get away from the resort entirely by going for a run in the mountains or on the beach. For more information and prices, visit the Barceló Punta Umbría Beach Resort website.
Barceló Punta Umbría Mar: another oasis of wellbeing
The Barceló Punta Umbría Mar Spa is a traditional Andalusian complex located in the quaint fishing village of Punta Umbría. Between the Odiel Marshlands and Los Enebrales Natural Park, the visitor to this spa is literally surrounded by natural beauty and is just steps away from a stretch of virgin beach that has a walkway straight to the hotel door.
The Barceló Punta Umbría Mar Spa offers relaxation and wellbeing treatments as well as fun plans for both children and adults. There are shows and sporting events organised within the hotel grounds and a completely renovated gym that is open 24 hours a day and offers personalised training programmes. After all that, you will most certainly develop an appetite so it's lucky that there is also an excellent buffet restaurant on site too.
Wellness experiences
In the Wellness Area of the hotel spa there is a heated pool with waterfall and swan's neck jets, a mini hydromassage pool, a Turkish bath, a sauna and massage rooms. There is also a menu of personalised treatments on offer, such as traditional facial and body treatments as well as relaxing, therapeutic and traditional massages from around the world, including Hawaiian Lomi, Indian head massages and Chinese hot stones.
The spa also offers special Spa Nights designed for couples. This is the chance for a couple to have the spa exclusively to themselves for one hour and includes a basket of chocolate-dipped fruit and champagne. There is also a group option (for a minimum of four people) and both events take place at 10-11 p.m. or 11 p.m. to midnight on Saturdays. Bookings must be made in advance.
Barceló Aracena, a charming corner of Huelva province
The hotel Barceló Aracena is located in the northern part of the town from which it takes its name, in the northern part of Huelva province. Barely ten minutes from the centre, you will find the spectacular views of the Sierra de Aracena mountain range and the famous Picos de Aroche. Visitors to this hotel will marvel at the beautiful Andalusian surroundings replete with white houses dotting the green mountains.
The spectacular Grotto of Marvels is also to be found in the centre of Aracena. This grotto is made up of 2130 metres of tunnels, vast caves and lagoons created over millions of years of karstic processes. Aracena is also known for its castle and the quaint Mudejar chapels, as well as other historical buildings. There is also an open-air Contemporary Art Museum and a popular Museum of Ham, cured ham being a delicacy in the region, and even an interpretation centre dedicated to mycology.
Relaxing walks through the Sierra de Aracena
This enclave, with all its natural and cultural beauty, is home to the newly refurbished Barceló Aracena, the first rural four-star establishment in the interior of Huelva province. The extensive hotel spa includes a Wellness centre, complete with a water bath circuit and a heated pool with swan's neck jets. There is also a mini pool for hydromassage, a sauna and a Turkish bath as well as five massage rooms for total relaxation.
Those who prefer a little more activity on their holiday can spend time in the fully equipped gym or take to the paddle tennis courts or the cycling friendly area. There are also many walking routes for those who love taking in the great outdoors. The facility includes three swimming pools, two of which are outdoors and one is for children, as well as a restaurant that specialises in Andalusian and Spanish cuisine. There are also seven conference rooms and plenty of social events organised year-round.
Related
plans