Tapas in Huelva,
find best tapas bars and restaurants in the region
Tapas in Huelva is synonymous with excellent shellfish, fish, and Iberian ham; but that's not all. The cuisine of Huelva includes a wide range of dishes, most of which are reflected in the tapas menus of its bars and restaurants.
Tapas is more than just a starter: different types of tapas are often combined to make a full lunch or dinner. One could say that tapas in Huelva gives you the pleasant opportunity to eat at any time of the day, night, or even in the early hours of the morning.
This guide provides information about the best tapas bars and restaurants to be found in the capital and other parts of the province, as well as tips regarding the traditional tapas cuisine of Huelva. You will know almost as much as the locals!
The best tapas bars in Huelva
Anyone wanting to explore tapas in Huelva should definitely stop at the bar/restaurant Juan José (Villa Mundaka, 1) and try their tortilla de patata. This delicious potato omelette could well be the best in the country… we'll let you decide.
Considered a genuine delicacy and an object of culinary (and tourist) interest, the tortilla served at this restaurant not only appeals to local residents, but also attracts people from all over the province. It is a good idea to make sure you have plenty of time and patience when you visit this place, as it is small and very popular.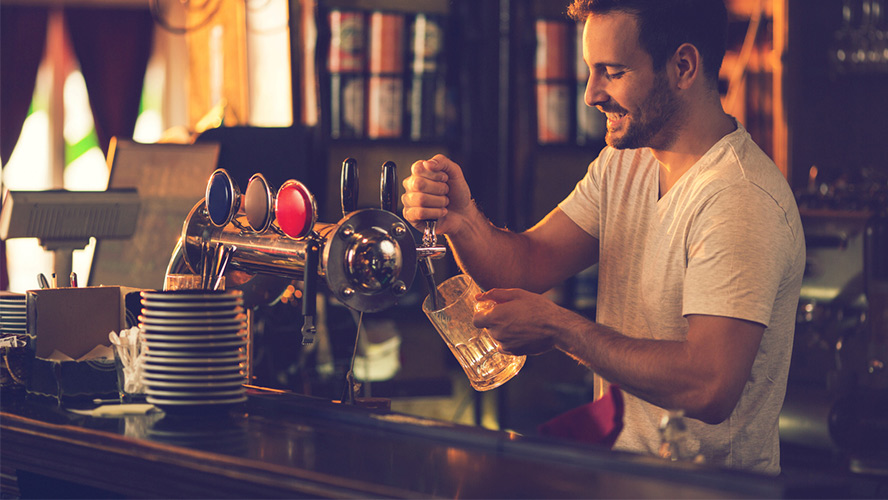 However, Juan José is only one of many places in Huelva with delicious tapas. The following are also excellent tapas bars:
Bar Pappis (Conde López Muñoz, 4):
A typical local bar held in high esteem by locals because they are known to treat their customers well, as well as offer high-quality produce and a wide variety of tapas and montaditos (bruschetta with various toppings).
La Fonda de María Mandao (Vázquez López, 11):
This place serves creative tapas made from excellent local produce. Here you can find everything one expects to find in a central bar, including an extensive wine list.
Cervecería Bonilla (Martín Alonso Pinzón, 15):
Traditional high-quality tapas. When the weather is good, the terrace of this bar offers one of the best sunset views in town.
Noviembre Tapas y Vinos (Plaza de Isabel la Católica, 4):
Here you can enjoy creative and international fusion tapas at an affordable price. Why not try the excellent ham croquettes or striking black cuscus?
Bars in the province of Huelva
Huelva is a province with many good places to visit, so it follows that there are also many excellent bars and restaurants, including some genuine tapas temples. The following is a list of recommended places:
Bar Camacho (San Juan, 81, El Repilado, Jabugo):
This town is famous for jamón de Jabugo – the Holy Grail of Iberian ham, so you simply must try it. Keep in mind, though, that the bar boasts a much broader tapas menu that includes many other delicious products of the mountains (meat stews) and the sea (seafood). The fried fish is also delicious.
Chaquetón (Avenida de Andalucía, 16, Punta Umbría):
One would expect to find excellent fried fish tapas in a bar located right next to the sea, but that's not all this establishment has to offer. Chaquetón also offers a wide variety of other delicious dishes. This bar has two delightful terraces, a summer one and covered one for colder weather.
Bar Rocío (Real, 7, La Palma del Condado):
Undoubtedly one of the best places to have traditional tapas in Huelva province, Bar Rocío is a typical bar located in a charming town that is somewhat off the beaten track.
LPA The Culinary Bar (Plaza La Lota, 10, Ayamonte):
The selection of tapas in this place is exceptional, not only because of the exquisite combinations of flavours and ingredients, but also because of their attractive presentation. If you are looking for that extra touch when it comes to food, LPA The Culinary Bar is the place for you.
Traditional tapas in Huelva
Apart from the famous potato omelette, like the one served at Juan José, there is a wide range of traditional tapas on offer in Huelva. Read on to find out which are the most popular and where you can find them.
Iberian ham (at Mesón El Postigo, Duende, 5, Aracena):
This product, an emblem of Spanish cuisine, is delicious just as it is. Iberian ham goes well with beer, wine and other drinks, and only needs a little good-quality bread to go with it.
Potatoes with choco (at Casa Miguel Ángel, Catamarán, 16, Ayamonte):
The most popular seafood stew in Huelva and throughout the whole of western Andalusia. The key to its success is the softness of the choco, a local variety of cuttlefish, and the way that the potatoes soak up the flavours of the rest of the ingredients, including olive oil, garlic, white wine and paprika or saffron.
Huelva prawns (at Azabache, Vázquez López, 22, Huelva):
If Iberian ham is the ultimate meat delicacy of the region, the delicious white prawns of Huelva are without a doubt its seafood equivalent. One might think of prawns as an accompaniment to other foods, but in Huelva they are served as a dish in their own right. This is true in Azabache, a popular tapas bar in Huelva.
Tripe (at Portichuelo, Vázquez López, 15, Huelva):
A hearty and irresistible stew made with beef and pork tripe is another typical tapas dish, not only in Huelva, but throughout the country.
Wedge clams (at El Paraíso de Gonzalo, Martín Alonso Pinzón, 2, Huelva):
Wedge clams belong to the clam family but are somewhat smaller in size than regular clams and have an uneven and thinner shell. In Huelva, they are cooked with a delicious sauce making them an incredibly moreish tapa.
Octopus salad (at La Tabernilla, Paseo de La Glorieta, 14, Huelva):
This version of the traditional potato salad, where prawns and tuna are replaced with boiled octopus pieces, is a genuine delicacy. While octopus salad is common in many bars, this place offers a truly delicious version of it.
Related
plans