The best water parks in Ibiza,
fun for adults and children alike
Spending the days going from one beach to another is one of the most popular and fun ways to spend a holiday in Ibiza, although this pretty island does offer a wide range of leisure options. If you have the time and the inclination, you can do something a little different. We recommend one of the most refreshing options — spending the day at a water park is a great idea for a number of reasons: it's one of the best ways to ensure that everyone, whatever their age, has fun in a safe, controlled setting.
That's why, whether you're travelling to Ibiza as a family, or visiting with friends, spending a day defying the heat while enjoying water slides, trampolines and themed swimming pools is a safe bet, with everyone finding something to their tastes.
But don't forget your sunscreen! Time will fly while you're at the water park, and it's very easy to burn in Ibiza's strong sun, without realising what's happening. With a good, high-factor sunscreen on (or even keeping your T-shirt on if your skin is very sensitive to the sun), now all that remains is to choose which waterpark to visit. In Ibiza, there are currently two water parks: the Aquamar Water Park, which is a classic on the island, and the more recently constructed Sirenis Aquagames. How do you fancy taking the plunge with us? Take note!
Aguamar Water Park
The Aguamar Water Park is located in the south-east of Ibiza in Playa d'en Bossa (Sant Josep de Sa Talaia). It is regarded as one of the island's institutions,  and is the closest water park to the capital.
What are you looking for on your visit? If you're the type who likes a non-stop adrenaline rush, your itinerary should include the Kamikaze slide (the sensation during the descent is very similar to what you would experience by throwing yourself into thin air), and the Agujero Negro [Black Hole] (a top-speed descent completely in the dark… only for the most daring!).
If, on the other hand, you're the laidback type or you're travelling with children, you're bound to enjoy sliding time and again down the legendary multicoloured slides (this is definitely a moment you will want to capture in a photo) or the rotating chutes, or racing on the fast tracks. Of course, for the younger children, their height will determine which attractions they can safely enjoy; but in any case the water park staff are always watchful to ensure everyone's safety.
The water park also has a children's swimming pool, as well as a spacious lawned area with sun loungers and sunshades for anyone who wants to relax between dips in the pool. In addition, Aguamar has a café restaurant (the offer is limited to fast food — burgers, pizzas, rolls, etc. – but the prices are reasonable), and there is also a picnic area (you can take your own food if you wish). Other facilities include a cloakroom service, lockers, and first-aid.
Useful information:
Address: Ctra. de Platja d'en Bossa, s/n. Sant Josep de sa Talaia
How to get there:

By car, from Ibiza Town, on the E-20 (5 km). From the airport, using the bypass (4 km)
Take bus no 14 from Ibiza town (departs every 20 minutes during the summer season).

Opening dates: from May to September or October (please check)
Telephone: 971 39 67 90
Sirenis Aquagames Ibiza
Sirenis Aquagames is in the west of Ibiza, and forms part of the Sirenis Seaview Country Club hotel complex in Port des Torrent — although its facilities are available to all.
As we have already said, this is a more modern water park, and offers fun in much the same vein: for the more adventurous, there is a high-speed Kamikaze slide and then there's Tornado, which offers an experience with a difference as you free fall at a thousand revs. The multitrack slides are the best option if you're in a group or you want to race; for a moderate adrenaline rush, you could try the other, open or closed, circular slides.
Children will be in their element at the Sirenis Aquagames as it has a full range of attractions for all ages.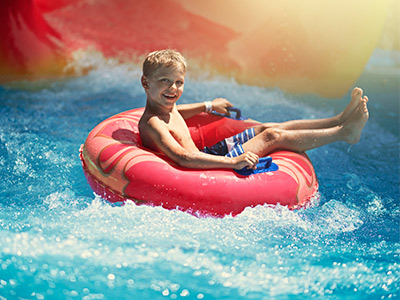 There are various, age-differentiated, themed play areas for children between the ages of 2 and 10 years, a swimming pool resembling a Caribbean pirates' boat, water jets to play in, a safari among the animals and palm trees… A whole fantasy world where the youngest members of the family can have the time of their lives while their parents enjoy themselves or relax.
When planning your day at the water park, it is useful to be aware of the different options available, as you can buy a ticket for half a day or a full day, for the water park alone (without food & drink), admission plus lunch, or admission to the water park with access to the rest of the hotel complex for the whole day.
Useful information:
Address: Carrer de s'Embarcador, 4, 07820 Sant Antoni de Portmany, Balearic Islands
How to get there: By car from Sant Antoni de Portmany, via Avenida San Agusti (6 km). From Ibiza Town, via the EI-700 (22 km).
Opening dates: from May to September or October
Prices: from €13
Opening times: please check.
Telephone: 971 34 52 56
Related
plans