Valldemossa, a hidden treasure in the
Tramuntana mountain range
In the small village of Valldemossa, hidden between green mountains of the Tramuntana mountain range, a miracle has taken place: the village has somehow managed to keep its distinct essence over time, despite its location, only 17 kilometres from Palma, the island's capital city. And indeed, upon entering this valley surrounded by thousand-year-old olive trees, holm oaks and almond trees, and getting lost along its steep cobbled streets that are filled with flowerpots, you will be transported back to the past, as numerous enamoured artists have been, throughout history. The winter spent here by Polish composer Frédéric Chopin and his wife, French writer George Sand, is very well known. However, this village has hosted a number of other writers, painters and eccentric aristocrats, attracted by the village's magnetism, unknowing pioneers of Majorca's tourism scene.
What to see in Valldemossa?
Originally established as an ancient farmhouse by an Arab noble named Mussa during the time of Muslim domination, Valldemossa has a fascinating history that even includes a saint: Saint Catherine of Palma (also known as Catalina Thomas), the island's only saint. With all of this history, Valldemossa is clearly a must-see during your time in Majorca.
The Cartuja de Valldemossa, where Chopin and George Sand spent a winter
If you only have time to visit one place in the village, make it the Cartuja de Valldemossa. Built in the palace of King Sancho I of Majorca, this 15th century monastery is one of the island's most visited buildings, along with the Palma Cathedral, thanks to its beauty and rich history. The ancient palace was gifted by King Martín I 'the Humane' of Aragon, to the Carthusian monks, who turned it into an abbey and inhabited it until their removal in 1835, during the confiscations of Mendizábal. A visit to the Cartuja includes an 18th century neo-classical church, the cloister, the old pharmacy of the Carthusians, the rooms of the Prioral Cell (chapel, library, audience room, bedrooms, etc.) and the palace of King Sancho, whose rooms boast lavish Baroque decoration, and which were the site of numerous private events.
One of the most popular spots is cell number 4, also known as the Cell of Chopin, since this is where the famous Romantic composer spent the winter of 1838-1839 with his wife, George Sand, in an attempt to improve his tuberculosis. Today, the room is the site of the Chopin Museum, where it is possible to learn some of the details of these fruitful three months that the couple spent in the Cartuja: here, he composed his Preludes Op. 28 and Sand wrote A Winter in Mallorca, a travel novel that today can be purchased in various languages in many Valldemossa shops.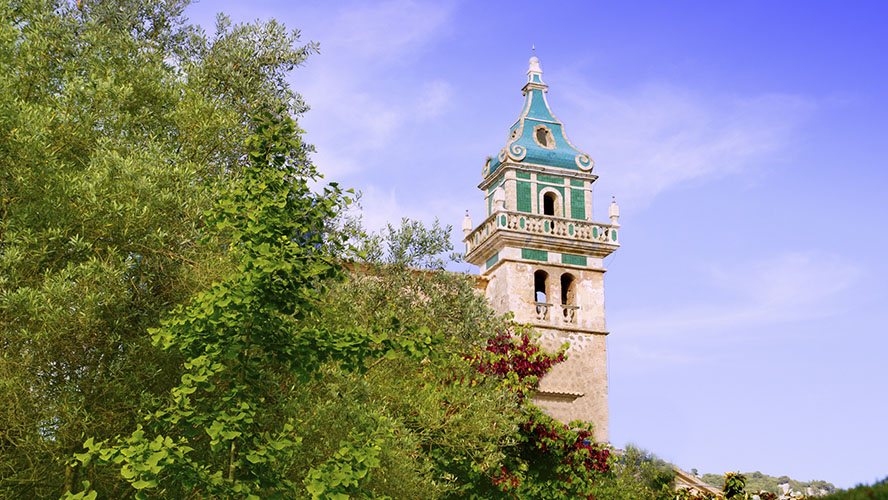 They were not, however, the only personalities to spend time here. Banished by Godoy in 1801, Spanish statesman Gaspar Melchor de Jovellanos was sent here, where he received treatment by the monks that was more worthy of an illustrious guest than a prisoner (leading to his subsequent transfer to the harsher Bellver castle). And in the 20th century, when the Cartuja was in the hands of private owners, writers such as Rubén Darío, Jorge Luis Borges and Santiago Rusiñol all visited.
One of the most enjoyable parts of a visit is a stroll through the backyard gardens of the Cartuja, where painters often exhibit their works. Here we find statues of Chopin and another famous foreign visitor of Valldemossa, the Archduke Ludwig Salvator of Austria, who established his residence in the village during the late 19th century.
If you are interested in the history of Valldemossa, the northern coast of Majorca and some of the famous personalities that inhabited the area, we recommend that you visit the Costa Nord Cultural Centre, a project financed and founded by actor Michael Douglas – another lover of the island – where you can see a documentary that is narrated by the actor himself.
The birthplace of Saint Catherine of Palma, Majorca's saint
If your powers of observation are strong, you may have noticed that the streets of Valldemossa are covered in tiles representing a young woman with a broken water jug. This is Saint Catherine Thomas, the island's very own saint, revered across Majorca and better-known as La Beateta. She was born in Valldemossa in 1531, and the site of her birth – today a small chapel – can be visited on calle Rectoría, just behind the church of San Bartolomé. Legend has it that she was a devout young woman, known for her daily offering of water to the virgin. She continued to do this, even when the devil began breaking her water jug, day after day. In 1553, she joined the Augustine convent of Santa María Magdalena de Palma, where her uncorrupted body currently lies. Back in her day, she was considered to be a saint by her contemporaries.
Port of Valldemossa and other surrounding locations
This mountain village located just 2 kilometres from the coast has it all: including its very own port and beach. Approximately 6 kilometres away – so travelling by car is useful –, the narrow motorway opens up to reveal an enchanting fishing port at the foot of the Tramuntana mountain range. And, nearby, you will find crystal blue waters of the small Cala Sa Marina, as well as an ideal restaurant for enjoying a fish barbecue on a terrace overlooking the sea.
Some 5 kilometres from Valldemossa, is the Miramar possessió (estate), which hosts an ancient monastery that dates back to 1276, founded by philosopher and writer Ramon Llull. In 1485 – only 25 years after its invention by Gutenberg –, Majorca's first printing press was installed here. For much of the 19th century, the monastery was quite deteriorated, until 1872, when it was purchased for restoration by Archduke Ludwig Salvator of Austria. This eccentric nobleman, a lover of Majorcan landscapes, began purchasing neighbouring lands until ultimately coming to reside here. In the nearby Son Marroig House-Museum we can learn more about the refined Archduke, who was possibly the first true Majorcan tourist and conducted extensive studies on the Mediterranean. He even wrote a book that would give fame to the Balearic Islands abroad: Die Balearen in Wort und Bild.
Information of interest
How to reach Valldemossa
By bus: Line 210, from the Palma bus station.
By car: Motorway Ma-1130 (from Palma).
Related
plans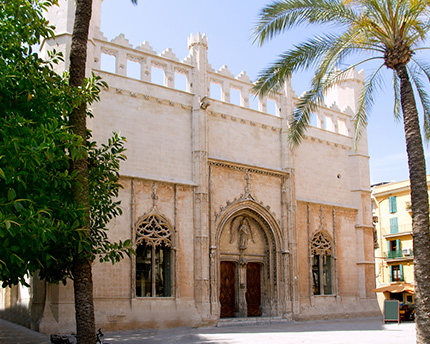 Places of Interest