Hiking routes in Minorca or
how to unwind on the peaceful island
According to the Oxford English Dictionary, hiking is "the activity of going for long walks, especially across country." But for fans of this sport, hiking is much more than that: it's a way of losing and rediscovering yourself, of being at one with nature and forgetting your everyday problems. And let's be honest… Hiking can also be about pain too! But that doesn't matter because the rewards are so huge that every time hikers complete one route, they're already planning the next one.
Minorca is the perfect destination for hiking because it has a wild, unexplored and idyllic landscape. You can decide how and where to go hiking in Minorca: circling the island on the Camí de Cavalls or choosing an inland route. You can also decide whether to plan your own itinerary and go at your own pace, just as you prefer, or to contact an agency that specialises in hiking to help you organise your trip.
Hiking routes along the Camí de Cavalls in Minorca
The Camí de Cavalls—meaning Horse Path in Catalan—is a trail that circles the whole island. It gives hikers the chance to explore tucked-away coves, walk along cliff tops, and cross mountains and meadows.
You might be wondering, what's the story behind this unusual trail. And you'll be surprised to learn that its history can be traced back for hundreds of years. However, despite the fact that it is mentioned in documents as far back as the fourteenth century, its existence wasn't confirmed until the eighteenth century when British and French colonists started to use it as a means of defence.
Today, the Camí is a 185-kilometre public road that is divided into 20 clearly signposted stages. We describe two stages below, one in the north and the other in the south; exploring each one perfectly illustrates the huge variety of landscapes you'll find in Minorca. It's also possible to do cycling routes in Minorca, an easier activity if you're already familiar with this sport.
Es Grau-Cabo de Favàritx
The notable feature of this stage is that it lies within s'Albufera des Grau , the only natural park on the island. Here you'll soon spot tall pine forests where you can shelter from the heat and low-growing plants that are typical to areas where the northern wind blows. What's more, the 8-kilometre route passes through coves such as Tamarells and Sa Torreta, perfect spots for a rest and a refreshing dip. Interesting architectural features that you'll see along the way include the Favàritx lighthouse, built in the twentieth century due to the large number of shipwrecks in the area, and the eighteenth-century Rambla tower, constructed as a defensive fortification.
Cap d'Artrutx-Cala Turqueta
Similarly to the stage above, this itinerary offers hikers a varied landscape. The first few kilometres pass through the urban areas of Cap d'Artrutx, San Bosch and Son Xoriguer before setting off on a route that borders the coast. Here you'll pass impressive beaches such as Cala Parejals, which has a small swimming area hidden inside a cave. After crossing the Son Saura beaches, you'll start ascending a more verdant path up to Cala Turqueta, a Caribbean-like cove with crystal-clear waters, fine sand and flourishing plant life. This 13.3-kilometre route can be shortened by starting at Son Xoriguer, which still gives you the chance to walk the most interesting stretch of the itinerary.
Walking routes for all the family in Minorca
If you're travelling with the family, Minorca has alternative routes for discovering the interior of the island and combining it with the coast. This means it's easier to find excursions that will suit you all. Here are some examples:
Excursion to Cova des Coloms
There are several interesting caves in the Barranc de Binigaus area that can be combined with a hiking route. The most popular is the Cova des Coloms, which can be reached from Migjorn by following an easy, clearly signposted 4-kilometre path. Remember to be careful when exploring the cave because the slightest slip could have unfortunate consequences. And if that walk isn't enough, half an hour away is the Binigaus beach, which is the ideal place for cooling down and relaxing before setting off on the journey back.
Excursion to Cala Pilar 
The route to Cala Pilar makes for a pleasurable walk, partly due to the gorgeous leafy landscape. Its beach with eye-catching reddish sand can only be accessed by the Camí del Pilar diversion at km 34 on the road to Mahón. As you can imagine, this beach is extremely isolated so it's important to bring everything you'll need with you. Finally, don't forget to check that the wind isn't blowing from the north because if it is, swells and rough waters won't let you properly enjoy this tiny paradise.
There are plenty of factors to consider before setting off on a route: the difficulty of the itinerary, any possible mishaps, attractions to visit along the way, accommodation for sleeping and eating… If organising a route yourself seems like too much hard work, don't worry, there are agencies that can plan everything for you.
Related
plans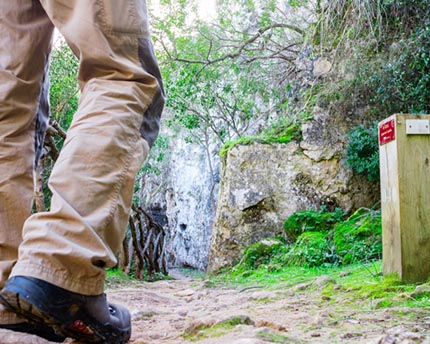 Routes and Walks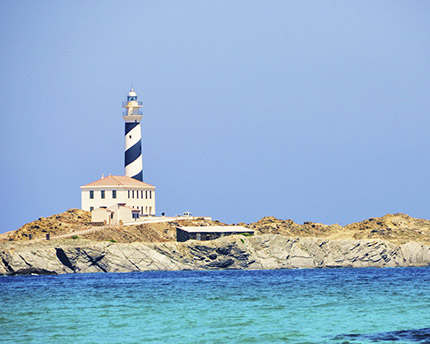 Places of Interest