Cala Turqueta:
a hidden haven on the southern coast of Minorca
We won't argue about whether Cala Turqueta is the most beautiful cove in Minorca. Fortunately, you don't have to choose. In fact, if you stay on this Balearic island for several days, you will have the chance to explore its limited but beautiful territory, sunbathing and swimming at a different beach every day. These are the advantages of small islands. If we had to mention a trio of most recommended coves, this would definitely include Cala Turqueta, Cala Macarella and Cala Pregonda.
Today we are heading towards the first of the three, offering you information on how to get there, where to park and, of course, explaining why Cala Turqueta is so famous.
Cala Turqueta, a cove that will make you fall in love with Minorca
The southwest of Minorca, between Punta des Tambors and Na Foradada, is home to one of the most sought-after beaches for swimmers. And yes, we say 'sought-after' because, due to its small size (110 metres long), access is limited, at least for those who arrive here by car.
Would you like to know what makes Cala Turqueta such a special place? There are many reasons: the turquoise colour of its waters, its fine sand and the fact that it is flanked by beautiful cliffs covered with pine trees are just some of them. In a setting like this (which forms part of the Natural Area of Special Interest of the South Coast of Ciutadella), it comes as no surprise that in July and August beachgoers race to arrive early and place their towels next to the shore.
Cala Turqueta is actually made up of two small beaches divided by a strip of rocks. The bigger of the two is located at the end of the road that leads to the cove, and coincides with the mouth of a watercourse, which is why its sand is sometimes wet. A reduced sand dune system can be found in the back part of the smaller one.
Despite being an unspoiled cove, it is equipped with services such as a car park and toilets, and even has a picnic area where you can eat in the shade of the pine groves.
Its only downside is that, due to its location, it gets dark quickly. However, whether it is crowded or not, whether it is sunny or not, Cala Turqueta is one of the most recommended spots to enjoy the typical landscape of Minorca's southern coast.
It is also very likely that you'll see sailboats dropping anchor in its turquoise waters, as sea conditions here are suitable for boats that are less than 12-metre long and with a draught of under 2 metres.
As far as its name is concerned, the most widespread theory is that it refers to the colour of its waters. However, local sources claim that, in reality, it comes from the ancient invasions by Turkish pirates that the island has suffered.
Finally, if you like active tourism, from Cala Turqueta you can start two stages of the Camí de Cavalls, a historic 185-kilometre trail that loops the island. Heading east, you will arrive at Cala Galdana, whilst heading west, you will reach Cap d'Artrutx.
Planning an excursion to Cala Turqueta
Given the small size of the island, reaching this southern cove by car takes less than an hour. These are the main distances and times: Ciutadella (14 km; just over half an hour by car); Es Mercadal (34 km; about 40 minutes); and Mahón (55 km, approximately 1 hour).
As is the case with most coves in Minorca, the capacity of its car parks serves as a regulating measure to prevent overcrowding. Thus, a maximum of 120 vehicles can be parked at the Cala Turqueta car park. Which is why, as we mentioned previously, we recommend getting up early. Those who go to the coves by motorbike—either their own or rented—encounter fewer difficulties, as it is much easier to find a parking space for them. Along the way you will find different signs indicating the occupancy rate of each cove's car park. Therefore, if on the way you see that it is full, the best thing to do is to head to another nearby cove, such as Macarella or Macarelleta, both located only 2 kilometres away and also famous for their beauty.
The distance from Cala Turqueta car park to the seashore is 850 metres, which makes for a pleasant 15-minute walk through a holm oak grove. Once you've reached the cove you'll realise that getting up early and the inconveniences of the journey were definitely worth the effort.
Information of interest
How to get to Cala Turqueta:
By car from Ciutadella: On leaving the town, take the RC-2 road and then the road from Sant Joan de Missa to the beaches of the southern coast (you will see that the directions are clearly indicated at each possible detour). Further on, turn right at the Sant Joan de Missa hermitage. After 4 km, take a new detour that will take you to an unpaved road, which, after 400 metres, ends at the Cala Turqueta car park. From here, it's a 10-minute walk to reach the cove.
By public transport: During the summer months you can go to Cala Turqueta by bus. Route 68 departs from Ciutadella. If you don't want to get up very early, it is worth considering this means of transport, as—this being one of the most famous coves on the island—Cala Turqueta car park runs out of parking spaces very quickly. Link línea 68: https://menorca.tib.org/es/autobus/linia/68
By boat: Different companies offer boat transfer services from Ciutadella. This is a very interesting option, since during the journey you will be able to take in the beautiful coves and beaches of the southwest of Minorca, as well as the imposing lighthouse of Artrutx. (Link Beaches and coves in Minorca)
Related
plans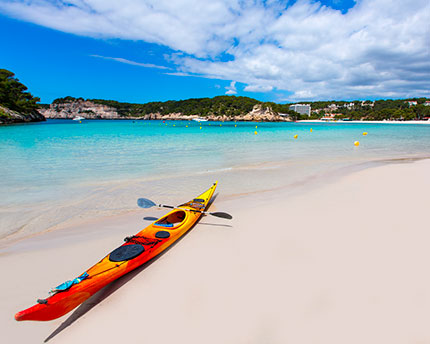 Sea and Beaches