The best spas in Minorca: moments of
relaxation during your holiday
The Balearic island of Minorca is a never-ending source of enjoyable experiences and places with an unbeatable combination of paradisiacal coves and cultural hotspots. If you're travelling as a couple, you may have slightly different ideas in mind: perfect spots for a romantic sunset, a strategically located restaurant for a special dinner or a secluded beach where you can spend a wonderful day out. It's important to find activities that you both enjoy and that create unforgettable memories.
Perhaps one of the things you most like includes finding a time to forget the rest of the world and focus on your own well-being. If you love visiting spas, Minorca has every type imaginable so you can choose what suits you best. During the holidays it's vital that you find some time to cast off the stress of everyday life and there is nothing like a total relaxation session to leave you feeling as good as new. The programmes offered by these spas are also ideal for experiencing as a couple. We reveal the most recommended spas in Minorca.
Massages in Minorca with a sea view
Mahón bay is a great place to stay because it's just a couple of kilometres from the capital and right next to the coast. If you decide to stay in this area and are looking for a special hotel with a spa to surprise your partner, look no further than the Barceló Hamilton Menorca. It's an adult-only designer hotel that will ensure your stay on the island is an utter delight. Make sure you spend some time on its incredible terrace with six hydromassage pools and views of the bay.
The hotel has a fully equipped spa area that invites you to unwind and includes a Finnish sauna, bucket shower, hammam and sensations shower. The circuit has been designed to help you clear your mind while having fun with your partner. If you're thinking of booking a wellness treatment, the Barceló Hamilton Menorca has plenty of different packages to choose between:
Seaweed body wrap and face massage.
Body massage with Minorcan chamomile oil
Anti-ageing facial treatments.
Private couple's massage in the Balinese bed zone.
Back massage with golf balls.
As you can see, you're certain to beat the stress as you spoil yourselves surrounded by the stunning setting of Mahón bay.
Themed spas in Minorca
One spa model that has become particularly popular in recent years is Arab baths. In these spaces both the décor and the different treatments that are available are based on Arabic traditions. If you're a big fan of these type of places, don't miss the chance to visit the Gessamí Arab Baths right in the heart of Ciutadella (or Ciudadela). This beauty and wellness centre offers visitors a series of different rituals that will fully calm your body and mind. Its architecture and low lighting create an intimate atmosphere and make it the perfect destination for whiling away a couple of thoroughly romantic hours.
Oriental aromas play an essential role at the Gessamí spa. Visitors can experience the steam bath which releases built-up tension, the contrasting cold and hot water pools which improve circulation, and an area with thermal seats where you can enjoy some herbal tea.
You can choose between different anti-stress massages that use hot stones or floral pouches. There are also rituals that use citrus fruits, chocolate and rose petals, among others. Or choose between various facial, body, firming and anti-cellulite treatments. By the time you step outside the centre your exhaustion will be a thing of the past.
Furthermore, the central location of Gessamí in Ciutadella allows you to spend a wonderful day visiting the sights in one of Minorca's main towns. The cathedral of Santa María and the Sant Nicolau castle are just a few steps away from the spa.
The best spas to visit during the winter in Minorca
If you've decided to visit this beautiful island outside of the summer season, it probably won't be beach weather and you'll have to make alternative plans for your stay. Spending some heavenly moments in a spa is a great choice when you want to escape the winter's cold and fancy a soak in a heated pool.
With this in mind, one of the most recommended spas to visit is the Tranqvil Spa, part of a chain that has two centres in Minorca which are the height of luxury. One is located between the Son Xoriguer beach and the beautiful Cala en Bosch cove. Its facilities are ideal for switching off and include a Finnish sauna, Scottish shower, steam bath and various rooms for treatments and massages. The idyllic location gives you the chance to visit one of the most stunning coves on the whole island.
The second spa in the chain is located on Sant Tomàs beach. This comprehensive centre has an indoor heated pool, jacuzzi, sauna, massages and numerous beauty rituals. A gym is also available for use by guests.
Treat yourself and your partner to something special at one of the most outstanding spas in Minorca. The different sensations that are experienced in these temples to serenity will awaken all your senses and you'll leave feeling totally refreshed, free from everyday stress and thrilled to have enjoyed a moment of connection together.
Related
plans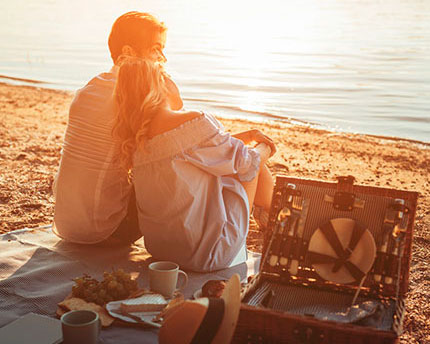 Leisure and Entertainment