Plans for
hopeless romantics in minorca
If you're planning a romantic getaway to surprise that someone special, you'll be hard-pressed to find a dreamier setting than Minorca. The natural setting, which has a wild edge to it, is the perfect environment for creating the intimate atmosphere that you're on the search for. Discover remoter and quieter beaches, spend an enchanting evening in a restaurant or take a walk to a lost lighthouse to watch the sun go down. These are all fantastic things to do with your partner to forge some unforgettable memories. The beauty of the island will impress you so much that it will become one of your favourite retreats for hiding away from the world. We're going to give you a long list of options to choose from.
Retreat to a paradisiacal beach
Although this might seem fairly obvious, seeing that we're on an island, Minorca has a large number of beaches, and some are more suitable than others for a couple's day out. If you want to spend a relaxed day away from the crowds, you'll need to avoid the areas that are most popular with families and large groups, opting for more secluded coves. They will offer you the chance to enjoy each other's company.
Leaving the destinations that are most popular with tourists behind you'll come across some true hidden gems. On the north coast, the Playa des Bot is a small, unspoilt cove with fine sand and crystal-clear water. You'll have to walk about a kilometre to reach it, but the rewards will be worth it. As there's no direct access, there are far fewer people here, which could be a big advantage if you're making plans as a couple.
Another spot that just oozes romance is Cala Morell. The rocky landscape is especially impressive at sunset, when it's absolutely picture perfect. Lots of people think that this is one of the best beaches to watch the sunset between the cliffs. There are also several prehistoric caves and well-preserved archaeological sites in the area. The ruins will transport you back in time and will make you feel a bit nostalgic.
In the south of the island, you can visit small coves such as Es Caló Blanc. The white sand and the turquoise water are its biggest draws. You'll find the intimate spot you're searching for between the rocks that encircle the beach.
Restaurants for a romantic dinner in Minorca
There's no better way of ending the day than surprising your partner with a dinner at a small, strategically situated restaurant. In Minorca, it won't be difficult to find one of these spots where you'll also be able to enjoy the island's gastronomy. One of such unique restaurants is Es Molí de Foc, located in Sant Climent. It's housed in an idyllic nineteenth-century mill with Modernist décor that retains its charm. Its garden and terrace will make for the perfect date. Rice dishes, prepared using local produce and served with painstaking presentation, are their speciality.
Ca N'Olga, right in the centre of the village of Es Mercadal, has a relaxed, tranquil atmosphere. In addition to being located in a typical Minorcan house with a romantic interior courtyard and garden, it serves delicious Mediterranean cuisine you'll fall in love with. Don't miss out on its lobster stew and meat dishes.
One of the most outstanding restaurants is Sa Pedrera d'es Pujol, in Sant Lluís—an old house in a unique setting, where tradition fuses with cutting-edge cuisine. The sea and the land are the source of inspiration for their dishes, such as lobster and rabbit cooked with onions. This is the perfect place to treat yourself by ordering one of their tasting menus.
To round off the night with something a bit different, you could pay the Cova d'en Xoroi a visit. It's a natural cave in Cala en Porter, carved into a cliff overlooking the sea. At night, they organise live music performances, and it's a fantastic spot for a drink. Have you ever imagined yourself dancing the night away in a cave?
Other romantic plans in Minorca
One of the best things about the island is that there are activities to suit all tastes. If you're a more adventurous couple, you might want to go kayaking, snorkel in a marine reserve or drive a jet ski. There are numerous companies specialising in these excursions, so you won't struggle to find one.
If you love hiking, then walking to the Cabo de Cavalleria lighthouse, on the north coast, has to go on your list of must-dos. Its location on an impressive cliff, one of the highest on the island, combined with how stunning the surroundings are when the sun starts to sink towards the horizon, will make the walk more than worth it. You'll be sure to take more than one photo away with you as a souvenir.
With so many exciting plans, you'll need to find some time to relax together, just the two of you. Find the tranquillity you're looking for at a spa such as the one at the Hotel Barceló Hamilton Menorca, in the bay of Mahón. Don't miss the spectacular views and spoil yourselves a little with one of their beauty treatments.
Exploring the island in a 4×4, discovering the wonders hidden under the surface of the sea by trying your hand at scuba diving, and taking a horse ride on the beach are a few other perfect options that will fit into your romantic plans perfectly. What more could you ask for?
Related
plans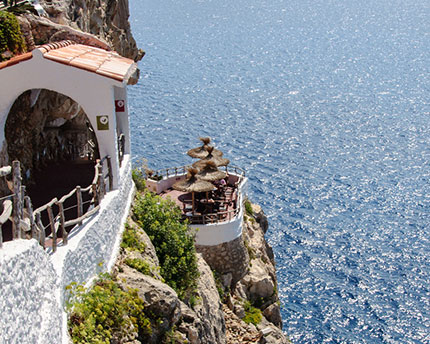 Places of Interest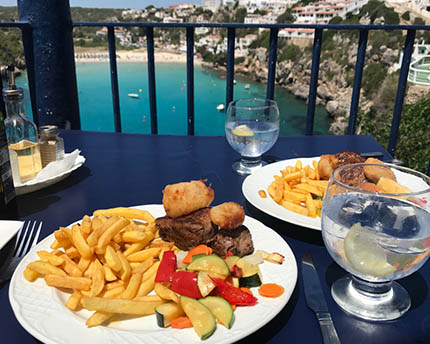 Food and Drinks