Everything you need to know about
surfing in Minorca
Minorca, with its white sand beaches and turquoise water, is a water sports paradise. On this small Mediterranean island, you can get a lot more than just a tan. Although it's not one of the most popular surfing areas in Spain, it has some incredible spots where you can catch a few waves, try your hand at stand up paddle surfing or get swept up in the fun of windsurfing.
To sail or anchor in one of the island's secluded coves, with soft winds meaning boats glide dreamily through the water. But it seems that word hasn't got out amongst surfers and lovers of water sports, as Minorca is still a quiet, relatively unknown spot for catching a few waves.
Where to go surfing in Minorca
On an island of 700 square metres, almost all the beaches are just a stone's throw away. In the north, there are spectacular coves such as Cala Tortuga, Calders, Cala Tirant, Cavalleria, El Pico, Cala Pilar, Cala Carbó and La Vall. Thanks to the northern winds that whip this coast, the waves are more regular. However, it's best to check the wave and wind forecast beforehand, as they're constantly changing.
Beginners will love the Bahía de Fornells bay on the north coast. It is, without doubt, one of the best spots for getting started with this sport. The bay is cocooned by the surrounding mountains, meaning the wind is just right. It's almost a miniature sea surrounded by small islands, coves, and beaches. This stretch of the coast is practically untouched. At the Club Naútico de Fornells (Fornells Sailing Club) there are off-season surf lessons, and they organise competitions.
In the south of the island, the best options are Punta Prima, Binigaus, Son Bou, Sant Tomàs, Xoriguer and Cala'n Bosch.
One of the most popular spots is Punta Prima, a favourite among many surfers in Minorca. The water is crystal clear and turquoise all year round, and the waves are long and predictable, so it's a great place to get started with surfing. The sides are rocky, so it is advised to get in the middle—where the bottom is sandy—and paddle out to the headland. The best moment to come is in the winter, as there are fewer tourists (it's a pretty famous beach) and the conditions are better.
The best time of year for surfing in Minorca is spring (the water isn't cold, and the waves are good), but you'll find the biggest waves in winter. All surf lovers look forward to this time of year to get out with their boards. Even though there might not be consistent waves in the Mediterranean, at certain times of the year the sea gets whipped up, and the conditions are perfect for surfing. Every year, during April, the One Punta Prima Day event takes place. It is a festival focused around surfing and everything related to surfing, like paddle surfing, windsurfing, skating or longboarding. If it's done on a board, you'll find it here.
Give paddle surfing a go
In recent years, the most popular sport, which is taking over not just on beaches, but in any aquatic environment, is stand up paddle boarding (SUP). You don't need waves, so you can do it out at sea, on rivers, lakes, dams or even swimming pools.
It was born in the villages of Polynesia, where it was used as a way to travel between islands. Today, it's become a sport that's fantastic for the whole body. It's aerobic exercise but it also involves strength and balance, and you have to use almost all of the muscles in your body. On top of that, you can enjoy your surroundings. You just need a paddle board, which is similar to a surfboard but larger and heavier, and a paddle. You row whilst standing on the board (or at least kneeling).
To enjoy this sport, you don't need any prior experience, which means that anyone, of any age, can give this activity a go. In Minorca, you can rent the equipment and go out on your own or join a group and discover the island's most secluded nooks and crannies. It's a great way of discovering the less crowded areas of the island, as with the board you can access unspoilt beaches, dive in hidden caves, paddle along the coast, and enjoy the picture-perfect sunset whilst on the water.
The best surf schools in Minorca
Information of interest
The best option is to rent a car or motorbike to be able to enjoy the island, get around easily and reach the most secluded corners. Another option is to use public transport, but the buses won't take you to small coves or off-the-beaten-track spots, so they're only really a good idea for travelling between villages or for going to and from the airport.
Related
plans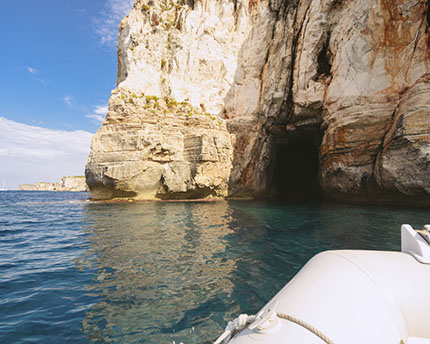 Sports and Adventure