Discover the picture-postcard
beaches and coves in Minorca
You are planning your next holiday in Minorca and you cannot avoid this. You have seen its beaches and coves so many times on television or in photographs that you wonder if they are real. There are so many options that you do not know which one to choose. Which ones are the quietest and remotest? Which ones are recommended for the family?
The truth is that the beaches and coves in Minorca provide many varied possibilities, depending on your needs and preferences. We will talk about some of the musts, those which you cannot miss.
Beaches and coves in southern Minorca
In the south of the island, there is a large concentration of hotels and different types of accommodation, so the beaches and coves tend to be livelier. There are many options and you will find some of the most famous ones in that area. Cala'n Bosch is one of the nearest ones to Ciutadella, so it is a good choice if you are staying nearby. It is a developed area and has many services such as showers and beach bars where you can have a drink. Moreover, it has easy access, which is an advantage if you plan to go with children.
Not very far from this cove is Son Xoriguer beach, which is appropriate if you are interested in water sports such as windsurfing. The waves are stronger there, so surfers frequent it. If you are looking for unspoilt beaches, go to Son Saura, which has a peculiar shape divided into two halves. It is also surrounded by a pleasant pine grove to take shelter from the sun.
From that beach, you can take a walk of around ten minutes to the small and secluded Cala Es Talaier. Its turquoise water is an attraction for all travellers. Cala'n Turqueta is also very close by, in a virginal setting dotted with pine trees between the cliffs. From that cove's car park, take a 1-kilometre walk to this exquisite beach, one of the most valued in Minorca.
It rivals in beauty with Cala Macarella, which is under 2 kilometres from Cala'n Turqueta. There are prehistoric caves in its cliffs and the intense blue of its water can easily be compared with any Caribbean beach. Next to it, you will find the smaller Cala Macarelleta, which is perfect for spending a pleasant day if you are looking for a nudist area.
Hiking lovers can walk half an hour from Cala Macarella to Cala Galdana, which has all the necessary facilities and services and is highly frequented by families. With shops, beach bars and the possibility of hiring pedal boats, this is one of the smallest, yet attractive coves in Minorca.
One kilometre from there you will find Cala Mitjana, which you can reach by car or on foot along the famous Camí de Cavalls route. It is a completely unspoilt beach and, if you want privacy, go as far as Cala Mitjaneta, surrounded by rocks and cliffs. On the other hand, if you prefer larger beaches where you can walk along the seashore, go to Son Bou or Sant Tomàs. The latter is a U-shaped urban beach, past which Binicodrell and Binigaus beaches follow.
There are practically deserted coves which you can only reach on foot such as Cala'n Fustam and Cala Escorxada, perfect for a romantic break. You can watch spectacular sunsets from Cova d'en Xoroi after enjoying the water at Cala'n Porter. There are suitable beaches for children such as Punta Prima, where you can visit the surrounding area such as the Son Ganxo Tower and Aire Island with its unique lighthouse. Which one is your favourite?
The best beaches and coves in northern Minorca
The northern part of this Balearic island is completely different from the south. In the north, the beaches and coves are wilder and the landscape is more natural. Since most of the tourist destinations are in the south, the northern areas are quieter and less crowded. If you are dreaming about a cove to isolate yourself from the world and be surrounded by nature, this will be the best place for you.
Cala Pregonda is a must. You can reach it on foot along the Camí de Cavalls route, after arriving in Binimel·là by car, or by boat. Its characteristic burgundy colour and its cliffs are the perfect setting for imagining yourself in a lost planet. Its rich seabed will delight snorkelling enthusiasts.
Cala Morell is one of the most peculiar coves since it forms a natural bay of great geological interest and barely has any sand. For diving lovers, there is also an absolutely magnificent underwater cave. You can also visit the Talayotic necropolis at Cala Morell and explore its prehistoric remains.
Near Favàritx lighthouse, in the extraordinary s'Albufera des Grau Natural Park, there are some of the most exceptional beaches and coves in northern Minorca. One of them is Cala Tortuga, an unspoilt stretch of coast which you can reach after a 30-minute walk. You will find crystal-clear water there and nothing but the reserve's abundant vegetation. Its neighbour, Cala Presili, will also invite you to an equally beautiful isolated spot. Remember that no services are available there, so you will have to bring your own supplies to spend the day.
Cala en Brut is located to the north of Ciutadella and is only suitable for daredevils. There is no sand there and people lie on the side rocks, from which they jump into the water. It is a different type of cove, suitable for adventurers who do not like spending the whole day sunbathing. There are also longer unspoilt beaches such as Algaiarens and coves with easier access such as Tirant. Have you already found your ideal beach or cove in Minorca?
Related
plans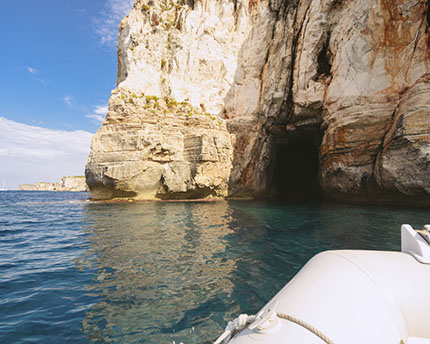 Sports and Adventure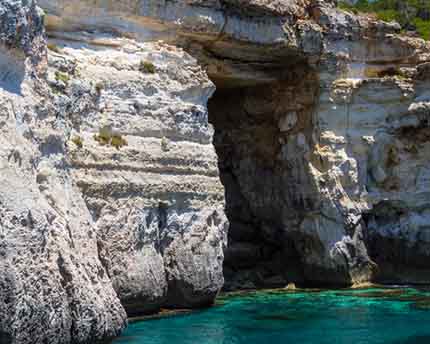 Places of Interest