Things to see and do
in La Manga
La Manga is one of the most unique areas in the Murcia region. It is a tourist icon along the Spanish Mediterranean and its curious appearance has made it a focal point. Although the interior of La Manga is overexploited, the surrounding area has interesting natural spaces which have fortunately been kept in good condition.
This article shows you the essential places to visit in the area around the Mar Menor.
La Manga's natural setting
La Manga is a seaside spit in the bay between Cape Palos and San Pedro del Pinatar, forming an inland lagoon that opens to the Mediterranean called the Mar Menor (Minor Sea).
La Manga was formed by the silting up of sediments, mainly from the river Segura which, on hitting Cape Palos, ended up being deposited, forming this natural barrier over the years and consequently creating the Mar Menor.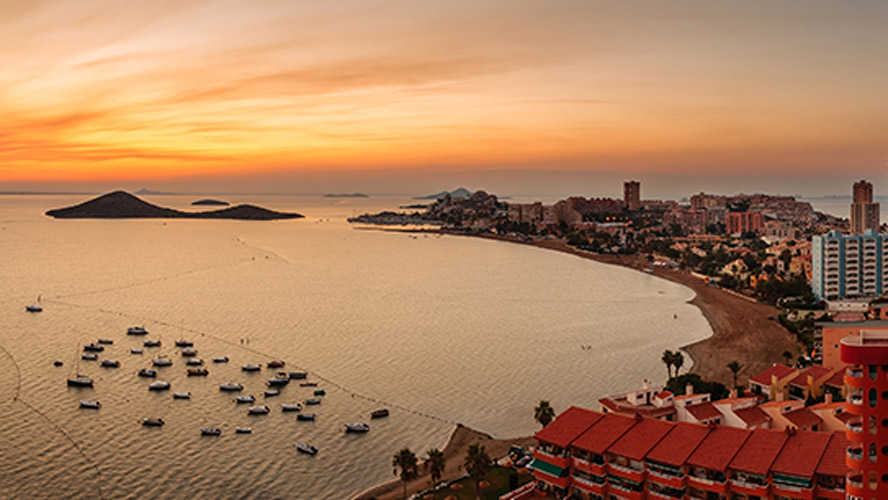 La Manga is 21 kilometres long and varies in width from 100 to 1200 metres. Although it connects both sides of the bay, it does not completely enclose the Mar Menor, so it is a large lagoon that exchanges its waters with those of the Mediterranean.
As a result of such a unique ecosystem, the Mar Menor has enjoyed great natural wealth over the centuries, until the arrival of the urban developments at the end of the 20th century that have left La Manga in a critical situation.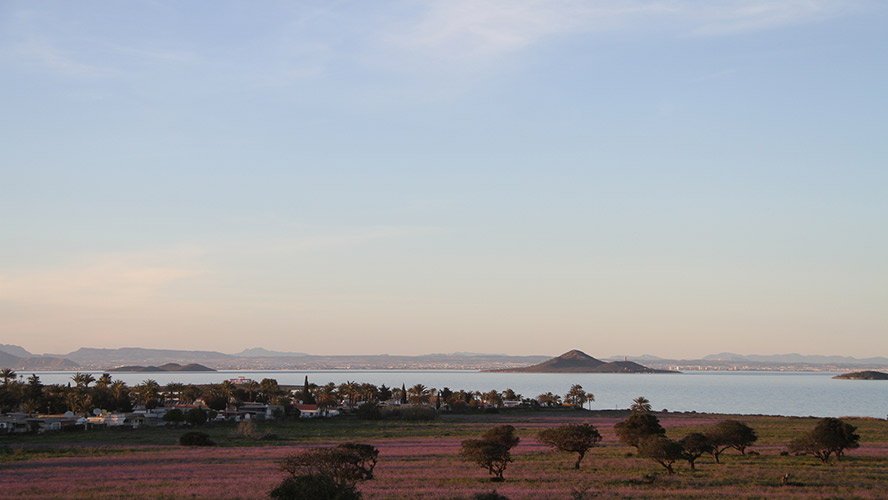 Things to see and do in La Manga
Despite the overexploitation and degradation of this setting, La Manga still has several natural areas of interest with high ecological value that are worth visiting.
Cape Palos
Cape Palos is one of the symbols in the area around La Manga. It owes its name to the Latin palus, meaning lagoon or marsh, which links it to the Mar Menor. It is an iconic cape in Spain, where many shipwrecks and war incidents have taken place, such as the largest naval battle fought during the Spanish Civil War.
The Cape Palos lighthouse came into service in 1865, replacing a watchtower from the time of Philip II of Spain. It measures 51 metres and is listed as a Cultural Heritage Site. You can visit it on a guided tour.
Around Cape Palos there are a number of beaches, coves and islets that make the area a very attractive place to spend the summer with good weather guaranteed since the average annual temperature is 18 degrees and there are 3,000 hours of sunshine a year.
The cape's well preserved seabed makes it an excellent place for diving in the Marine Reserve of Cape Palos and Islas Hormigas.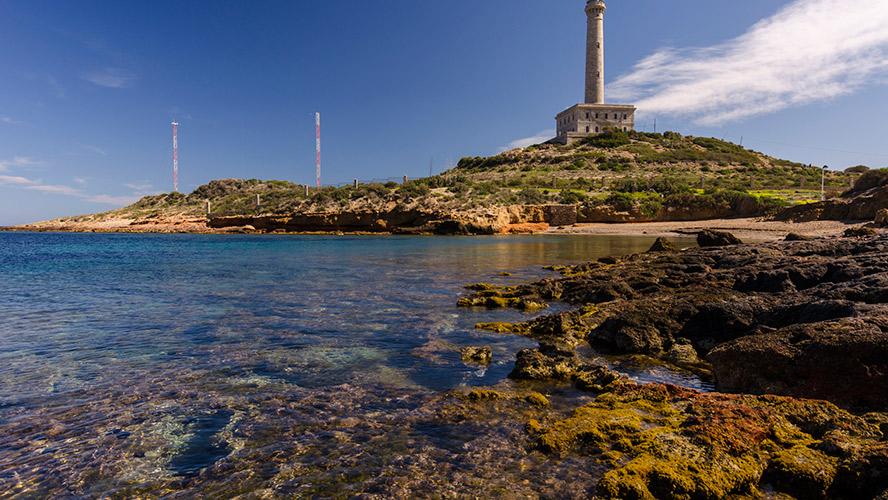 Calblanque nature reserve
On the southern side of Cape Palos is the Calblanque, Monte de las Cenizas and Peña del Águila Regional Park, a place of unique natural beauty that contrasts with the extensive development of the area surrounding La Manga
In Calblanque, you can enjoy an unspoilt area that combines fossil dunes, cliffs, coves, small sandy areas and botanical species such as pine trees and scrubland.
The area's diversity and conservation means that it is inhabited by a very wide-ranging fauna since it is a refuge for birds such as egrets, stilts, plovers, gulls, peregrine falcons, eagle-owls and eagles, as well as for mammals such as badgers and foxes, and reptiles such as snakes and lizards.
The Calblanque Regional Park is a privileged natural area that has been saved from urban development and whose riches must be protected. Thanks to this, you can enjoy a total of nine beaches and coves, all of them unspoilt and with a unique beauty.
At Calblanque, you can also do several hiking routes such as the one that climbs up to Monte de las Cenizas, one of the highest points in the area which, at 307 metres of altitude next to the sea, is a strongly recommended vantage point from where you can see the nature reserve and the Mediterranean.
It is the site of an artillery battery, the Portman Guns, abandoned since 1994, which formed part of the defensive network designed during Primo de Rivera's dictatorship. It still has the two 381-mm Vickers guns.
Monte Blanco viewpoint
Despite being particularly narrow, La Manga also has some small elevations from where you can have a better view to understand the area.
Monte Blanco is a a small volcanic outcrop with a height of 46 metres. It is located in the Monteblanco estate, near a small dune area. It is a small vantage point that is perfect for spotting landmarks such as the Cape Palos lighthouse and enjoying a magnificent sunset.
Salt flats and sandy areas in San Pedro del Pinatar
La Manga links to the north with the Regional Park of the Salt Flats and Sandy Areas of San Pedro del Pinatar, another great natural area which gives even more value to the capricious ecosystem that nature has created there.
This 856-hectare nature reserve is a large wetland that combines salt mining with the conservation of an environment that is home to eight kilometres of beaches on its outer part.
One of the area's main natural values is that it is a unique nesting place for birds, which is why it is listed as an SPA (Special Protection Area) for birds.
As well as the beaches, you should go to the visitor centre to get a better understanding of this nature reserve, visit the observatories located at different points and try the mud baths in the inland area, near Lo Pagán. The mud from those ponds has high percentages of calcium, magnesium, potassium, fluoride and sulphates, among other components.
Although mud therapy is officially considered a pseudotherapy, there is some health tourism there for conditions such as arthritis, gout, rheumatism, fractures and skin diseases.
Activities in La Manga
As well as visiting its natural areas, there are many other activities to do in La Manga:
Beaches: although less attractive than the unspoilt beaches of the surrounding area, La Manga also has many urban beaches.
Diving: the Cape Palos Reserve is one of the best places in the Spanish Mediterranean for diving.
Water sports: sailing, kitesurfing, jet skiing, canoeing and paddle surfing.
Hiking: in addition to the routes in the surrounding area, within La Manga you can walk from one end of the peninsula to the other.
Children's and adventure parks: children can enjoy activities designed for them such as water slides, trampolines, mazes and ball pits.
Where to eat in La Manga
In La Manga you will find a large selection of restaurants where you can enjoy a good meal where the sea is obviously the protagonist. Fish, seafood and rice dishes are among the recommendations.
Here is a small group of restaurants in La Manga:
Maloca: at the foot of the Alemanes beach, an elegant and excellent restaurant with different areas where you can enjoy a romantic evening or a wedding. The menu includes many sea dishes and different types of rice dishes.
Chiringuito El Barón: right on the beach, a classic that never fails with prices to suit all budgets. From baby squid and prawns to fish stews and sea bass, all are cooked to perfection and without complications.
El Parador del Mar Menor: a reference in the Mar Menor specialising in fish and with a beautiful terrace overlooking the beach.
Malvasía: if you want to elevate your dining experience, try Malvasía. This restaurant, recommended by the Michelin Guide and with a SUN award from the Repsol Guide, is a creative place with a traditional base. It has a tasting menu at a very interesting price.
Where to stay near La Manga
Although La Manga is full of hotels and apartments, you may want to escape from a very crowded area in the summer and stay off the beaten tourist track. One option is to stay in the city of Murcia, which is less than one hour's drive to La Manga.
If that is your choice, one of the best hotels in Murcia is the Occidental Murcia Siete Coronas, a modern four-star accommodation with excellent value for money, spacious rooms and a broad range of facilities so that your stay will be comfortable.
Frequently Asked Questions
What can I see in La Manga?
In La Manga we recommend that you visit the Cape Palos area, the Calblanque nature reserve and the San Pedro del Pinatar salt flats.
Which beaches should I go to in La Manga?
In La Manga we recommend that you to go to the unspoilt beaches in the Calblanque area.
What activities can I do in La Manga?
In La Manga you can do water activities and water sports, go diving and enjoy its numerous beaches.
Related
plans