Traditional food in Murcia:
where vegetables always take centre stage.
Murcia's traditional food is one of Spain's least known cuisines. The region's food is especially enticing for those who appreciate good produce, especially because of the diversity and quality of the ingredients that are used, most of which come from the region's crop-producing fields.
In addition to Murcia's local produce, fish, mostly from the Mediterranean and the unique and spectacular Mar Menor (link to a corresponding URL), forms an important part of traditional Murcian food.
Pork and its derivatives are also a common feature in the dishes that are typical of the region. And we must not forget the region's desserts and sweets, which put the finishing touches on a true feast.
Below are some of the most classic dishes from Murcia's traditional cuisine as well as how they are made and served.
Caldero del Mar Menor
This is Murcia's most popular version of typical Mediterranean rice dishes. A brothy rice dish, it is traditionally made with rockfish and whitebait (the type that are only used in broths, because of their small size and difficulty to eat). These days, however, caldero del Mar Menor is also made with more appetising and easy-to-eat fish both in homes and in restaurants (link to a corresponding URL?).
A key ingredient in the sautéed vegetables that form the basis of the dish are ñoras, a type of dried red pepper, which give it its characteristic colour and lots of aroma.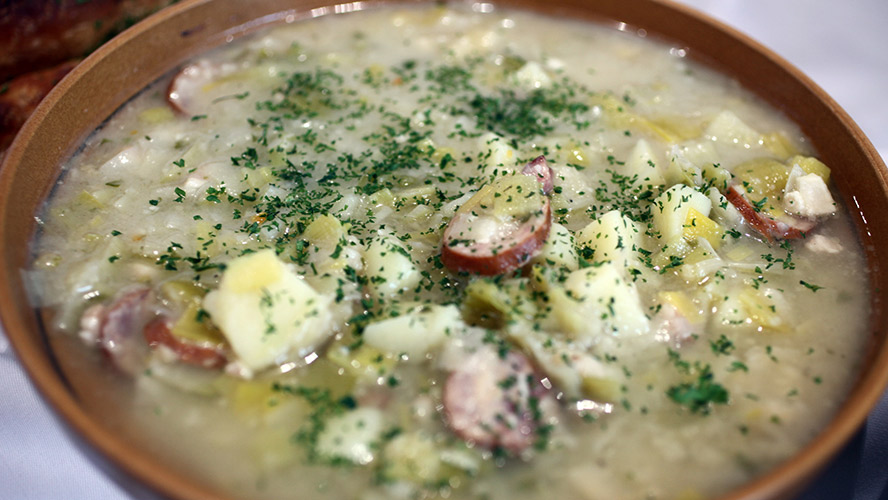 Zarangollo
Rather than being a main dish, zarangollo is eaten as a tapa or an appetiser. The flavoursome dish is made from the juiciest vegetables produced in Murcia, including courgettes, onions, aubergines, potatoes and aromatic herbs.
All of them are sautéed in a frying pan with a splash of good olive oil, to which egg is then added to make a truly nutritious scrambled egg dish.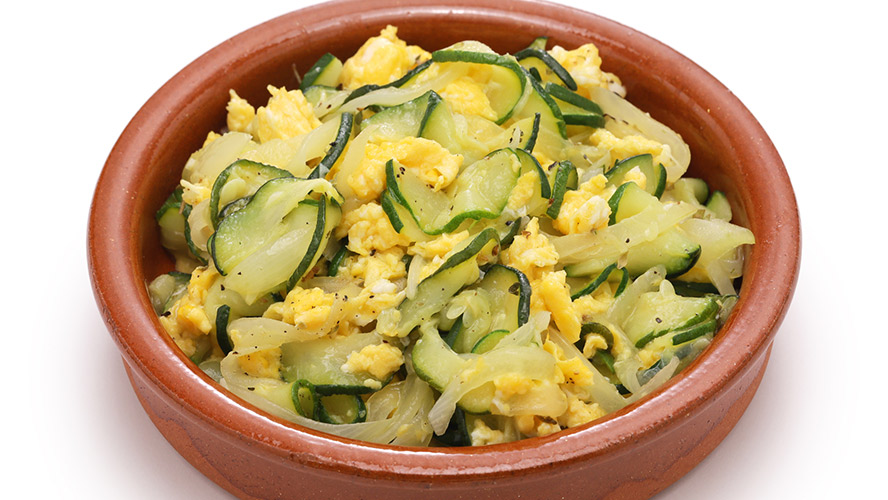 Las Marineras
Like the previous dish, this is also considered more of a tapa than a main meal. It consists of a long folded breadstick upon which a generous serving of Russian salad,
made from boiled potatoes, olives, tuna, vinegar and mayonnaise, is placed together with a salted anchovy. In many parts of Murcia the salted anchovy is replaced by an anchovy in vinegar with the dish renamed 'bicicleta', meaning bicycle.
Pisto murciano
Like all pistos, the ingredients used in this traditional Murcian dish come straight from the vegetable-producing parts of the region—tomatoes, green and red peppers, onions and aubergines are the most common—together with olive oil, eggs, salt and a good dose of patience.
The Murcian version of pisto involves a considerable amount of preparation time, since each one of the vegetables must be chopped and then lightly fried separately before being sautéed all together for around 20 minutes.
It can be served either hot or cold and is a very popular dish to eat in summer. It is often served with a sliced hard-boiled egg placed on top.
Se puede servir tanto caliente como frío, de hecho es un plato muy popular en verano. Para acompañar es habitual un huevo duro cortado en trocitos.
Michirones
Murcia's traditional version of the popular bean stew eaten across Spain is michirones. It is made using large broad beans, generally of the kind with a thick skin. To make it, large chunks of chorizo, bacon, ham on the bone and streaky bacon are cooked in a pan, before garlic, bay leaves, salt, pepper and chilli are then added.
As is usually the case with the most popular dishes, you can find different versions of michirones depending on the part of Murcia you are in. The Campo de Cartagena version, for example, usually includes potatoes.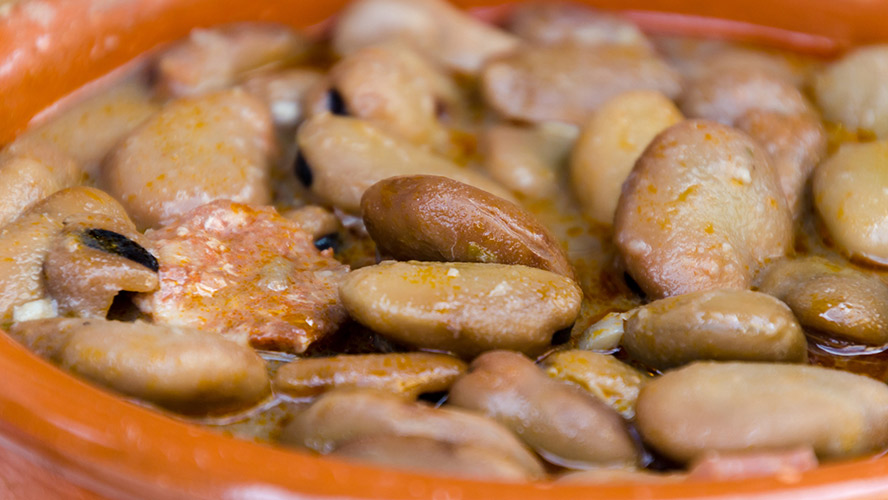 Pastel de carne
This is one of the clearest examples of the Moorish influence on traditional Murcian cuisine. It is also, in some way, the regional version of an empanada, a common dish in other parts of Spain.
In this case, puff pastry is used, which somewhat misleadingly makes it appear as if it were a light dish. In reality, it is filled with a mixture made from ground beef, chorizo, ham, bacon, peppers and hard-boiled egg, along with various spices. It is then oven-baked in individual moulds with the pastry folded over for around 20 minutes. The final result is as crunchy as it is appetising.

Murcian paella
Although paella is the most famous dish from the neighbouring Valencia region, Murcia is home to one of its most authentic variants. Especially because here it is still made in a very similar way to the original version, with more vegetables than animal proteins (fish and meat).
Thus, along with the rice, Murcian paella includes artichokes, peppers, asparagus, broad beans, tomatoes, garlic and parsley. And, in order to enhance their flavour, without taking away their prominence, a few pieces of lean pork are added. The dish's colour and intense aroma comes from liberal use of saffron.

Traditional Murcian desserts
Traditional Murcian food is, in large part, the product of the influence of the Moors during their time in the region. This translates, in addition to many of the dishes that we have already mentioned, in rich and varied desserts and sweets, of which paparajotes are a highlight.
Read on to find out about this unusually-named dessert as well as Murcia's other traditional sweet dishes.
Paparajote
The key ingredient of these sweet treats are lemon leaves (which are not eaten) coated in a delicious batter made from flour, egg, milk and lemon zest. After frying them in very hot olive oil they are then dusted with sugar and cinnamon. The end result is one of Murcia's most famous and delicate traditional desserts.
Pan de Calatrava
This dessert is a great example of the wisdom inherent to zero-waste cooking. To make it, leftover bread, sponge cake, muffins or other sweet treats are mixed with milk, egg and sugar. The mixture is then cooked in a bain marie, in the same way as a flan or pudding, and then left to cool down.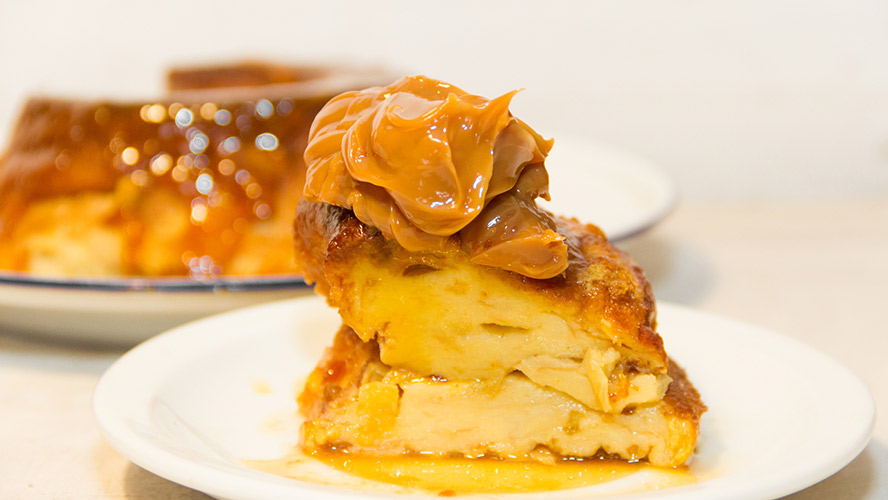 Tortas de Pascua
These are classic Christmas biscuits, although you can now find them at virtually any time of the year. Made from flour, olive oil, eggs, sugar, almonds, honey and pine nuts, it is impossible to resist the aroma provided by the aniseed and orange juice.
Cordiales de almendra
These traditional convent-made sweet treats are made from a mixture of nuts and pumpkin jam placed on a traditional flour wafer known as an oblea. They are very popular in Murcia's Vega Baja region and are usually eaten around Christmas.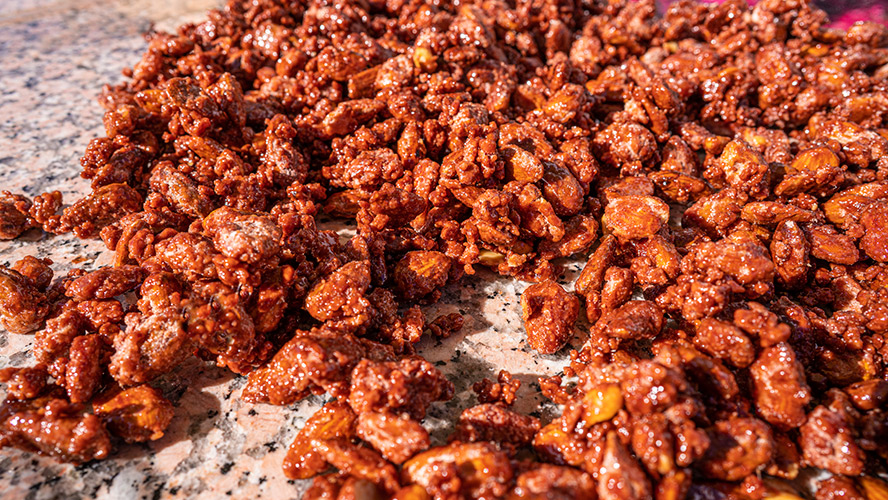 Pastelillos de cabello de ángel
As with cordiales, pumpkin jam, known as cabello de ángel, is the star of these sweet treats, to which flour, lard, egg, lemon zest, sugar and cinnamon are then added. They are typically eaten at Christmas as well as Easter, although they are now available at any time of the year.
Monas de Pascua
Typical of Spain's whole Mediterranean coastline, in Murcia monas de Pascua have a few special features. These include a dough made from flour, egg, sugar and yeast, which is baked with an egg in its shell. Sometimes they are also made with creme patissiere and chocolate.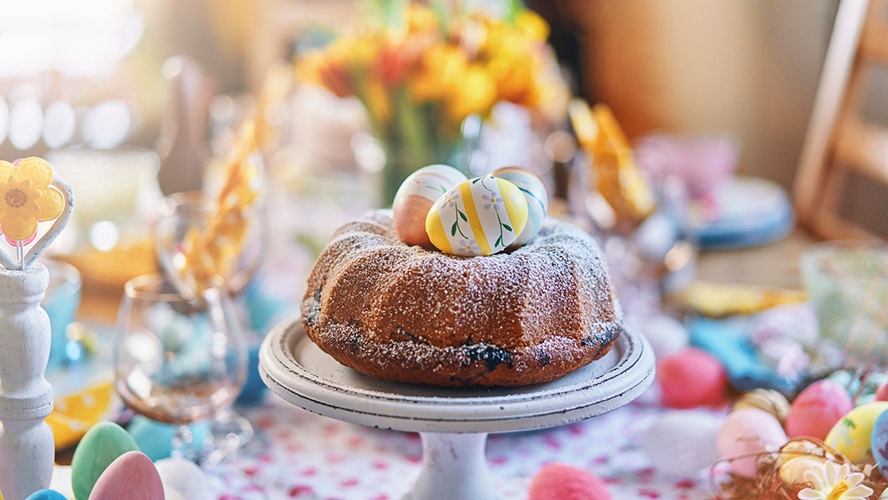 Almojábanas
These are another sweet treat inherited from the Moors. In this case they consist of ring-shaped pastries made from flour, eggs, oil, water and salt, which are oven-baked and then doused in honey syrup.
Where to sleep on a trip to Murcia
Among the wide variety of accommodation options in the region of Murcia, one particular highlight is the Hotel Occidental Murcia 7 Coronas, situated in the capital of the autonomous community, with a total of 156 rooms. Despite having opened its doors in the early 1970s, all its facilities have been renovated to the point that it has become one of the most modern hotels in the city.
Housed in the hotel is also the restaurant Bistró, where, on its lovely terrace, you can enjoy a range of dishes from the different seasonal menus, which include the region's most famous dishes as well as those typical of the rest of Spain and other parts of the world.
Frequently Asked Questions
What should you eat on a trip to Murcia?
When in Murcia you must try the region's home-grown produce without fail. This shouldn't be difficult as they are a common feature in the region's traditional dishes and appear on the menus of all its restaurants.
What are Murcia's traditional dishes?
In addition to rice dishes, such as Murcian paella and caldero del Mar Menor, some of the region's most famous dishes include michirones (a stew made from broad beans and different meats), Murcian pisto, pastel de carne and zarangollo.
What are Murcia's traditional desserts?
The region's best-known and most typical desserts include paparajotes, whose citrus flavours are irresistible. Other typical items include pan de Calatrava, tortas de Pascua, pastelillos de cabello de ángel, monas de Pascua and almojábanas, among others.
Related
plans