Balance body and mind by
enjoying a spa in Tenerife
Visiting a spa in Tenerife is the best way to round off a dream holiday. This Canary island provides an ideal backdrop for awakening the senses with its beaches, volcanic landscapes and wild nature, and Tenerife's wellness centres are perfect for balancing body and mind. They offer highly original treatments which, depending on the centre, can be enjoyed with ocean views or evocative scents that take you on an inner journey to total relaxation.
From the north to south and east to west, there are numerous places where you can experience thermal waters in Tenerife, give yourself a summer treat with a massage in southern Tenerife, try out the powers of reflexology, succumb to the pleasures of a water circuit… Taking good care of yourself is always a good idea while on holiday (or at any time of year) so we're heading deep into the wellness world to find the best spa in Tenerife.
The best spas in northern Tenerife
Before you even start looking for thermal waters in Tenerife, it's important to know where they're found on the island. Just like its climate and range of hotels, the landscape of Tenerife changes from one area to the next, and so do its spas and health resorts. In contrast to busy southern Tenerife, the north of the island offers a degree of tranquillity that is considered ideal for unwinding.
With this in mind, discovering less crowded spots and finishing off your day by visiting a spa in northern Tenerife is highly recommended. Below we present a selection of wellness centres in the north of the island.
Spa La Quinta: A romantic trip is the perfect excuse for giving in to the pleasures of a spa in northern Tenerife. Santa Úrsula municipality combines nature and sea to create a fairy-tale landscape that is hard to resist. This is where you'll find Spa La Quinta, a centre that offers endless options for soothing your body and mind. One thing that is particularly attractive is its selection of rituals for couples. Treatments include relaxation therapy in the water circuit, sense-awakening massages inspired by Nordic rituals, and an all-encompassing "love pack" for couples which combines massages, access to the spa and dinner.
Address: Bicacarena, 21. Santa Úrsula.
The Oriental Spa Garden: Dark volcanic sand beaches and the vast Loro Parque aren't the only attractions of Puerto de la Cruz. The town is also home to one of the most exclusive spas in northern Tenerife. The Oriental Spa Garden offers two thermal circuits (indoor and outdoor), rest zones, a spectacular subtropical garden and a wide range of options for anyone who wants to complete their experience with a massage or wellness treatment.
Address: Avenida Richard Yeoward, 1. Puerto de la Cruz
Spa Sensations Mencey: Finding a spa in Santa Cruz de Tenerife may not be difficult but the Spa Sensations Mencey stands out among the wide range of wellness centres for being one of the most comprehensive. If you visit this centre, treating yourself to a hydrotherapy session is essential if you're searching for total relaxation. The facilities include a sauna, pediluvy, Turkish bath, and much more. And if the water circuit isn't enough, the centre also offers exotic beauty and wellness treatments such as an Ayurveda Abhyanga or Hawaiian Lomi Lomi massage.
Address: Pasaje Maranuelas. Santa Cruz de Tenerife
Spas in southern Tenerife
The beaches of southern Tenerife are a big draw but… Who could resist a day of well-being in one of these centres?
Aqua Club Termal Adeje: The Aqua Club Termal Adeje is a leader among the spas in Costa Adeje. It has nearly a thousand square metres of thermal waters in Tenerife winning the hearts of visitors in every season of the year and offering sessions that last two and a half hours for a truly unique experience. It's no surprise to learn that it aims to become the best spa in Tenerife as its circuit includes a hydromassage pool, relaxation pool, toning pool, Turkish bath, shower temple, pediluvy, sauna, mineral water mist, flotation pool and relaxation area.
Worried you wouldn't be able to beat the stress while on holiday? A visit to the Aqua Club Termal Adeje might be all you need to persuade you otherwise.
Address: Galicia, 6. Adeje
Sparadise: The Sparadise centre is just a few minutes away from Los Cristianos beach, and it lives up to its name by offering visitors a genuine trip to paradise. Oriental, relaxation and couples massages, a welcoming and pleasurable spa and a selection of unusual rituals are just some of its attractions. A major highlight is the Mother Earth treatment that involves a seaweed exfoliation, iodine/seaweed wrap, cranial massage and full body deep tissue massage.
Address: Urbanización Oasis del sur. Los Cristianos
Healthy Harmony: If sun and beach days don't make you feel like turning to a water circuit for comfort, you could always choose a massage in southern Tenerife. Plenty of spas on the island offer you the chance to combine different types of treatment. Healthy Harmony specialises precisely in massages, which is why it has become a highly popular wellness centre.
Its facilities in Arona, just a few kilometres from Costa Adeje, offer everything from Thai yoga massages to reiki sessions, to hot stone treatments, Indian techniques and even reflexology. As you can see, there is an endless variety of choice so your Tenerife holiday ends up being a total wellness experience.
Address: Camino de las Tuneras, 1. Arona
Related
plans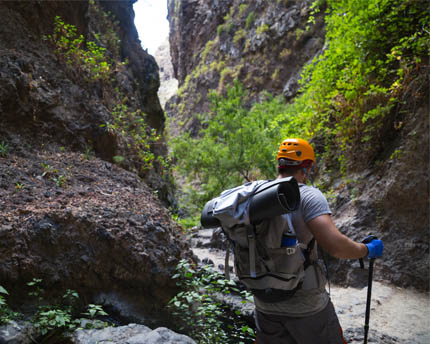 Sports and Adventure