Tenerife's traditional food:
there's much more to it than papas y gofio!
Tenerife's traditional food relies, above all else, on the sea. And not only because the dishes that feature on its restaurant menus and on the tables of its households are dominated by the fish and seafood found in the waters surrounding the Canary archipelago.
The island's cooking also looks towards the ocean in the sense that a great number of the ingredients it uses come from overseas. From the Iberian Peninsula, of course, but also from America. In fact, the links between Tenerife's traditional food and Canarian cuisine in general with that of many South American countries are strikingly obvious. For example, there are many parallels with the cuisine of Venezuela and other Caribbean countries.
Tenerife's traditional food is not a demonstration of flamboyance nor of complex technique. It is, rather, a matter of simple processes where the focus is on locally-sourced products: fish, potatoes, pork, cheeses, etc.
Dishes made more interesting by the addition of flavourful sauces, or mojos. Some typical mojos are particularly potent, such as the popular mojo picón [spicy] or mojo verde [green]. Below, we describe a few of the most common traditional Tenerife dishes, and explain how they are prepared:
Las papas arrugadas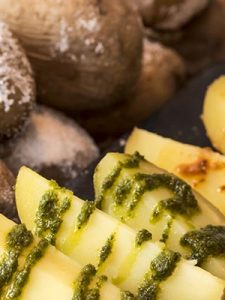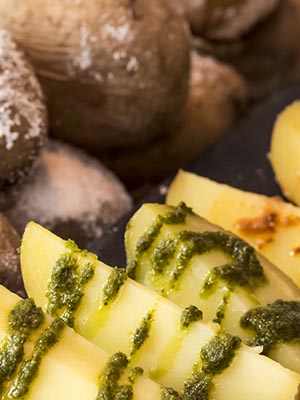 Papas arrugadas [wrinkled potatoes] are, without doubt, the binding ingredient not only of Tenerife's traditional food, but of all Canarian cuisine. A simple dish, based on the small, black potatoes grown on the archipelago itself. These are boiled, with plenty of salt, until the water dries up and they acquire their 'wrinkled' appearance.
They are eaten alone, as a kind of aperitif, or as an accompaniment to meat or fish dishes. Or, of course, with some kind of mojo. The most popular mojos include:
Mojo picón [spicy mojo]: This is based on vinegar, olive oil, red peppers, red (or cayenne) pepper, garlic and salt. All are thoroughly blended together to produce a smooth sauce.
Mojo rojo [red mojo]: Very similar to the mojo described above, but made using rehydrated red peppers and pieces of bread.
Mojo de cilantro [coriander mojo]: With this herb as the star ingredient, but also containing garlic, olive oil, salt and cumin.
Mojo negro [black mojo]: Here the star ingredient is black garlic, which gives the sauce its characteristic smell and also a very distinctive flavour.
El gofio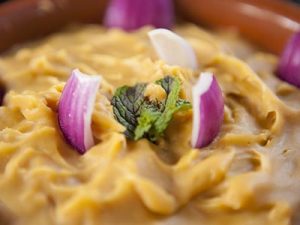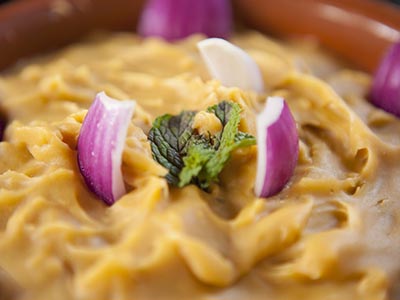 Rather than being a dish in itself, gofio is the base of many traditional dishes in Tenerife and in the Canary Islands in general. The name gofio means a type of corn or millet flour, which is toasted using a traditional method. Gofio can also be made from other cereals, such as wheat, rye and even quinoa.
The flour is made into a mash, which can be sweet or salty, depending on the type of dish for which it is being used. The most common of these are:
Gofio escaldado: This is made by dissolving the flour in a stock, usually a fish stock, but possibly vegetable stock, or even the water used for boiling the potatoes.
Puchero: The typical stew, so common throughout the Iberian Peninsula, also has a Canary Island version, accompanied by gofio.
Bananas with gofio: Both ingredients are made into a thick paste to which is added orange or lemon juice, or honey.
Gofio biscuits: With a very strong, distinctive flavour.
Almogrote
Almogrote is a variant of the Canary Island mojos. Its distinguishing feature is that certain of the vegetable ingredients, mainly the peppers and garlic, are replaced with La Palma cheese. This cheese, which originated on the island of La Palma, is based on goat's milk, and has an intense, rather spicy flavour.
The result is a kind of pâté which is either eaten alone (spread on bread for example) or as an accompaniment to meat dishes or, of course, to the popular papas arrugadas.
Sancocho
Sancocho is probably the tastiest of the traditional Tenerife dishes. It is a kind of stew based on salted fish, such as wreckfish, blue butterfish (a type of bonefish) or sea bass, sweet potato, olive oil and a generous amount of parsley.
All this is cooked, for varying lengths of time, to prevent the fish from disintegrating, and is served with a portion (pella) of gofio and each guest's favourite type of mojo.
Ropa vieja
Ropa vieja [literally, 'old clothes'] is the best example of what might be termed 'the art of cooking with leftovers'. The basis of this recipe, one of the stars of Tenerife's traditional food, is the puchero (stew or casserole) that uses up leftovers: cooking stock, chick peas, potatoes and chicken, pork and beef.
These are chopped up and added to sautéed onion, garlic, peppers and tomatoes. Later, the chick peas are added, along with paprika, bay, thyme, oregano, etc. All this is cooked for a few minutes and a little of the leftover stock is added. Finally, the ropa vieja is served accompanied by plenty of chopped parsley and, perhaps, some diced, fried potatoes.
Tenerife Experiences
In-room chef
from

250€
Other typical Tenerife dishes
The panorama of Tenerife's traditional food is completed with an extensive collection of recipes from which the following are never absent:
Wreckfish: This, along with parrotfish, is probably the most commonly found in Canary Island waters (and kitchens). Wreckfish is a type of grouper, and is generally grilled or barbecued and served accompanied by papas arrugadas and mojo.
Frangollo: One of the most typical desserts in traditional Tenerife and Canary Island cuisine. This is a type of gofio, a mash made up of corn flour, lemon, sugar, almonds and cinnamon. There are numerous variations, depending on the cook and the particular area of the Islands where it is made.
Canary Island cheese: The range of Canary Island cheeses is vast. Each of the seven larger islands has its particular flagship variety, often covered by a designation of origin. The most outstanding examples are the Majorero Cheeses from the island of Fuerteventura and those from La Palma.
Rapadura: Another classic dish of the Canary Islands (specifically, in this case, of La Palma), which has been assimilated into the typical cuisine of Tenerife. This is a cone-shaped desert combining gofio with honey and eggs, and other ingredients which give the dish its various different flavours (chocolate, coconut, almonds, etc.).
Related
plans