Everything there is to see in
La Orotava
La Orotava is an essential visit during your trip to Tenerife. Its streets are steeped in history, tradition and culture. It makes a vital stop because the town has successfully retained the essence of its true identity despite the passing years. The historic centre of this small town in northern Tenerife has been declared a National Historic and Artistic Site and it has held fast to the spirit of centuries gone by, upholding traditions that have made it a centre for Canary Islands handcrafted goods and trade.
If you're wondering what to see in La Orotava, below are some of the most important sights. History and tradition, fairy-tale gardens and mouth-watering cuisine are waiting to win you over.
What to see in La Orotava
The Church of La Concepción in La Orotava: La Orotava counts numerous sixteenth- and seventeenth-century religious buildings among its architectural gems. A particular highlight, partly due to its impressive size, is the majestic church Iglesia Matriz de Nuestra Señora de La Concepción. Although its origins can be traced back to the end of the fifteenth century following the arrival of the Catholic Monarchs, the structure of this place of worship that we see today dates from the eighteenth century. The exterior boasts a lovely Baroque façade, original towers and a magnificent dome. In turn, the interior is divided into three naves separated by columns which are topped off by Corinthian capitals adorned with acanthus leaves. It also houses a museum which displays highly valuable liturgical objects from the sixteenth century to the present day known as the 'Treasure of La Concepción'.
Corpus Christi flower carpets: One of the town's biggest and most traditional displays of artistry are the La Orotava flower carpets created for the Corpus Christi festivities. The custom of covering the streets with flowers dates from the sixteenth century but the celebration was popularised in the nineteenth century when the noble Monteverde family created a flower carpet to welcome the float of the Corpus Christi procession. Today, during May and June, the main streets in the old town of La Orotava are decorated with flower petals and volcanic sand in a magical vision of colour. The flower carpets usually depict religious scenes or decorative motifs. They have been declared an Asset of Cultural Interest by the Canary Islands government and also hold the Guinness World Record for the largest sand carpet in the world.
Jardín de Aclimatación de La Orotava: The spectacular Jardín de Aclimatación de La Orotava [La Orotava Acclimatisation Garden], also known as the Puerto de la Cruz Botanical Gardens, was created in the late eighteenth century on the orders of King Charles III. It was intended as a place where exotic plants brought from the New World could adjust to the climate before being transferred to mainland Spain, thanks to northern Tenerife's virtually tropical climate. Many of those species, however, ended up remaining on the island, eventually forming one of the most impressive botanical gardens in Spain, and the country's second oldest after the one in Madrid. Here you can see over 4,000 plant species from around the world and a huge collection of native plants. Centuries-old trees, the immense and famous Lord Howe Island fig tree, red palulu and flowers of the bird of paradise plant are just some examples of the exotic beauty on display in this tropical garden. Sparkles, colours, lights and scents transport visitors to the very heart of the jungle.
Casa de los Balcones: The Casa de los Balcones [House of the Balconies] is a unique and traditional stately building that is currently home to the Centre for Research into European and American Craftwork. In fact, the Casa de los Balcones Historic Complex consists of three houses not just one: Casa Eladio Machado, Casa de los Balcones and Casa Lercaro. Each was built by a different owner between the sixteenth and seventeenth centuries. The complex stands out for its numerous balconies, hence its name, and its carved wooden interior courtyard. It also houses the Museo de Usos y Costumbres [Folk Museum] and its shop sells craftwork such as crocheted and embroidered fabric, ceramics, etc.
Jardines Victoria in La Orotava: The fascinating and remarkable gardens Jardines Victoria in La Orotava, also known as the Marquesado de la Quinta Roja gardens, were designed by French artist Adolph Coquet in the nineteenth century. One of the most unique features of these gardens is their layout: they spread out over a series of tiered terraces. There are also numerous fountains surrounded by hundreds of flowers that bloom in gorgeous, bright colours. The gardens were built to create a mausoleum for Don Diego de Pinte, Marquis of La Quinta Roja, although the nobleman wasn't buried here in the end. Wonderful views of the island can be enjoyed from the highest point of the gardens, which are located in the historic centre. Admission is free. Strolling through the gardens is a hugely inviting and relaxing way to spend a few hours; almost a heavenly delight.
Where to eat in La Orotava: Choosing where to eat in La Orotava can be a tough decision. There are a huge number of typical dishes thanks to the variety of produce grown in this area of the island, famous for its special microclimate. Fish from the Canary Islands coast, hearty stews, famous sauces and cheeses… Whatever you choose is sure to be a treat.
Restaurants in La Orotava: If you'd like to enjoy homemade island food, a great recommendation is Bar Los Castillos, a small, cosy place at Calle Cologa, 10. It specialises in La Orotava's typical rabbit stew, the town's famous potatoes, grilled cheese with mojo sauce, and cod dishes. And if you have room for dessert, be sure to try the almond cake.
However, if signature cuisine is more your thing, head to Restaurante Casa Ángel in Camino de los Rechazos, 46. It's a simple, modest restaurant but its menu is filled with original dishes prepared using seasonal, locally grown produce. Even their bread is homemade and baked at the restaurant. Canary Island produce at the service of avant-garde cuisine.
And if you'd prefer international dishes with a Canarian twist, visit Restaurante Victoria, just a few metres from the Victoria gardens and Casa de los Balcones in the heart of La Orotava. It also runs a small hotel where you can stay in a well-preserved traditional house. The restaurant offers several tasting menus with wine pairings while the dining menu features dishes such as chickpeas with langoustines, duck and pork.
Information of interest
Related
plans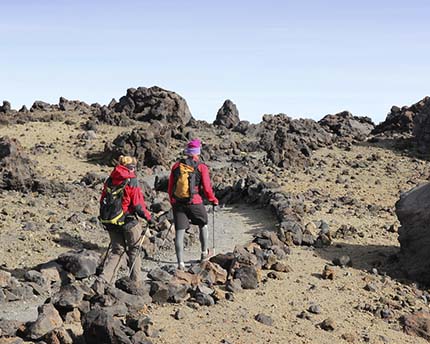 Leisure and Entertainment