Explore the best beaches in Bali this Spring
Visit the best beaches in Bali this Spring from Benoa Beach to Dreamland Beach Bali offers so many spectacular beaches it is hard to choose a favourite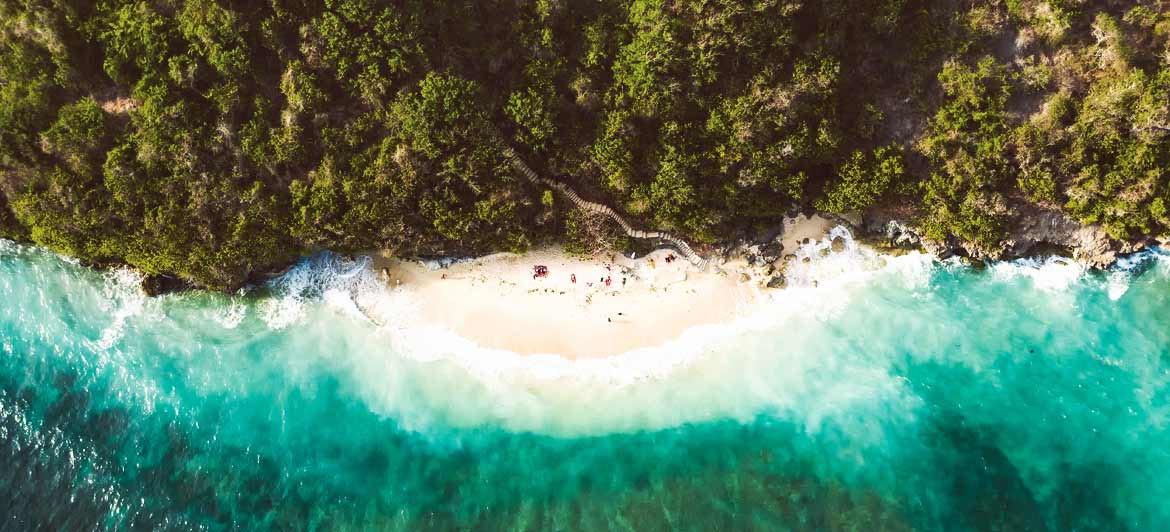 There is so much more to Bali than what is shown in the typical backpackers, gap year holiday brochures. And you don't need to scratch too far under the surface to find it. Bali is a land of mysticism, ancient history and a melting pot of diverse and colourful cultures. On every street corner, you can find ornate ancient Hindu buildings with intricate carvings inviting you to further explore the culture one footstep at a time. Scurry along from the precariously positioned Tegallalang Rice Terraces to find the bewitching Besakih temple which is just a short journey from the imposing active volcano, Mount Agung, Bali's highest peak. Since Bali is an island, it enjoys around 370 km of jaw-dropping coastline with world-class diving spots, secluded coves and a rainbow array of sand colours. Here's where to find the best beaches in Bali.
When to enjoy the best beaches in Bali
Be sure to do your research before booking a trip to Bali since this is a tropical island with the climate to match. The dry season runs from April to October with May, June and September being favoured by tourists craving a crowd-free experience on the Bali beaches. It is during this dry season that the temperatures soar, the humidity lowers and daily life moves from the city to the beach. If you are travelling to Bali to relax on the sun-kissed sands, be sure to look into the Bali beachfront hotels to enjoy a refreshing swim in the sea without having to leave the hotel complex.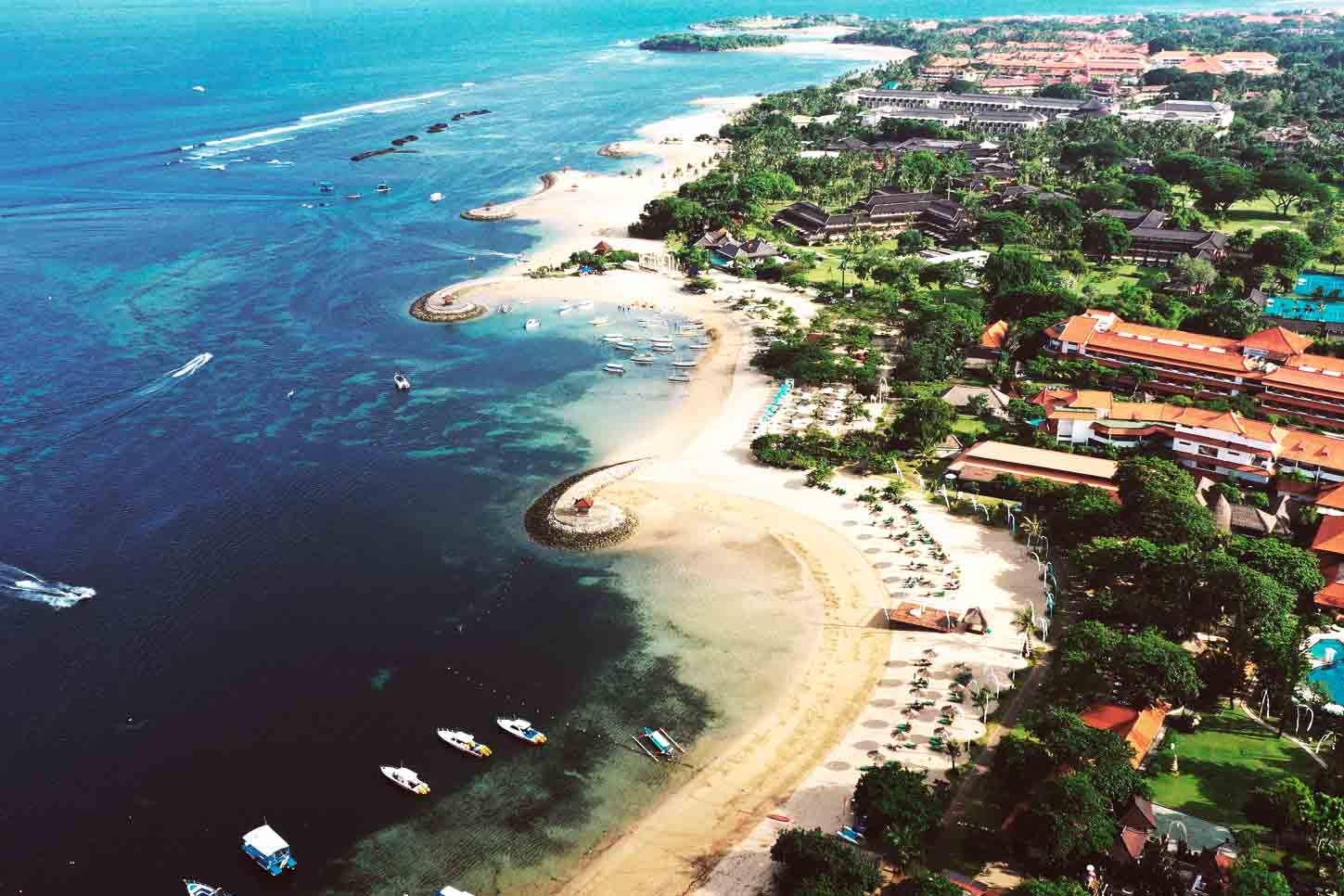 Benoa Beach: one of the best beaches in Bali
Once a sleepy fishing village, Tanjung Benoa Beach is now a busy international tourist destination. The calm waters and palm-tree lined white sandy coastline lend themselves perfectly for a family day trip and have gained official status from the Balinese government as a Marine Sports Centre. Take a glass-bottomed boat out into the ocean and catch a glimpse at the colourful fishes swimming in the azure water. Jet skiing, flyboarding, scuba diving and snorkelling can all be enjoyed by thrill-seekers of all abilities. There are many water sport tour operators dotted along the sandy 3km stretch of coastline and will also rent the necessary equipment for your chosen activity. Just turn up and enjoy one of the best beaches in Bali! At the end of the day, rest tired limbs in one of the trendy beachside hotel restaurants with ocean views and feast on freshly prepared food.
The glittering sands of Jimbaran Beach are a foodie's paradise. Bali's best fishermen flock to this beach, carts loaded with their daily catch which is prepared and served in the Jimbaran Bay Fish Market, a stone's throw from the beach. As the go-to destination for seafood, it is no surprise that the sandy shoreline is dotted with BBQ's sizzling with mouth-watering morsels of fresh-from-the-net fish. If you are looking for a honeymoon beach Bali experience, nothing matches the romantic sunsets witnessed from one of the cosy dining areas of Jimbaran Beach. Head there before sundown to enjoy a hand-held stroll along the 3 km shore and toast to a happily-ever-after while enjoying a romantic dinner with a scenic sunset backdrop. Without a doubt, this is one of the best beaches in Bali for a romantic getaway, just the two of you.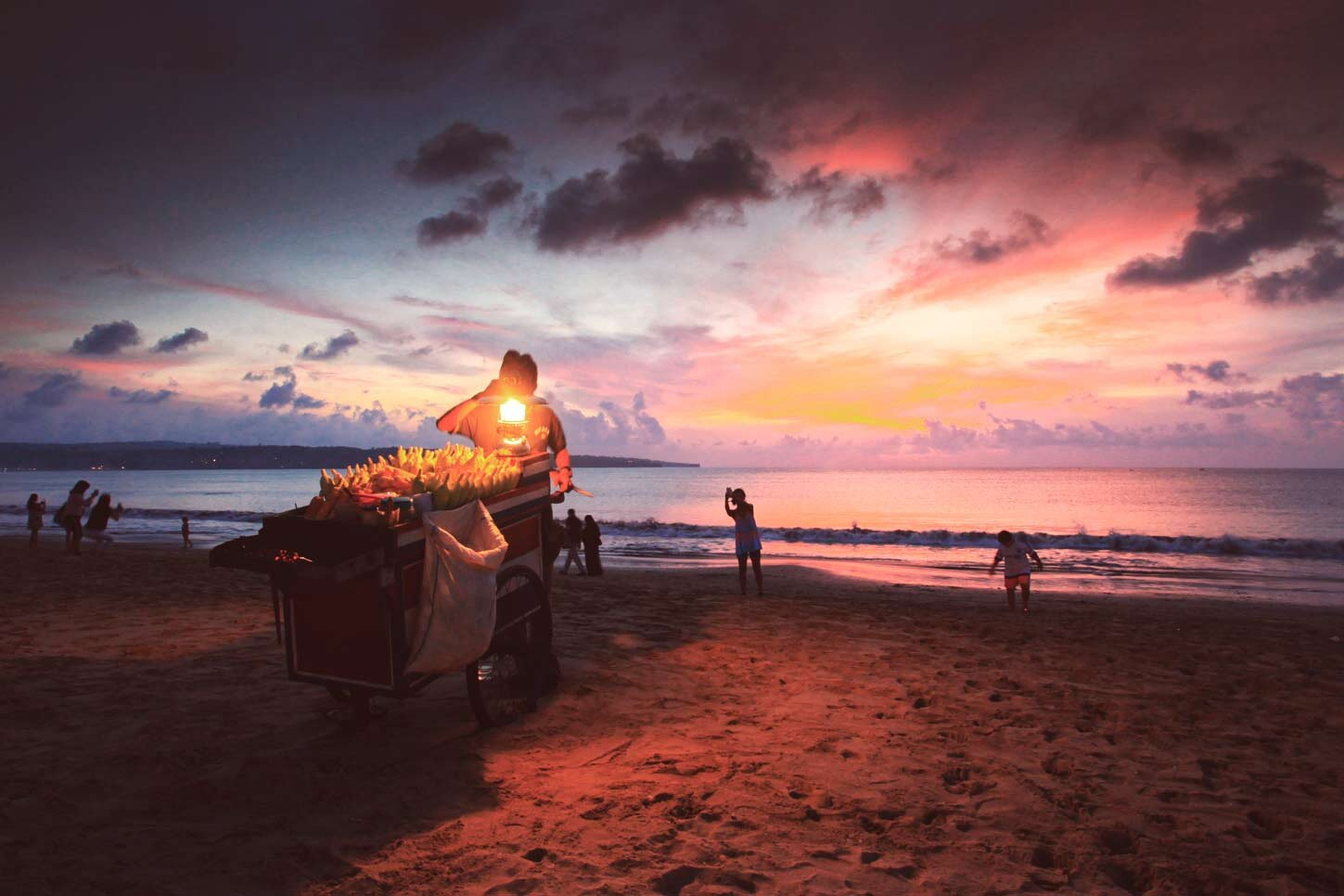 If you are searching for the Bali that you have seen on Pinterest, you can find it right here at Seminyak Beach. A far cry from the overcrowded tourist hotspot of Kuta Beach, Seminyak is a hedonistic paradise at the heart of Bali's beach scene. The 5km stretch of sand is punctuated with Ibiza style chill-out beach bars, sun loungers and plenty of restaurants serving fresh, locally sourced food. It is also one of the best beaches in Bali for those wanting to surf for the first time. The gentle waves make it a safe place to grab a board and ride the white-tipped waves that gently caress the coastline. As the day turns into night, join the fashionable locals at La Plancha Bali and sip on a sundowner before heading back to your hotel.
After handing over its beach BBQ status to Jimbaran Beach, Echo Beach Canggu Bali has taken on a new status as being the go-to surf destination on the island. The bohemian enclave of shabby-chic beach bars and the unmissable waves attract scruffy-haired surfers and dazzlingly beautiful beach babes aplenty. It is one of the best beaches in Bali for people-watching! By day, this beach is a top surf destination for the sun and surf stay Bali holidaymakers and by night it hosts Bali's coolest party scene. Don't forget to bring your acoustic guitar and dance the night away on the black, lava coloured sand.
As the name suggests, this picture-perfect corner of Bali is what daydreams are made of. Often considered to be a hidden beach Bali locals and tourists flock to this rugged coastline for the whitewashed sand and exhilarating waves. This secluded cove is hugged by impressive limestone cliffs which shelter the beach from the elements as well as provide some much-needed shade for sunbathers. It is one of the best beaches in Bali for surfing offering unmatched reef breaks close to the shore and close paddle outs to other top reef breaks. Take a break from the action and take in the instagrammable sunsets as you stroll along this breathtaking beach. Despite being a mecca for adrenaline sports, Dreamland Beach offers a calm, tranquil sanctuary bursting with natural island beauty.