The best Christmas markets in Europe to visit this festive season
Explore the best Christmas markets in Europe and book a festive family trip across the pond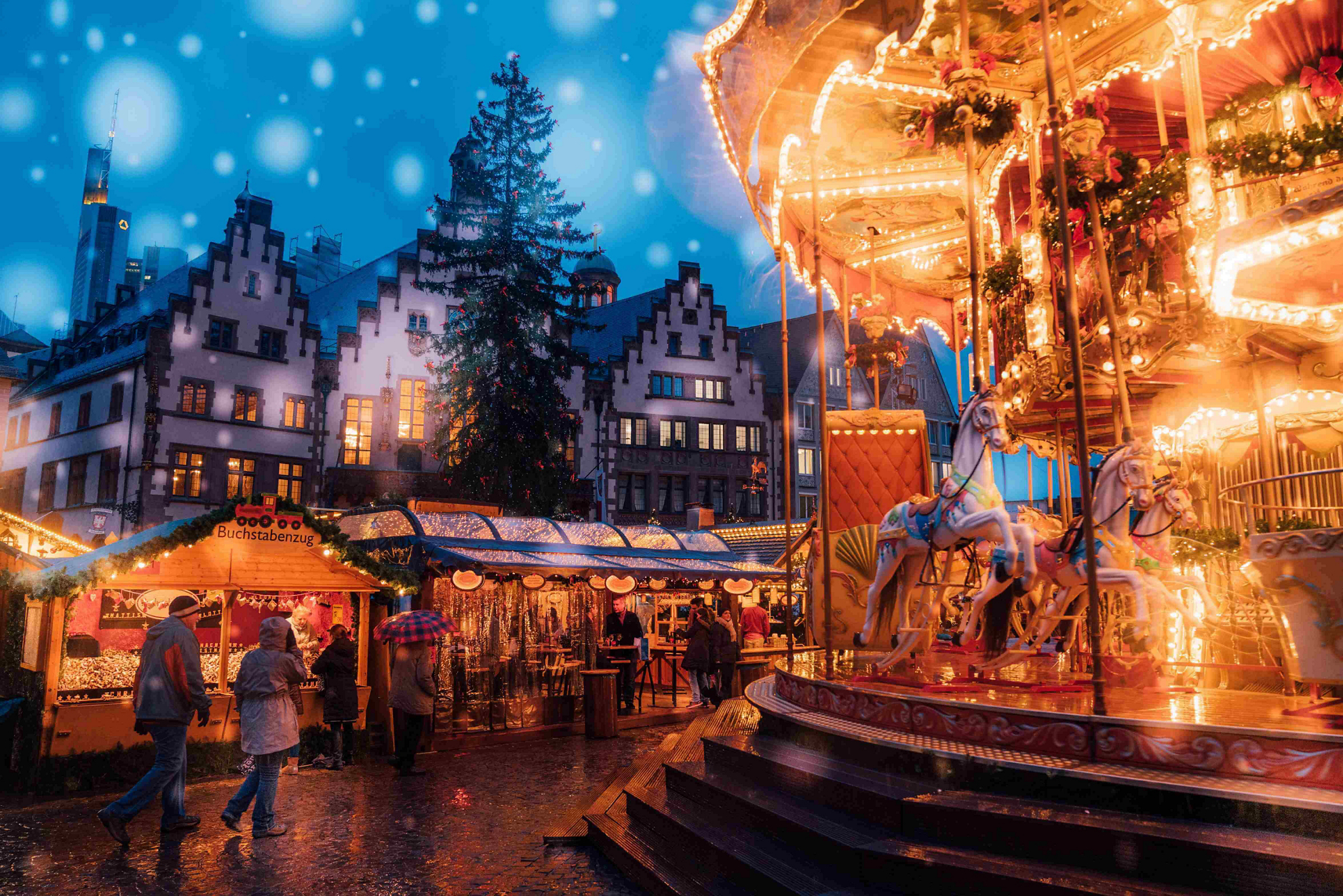 Nothing compares to the magic of Christmas and what better way to feel festive than to visit the best Christmas markets in Europe? Icy town squares sparkle as revelers gather together to drink hot mulled wine, feast on Christmas sweet treats, and shop to the soundtrack of angelic Christmas carols. This idyllic scene may sound like something from a festive fairytale, yet on the continent, it is all part of the seasonal yuletide preparations. So, if you dream of living the magic of Christmas, read on to discover our favorite Christmas markets in Europe. 
When to visit the best Christmas markets in Europe?
While it is easy to stay stateside during the holiday season, it is never too late to plan future festive travel plans. Soak up the seasonal festive cheer and spend Christmas in Europe. From the end of November, town squares across central Europe turn into a winter wonderland offering an inviting array of stalls selling everything from gifts and handicrafts to delicious street food. The markets tend to take place until the end of December and sometimes continue into the early stages of the new year. Yet, the best time to go is right before Christmas when the sense of excitement and anticipation for the big day is at its highest. So, now you have decided when to travel, all that's left is to decide where you will experience this family-friendly Christmas tradition.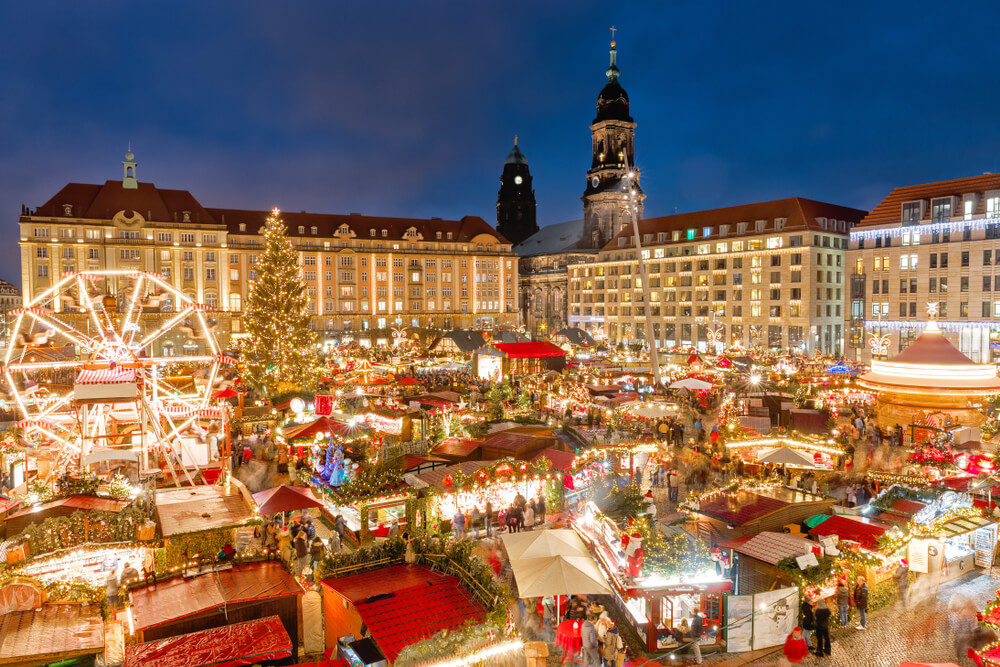 Visit the oldest Christmas market in Europe in Dresden, Germany
Looking for a picture postcard winter wonderland scene complete with snow-capped buildings and gingerbread house-style buildings? Head to Dresden and experience what is arguably the most beautiful Christmas market in Europe. This German city is home to Europe's oldest Christmas market, the Dresden Striezelmarkt.
This German city is home to Europe's oldest Christmas market, the Dresden Striezelmarkt
It started in 1434 as a one-day market offering sweet treats to the town's residents. The buttery fruitcake dusted with icing sugar known as stollen, or Striezel in German was the market's main attraction. Today this market has grown into a stunning display of festive cheer housing over 240 stalls and spreading half a mile across the city. You cannot miss the 45-foot-tall Christmas pyramid or the fairytale-inspired Santa Claus' house. 
Explore some alternative top 10 Christmas markets in Europe in Hamburg, Germany
Germany is undoubtedly one of the most magical places to visit during the holidays. And, if you are in doubt, just take to the streets of Hamburg. This buzzing German city converts into a magical, festive scene offering an interesting alternative to the best Christmas markets in Europe. Indulge in mulled wine and embrace the Christmas atmosphere at the City Hall Christmas Market at Rathausmarkt Square. This is the city's largest festive market and one of the most family-friendly gatherings on offer. Shop handmade gifts, toys, glassware, and mouth-wateringly delicious traditional dishes. What's more, this market is just a stone's throw from the Barceló Hamburg so you can literally shop till you drop. If you are looking for something different while spending Xmas in Europe: children will love visiting a real-life castle at the Bergedorf Christmas market, dog lovers adore the canine Christmas treats at the Dog Christmas Market and couples looking to turn up the holiday heat will find all sorts of pleasure at the Santa Pauli market.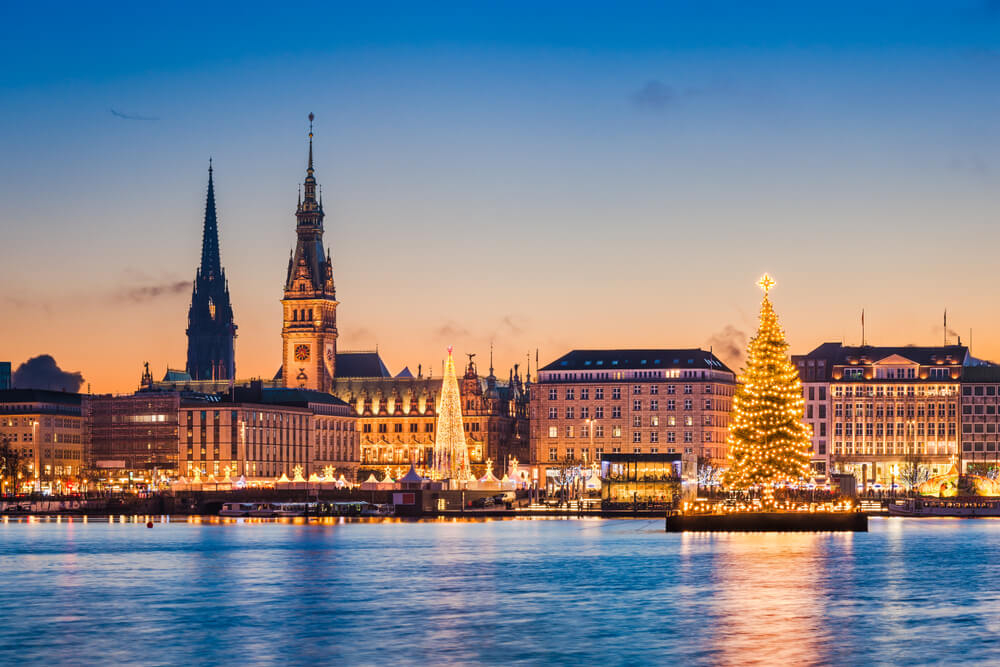 Want to mix festive fun with tradition? Prague's Christmas markets will not disappoint
Discover Christmas around Europe in Prague
If you want to enjoy the best Christmas markets in Europe but are keen to explore off-the-beaten-track, check out Prague. This city is bursting with charm and historic beauty at any time of the year, but this is amplified during the holidays. The Old Town and Wenceslas Square are two destinations that have made their way to the top of our list of must-see Christmas markets in Europe.
The Old Town and Wenceslas Square are two destinations that have made their way to the top of our list of must-see Christmas markets in Europe
They are just a short walk from each other and close to the top hotels in Prague, but they both pack a festive punch when it comes to Christmas markets. Expect to find invitingly illuminated market stalls offering handmade goods and tasty treats like trdelník (a hot, rolled cinnamon pastry), as well as a spectacular Christmas tree, mulled wine, and carol singers. All of this set against the atmospheric Gothic architecture of Prague is a recipe for an unforgettable holiday.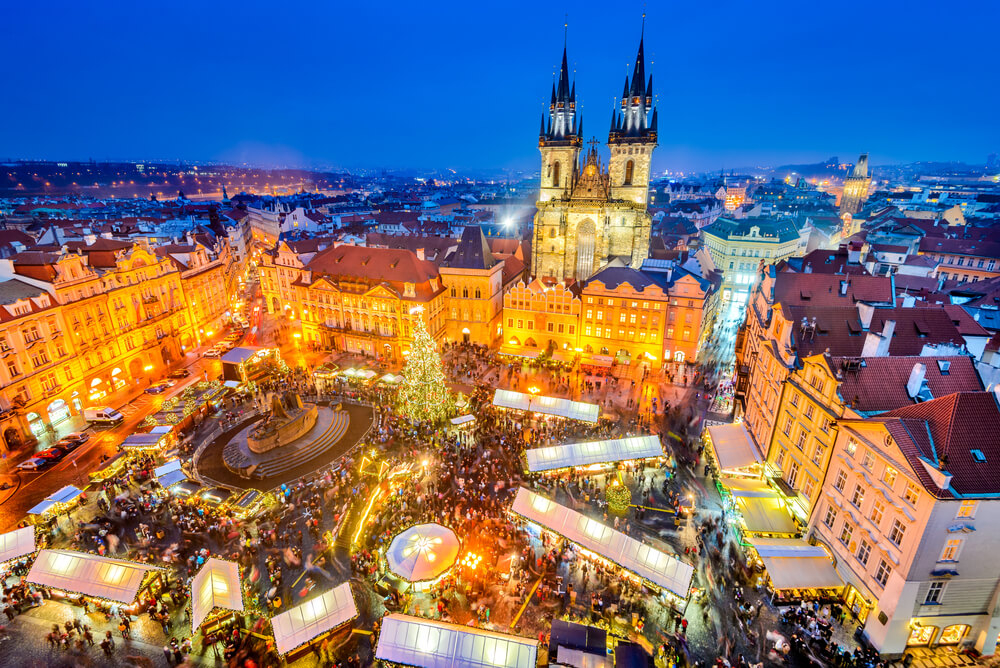 Want to mix festive fun with tradition? Prague's Christmas markets will not disappoint
Enjoy La Dolce Vita and admire the European Christmas lights in Rome, Italy
Italy may not be top of your mind when thinking about the best Christmas markets in Europe yet its capital city is full of festive surprises. Rome is an excellent destination if you are looking to combine holiday shopping with sightseeing. While the prettiest Christmas markets in Europe can be found in places like Germany, Prague, and Poland, Rome is home to many UNESCO World Heritage sites and its mild temperatures and breathtaking architecture create a truly magical fairytale atmosphere. Check into one of the top city hotels in Rome and venture off into the historic city to enjoy its Christmas lights, markets, and holiday cheer. Join locals and other visitors at Plaza Mazzini and Plaza Verdi to experience the typical Roman Christmas markets. Yet, if you want to witness a truly unique experience during your Roman holiday, head to St Peter's Square where you will be rewarded with the tallest Christmas tree in Rome, standing over 20 meters tall. Here you will also be able to catch a glimpse of a festive nativity scene.
Explore Brno Christmas market on your Xmas market breaks in Europe
If you want to venture further afield while traveling through the Czech Republic then a stop in Brno is obligatory. Not only is the city full of cultural highlights such as the UNESCO World Heritage Site Villa Tugendhat or the St Peter's Cathedral, but it also hosts some of the best Christmas markets in Europe. Use an inner city hotel such as the Barceló Brno Palace as your base to go off exploring and be sure to plan your trip for late December to get the most out of the festive atmosphere. To feel part of the action head to Freedom Square where you will find the December Design Days cultural festival alongside exciting musical acts. In Liberty Square, you will find even more music performances to get you into the festive spirit. Yet it is in Dominican Square where the family-friendly Xmas fun begins. Browse the stalls, feast on sweet treats, and don't forget to pick up a market mug- a traditional Brno Christmas souvenir. vvvv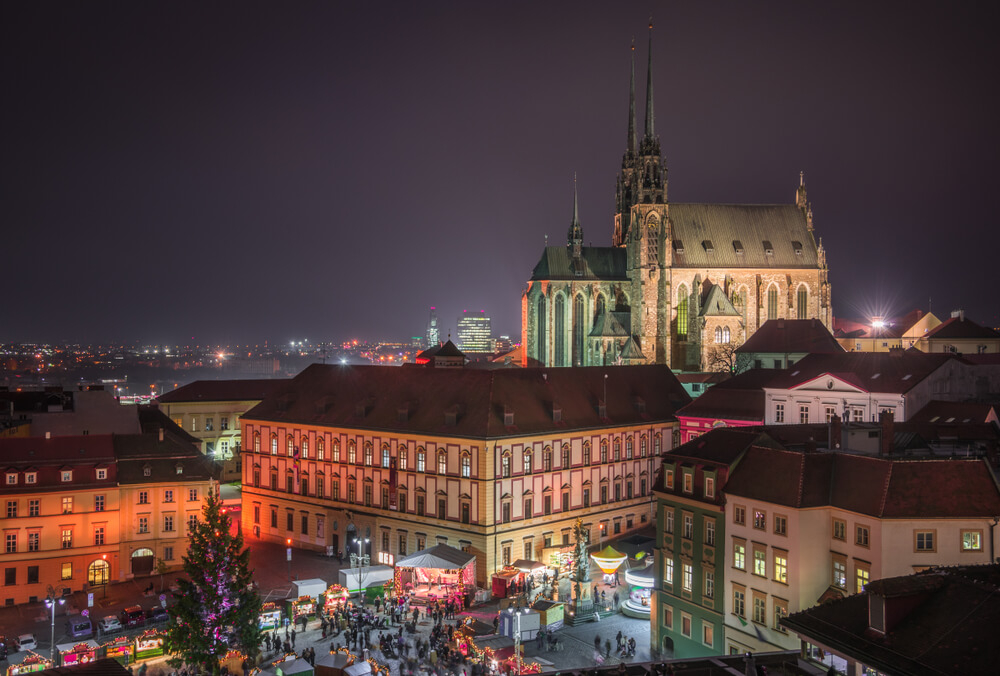 Brno in Prague is also worth a visit when exploring the Czech Republic's Christmas markets
Spend your Christmas holidays in Europe and discover Polish Christmas markets
You know it is Christmas in Warsaw when the Christmas market makes its annual appearance in Castle Square. Warsaw is home to one of the most famous Christmas markets in Europe and this market is often debated to be one of the best Christmas markets in Europe. We cannot deny that walking around the beautiful stalls while sipping on a hot chocolate fills us with festive cheer. While staying in Warsaw, stock up on knitted goods such as gloves, scarves, and even festive Christmas jumpers. Or, if artisan homeware is more your cup of tea, hand-painted baubles and hand-carved woodwork decorations are popular choices. Be sure to admire the towering Christmas tree dressed with thousands of lights that sits in the center of the square. And, if this market could get any more festive, there is an ice rink just a stone's throw from the stalls.
Discover the best Xmas breaks Europe has to offer in Ljubljana, Slovenia
Slovenia in winter is like something from the pages of a fairytale and more so at Christmas time. Bring the magic of Xmas to life and book a trip to the Slovenian capital, Ljubljana. Walk along the Breg embankment and discover a wide range of arts and crafts as well as a fashionable range of clothing made by Slovenian fashion designers. Don't forget to restock energy levels with tasty local delicacies like honey, schnapps, and traditional cuisine containing sausage, grilled meat, cheese, and other delicious treats. What's more, the festive family fun doesn't stop there. Head on down to Prešeren Square to enjoy the Christmas magic on an even larger scale.
Ljubljana in Slovenia is a top winter wonderland destination to enjoy this Christmas
Take part in one of the best Christmas festivals in Europe in Budapest, Hungary
If you are planning a last-minute getaway to Budapest make sure that you can squeeze it in before Christmas day. In the heart of the city, you will find the Vorosmarty Square which during the holidays converts into an authentic winter wonderland. The heady scent of mulled wine and cinnamon fills the air and entices travelers to enjoy one of the best Christmas markets in Europe, located close to the iconic Barceló Budapest hotel. It is a real foodie heaven with an extensive range of traditional dishes on offer such as Kolbasz (cooked sausages), langos (deep-fried bread with cheese and toppings), and for the sweet-toothed, kurtoskalacs (a sweet pastry with cinnamon, nuts, and coconut). There are over 100 stalls here selling handmade items ranging from ceramics, wooden toys, and Christmas decorations. It is also worth spotting the advent calendar that is projected onto the facade of the Gerbaud café. Another notable market is the Christmas festival held in the square of St Stephen's Basilica. Here you can enjoy a spectacular festive light show, an enormous Christmas tree, and an ice rink.