Enjoy a sunny city break to Las Palmas, Gran Canaria
What to do, where to eat and where to sleep in Gran Canaria's glitzy capital, Las Palmas de Gran Canaria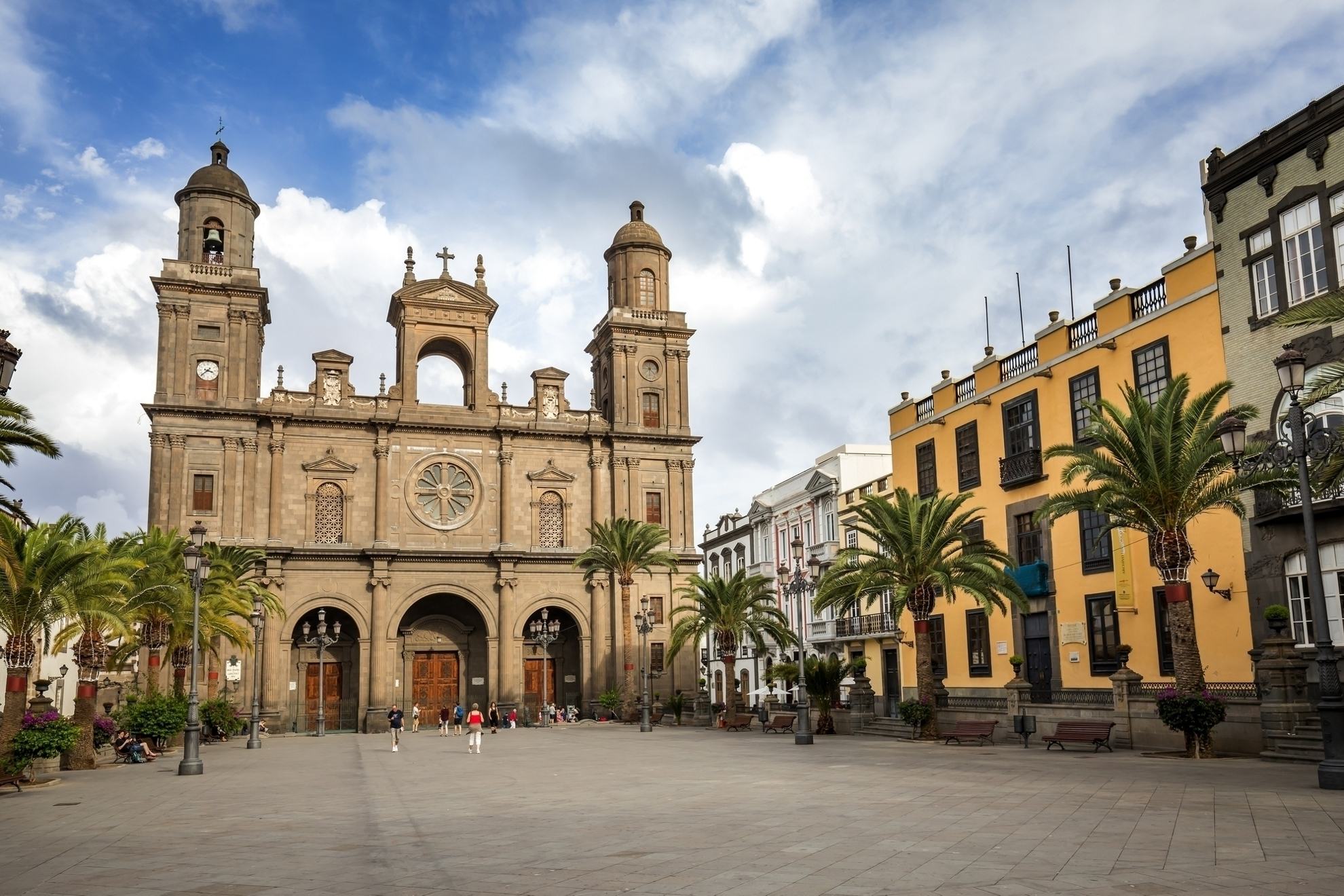 When it comes to destinations for a quick getaway, there are a few places on our radar, but Las Palmas, Gran Canaria is different. This Spanish city has earned itself a special place on our sunny shortlist of destinations to make a beeline to. From the incredible fine dining options to its irresistible city centre beach, there are a million reasons why this city needs to be your next adventure. Regardless if you are planning a luxury escape or just want a few days in the sun, Las Palmas is the place to be.
When to explore Las Palmas, Gran Canaria
Thanks to the city's diversity and buzzing culture, Las Palmas de Gran Canaria is an ideal destination to visit all year round. If you are looking for a winter sun city break or are keen to capture the last rays of the September sun on a late summer getaway, this city will not disappoint. Gran Canaria is the third largest Canary Island and is nicknamed "the little continent" thanks to the microclimates that create unique pockets of weather across the island. Las Palmas is located in the north of the island meaning that it enjoys long, hot summers from May to September and mild winters. Top tip: If you want to experience a local tradition, plan your trip during February in time for the carnival when the streets come alive with parties day and night. 
The mix of the old and the new is what gives Las Palmas its charm
Our pick of the things to do in Las Palmas de Gran Canaria
When planning your trip to Las Palmas, Gran Canaria, there are a few must-visit places that need to be added to your list. Thanks to the diverse history of the island, the city streets are adorned with chocolate box churches, colonial-style houses and traditional Canarian plazas. Dive into the things to do in Las Palmas and plan your next getaway. 
Santa Catalina Park, Las Palmas: A plan for all the family
If you have little ones in tow, the park Santa Catalina in Las Palmas is a great focus point for your holidays. Located just three minutes from the famous Las Canteras Beach, this large plaza is full of places to sit and enjoy a refreshing drink as you watch the world go by. There is also a large playground where kids can burn off steam. 
For kids, there is also a large playground where they can burn off steam
It is worth noting that there is a tourist information office in the plaza, so any burning questions about the city can be easily addressed there. Santa Catalina Park is also in front of the famous Elder Museum of Science and Technology, a wonderful place for curious minds young and old to spend the day. In short, this plaza is not to be missed while enjoying your Las Palmas holidays.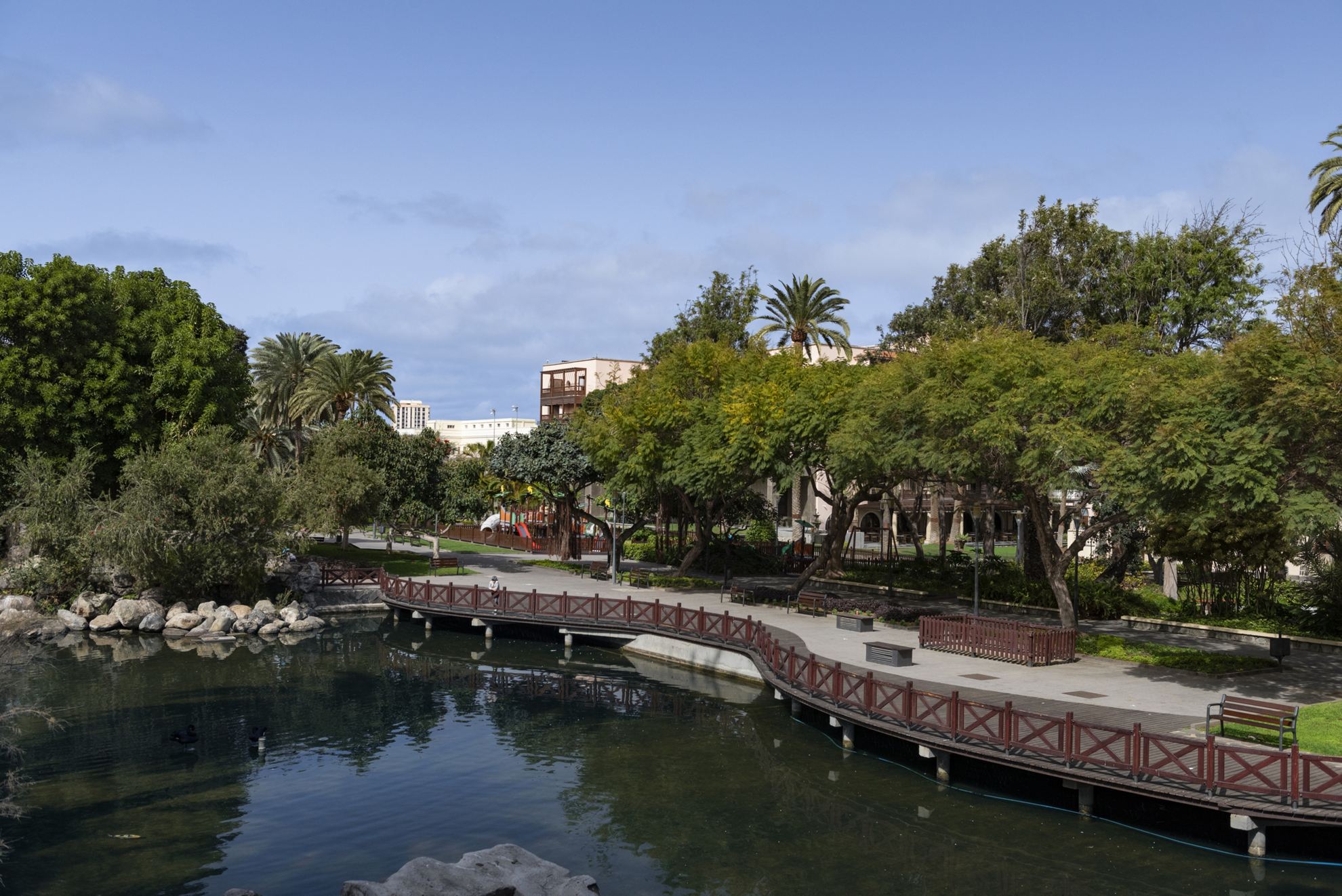 Santa Catalina Park, Las Palmas
Visit the Las Palmas old town, Vegueta
The district of Vegueta is one of our favourite spots in Las Palmas, Gran Canaria. Lose yourself as you stroll along the volcanic cobblestone streets that take you back to the city's colonial era. Stop off at the Casa de Colón to discover the adventurous voyages undertaken by Cristopher Columbus which connected the Canary Islands with the New World. Next, head to the Santa Ana Cathedral, the most important religious building in the Canary Islands, to admire its magnificent Neo-Classical, Gothic and Renaissance architecture. If you have time for more sightseeing in Las Palmas, take a 5-minute walk to the nearby Triana neighbourhood that offers a delightful shopping and al-fresco dining experience. 
Stroll through the colourful neighbourhood of Vegueta
Add the Mercado del Puerto to your Las Palmas city guide
Tapas lovers, rejoice because this is going to be your new favourite Las Palmas hangout. Located just a stone's throw from the port, it is an ideal spot for sampling authentic, local cuisine. Taste your way through the market's stalls offering everything from hand-cut slices of Spanish ham to fresh seafood prepared for you right in front of your eyes. Get here early and stock up on seasonal fruit and veg before grabbing a spot at one of the popular dining kiosks. 
A trip to the Mercado del Puerto is a delight for the senses
The best beaches in the Las Palmas area
One of the top attractions of Las Palmas, Gran Canaria is the long stretch of golden sand known as Las Canteras. This beach sits at the heart of city life and is ideal for spending a few hours soaking up the Spanish sun. Yet, it is not the only beach in Las Palmas. Here are our favourite sandy spots close to Gran Canaria's capital. 
Las Canteras Beach, Las Palmas
Stretching 3,100 meters, this beach connects one side of the city with another. Take a stroll along the promenade, stopping for a coffee or a bite to eat on the way. This beach is ideal for families of all ages as the shallow waters and gentle waves make the sea an inviting place for children. Plus, there is a bathing service for people with reduced mobility.
The beach is also popular for those wanting to practice watersports such as paddle surfing, surfing or diving
The beach is also popular for those wanting to practice watersports such as paddle surfing, surfing or diving. There are even facilities such as public bathrooms, sun lounger rentals and even free Wi-Fi making it a comfortable place to enjoy a lazy day in the sun.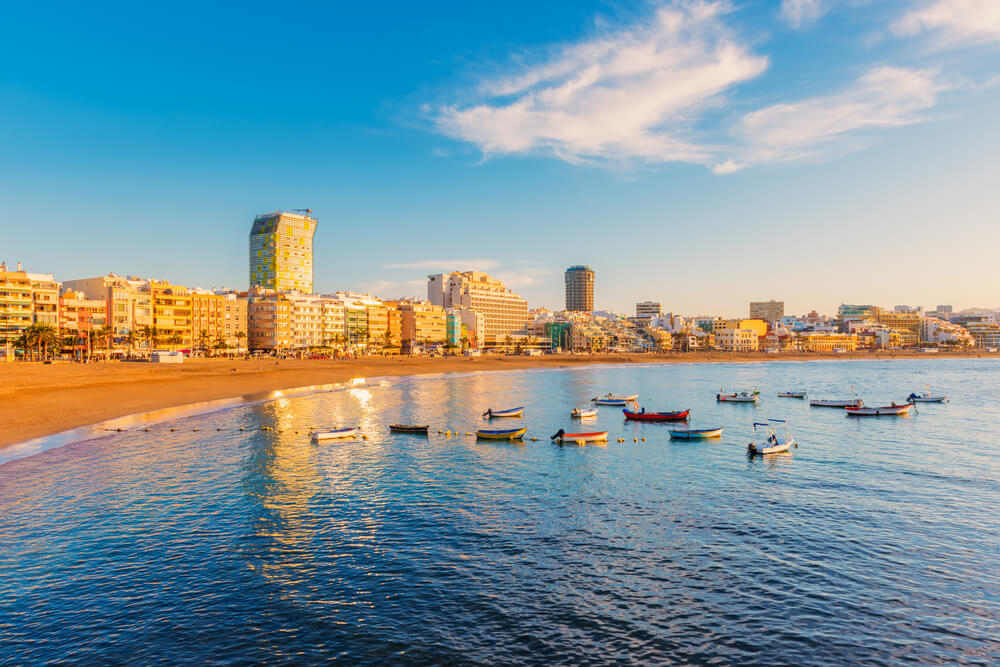 Las Canteras Beach, Las Palmas de Gran Canaria
On the opposite side of the city, Playa Alcaravaneras entices visitors with its golden sand and topaz waters. If you have spent the morning in the old town, this is a lovely place to rest and relax. Going to the beach is one of the best free things to do in Las Palmas, and this beach doesn't disappoint. Join in the fun with a game of volleyball or cool off with a refreshing dip in the sea.
Playa Alcaravaneras, Las Palmas de Gran Canaria
If you want to feel the thrill of an adrenaline rush, this is the beach for you. Famous as a surfer hangout, Playa del Confital is perfect for practising watersports. From bodyboarding to surfing, the strong waves make this beach a Las Palmas must-see for extreme sports enthusiasts.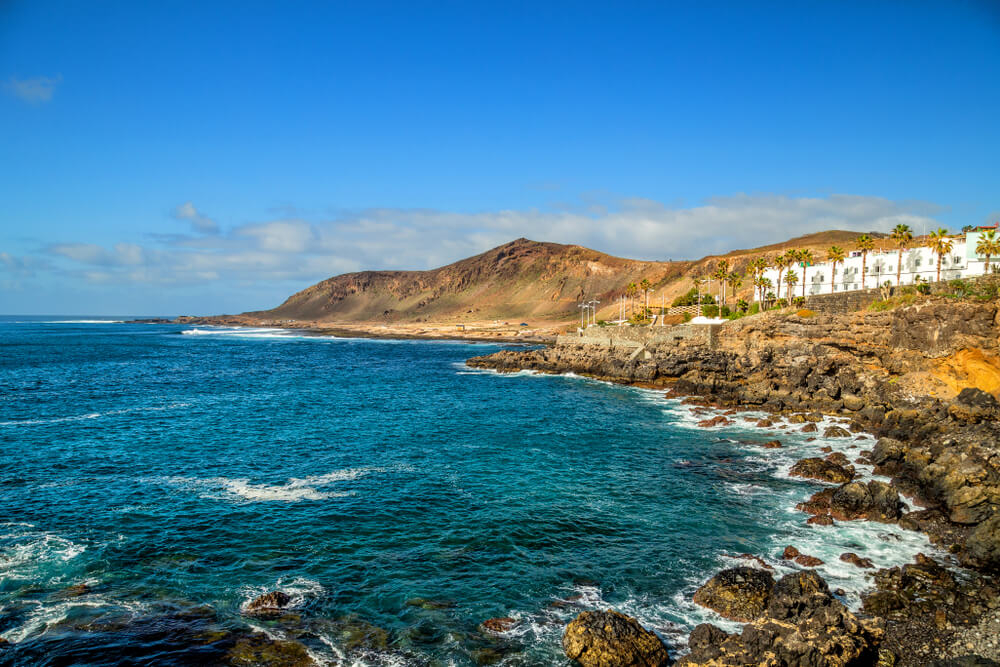 Playa del Confital, Las Palmas de Gran Canaria
Where to rest your head in Las Palmas City
When visiting Las Palmas, it can be hard to know where you want to be based. There is so much to see that finding accommodation that is close to the centre is a must. Luckily, Las Palmas, Gran Canaria is home to some of the Canary Island's top hotels. Here are our favourites.
Santa Catalina, a Royal Hideaway Hotel: for romantic holidays in Las Palmas
Looking for a luxurious bolthole with the best rooftop bar Las Palmas de Gran Canaria offers? You are in luck. The recently refurbished Santa Catalina, a Royal Hideaway Hotel is located in the picturesque Parque Doramas and wows guests with its lavish interiors and vast outdoor pool. This landmark hotel dates back to 1890 and guests can soak up the old-world glamour at every turn. Yet, perhaps one of the star attractions is the Michelin-star awarded restaurant, Poemas by Hermanos Padrón. Enjoy a romantic fine-dining experience in this glamorous setting and savour the creative gastronomy of this talented Canarian duo.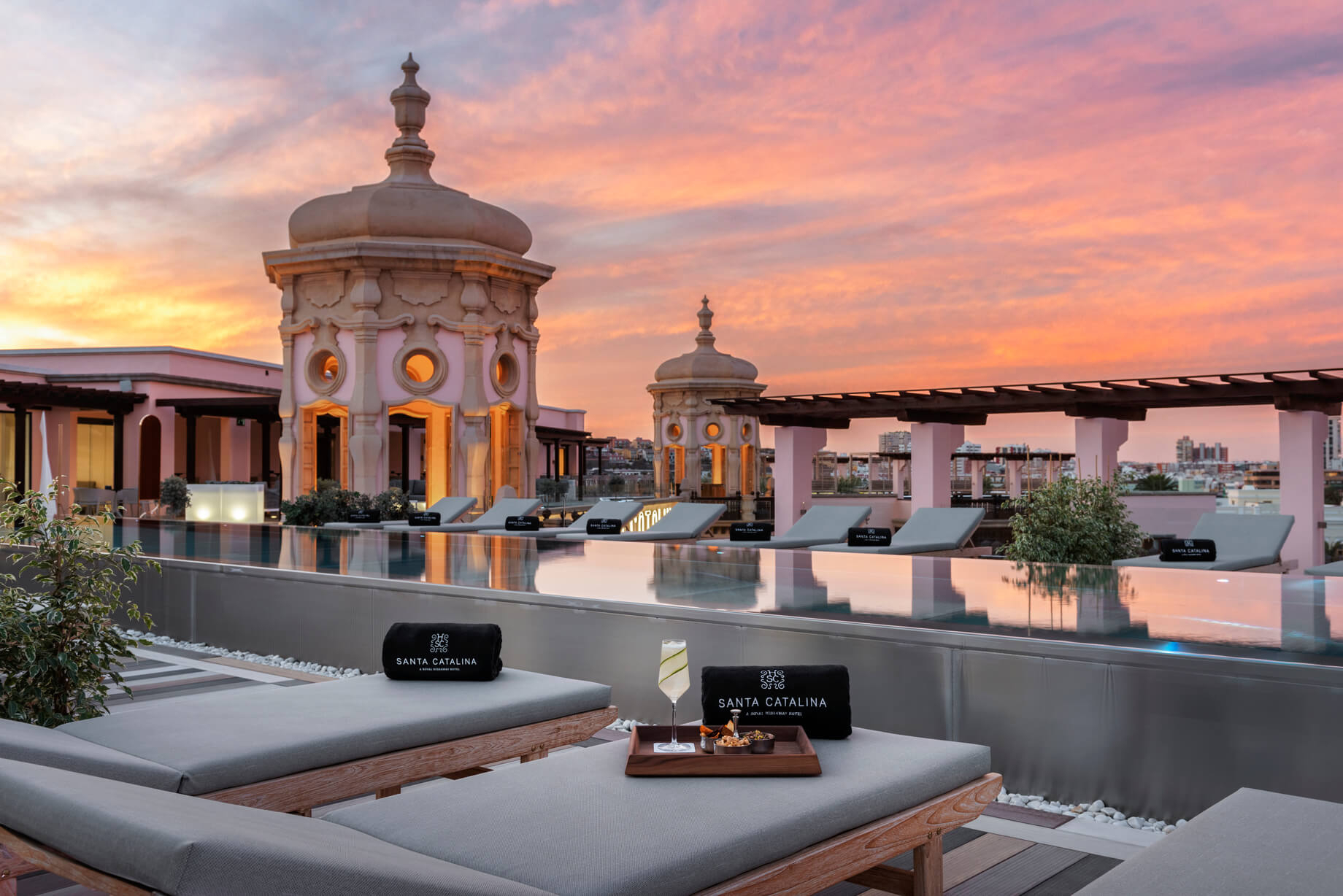 Enjoy the setting sun with a drink on the Santa Catalina, a Royal Hideaway roof terrace
Occidental Las Palmas: A stone's throw from the top Las Palmas activities
The Occidental Las Palmas is also located close to Doramas Park and is loved for its modern, state-of-the-art interiors. Its strategic location is ideal for being close to all the Las Palmas things to see. Guests are just a 3-minute walk from Alcaravaneras Beach and just a 10-minute stroll from the bustling neighbourhood of Triana. This hotel is perfect for friends enjoying a quick city break or those enjoying a workation. Enjoy a memorable meal at the O! Market restaurant and spend an evening enjoying the city views, sipping on a vermouth, on the Stage Skybar and Lounge rooftop bar.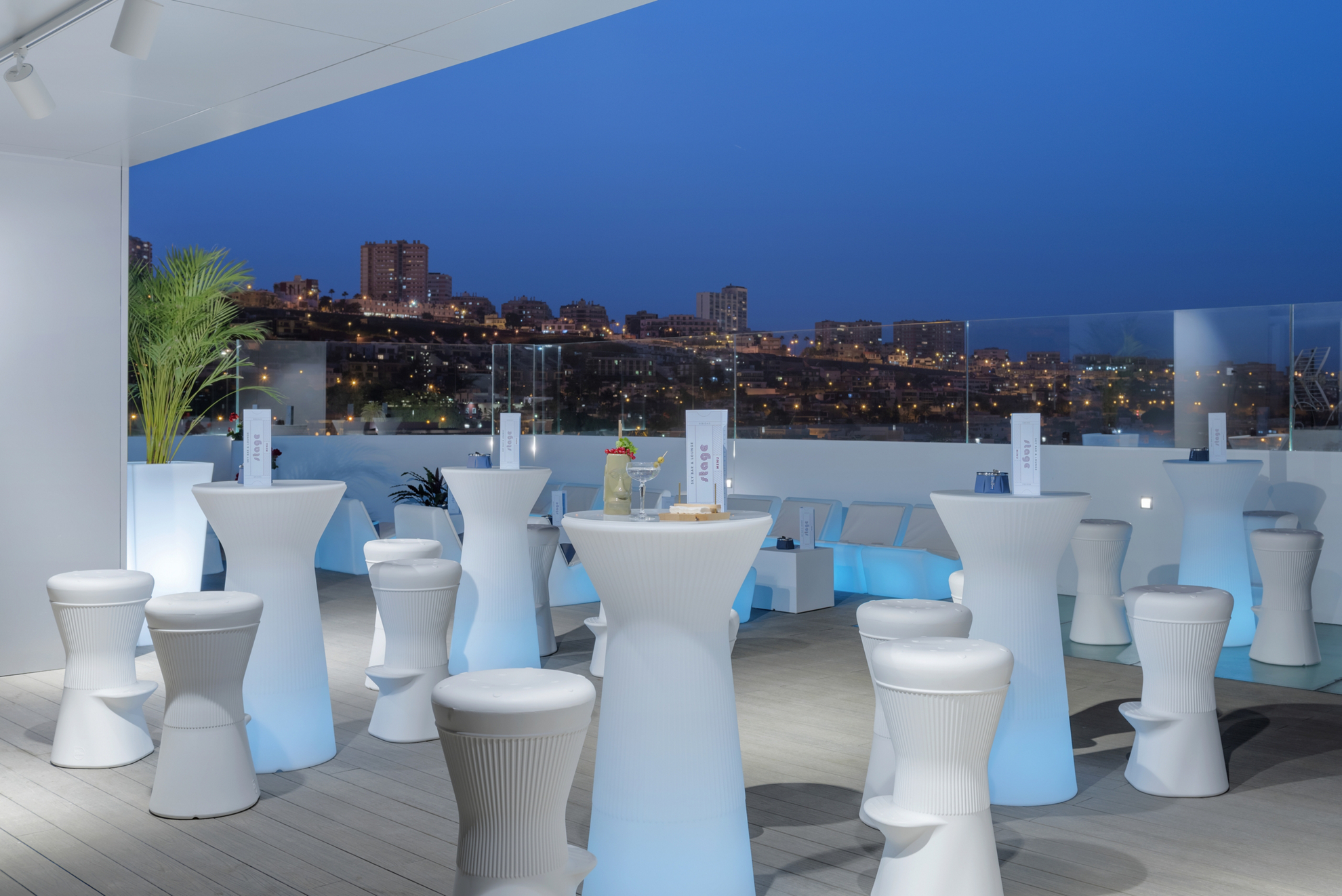 Sip a drink in the relaxing setting of the Occidental Las Palmas
Occidental Las Canteras, a paradise for beach lovers
If you want to be as close to the beach as possible, there is no better place to rest your head than the brand-new Occidental Las Canteras. Situated mere metres from Las Palmas' iconic beach, this hotel offers all the comforts and luxuries that you can expect from a city centre hotel. Use this as your base for exploring everything that the city has to offer and enjoy being at the heart of the action. Or, chill out in the top-of-the-range facilities and indulge in some R&R time.