Uncover the best places to shop on 5th Avenue, Playa del Carmen
As one of the most popular tourist attractions in Mexico, 5th Avenue Playa del Carmen is 22 blocks of shopping, restaurants, cafes, and much more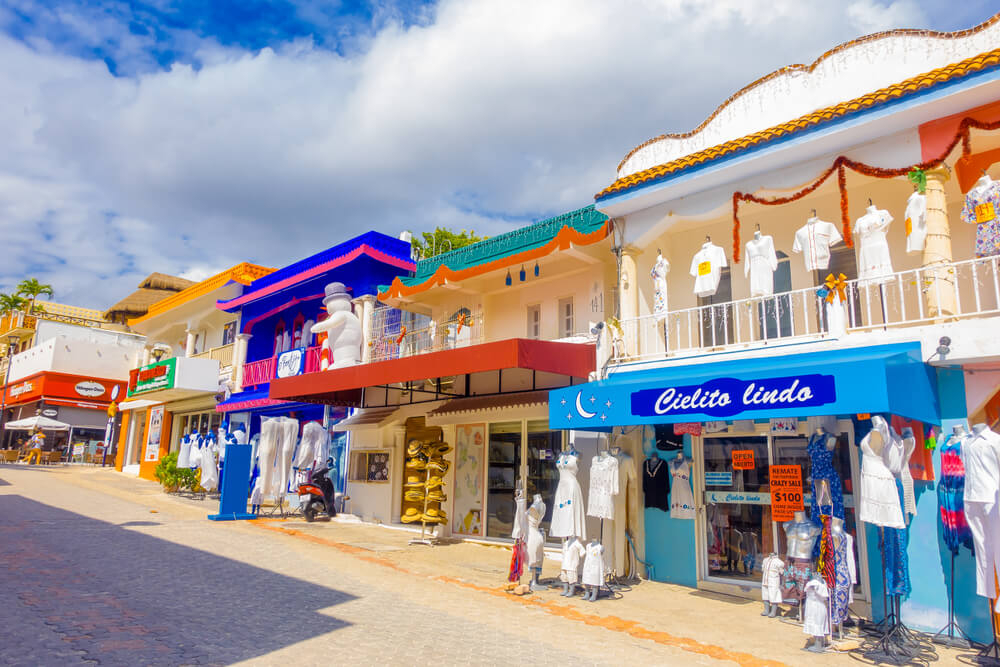 Are you ready for a shopping adventure? Combine picture-perfect beaches and delicious Riviera Maya cuisine with a fun-filled day at the shops. There is nothing more exciting than finding unique souvenirs and Playa del Carmen certainly doesn't fail to deliver. One of the most popular tourist attractions in Mexico, 5th Avenue Playa del Carmen – "La Quinta Avenida" to locals – is 22 blocks of high-end retailers, bars, restaurants, local shops, cafes, and much more. Yet, this street is so much more than its retail offering, it's about the experience. Shop Mexico like never before and enjoy the eclectic mix of high-end luxury and traditional handicrafts sold in the 5th Avenue shops.
The best time to enjoy shopping on 5th Avenue, Playa del Carmen
The best time to enjoy Playa del Carmen shopping largely depends on personal preference. Yet, it is worth noting that Playa del Carmen is a bustling tourist destination, and during high season when the weather is dryer (December to April) the streets will be busier than normal. If you wish to score a bargain, May to November is considered low season as the high temperatures can occasionally be interrupted by rain showers. It is during this time when shop owners drop their prices to attract passers-by into their colorfully decorated stores. On national holidays such as Mexican Independence Day (September 16) and Revolution Day (November 20), it is also common for shops to advertise special offers and discounts. If you are keen to mix and match your shopping trips with cultural highlights, the Riviera Maya Jazz Festival in November and the BPM Festival in January are ideal choices.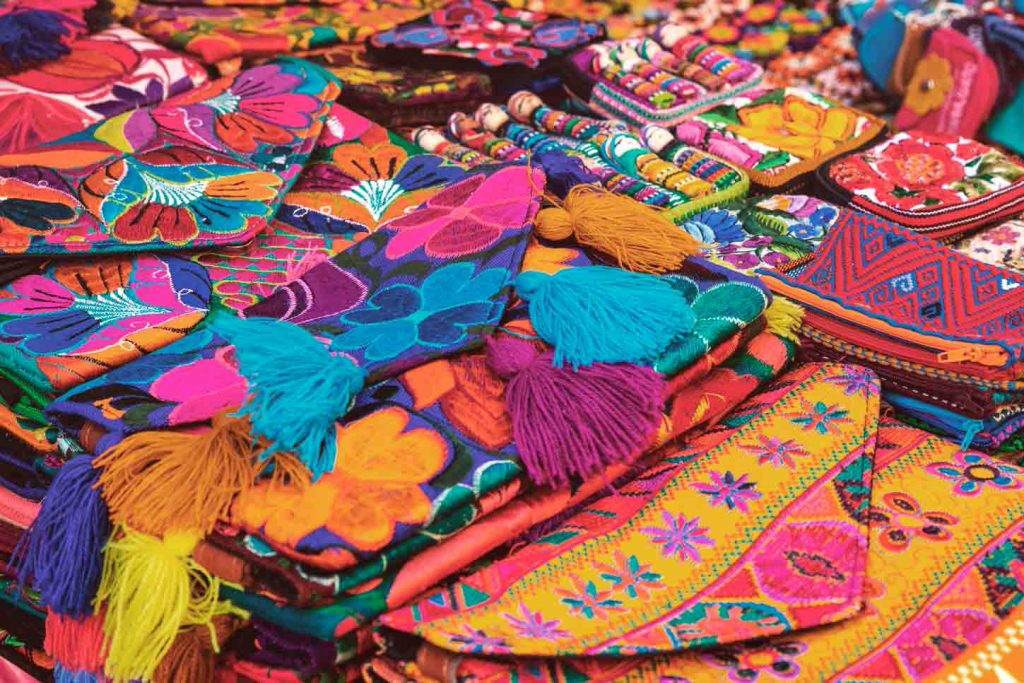 Browse the array of souvenirs when shopping on 5th Avenue Playa del Carmen
Where to go shopping on Fifth Avenue, Playa del Carmen
5th Avenue Playa del Carmen's shopping options are endless. When you're ready to hit the shops, start at the north end of 5th Avenue and work your way down. Here are just a few stores to get you started on an unforgettable shopping spree.
Located right at the beginning of 5th Avenida Playa del Carmen, Paseo del Carmen is a Mediterranean-style outdoor Playa del Carmen shopping mall featuring an array of upscale shops, including Lacoste, Tommy Hilfiger, Zara, and Armani Exchange.
Nestled on 5th Avenue between 12th and 14th streets, Rosalia is a must-visit for anyone looking for the best authentic Mexican goods, such as dynamic apparel, handmade purses, and home furnishings.
Rosalia is a must-visit for anyone looking for the best authentic Mexican goods
Mexican culture is on full display at Sol Jaguar. At this expansive store, you'll discover beautiful textiles, traditional pottery, and hand-painted wood carvings. Be careful, you'll spend a lot of time looking at the offerings here!
Are you a tequila aficionado? Then don't miss Hacienda Tequila. The store is packed from floor to ceiling with hundreds of varieties of genuine Mexican tequila, not to mention fun tequila-related souvenirs.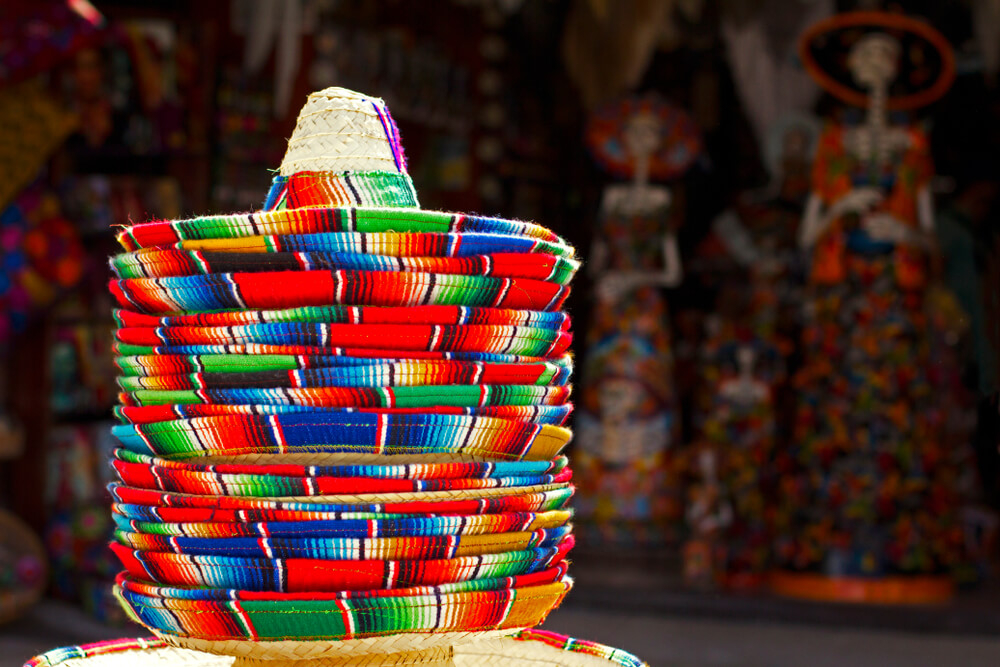 Pick up some Mexican handicrafts to give to friends and family 
Where to eat after shopping Quinta Avenida, Playa del Carmen
Hungry? Playa del Carmen's 5th Street best restaurants won't disappoint, no matter what you're in the mood for. First things first, before you embark on your shopping adventure, fuel up at one of the local bars or restaurants with a traditional Mexican breakfast of Chilaquiles or Churros con Chocolate. In between hopping in and out of the 5th Avenue Playa del Carmen shops, there are many places to enjoy a well-earned pit stop. Here are some of our favorites. 
If you're in search of breakfast and Playa del Carmen's best cup of coffee, go to Chez Celine, a French-style café with freshly made pastries and a charming ambiance.
This restaurant is like entering another world away from the bustle of La Quinta Avenida; Aldea Corazon's décor includes a cenote and a Mayan ruin! The food is great, too, with a menu full of classic Mexican food.
A favorite among locals and visitors alike, Las Hijas de la Tostada is your spot for fresh seafood on the 5th. Order the seafood tostada and say hello to culinary bliss.
Located on 34th between 5th Avenue and 10th Ave., Axiote is a classy-but-casual restaurant in the gastropub style, with great Mexican fusion cuisine and handcrafted cocktails. Perfect for a La Quinta Avenida date night, especially as it is close to the Playa del Carmen 5th Avenue hotels!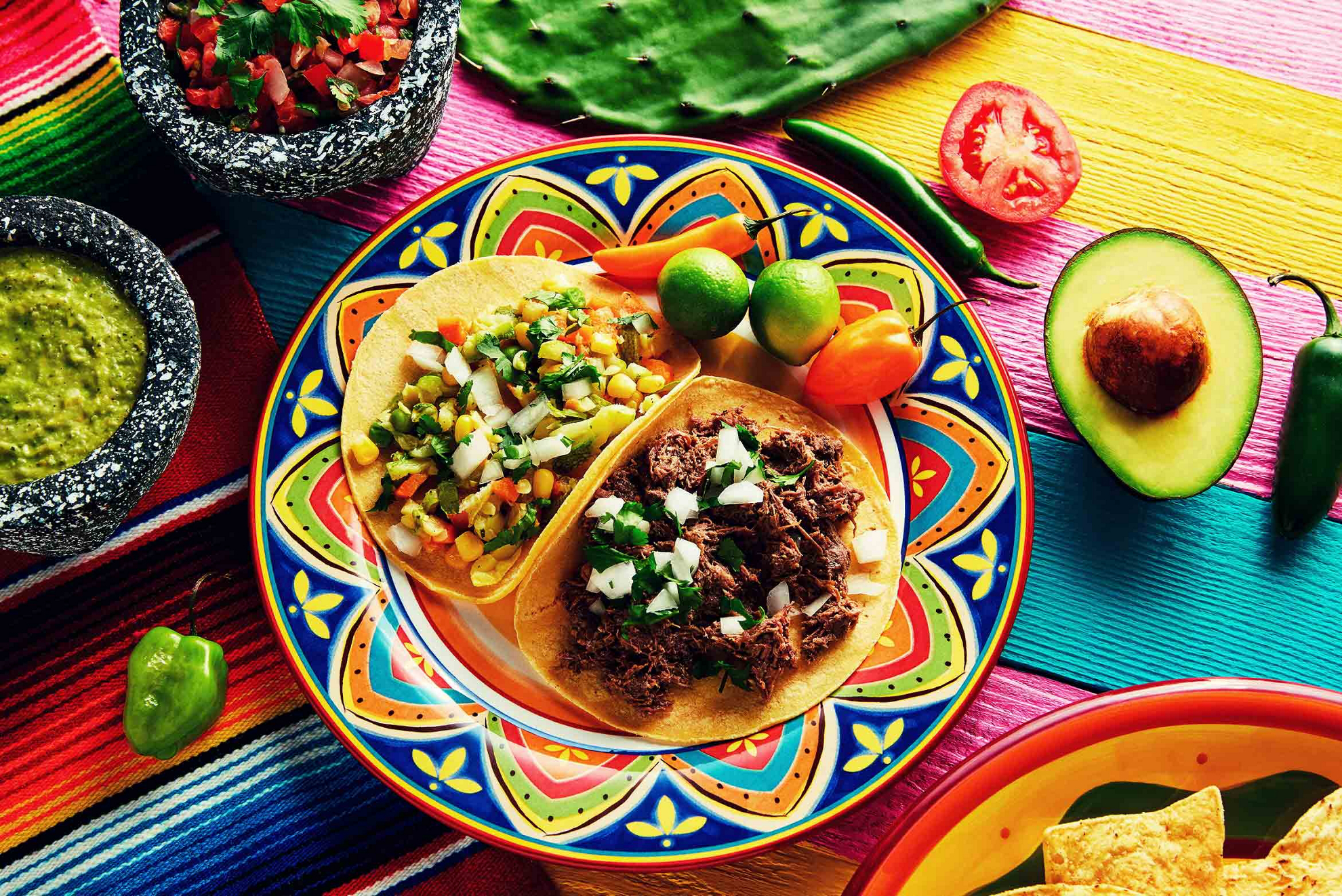 Try local Mexican cuisine and restock energy levels while shopping
Things to do in Playa del Carmen 5th Avenue with kids
The family fun never stops on Quinta Ave. Playa del Carmen, especially not for kids. Uncover the top things to do in Playa del Carmen and the places where kids young and old can have fun.
Looking for the best things to do in Playa del Carmen with kids in Playa del Carmen? Parque Fundadores (Founding Fathers Park) is a great 5th Avenue family attraction. 
Parque Fundadores (Founding Fathers Park) is a great 5th Avenue family attraction
Located right on the beach, the park features amazing art installations and a large, pirate-themed playground that your kids will love. It is also a great place to come to when you get caught out with the 5th Avenue Playa del Carmen opening times.
Playa del Carmen Aquarium
Located right off of the 5th Avenue Playa del Carmen, this state-of-the-art aquarium offers up-close-and-personal encounters with incredible aquatic life – 200 species in 45 exhibits. During a visit here, you'll see sharks, jellyfish, starfish, rays, and a dazzling array of colorful fish.
Best bars on 5th avenue playa del carmen for an after-shopping drink
Whether you're looking for a high-energy night out on the town or a chilled-out Riviera Maya evening, downtown Playa del Carmen 5th Avenue always delivers. And what's even better is that these bars are all located a stone's throw from the best hotels in Playa del Carmen.
The thrilling nightclub Coco Bongo is your destination for guaranteed after-hours excitement, with live bands, acrobatic dancers, DJs, and dazzling lights creating an extremely energetic vibe.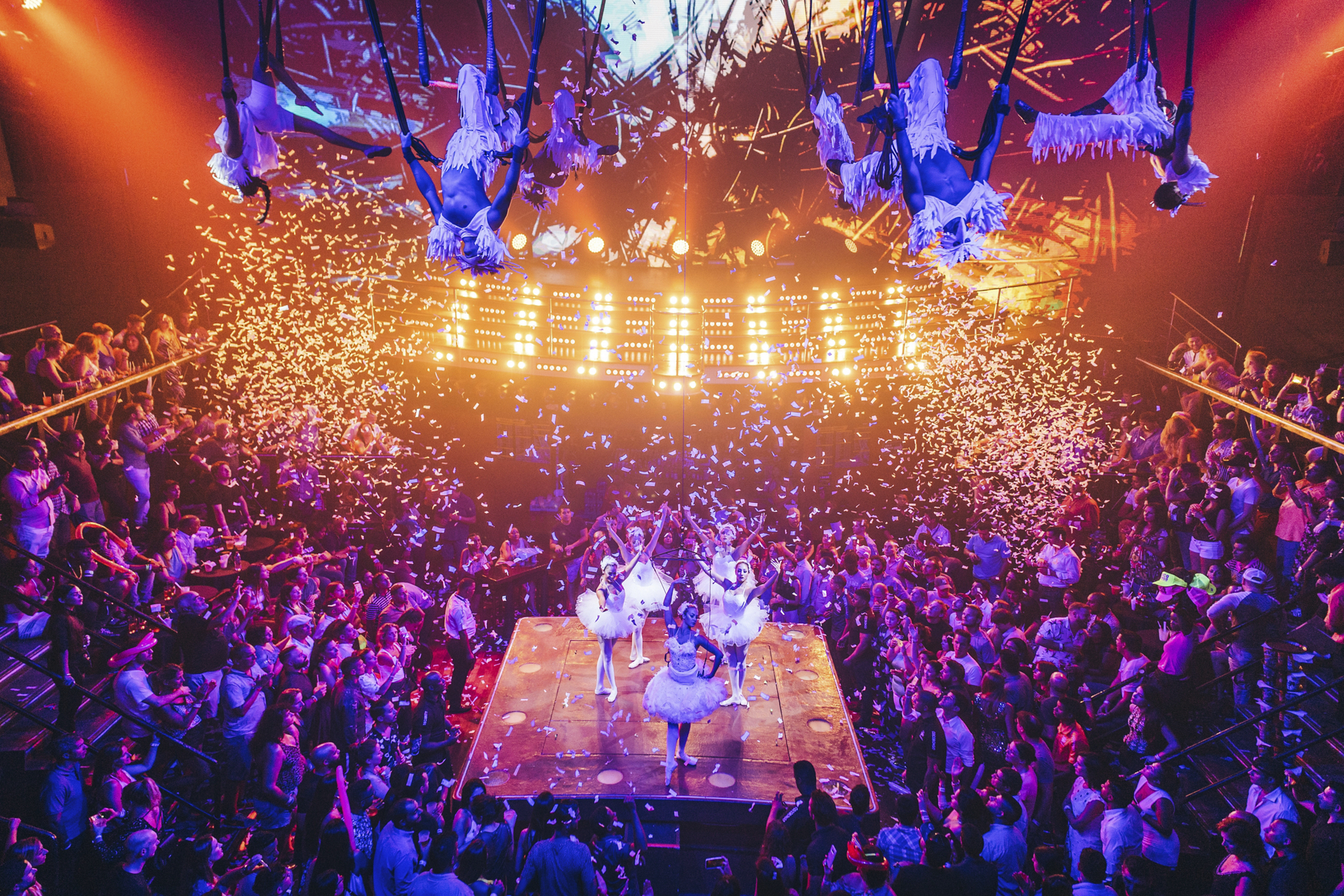 Burn off steam and dance the night away at Coco Bongo on 5th Avenue, Playa del Carmen
A laid-back local bar located just off 5th Avenue, Bar Ranita offers a (relatively) quiet atmosphere if you're looking to enjoy beers and/or cocktails with friends and family.
One of Playa del Carmen 5th Avenida's best-known watering holes, Señor Frogs attracts a crowd year-round. It's a great place for spending time with friends or family and its fun, party ambiance is certain to put you in a good mood.
Souvenirs you can find on Playa del Carmen's famous 5th Avenue
5th Avenue Playa del Carmen is a colorful mix of craft bazaars, independent boutiques, and Playa del Carmen shopping outlets. But, when hunting for traditional souvenirs that represent the beauty and the rich culture of the country, it is important to know what you are buying. Mexican handicrafts are an obvious choice and you will often find them sold at cheaper prices on 5th Avenue than you would at the airport. Embroidered shirts, pottery, handwoven baskets, and hammocks are all sustainable souvenirs that help support the local community. Silver jewelry is also an important souvenir since Mexico is celebrated for its high-quality silver. Tequila and Mezcal make wonderful presents for friends and family as does Mexican candy which comes in a variety of flavors ranging from sweet to spicy. If you have a large luggage allowance you may want to shop local artwork on 5th Avenue's thriving art scene. Whatever takes your fancy, it is always rewarding to choose souvenirs that help support the local community and act as a colorful reminder of your time spent in this corner of the Mexican Caribbean.