The story of Kukulcan Boulevard: the place to be when in Cancún
Uncover the role that Kukulcan Boulevard has played in the making of the Cancún that we know and love today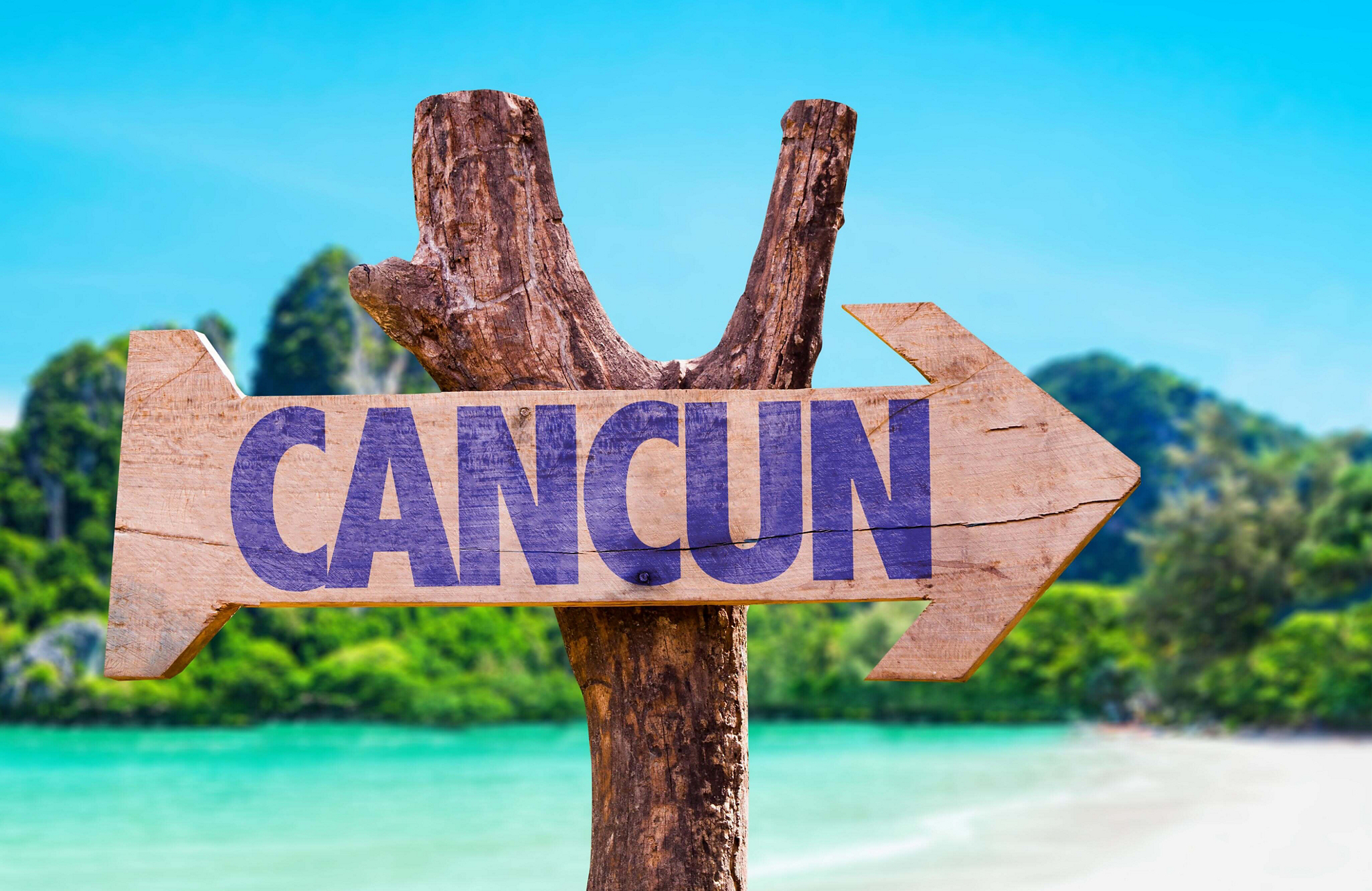 Cancún's vibrant spirit has been drawing tourism to Mexico's Caribbean coastline since the 1980s. Yet, there is one landmark in particular that has wooed tourists time and time again. Explore how Kukulcan Boulevard became the thriving lifeline that pulses with the heartbeat of this extraordinary destination. Get ready to be enchanted by the allure of Cancún's main street, a place where luxury hotels meet pristine beaches, and sunkissed memories are created. Discover everything there is to know about Kukulcan Boulevard.
How did Kukulcan Boulevard get its name?
Cancún and the whole Riviera Maya have a fascinating and rich history dominated by the Mayan civilization. So, it should come as no surprise that this main boulevard in Cancún is named after a primary Mayan deity, the feathered serpent - from the Mayan words kukul (bird) and can (snake). Kukulcan was the God of rain, wind, storms, and life and played a central role in the Mayan culture.
Boulevard Kukulcán stretches across Cancún's central area, bordered by the Caribbean Sea and the Nichupté Lagoon. It's where you'll find the all-inclusive beachfront resorts. But beyond your exclusive comforts and amenities there, you'll want to explore Boulevard Kukulcán's shopping, entertainment, and dining options.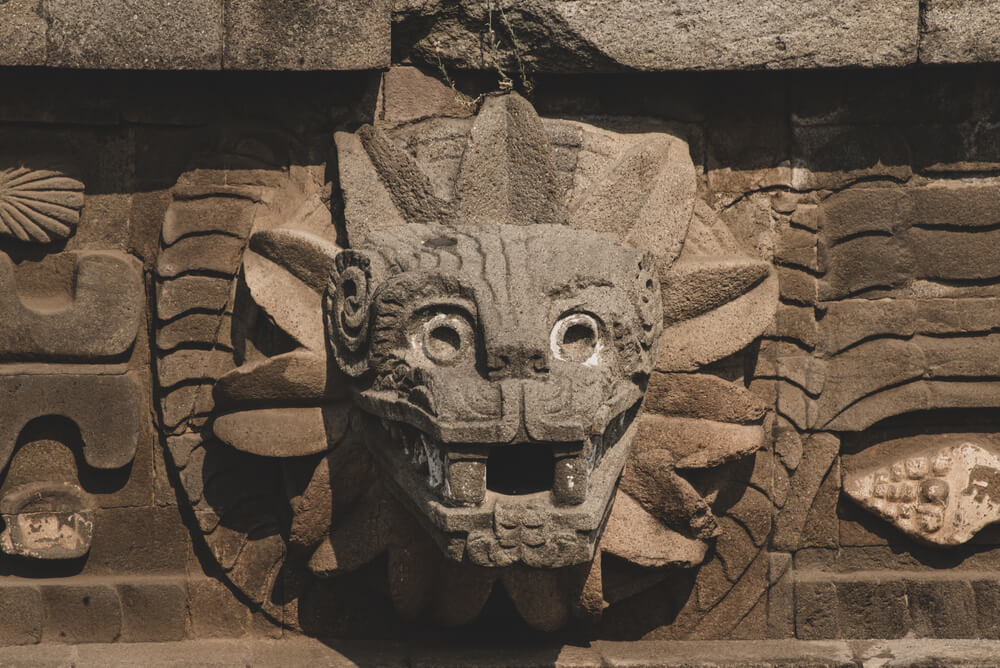 The Mayan God Kukulcan
What made the Boulevard Kukulcan in Cancun so famous?
Blvd. Kukulcan is a testament to the visionary town planning and innovation that has helped to make Cancún the top travel destination it is today. Just like Playa del Carmen's 5th Avenue, this famous walkway offers everything needed for a fun-packed vacation. Yet, aside from being a beautiful thoroughfare offering wide open spaces, this street is a portal to must-see destinations such as El Rey ruins or La Isla Shopping Village. The busy crowds and friendly atmosphere that can be felt as you wander the wide lanes and pedestrian-friendly walkways of Kukulcan Boulevard will also make you feel safe and secure when you visit Cancún. 
Discover the hotels on Blvd. Kukulcan, Cancún
First things first! When planning a vacation to Cancún, you want to make sure that your hotel is in the heart of the town, close by to all the major amenities. 
Since Kukulcan Boulevard stretches a whopping 25 kilometers (15.5 miles) in length, you will be spoilt for choice when it comes to choosing your accommodation
Since Kukulcan Boulevard stretches a whopping 25 kilometers (15.5 miles) in length, you will be spoilt for choice when it comes to choosing your accommodation. But, to give you a head start, here are our top picks of places to bed down in Cancún.
Located on the paper-white shores of Playa Marlin, this idyllic bolthole offers everything you need to make your holidays in Cancún a success. As far as Boulevard Kukulcan hotels go, this is an ideal choice for those wanting an escape to the sun. With all-inclusive service, three swimming pools, and an array of sporting activities on offer, guests can relax in the comfort of the Occidental Tucancún. Moreover, the hotel is just a stone's throw from the Mayan archaeological site, El Rey, making it even easier to discover local culture.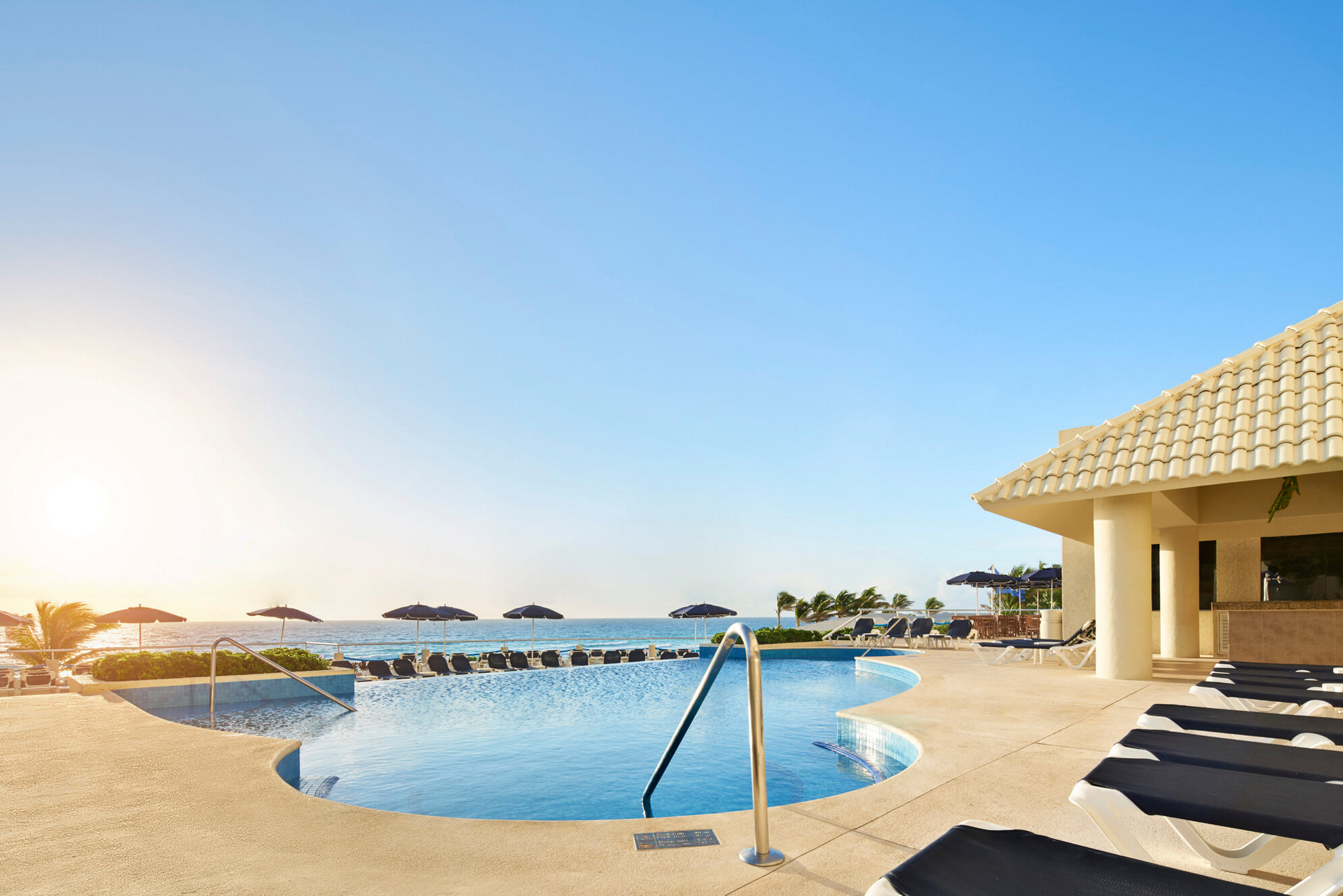 While away an afternoon floating in the pool of the Occidental Tucancún
Located close to the main city of Cancún, on the shores of Playa Linda, the Occidental Costa Cancún offers guests a family-friendly base for exploring everything Cancún has to offer. The enormous swimming pool offers a relaxing way to cool off from the heat of the day, while the all-inclusive service means that your heart's desires are catered for at all times. The hotel is also close to the Pok-Ta-Pok Golf Course where you can practise your hole-in-one with panoramic views across the Caribbean shoreline.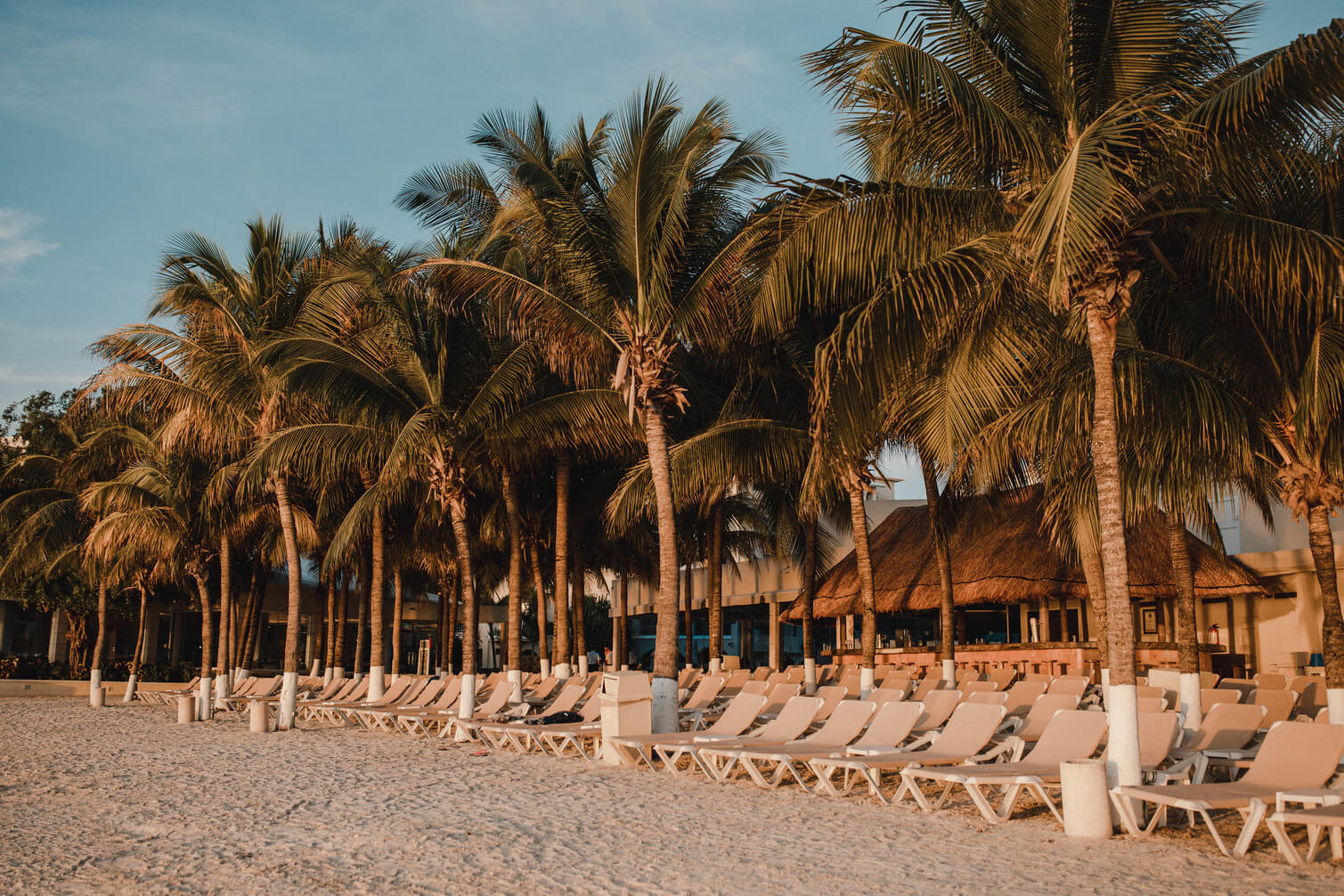 The Occidental Costa Cancún
Sunbathe on the best beaches close to Avenida Kukulcan, Cancún, Mexico
When you think of Cancún, images of buttercream beaches and topaz waters come to mind. Thanks to the geographical location of Kukulcan Boulevard, the area is surrounded by daydream-worthy beaches which some would argue are the best in Mexico. Yet, with so many to choose from, here are the best beaches on Avenida Kukulcan.
If you are searching for a textbook-perfect beach when looking for Cancún places to visit, Playa Linda won't disappoint. The access to the beach is at the 4 km marker of Kukulcan Boulevard, making it easily accessible if you are staying at one of the hotels close by. 
The beach offers a quiet and laid-back resting spot and its pristine condition with gentle waves makes it perfect for families with young kids
The beach offers a quiet and laid-back resting spot and its pristine condition with gentle waves make it perfect for families with young kids. Yet, if sunbathing is not for you, enjoy a kayak route across its turquoise waters or discover the kaleidoscope of tropical fish with a snorkel tour. 
You haven't been to Cancún unless you have taken a selfie with the famous Cancún sign spelled out with colorful letters. Luckily, this sign is located on the white sandy coast of Playa Delfines, located in the heart of Kukulcan Boulevard. This beach is also affectionately known as El Mirador (the lookout) as it offers some of the best views of the Caribbean Ocean in Cancún. The gentle water, pristine sand, and laid-back atmosphere make this an ideal beach for visitors of all ages.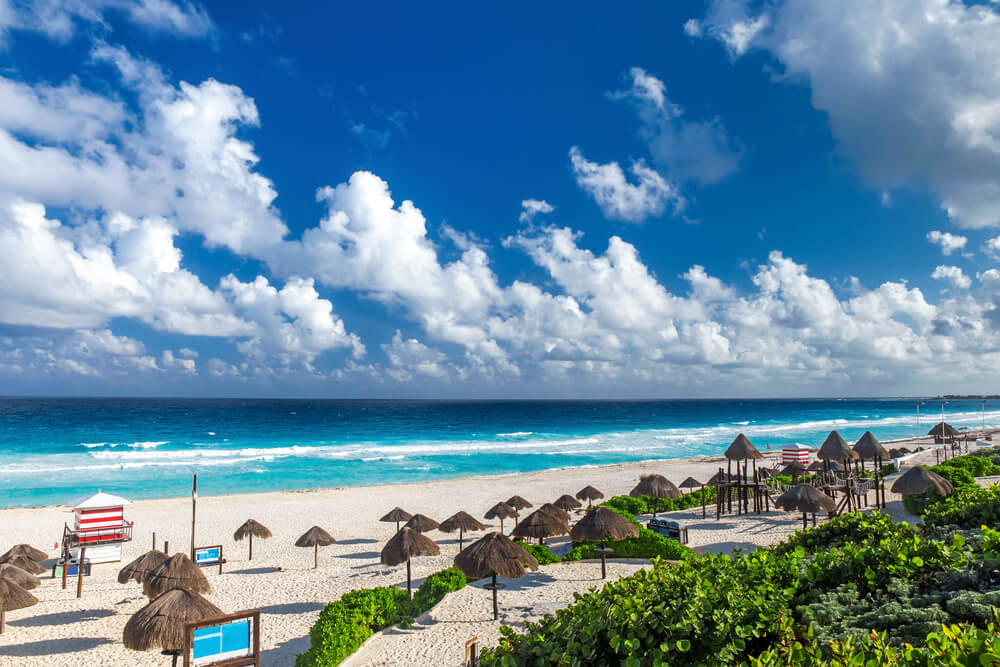 Playa Delfines is ideal for a beach day
One of the best-kept secrets of Kukulcan Boulevard is Playa Marlín. This natural, almost untouched beach is a firm favorite of the locals and those lucky enough to stay at the neighboring hotels. It is a fantastic beach for stretching out your towel and soaking up the sun or for enjoying the thrill of water sports such as jet skiing, kayaking, or banana boating.
Discover the must-do things in Cancún while on vacation
If you have been dreaming of a Cancún vacation filled with exciting adventures, Kukulcan Boulevard is a wonderful place to base yourself during your stay. From here, you are in the pole position for all the top attractions in Cancún.
The archaeological site, El Rey
Nestled in the heart of the hotel zone of Cancún is a Mayan settlement that dates back to the year 1200. Its name, El Rey, translates as The King and originates from the king stone that was found at this site. This is one of the top Cancún places to visit if you are keen to explore the Mayan ancient way of life and it is thought that this site is also linked to others on the coast of Tulum and Playa del Carmen.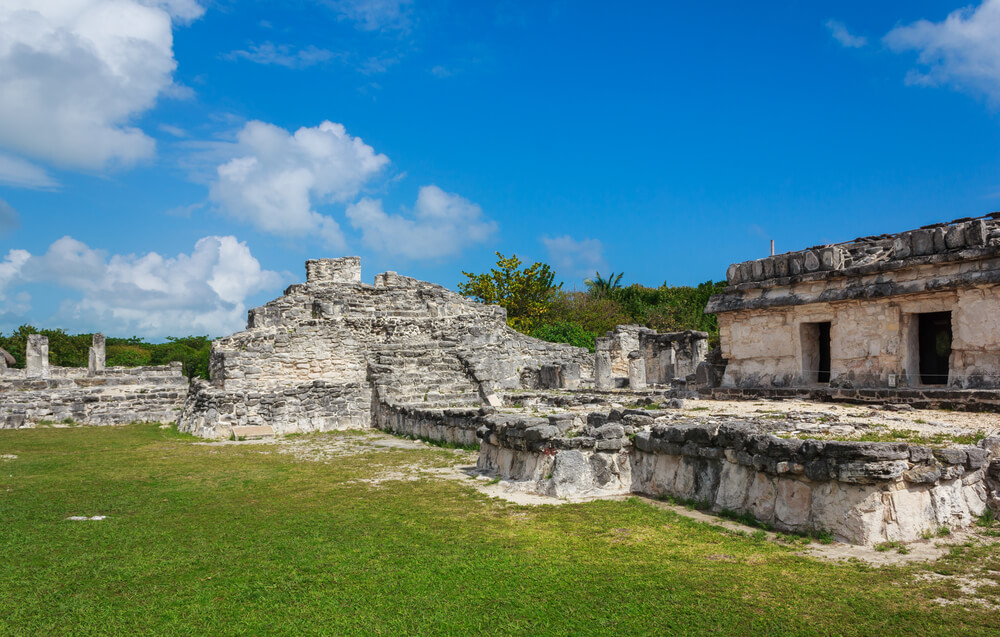 The Archaeological site, El Rey
Shop til you drop at the La Isla Shopping Village and the Kukulcán Plaza
Home to a wealth of international and national stores, (not to mention plenty of great restaurants and entertainment experiences), the open-air La Isla Cancún Shopping Village is one of the biggest commercial centers in Cancun. Browse the racks at Rolex, Louis Vuitton, Cartier, Salvatore Ferragamo, Marc Jacobs, Carolina Herrera, Tiffany, and many more. Located in one of Cancun's safest areas, you'll also want to browse souvenirs at Kukulcán Plaza which offers a wide range of shopping options – from authentic Mexican craft shops and boutiques to upscale jewelry stores and perfumeries. When you are done with Boulevard Kukulcan shopping, Tequila lovers take note: there's an entire museum here devoted to the spirit. Cheers!
Discover MUSA, the underwater sculpture gallery
If you love scuba diving and other outdoorsy activities, you will be in heaven at MUSA, an underwater sculpture park located in the deep blue of the Caribbean Ocean. If scuba diving feels too advanced for you, the museum also offers excursions on a glass-bottomed boat where you can see the sculptures from above. Snorkeling is also a great way to see the sculptures and the array of tropical marine life inhabiting the waters throughout the year. Enjoy exhibitions from local and international artists and enjoy an alternative way to immerse yourself and support local culture. When it comes to Cancún points of interest, you cannot get more interesting than a subaquatic art gallery.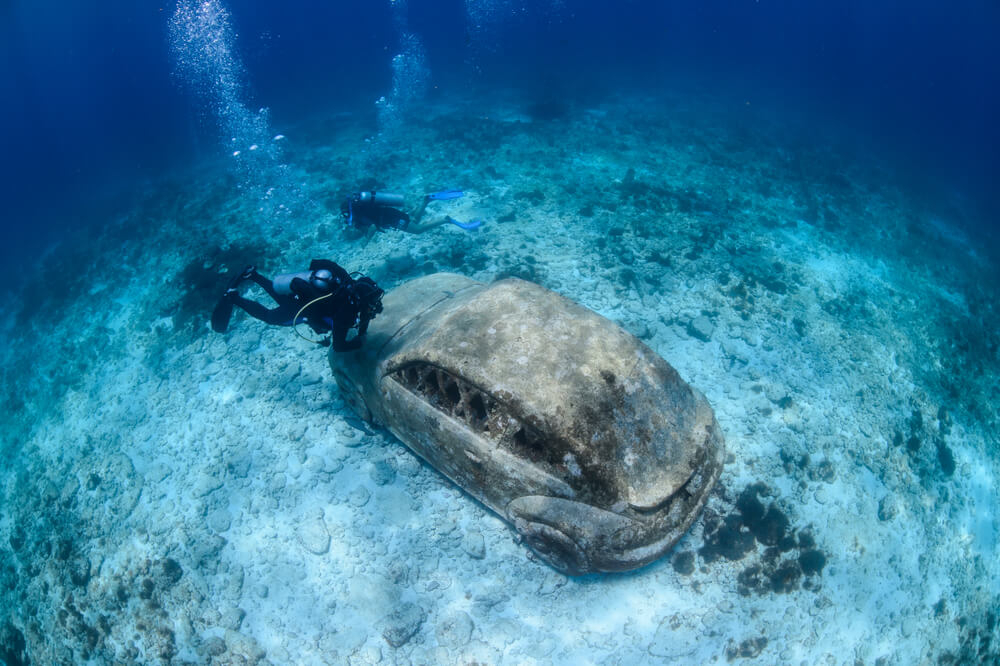 Underwater sculptures at the MUSA sculpture gallery
Discover Isla Mujeres, one of Cancún's must-see places
When in Cancún you cannot resist the temptation to island hop to Isla Mujeres. This speck of an island is located a short boat ride from Kukulcan Boulevard and is one of the best places to go in Cancún. There are no cars on the island, instead, visitors travel from point to point in golf carts, creating a laid-back, stress-free atmosphere. With each turn, you are faced with awe-inspiring vistas that appear as if they are a computer screensaver. Tuck into a plate of delicious local cuisine and soak up some rays on its dazzling beaches before heading back to the mainland. Isla Mujeres is 100% a must-see when in Cancún.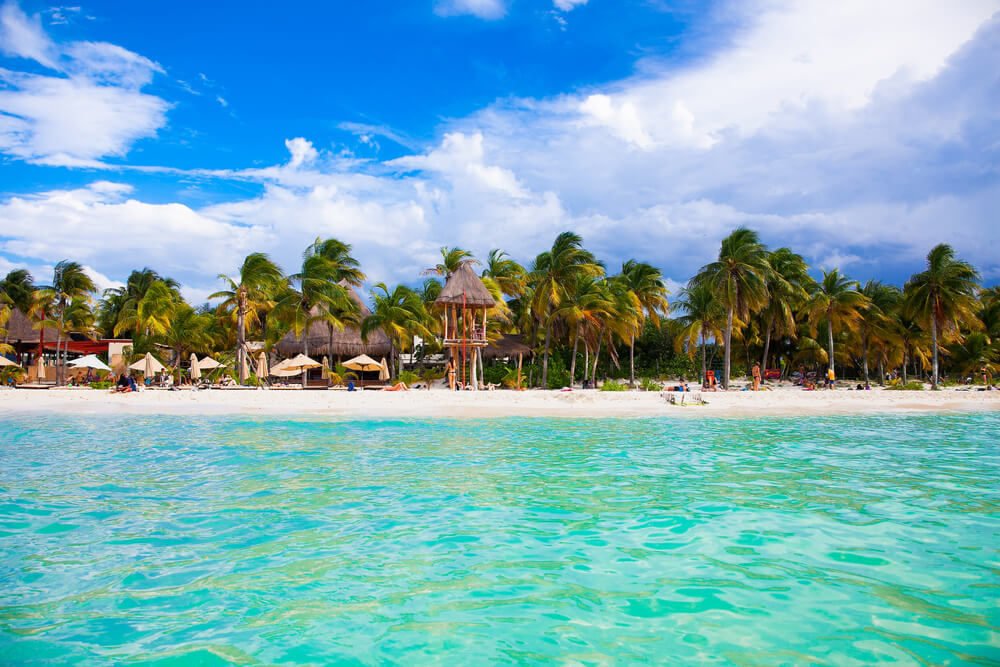 Travel to the island of Isla Mujeres for a Cancún day-trip