Top destinations for your minimoon break in Spain
Looking for some minimoon inspiration? Here's a round-up of the most romantic, stunning and luxurious Spanish honeymoon destinations for a dreamy post-wedding getaway.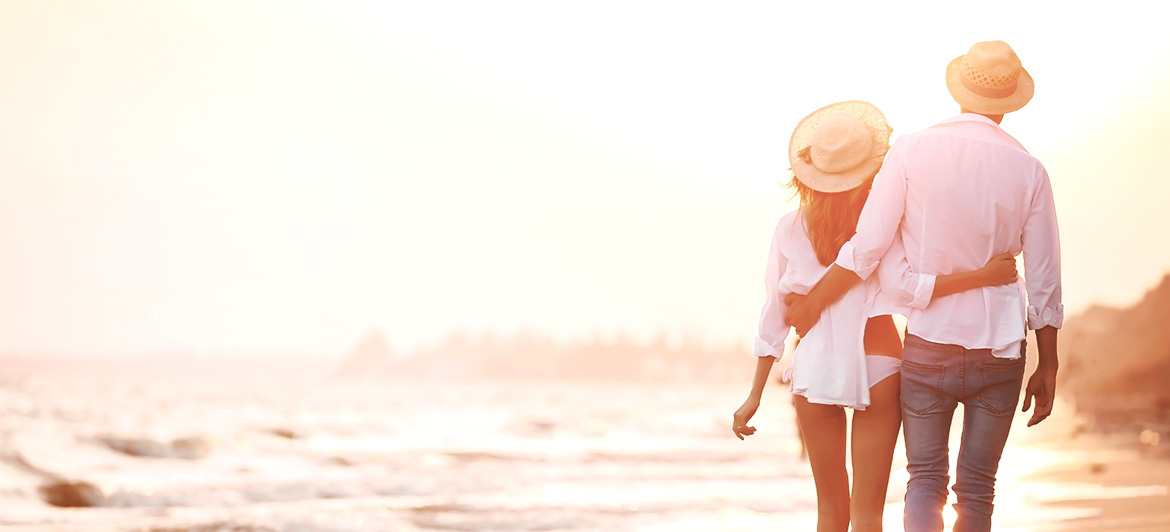 Savvy newlyweds are driving a growing trend for minimoon breaks, where the happy couple spoil themselves with a short, romantic and relaxing break after the big wedding day, before honeymooning later in an exotic location.
Spanish honeymoon destinations offer a wealth of idyllic havens for a post-wedding getaway with plenty of experiences for you and your loved one to enjoy. Picture dreamy sunsets, relaxing boat trips and luxurious hotels, not to mention an infinite amount of sunshine.
Get rid of those wedding blues and check out the top hotels and destinations for your magical Spanish honeymoon or minimoon break.
Mallorca
If you're looking for somewhere that will feel like a glam long-haul holiday with plenty of sun, then Mallorca is certainly your go-to location. Mallorca is the ideal destination for a luxury minimoon trip - as well as Spain wedding packages - with plenty of wonderful and romantic experiences for you and your partner to enjoy.
Visit a vineyard
Mallorca is home to a beautiful selection of vineyards, with Mallorcan wines steadily growing in popularity. Bodega Ribas is the oldest winery on the island, and the family business has been producing wine for over 300 years. Located in the Mallorcan village of Consell, this complex boasts 100 acres of vineyards, with the widest range of native grape varieties of any on the island. Take a guided tour of the winery, with explanations about the history of the winery and the wine making process, followed by a tasting of three delicious wines and Extra Virgin Olive Oil. The tour lasts up to one hour and costs 15 euros. There are other packages available that include appetizer platters, tapas, live music, and more. Check for availability and explore the different packages on offer.
For further inspiration, check out the top 10 vineyard tours in Mallorca.
Charter a boat
With a whopping 155 kilometres of coastline, boat trips in Mallorca are a must-do for anyone heading to the island. There are plenty of boat trips on offer, or you can charter a boat if you're looking for a more intimate and luxurious experience.   What's more romantic than sailing across the glistening turquoise waters with your loved one, sipping on a glass of bubbly, and watching the sun sink beneath the sea?
Stay in Formentor, a Royal Hideaway Hotel
Formentor, a Royal Hideaway Hotel is a beautiful location devoted to luxury, relaxation and well-being. Located in one of the most charming areas of the island, facing the idyllic Formentor Beach, it is the perfect place for a romantic retreat. The pool-cabanas are an oasis of exclusivity, with each featuring a private area with a Balinese bed, hot tub, a sun deck with a small garden, shower and minibar. Each cabin provides you with your own private paradise, where you and your beloved can recover from the wedding stress and treat yourselves to massages and beauty treatments. With landscaped gardens, direct access to the crystal blue Mediterranean waters and first-class facilities, this hotel is the dreamiest of locations for your minimoon break in Spain.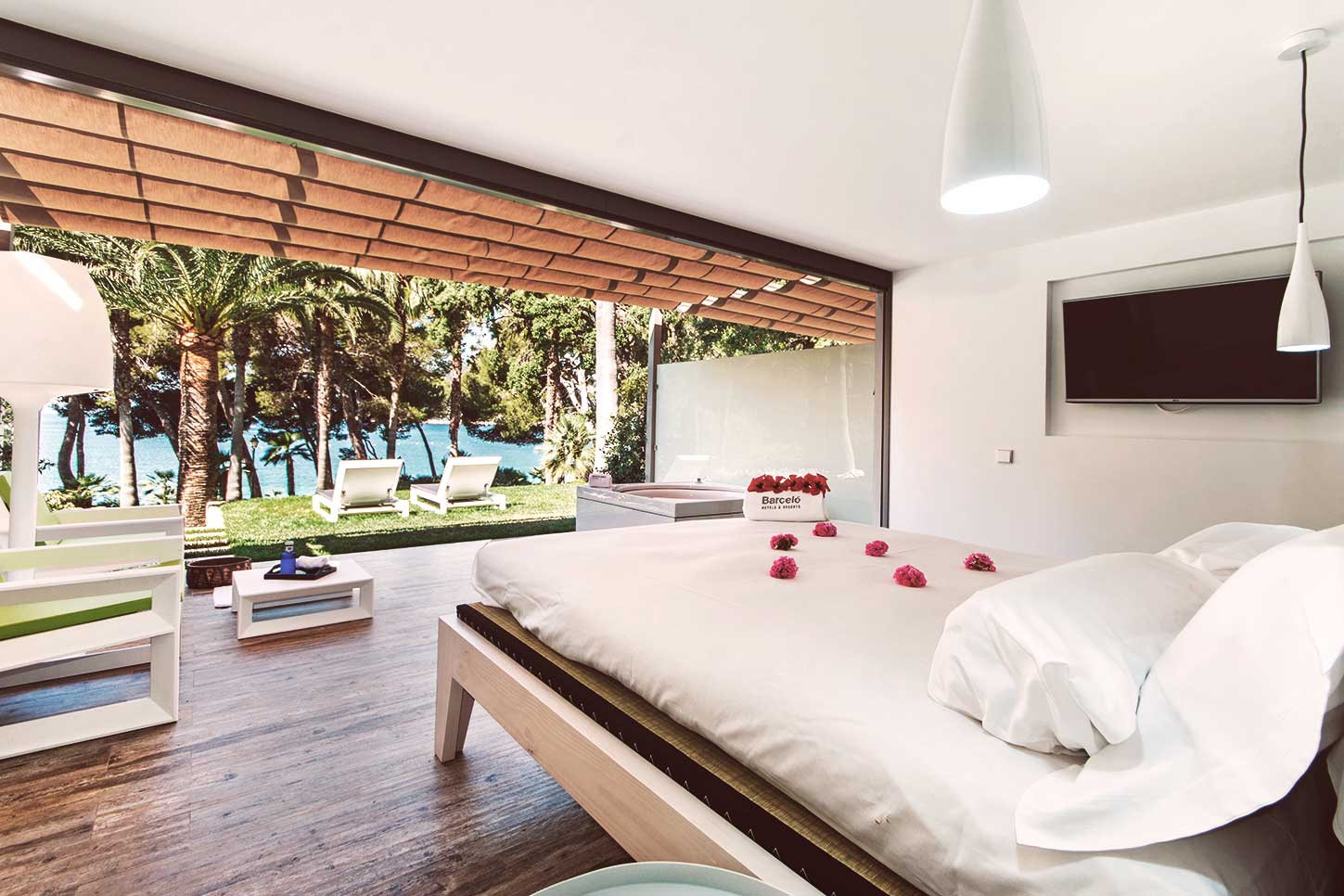 Cádiz
If you and your loved one are looking for a romantic minimoon break with a cultural twist, then the beautiful city of Cádiz is the place for you. As one of Spain's most ancient cities, Cádiz is filled with a mixture of historic sights, cultural attractions and golden sands. Combine culture and romance and head to these wonderful hot spots for a Spanish honeymoon with wow factor.
Torre Tavira
Discover the best views of Cádiz and visit the remarkable Torre Tavira - the official watchtower of the city. Sitting 45 metres above sea level at the highest point in the town, Torre Tavira offers incredible panoramic views, with a landscape of pristine white buildings and crystal waters as far as the eye can see. A visit costs six euros and reservations can be made here.
Playa de Caleta
Playa de Caleta is considered one of the best metropolitan beaches in Europe, with spectacular urban surroundings creating a picture postcard setting. Relax, unwind and bask in the delicious Andalusian sun with your loved one, with delightful views of the ocean waves.
Cádiz Cathedral
For another superb panorama of Cádiz in a romantic and tranquil setting, head to the mesmerising Poniente Tower in the Cádiz Cathedral, with views overlooking the port. The cathedral itself is a sight for sore eyes, with domed vaults, outstanding architectural detail and an emblematic crypt for you and your partner to explore.
Stay in Royal Hideaway Sancti Petri
The Royal Hideaway Sancti Petri is one of the best resorts for couples in Spain, oozing romance, luxury and sheer beauty, with the iridescent Atlantic Ocean providing an impressive backdrop. The hotel encompasses five indoor and outdoor pools, including an exclusive adult-only pool - all of which are situated within lush tropical gardens. There's food to fall in love with: daily menus feature a delicious gastronomic feast specialising in Mediterranean and international cuisine. The hotel is adored for its sensational U-Spa where you can also enjoy couple's treatments. Rejuvenate the body and soul in the Finnish sauna, Turkish bath, or Roman therma, with picturesque sea views to top off the experience. A world of aromatic essences, candles, oils, flowers and music await you in Andalusia's largest spa.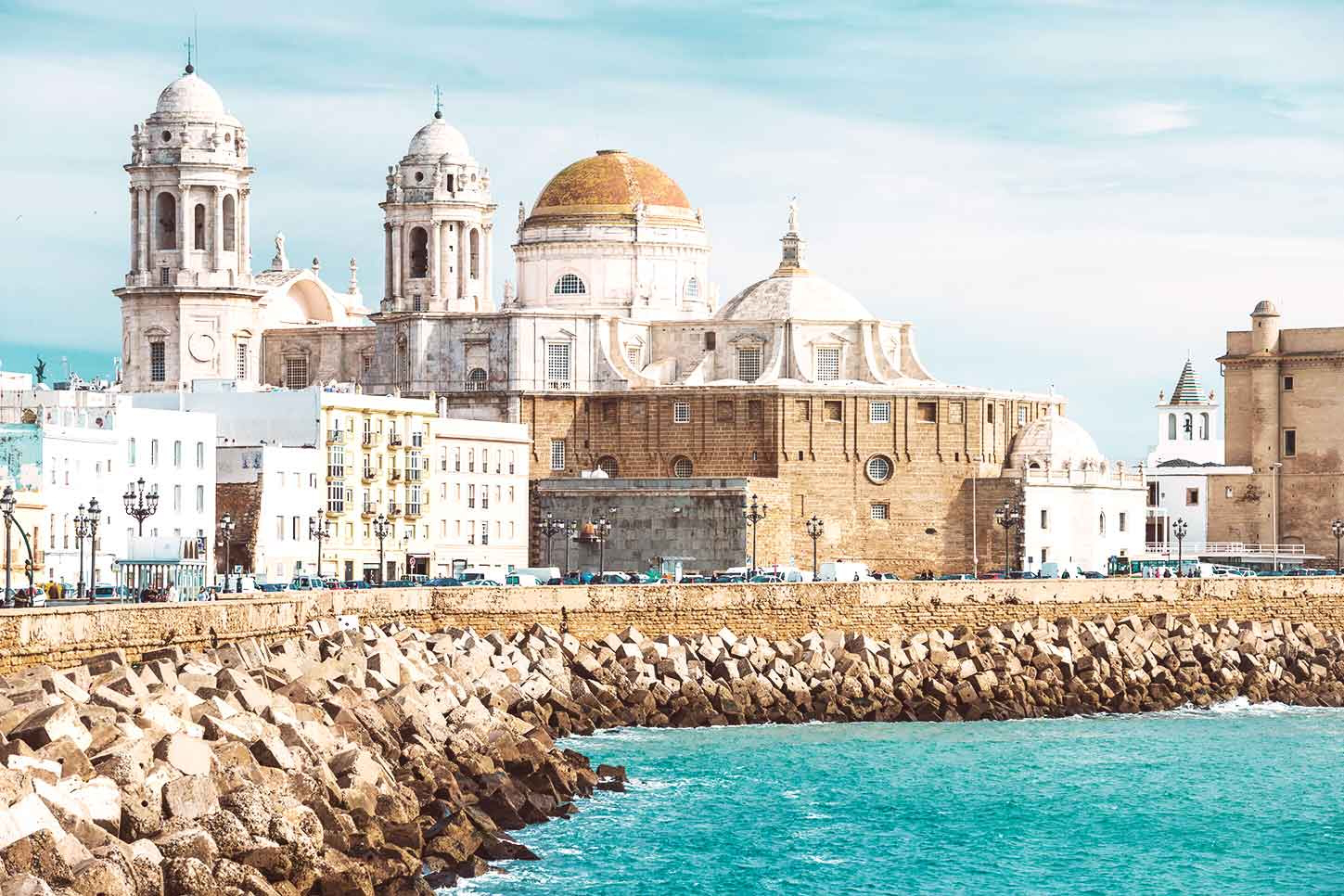 Granada
Sitting in the foothills of the Sierra Nevada mountains lies the beautiful city of Granada, renowned for its royal palaces, gorgeous gardens and stunning attractions. Granada is an ideal destination for your minimoon break, with plenty of romantic experiences to enjoy as a couple.
The Alhambra and Generalife Gardens
The Alhambra is a remarkable palace and fortress complex in Granada. Now a UNESCO World Heritage Site, it is an awe-inspiring blend of Moorish and Christian architecture and design. Book a leisurely tour around this majestic attraction and explore Granada's most emblematic building. Following your tour, take a romantic stroll in the Generalife Gardens that surround the palace and explore its stunning fountains, greenery and architectural charm. The gardens are renowned for being every couple's favourite experience in the city, so get booking to ensure you don't miss out.
Baños Árabes al Andalus
After a romantic day exploring Granada's attractions, soak those tired limbs at the Andalusian Arab baths, Baños Árabes al Andalus, at the foot of the Alhambra hill. Bask in a selection of hot, warm and freezing cold baths that recreate the experience of a Moorish hamman. Treat yourself to a couple's massage, relax in the steam room and admire the spectacular mosaic details that surround you.
Stay in La Bobadilla, a Royal Hideaway Hotel
Located in a 1,000-acre private estate, five-star La Bobadilla, a Royal Hideaway Hotel is ideally situated amongst the olive groves of Andalusía, making it one of the most secluded private estates in Granada.  This charming hotel is reminiscent of a traditional Andalusían village with interconnecting courtyards, arches and marble colonnades echoing the region's Moorish architecture. The hotel is sheer paradise for your minimoon break, with a modern U-Spa designed for intimate couple's treatments, exquisite dinners under a blanket of stars and the utmost tranquillity and privacy during your stay.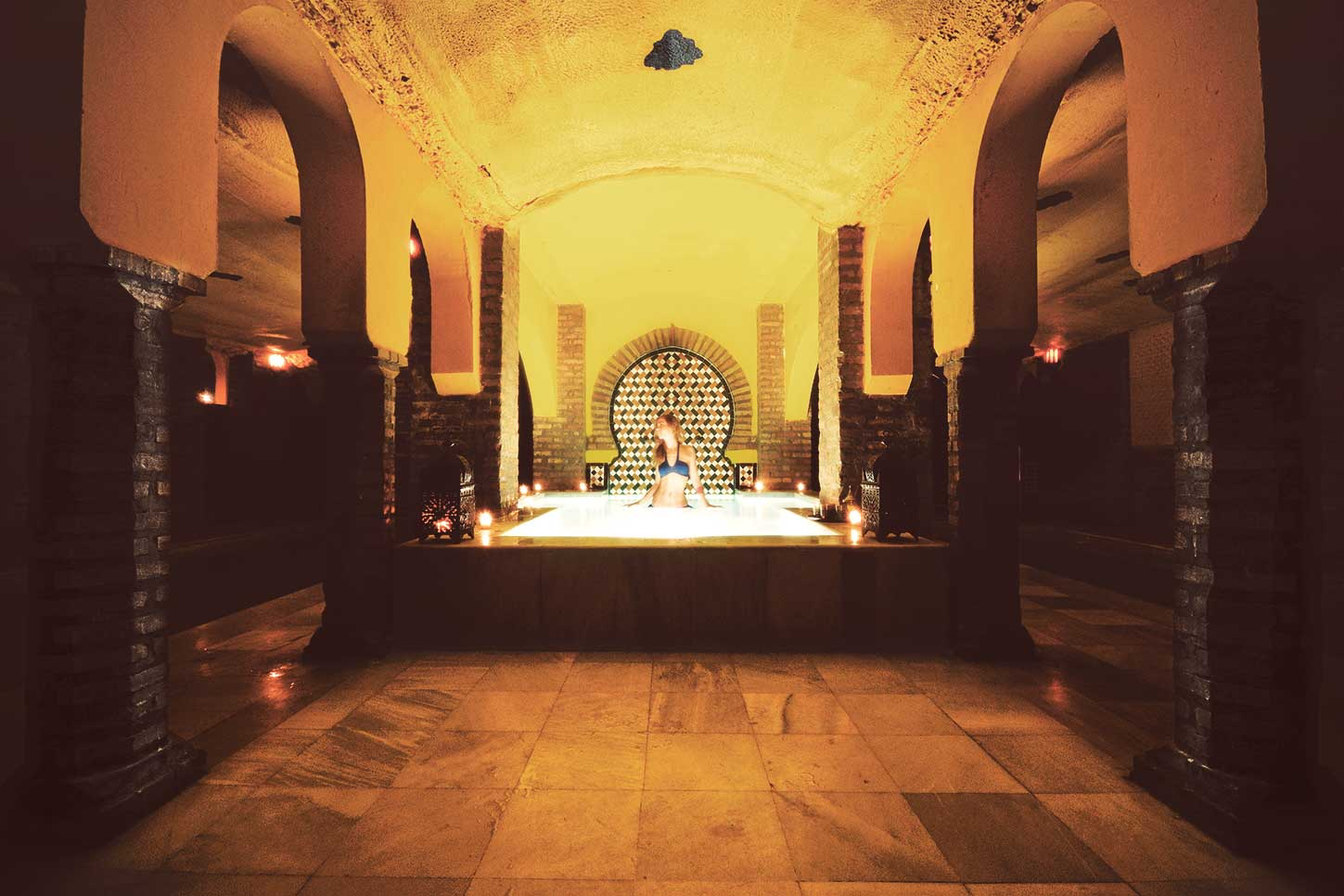 Tenerife
With its abundance of delicious beaches, volcanic landscapes, dramatic cliffs, dense forests and lush valleys, Tenerife is the perfect island for a romantic minimoon break. Here are just a few of the exciting moments you can share together.
Teide National Park
As the biggest park in the Canary Islands, Teide National Park is a must-visit on your Tenerife travels. The national park is centred on Mount Teide; the highest mountain in Spain and the highest volcano in the Atlantic Ocean islands. A scenic walk through the park is a fantastic way to discover Tenerife's wildlife, but if you're looking to turn up the romance factor then take a sunset tour and spend the evening stargazing with soft pinks, reds and purples swathing the sky. Sip on a glass of cava with your loved one and watch the silhouette landscape of the island sparkle ahead.
Parque Garcia Sanabria
The Parque Garcia Sanabria in Santa Cruz is one of the most romantic parks on the island, brimming with colourful flowers, mesmerising sculptures and misty fountains. Pack a picnic, bask in the island sunshine and enjoy a tranquil afternoon.
Stay in Royal Hideaway Corales
Royal Hideaway Corales is a luxurious beachfront resort on Costa Adeje and an idyllic destination for your Spanish honeymoon getaway. Enjoy a VIP experience and let a professional chef cook his finest creations for you in an intimate private suite. A selection of personalised wines will accompany the exquisite Canarian cuisine and leave you with a night to remember.