The ultimate guide to the markets in Rome:
from food to fashion
Markets in Rome come in all shapes and sizes – a true explosion of styles. From traditional neighbourhood food markets where you can stock up on fresh produce to shopping centres with top Italian name brands, shopping in Rome is partaking in a commercial tradition that dates back to ancient times.
The touristy Campo de' Fiori and off-the-beaten-track markets all reveal the essence of Rome, its neighbourhoods and its people.
Read on to discover our round-up of the top markets in Rome. There may be one we haven't heard about so don't hesitate to ask around, you may discover a hidden gem.
Mercato di Porta Portese
Ranked one of the top markets in Rome, Porta Portese is a bustling, outdoor flea market held every Sunday morning until 2 p.m. The ancient 17th-century city gate of Porta Portesa, was commissioned by Pope Urban VIII and marks the beginning of the market which extends into the Trastevere neighbourhood.
Over four thousand stalls are set up and attract crowds of bargain-hunting hagglers looking to snap up a deal. All types of items are sold at the market, including second-hand clothing, accessories, books, authentic antiques and much, much more.
Keep an eye on your purse and wallet at all times as it is a hotbed for pickpockets.
Mercato di Campo de' Fiori
Campo de' Fiori may be the most touristic market in Rome but it is also the most ancient and picturesque. A gastronome's paradise, it is the ideal place to pick up Italian staples and maybe a souvenir or two.
Campo de' Fiori means 'field of flowers' in Italian and it owes its name to its origins. It was originally a flower market until the 15th century when Pope Callixtus III ordered the construction of a square. It became one of the most important gathering and commercial areas of the city. Not only did the flower market remain but other types of merchants set up shop, including artisans. A horse market was also hosted twice a week.
The market has stayed true to its commercial roots and spirit – a true delight for all passers-by. Don't forget to pick up a bouquet of flowers on your way out!
Mercato Centrale: a haven for epicureans
Mercato Centrale went from being a simple food market in Rome to a culinary tour de force. The space has morphed into gastronomic powerhouse where traditional greengrocers, butchers and other vendors share the space with restaurants, wine bars, beer houses and other types of eateries.  You can buy fresh produce and chow-down on sumptuously-prepared dishes. There's no better way to discover authentic Italian products and dishes at any one of the five hundred stalls – and all under one roof! Check out the restaurant located on the second floor La Tavola, the kitchen is run by Michelin-starred chef Olivier Glowig.
The 2,000-m2 market lures locals and tourists alike with its Italian and international food stalls where local products are celebrated. Prices are quite reasonable in comparison with other epicurean markets.
Other markets in Rome
There is a suite of other fantastic markets to discover in Rome. From open-air and covered markets to seasonal markets, Rome has something for you:
Mercato Ponte Milvio: This celebrated antiquity market has been around for the last twenty years. It takes place on the weekends. It starts at Ponte Milvio and runs along Via Capoprati until Ponte Duca d'Aosta.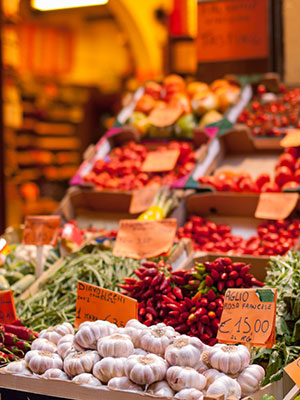 Mercato Trionfale (Andrea Doria, 40): Located in Prati, one of the most elegant neighbourhoods in Rome, this culinary polestar is an excellent place to stock up on quality Italian products such as cheese, cured meats, digestifs and extra virgin olive oil.
Monti (Leonina, 46): This market, located in the proximity of the Colosseum, houses shops from some of the most ground-breaking Italian fashion designers. You can score beautiful pieces of jewellery and accessories; home décor items and even vintage clothing. A definite beacon of originality, elegance and vanguard.
Esquilino (Filippo Turati, 160): This market is located in the most multicultural and multi-ethnic neighbourhood in Rome. It's a wonderful melting pot of old-timey Italian stalls juxtaposed with Indian and north-African stalls. It is the best place to savour authentic culinary delights from around the world at unbeatable prices.
Testaccio (via Beniamino Franklin): This one-time neighbourhood food market has evolved into a modern-day bazaar where you can pick up fresh produce and other items such as clothing, shoes and home accessories. The modern refurbishment of the building was designed by the architect Marco Rietti.
Mercato di San Giovanni: This open-air flea market sells all types of vintage clothing, accessories, handbags, among other items. It is open from Monday to Friday from 8 a.m. to 2 p.m. It is sometimes open on Saturday afternoons.
Related
plans