Tabarca Island:
a paradise for all, not just for pirates
Tabarca Island has been recognised in various different ways: Site of Cultural Interest, Historic-Artistic Site, Mediterranean Marine Reserve and Special Protection Area for Birds (ZEPA). In short, it isn't lacking in things to see. Its 30 hectares include museums, palaces, churches, solitary lighthouses in the midst of the paramo and, of course, diverse animal life such as octopuses, lobsters, groupers, red mullets, turtles and star fish. 
Visit Alicante's
Tabarca
Island by boat
This small slice of paradise, which can be accessed by boat from Santa Pola, Alicante, Guardamar, Benidorm and Torrevieja, has attracted more than colourful creatures to its green water meadows of Posidonia oceanica. Since at least the 15th century, Barbary pirates from northern Africa used Tabarca Island as a base from which they could launch attacks on the Christian coasts, all under the patronage of the Ottoman Empire. 
After centuries of looting, Charles III decided in 1769 to establish a colony on the island and fortify it. He did so in a very curious manner: namely, he paid the ransom for sixty nine Genoese Ligurian families who had been enslaved by the Turks and brought them to Tabarca. They were all on Tabarca Island, which is close to Tunisia and was the property of the Republic of Genoa, when the Turks invaded it and took them as hostages. The decision was then made to build a town on the island, inviting the inhabitants to come to Spain, the future Nueva Tabarca.  
The natural riches of
Tabarca
Island
In 1986, Tabarca Island became Spain's first Marine Reserve. This led to a ban on trawling, which had been used by the fishermen who re-populated the island in the 20th century. The island was re-populated after worryingly high emigration in the 19th century. This decision helped to protect Tabarca's seabed, but it was gradually losing its identity as a fishermen's island. This decision led to it becoming one of Spain's most important nature reserves. 
Its waters are home to seahorses, turtles, groupers, red mullets, octopuses, sea bass, as well as large meadows of Posidonia oceanica. It is precisely these Mediterranean plants that have helped to cultivate an environment that is so rich in flora and fauna, turning Tabarca Island into a popular destination amongst lovers of diving and snorkelling. In the depths of its waters, its caves are also home to various life forms such as lobsters and cicadas. The European Union would later declare the island as a Special Protection Area for Birds, topping off its offer of natural spectacles. 
Tabarca Island also enjoys its own urban beach. This is known as La Playita, located in the corridor of land—or isthmus—that separates the town from the rest of the island, boasting services such as scooter and bike rental and chiringuito beachfront bars. The Playa de la Caleta is a smaller beach, located in the port. Tabarca also has various natural coves and beaches, like the one facing out to La Galera island, which is a popular snorkelling destination, and the Cala del Francés. 
Another must-visit destination on Tabarca Island is the Cova del Llop Marí. This cave, with two entrances, can be accessed by swimming from any of the nearby coves or by taking a short boat ride. It goes 100 meters into the island's subsoil and, in the past, was home to groups of monk seals. One hundred years ago, a couple of sea lions also lived there. However, the island's inhabitants chased them away for fear that they would harm the fishing industry, with their baby dying during birth. The story goes that the mother was next to die, consumed by her grief, and that the father spent the next three days howling terribly, scaring the villagers. Some say these howls can still be heard today. 
What to see in
Tabarca
: a town, a lighthouse and much more
In some places, the best way to get to know your surroundings is by following your instinct. This is the case with the town of Tabarca, with cobbled streets and a mixture of white-washed and brightly coloured houses, assuming a range of different architectural styles. Many different trees, including palm trees, line the streets, with flowers blooming from the pots in which they are housed. Tabarca Island was declared a Site of Cultural Interest for the blend of exuberant nature and architectural beauty of its town, which has always looked out to sea. 
If you're looking to visit some of its many tourist attractions during your time on the island, here are a few suggestions:  
Governor's

House.

Now

a hotel, this construction has been completely restored, retaining

its original floors and archways which date back to 1780.

 
The

wall and its three doors.

The

Puerta de San Rafael, Puerta de San Gabriel and the Puerta de San

Miguel are the three doorways of this wall with a Roman spirit. Some

stretches of it are well preserved, whereas others have collapsed

into the sea.



Lighthouse.

Tabarca

lighthouse was constructed in 1854 so that passing ships could avoid

the rocks and reefs that surround the island. It stands alone in the

El Campo paramo. One of the most intriguing features of the

lighthouse is its distance from the shore. However, given the

island's flatness, there's no need for greater visibility. It

was previously a school for lighthouse keepers.



Church

of St Peter and St Paul.

This 18th century church stands proudly on the rugged

Tabarca

coastline, in a distinct neoclassical

architectural style. Other details, such as its beautiful fleur-de-lis windows or the main façade, highlight its baroque influences. Much of this church was built using rocks which were extracted from the island. 

Torre

de San José.

This

construction is notable for its door, which is positioned two metres

off the ground. It served as a prison during the 19th century.

Initially, they considered surrounding it with a moat to make it

harder for the inmates to escape.

 

Nueva

Tabarca

museum.

This

museum contains an audio-visual room and an exhibition room. This

museum seeks to showcase various materials (photographs, blueprints,

etc.) that better explain the geography, geology and history of

Tabarca

Island, while highlighting the relationship that exists

there between humans and the sea.

 
Eating and accommodation on
Tabarca
Island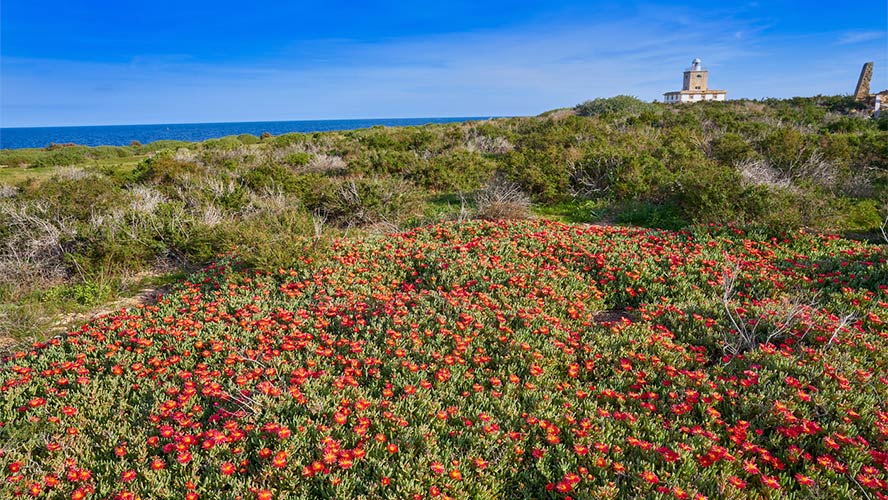 As you'll certainly need to take a break during your visit, we recommend that you sample the traditional local dish, el caldero: fish served with potatoes, aioli, and a broth that is used to cook the rice that accompanies the stew. Potera squid and langoustine, lobster and fish-based rice dishes are also amongst the island's specialties. We suggest sampling the food at La Almadraba, Casa Gloria, Casa Ramos or the Amparín restaurant. 
Information of interest
How to arrive at Tabarca Island:
By boat:

The boats that sail to Tabarca Island depart from the ports of Santa Pola, Alicante, Guardamar, Benidorm and Torrevieja all year-round, with increased frequency in high season (from April until late summer). A series of glass-bottomed catamarans, zodiacs and taxi boats, amongst others, can be used to get to the island.
Related
plans