Your ultimate guide to a
kid-friendly holiday in Almeria
Almeria is truly an exceptional outdoor playground. It is home to wonderful beaches where children can enjoy all types of water sports and let their imagination run wild as they discover deserted beaches. Its deserts also provided the backdrop for some of the most famous spaghetti westerns, without forgetting the myriad amusement and water parks. You can even go on a family hike and discover the rugged beauty of this Andalusian province. No matter what you are looking for, Almeria has something for you and your family. Read on to discover our round-up of the top attractions in Almeria!
The top kid-friendly beaches in Almeria
Almeria is the ultimate family holiday destination for its top resort beaches in coastal towns such as Roquetas del Mar and its unspoilt beaches of Cabo de Gata-Níjar Natural Park . Your little swimmers will love playing along beaches that gently shelve away into pristine, shallow waters, while your older teenagers can practise all types of water sports such as kayaking, snorkelling and surf on the larger stretches of sandy beaches.  
Kid-friendly
beaches in Cabo de Gata
Reaching the pristine coves and beaches of Cabo de Gata may not be a walk in the park, but the immaculate aquamarine water and the soft golden sand make it so worth it. Head to Playa de los Genoveses and spend the day making sand castles on an infinite stretch of sand dunes. The clean water is shallow for a long way out and the gentle ebb and flow of the waves make it an absolute delight for a relaxing swim.
Playa del Mónsul is a glorious stretch of sand. Shallow, crystalline waters are perfect for all ages: young children can observe the little fish while older children can snorkel without worry. Indiana Jones' fans may recognise the central rock stack from the film Indiana Jones and the Last Crusade. 
Cala de San Pedro is a sandy, secluded beach that is only accessible on foot or by boat from Las Negras. It boasts a breathtakingly beautiful beach and fabulous snorkelling. There is even a bar and small market run by a hippy community who lives there all year long.
Free cancellation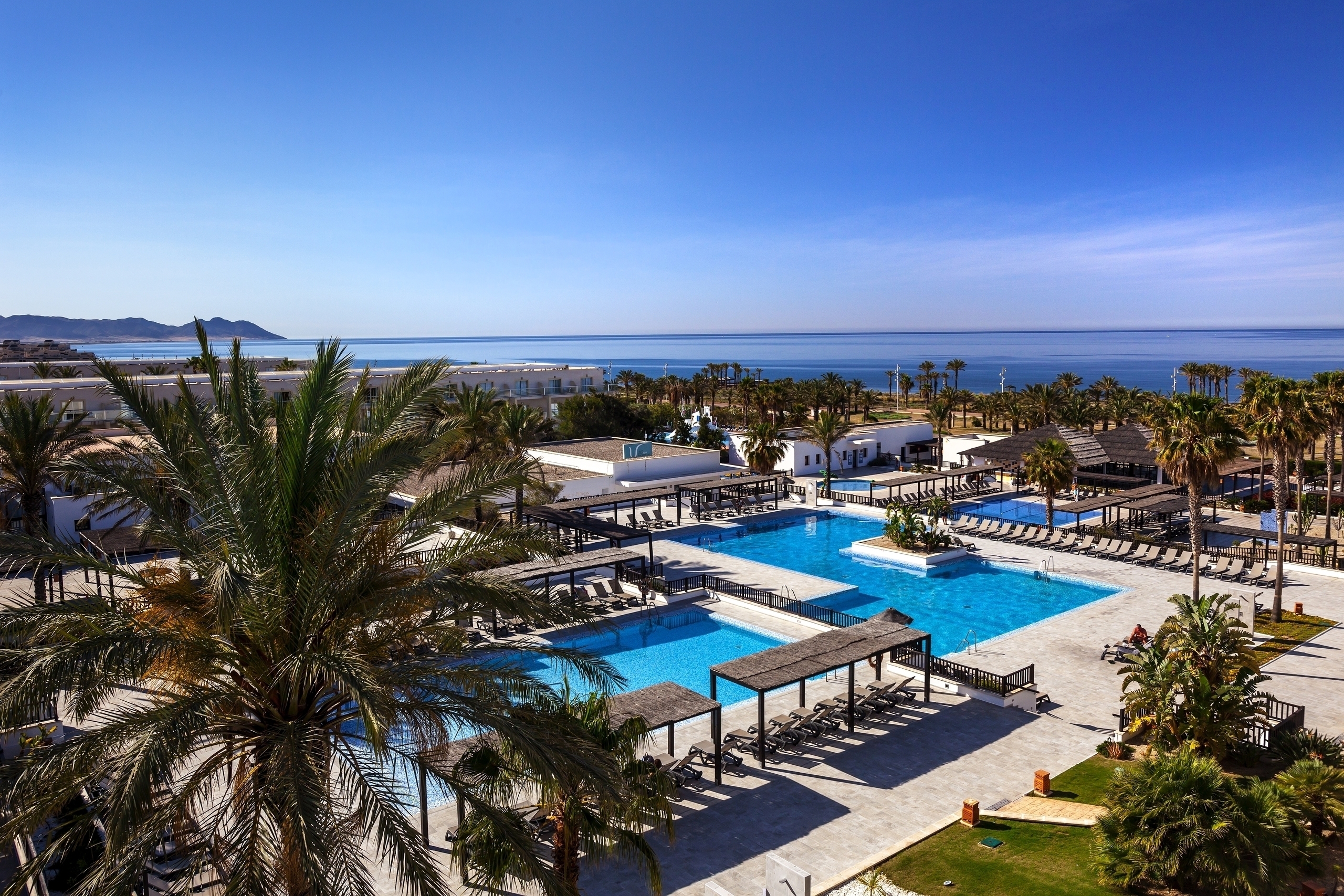 Urban
kid-friendly beaches
The coastal town of San José has an excellent beach the entire family can enjoy with the comforts of urban life just around the corner. Playa de Aguadulce and Playa de las Marinas Bolaga in Vera are two excellent options for families looking for longer stretches of golden sand.  
You can do all types of water sports and enjoy a beachside meal at one of the restaurants. There is also a playground and long promenade lined with souvenir shops. 
Amusement and water parks in Vera, Roquetas and Almeria
One of the region's most popular water parks  is located in close proximity to the beach of Vera: Aquavera Water Park. It boasts countless attractions for the entire family to enjoy. There are water slides, racing slides, a wave pool, splash cubes, super flumes and even a tsunami!
There is also a similar water park near Roquetas de Mar, Mario Park. A visit to either park is a must during a family holiday in Almeria!
Animal-lovers will come to face to face with a variety of sea creatures at Aquarium Costa de Almería, including sharks, piranhas and countless brightly coloured fish. There is a ray tank and, if you dare, you can even swim among sharks.
However, the most celebrated park in Almeria and Andalusia is Parque de las Familias, located on the fair grounds of the city of Almeria. Covering approximately 1,000 m2, it is divided into four amazing theme parks, each featuring fun-packed attractions and activities such as a climbing wall, slides, trampolines and playgrounds for all different age groups – guaranteed fun for the entire family. 
The Wild West and Tabernas Desert
Some of the most mythical spaghetti westerns from the 1960s and 1970s were filmed in Tabernas Desert and Cabo de Gata. The barren, semi-arid landscape of Europe's only desert, Tabernas, has hosted such Hollywood stars as Orson Welles, Clint Eastwood, Brigitte Bardot and Anthony Quinn.  
Come discover the western-style theme park Oasys MiniHollywood where you can explore a real Wild West town. The theme park also features a water park and a zoo with more than 800 animals from 200 different species, including giraffes, rhinoceros, zebras, leopards, crocodiles and tigers. 
Discovering Almeria on foot
Nature enthusiasts can also inject some outdoor fun into their holiday in Almeria – and still bring the kids along. From the soul-stirring natural beauty of Cabo de Gata to the dramatic craggy interior of Almeria and quaint seafaring villages, Almeria features great option for a day of family-packed adventure.  
Cabo de Gata-Níjar Natural Park is a rare unspoilt beacon of gorgeous coastal beauty, but it also harbours picturesque fishing villages such as Las Negras, located a stone's throw from some of the best beaches Almeria has to offer. The idyllic village of Carboneras is another beauty with its low, whitewashed cube houses and a gorgeous waterfront promenade, lined with shops and restaurants. Plan to have lunch in one of these villages to savour some amazing ocean-fresh fish and seafood. 
Discovering Mojácar and the city of Almería with children
The charming Moorish hilltop town of Mojácar is hands down one of the most beautiful – and popular – villages in Almeria. The old town is a maze of narrow cobblestoned streets, flanked by stark white buildings and brimming with Mudejar architecture. This idyllic town warrants a visit just for its sheer beauty.
Don't be fooled into believing the city of Almeria is just a drab port city. In fact, the city features numerous fascinating sights such as the colossal Moorish fortress Alcazaba. It is the second largest Moorish-Spanish palace and fortress complex in Spain after the Alhambra (Granada). A walk along its extensive fortified wall and lush gardens will transport you back in time, while a tour of the museum will reveal the incredible history behind this age-old construction. Continue discovering the city's history by paying a visit to an underground refuge from the Spanish Civil War.  
Related
plans