What to see in Arriondas:
the home of the International Descent of Sella River
Arriondas is a small, inland village located to the east of the Principality of Asturias and just a thirty-minute drive from Ribadesella beach. It is the capital of Parres and home to over half of the population of the municipality. Undoubtedly one of the best things about Arriondas is its location and the surrounding area. It is close to the Picos de Europa and at the foothills of the Sierra del Sueve massif. On top of that, the Sella River runs right through it. This setting makes the village a perfect location for adventure holidays, the most popular type of tourism in the area. In fact, the name of the village often sounds familiar to people and that's because the emblematic International Descent of Sella River has its origins – and actual starting gate – in Arriondas.
In addition to the area's natural charm, Parres also has a great deal of history: archaeological sites from the Paleolithic have been uncovered in the surrounding area and the old quarter of Arriondas itself is brimming with a mixture of architectural styles such as Asturian Romanesque art (San Martín church) or the late 14th century Spanish colonial style that was introduced into Spain by emigrants returning from America (Chalet de los Valle and Villa Juanita homes).
Let's take a look at what you can see in Arriondas, what you can do there, some of the excursions you can go on and, of course, some of the places where you can try succulent Asturian cuisine.
Arriondas: what to see when you're taking a stroll
Whilst there any number of ways to explore Arriondas and the surrounding area, here's one suggested route that will take you past its main features.
Start off in Concordia Park where the Piloña and Sella Rivers meet. Since it was opened in 1986, it has been enjoyed by locals and visitors alike. Relish a stop next to the rather peculiar sculpture by Joaquín Rubio Camín that you will find in the park. The nameless statue is made of geometric sheets of steel and the artist has left interpretation up to each individual.
Free cancellation
After taking a walk through the park, cross the Piloña River and, just a few streets down, you will find Calle Argüelles, the village's main street. There are emblematic buildings here such as San Martín church, Casa Cepa (or Chalet de los Valle, as the locals call it) and Villa Juanita. Casa Cepa and Villa Juanita are both fine examples of the indiano colonial style in which many Asturian emigrants designed their grandiose homes on their return from South America towards the end of the 19th century.
The local library and Casa de la Cultura (cultural centre) are located nearby and exhibitions and events are often held there. A visit to Llera park is a great way to end your walk. There is a small market with about 20 stalls there on Saturdays.
The Descent of Sella River and other adventure tourism activities
There is abundant vegetation and captivating dark green countryside in and around in this small village right in the very heart of Asturias. The air is clean and pure, making it a perfect location for adventure tourism.
The Descent of Sella River: the most popular sport in Arriondas
The Descent of Sella River began in 1931 when, after a number of failed attempts over the years, Dionisio de la Huerta, a gentleman from Barcelona who had a particular love for Asturias, managed to canoe the entire route between Arriondas and Ribadesella. A professional, annual International Descent of Sella River competition along twenty kilometres of river has been going since 1933.
Don't worry if you're not an expert; anyone can have a go at descending the river at any time of the year. Several companies organise descents and they provide clients with both the canoe and any support they need. Depending on how prepared you are, you can choose a 6, 10 or 14 km route. You can even do the full-length descent if you're up to it. It's not a race so you can set your own pace and even stop from time to time to enjoy the views.
In Arriondas, there are several companies that organise these trips so you should have no trouble finding one that suits your needs.
Head for the highest point in the Sueve massif
If you'd like to see the summit, then you'll need to follow Pienzu peak trail. A signposted route starts just opposite the Fitu vantage point car park from where you can enjoy an amazing view of the entire massif. The route is only 5 kilometres long but it will take you to an altitude of 1,161 meters which is rather impressive considering that the sea is so close by. Once there, it's well worth stopping to take in the spectacular views of both the coast and mainland. On a clear day, you can even see Gijón.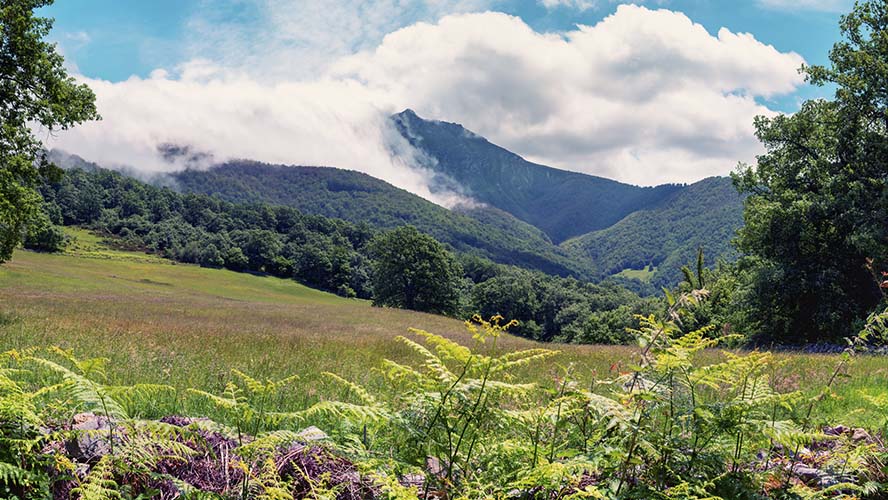 Great restaurants in Arriondas
In addition to architecture and history, gastronomy is also another important factor for many people when they choose their holiday destination. Asturias has plenty to offer, ranging from seafood dishes to game and succulent stews. Of course, we cannot forget the crafted local cider; the perfect drink to go with any tasty meal.
If you're in Arriondas, why not try El Corral del Indianu in Avenida de Europa? This rather exclusive Asturian restaurant has a Michelin star which is a clear indication of the quality of its dishes. You can't go wrong with any of their meat or fish options.
If you're on a budget (or if you just fancy something a little more casual), try El Rincón del Castañu. The dining here is less formal and you can still try typical Asturian cuisine. You will find it in Calle Ramón del Valle (locals call it 'the street of bars') and it has a number of signature dishes: cachopo, stuffed trout and fixuelos (a kind of crepe).
Information of interest
Getting there:
By car. Follow the N-634 towards Nava-Arriondas and take the Arriondas exit. It is 17 km from Ribadesella, 8 km from Cangas de Onís and 65 km from Oviedo.

Useful telephone numbers:
Tourist Office: (+34) 985 841 712
Related
plans