Where to eat in Asturias:
from the Cantabrian coast to the mountains
There are hundreds of restaurants serving good food in Asturias, with a huge diversity of options available and something for all tastes. All have one thing in common: the produce is the star of the show. The seasonal, high-quality local ingredients that go into menus across Asturias are sourced from the Cantabrian Sea and from valleys and farms across the Principality.
Eating in Asturias
There's one thing you should know up front: Asturians like to eat. The local chefs like their diners to leave the table feeling full and satisfied. Hence the enormous portions.
Food in Asturias is like a ritual and meals can last for hours. Several different dishes make their way around the table throughout, and just when you think the meal is over you'll be seduced by a delicious Asturian dessert.
Needless to say, make sure you're hungry before heading out to eat in Asturias. Below are some of the best restaurants in the Principality.
Free cancellation
Michelin star restaurants in Asturias
The most recent edition of the famous Michelin Guide listed eight Asturian restaurants with one or more Michelin stars. For a stellar dining experience, try one of these places:
La Palmera del Indiano

(Cervantes, 13, Oviedo). 

Located in the charming Barceló Oviedo Cervantes Hotel

, this beautifully designed colonial style restaurant opened its doors with the goal of revolutionising the culinary scene in Oviedo with this all-day dining concept. This is your go-to spot for brunch, lunch, dinner and drinks at any time of day.  Come enjoy modern and traditional tapas and dishes in a casual setting that doesn't compromise on style. It is also a great space to hold a meeting or socialise over drinks.
Casa Marcial (La Salgar, Arriondas): Nacho Manzano is the culinary genius at the helm of this establishment. His new creations never fail to amaze (e.g. using the skin of different fish) and he has boasted two Michelin stars for several years now.
Casa Gerardo (Carretera AS-19, km 9, Prendes): The Morán partners (father and son) are carrying on a family tradition now into its fifth generation. Their traditional cuisine is masterfully combined with creative contemporary offerings.
Auga (Claudio Alvargonzález, Gijón): Gonzalo Pañeda (kitchen) and Antonio Pérez (front of house) offer a menu packed with delicious local produce and a selection of wines in their city-centre restaurant. Everything in this place is choreographed and timed to perfection.
La Salgar (Museo Etnográfico del Pueblo de Asturias, Gijón): The lighting and high ceilings in this restaurant make for a spectacular aesthetic that complements the high-flying signature cuisine on offer. Esther and Nacho Manzano have brought their very best to this corner of Gijón.
El Retiro (Pancar, Llanes): The three menu options (El Retiro, Llanes and Pancar) range from truly traditional to cutting edge. Chef Ricardo González Sotres has his stamp on all of them.
El Corral del Indianu (Av. Europa, 14, Arriondas): The finest quality cuisine created using local produce. Dishes include the Contrastes (beef, caviar and radish) and a torto of corn, guacamole and marinated onion.
Some more of the best restaurants in Asturias
Aside from Michelin star establishments, Asturias has a fine selection of other restaurants. Here are a few suggestions:
Casa Fermín (San Francisco, 8, Oviedo): Few other restaurants have helped to revolutionise Asturian cuisine like Casa Fermín. Thanks to places like this, Asturias now has some of the most outstanding cuisine of all Spain's autonomous communities. Local, seasonal produce takes pride of place.
Ronda 14 (Alfonso VII, 20, Avilés): In a region with such a strong attachment to its local cuisine, this restaurant really stands out. In fact, it's one of the best places in Asturias for sampling other types of cuisine – a fusion of international flavours brought together with creativity and skill.
Castru El Gaiteru (Ería de la Vega, Celoriu, Llanes): Undoubtedly one of the best grills in the Principality. Meat and fish are masterfully grilled and retain their natural juiciness and flavour.
Regueiro (Lugar Tox, Villapedre, Navia): Situated in the heart of the Asturian countryside, this establishment offers a surprising fusion cuisine packed with Asian influences.
El Barrigón de Bertín (San José, Lastres): Young chef Alberto Asensio is behind the rice dishes and other creations that leave the kitchen of this restaurant. The menu also gives a few nods to typical Asturian cuisine.
Charming and romantic restaurants in Asturias
Asturias doesn't just have some of the best cuisine, but some of the most seductive! There's no shortage of charming restaurants in Asturias that make the perfect venue for surprising your partner on a romantic getaway. Try some of these:
Las Delicias (Camino Dalias, 80, Gijón): The classical and somewhat eclectic decor is nonetheless alluring. There is also a garden where you can enjoy the good weather while you have lunch or dinner. The prawn ceviche and octopus are delicious.
Real Balneario de Salinas (Avenida Juan Sitges, 3, Salinas): This charming restaurant is also one of the best in the Principality (it has a Michelin star). The beauty and majesty of the Cantabrian Sea captivate diners through the large windows of this beachside establishment.
Mi Candelita (Playa de Bañugues): Another place with sea views and a menu heavily influenced by its bounty. That said, the Mediterranean-style rice dishes are also fabulous.
El Bálamu (Puerto Pesquero, Llanes): Authentic seafood cuisine. The traditional gastronomy is what makes this restaurant so charming and genuine.
Good food in Asturias on a shoestring
Finding good cheap eats in Asturias is generally no problem. Here are a few suggestions:
El Mesón de Carceu (Carretera CO-1, km 58, Cangas de Onís): Traditional cuisine offering first-rate cachopo. It's a good idea to book ahead, particularly in summer.
El Pescador (Tolombredo de Arriba, Cudillero): The name ('The Fisherman') says it all. What's more, the grouper, hake, sea bream and other fish on the menu are exceptionally well priced.
La Panoya (Corredoria Alta, 26, Oviedo): The set lunch menus offer great portion sizes at very reasonable prices. It's also worth going in the evening to try some traditional and authentic cuisine.
Eutimio (San Antonio, Lastres-Colunga): This restaurant in the hotel of the same name has been carrying on tradition since 1964. The menu now incorporates a few contemporary twists, including its prize-winning cacholetus – a type of cachopo with ground boletus, cheese and ham among its ingredients.
Related
plans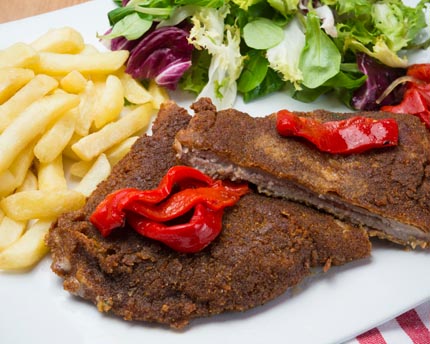 Food and Drinks