CaixaForum in Barcelona,
art for all
Culture, art and education are the three cornerstones of the programme at CaixaForum de Barcelona, a cultural space that opened in 2002. It is run by the Fundación La Caixa as part of the financial company's commitment to social development and making culture available to the widest audience possible. The Barcelona centre was the first in a series of similar centres and was followed by CaixaForums in Madrid, Lleida, Palma de Mallorca, Tarragona, Zaragoza and Seville. Just like each of these other centres, the space in Barcelona is located in a unique building with a long and fascinating history.
Why visit CaixaForum Barcelona?
In a city like the capital of Catalonia, where art flourishes on every corner, CaixaForum Barcelona has a dual cultural and educational focus. Its first aim is more than accomplished thanks to the diverse range of exhibitions that pass through its halls. Topics include anything from works by avant-garde artists to science, and the pieces displayed are always of the highest quality. Its educational function can be easily observed in the many activities that are organised here, such as talks, debates, conferences, screenings and concerts aimed at different sections of the public.
Families are particularly fortunate in this regard because they enjoy a specific programme of events; the centre's youngest visitors can enjoy riveting workshops that introduce them to artistic and innovative subjects. Also of particular interest is the series of free educational materials available for teachers to share with their pupils in class.
Industrial past
CaixaForum is housed in the old Casaramona factory building, a striking industrial facility on the slopes of Montjuïc hill. The factory was owned by Casimir Casaramona i Puigcercós, a well-known cotton magnate who specialised in manufacturing home textiles. True to the spirit of Barcelona, the building design was commissioned in the Modernist style and architect Josep Puig i Cadafalch was responsible for the project, which was completed between 1909 and 1912.
The renowned architect had extensive experience in Catalan Modernism and designed a horizontal manufacturing complex comprised of a group of single-storey warehouses. The layout made transporting materials between each section far easier and the intersecting interior passageways also functioned as a natural firewall. The building was given two towers that could be used as water tanks. Bearing in mind that the previous factory building had been destroyed in a fire, any fire prevention measures were more than welcome.
The construction predominantly employed exposed brickwork, wrought iron and stone, although ceramic elements were also used to decorate the towers and to create a mosaic that forms the owner's initials. Unfortunately, the company did not continue to thrive for long; the factory closed in 1920 following a general strike. However, the building soon found a new purpose when it was used as a warehouse during the 1929 International Exposition. Some of its more unusual uses in later years were as a horse stable and even as a car pool for the Spanish police.
Adaptation for artistic use
Despite having been declared an Asset of Cultural Interest, this magnificent complex gradually deteriorated over time until it was purchased by the Fundación La Caixa in 1963. Under the reigns of its new owner, the building saw a series of refurbishments and works designed to adapt it to its new function, while respecting its original architecture and materials.
Francisco Javier Asarta was in charge of the refurbishment and work progressed in several phases. First, the building's exterior was restored to its original appearance. Then, an underground vestibule was constructed and the old workshops were turned into exhibition rooms. The building was expanded by 5,000 m2 and a new entrance was created. The media centre, auditorium, bathroom facilities and storage rooms were all added during the final phase.
A creative touch was added to the space by Arata Isozaki who designed a vast tree-shaped structure that branches outwards in glass and steel. Limestone was used in the courtyard at CaixaForum Barcelona in tribute to the 1929 Barcelona Pavilion. Make sure you don't miss the two works in the vestibule: a mural by artist Sol LeWitt created especially for the centre, and a piece by Lucio Fontana that represents a neon cloud, made by the artist for the 1953 Milan Triennale.
CaixaForum Barcelona exhibition rooms
The light, spacious warehouses previously used for weaving and sewing fabric—the employees' well-being was clearly important—were used to create exhibition rooms that display works of art in the best possible conditions. The 3,000 m2 are divided into three sections that house temporary exhibitions on ancient, modern and contemporary art, twentieth-century photography and the expressive avant-garde.
These exhibitions partly draw from the Fundación La Caixa's own collection, which consists of over 800 works of art in varying styles from different periods. One of these pieces—Joseph Bueys' It is counted behind the bone – space of pain—is on permanent display.
Other spaces
The media centre is located in the old Casaramona storage rooms and has impressive audiovisual equipment, giving visitors the opportunity to view different forms of artistic expression such as video-dance, video-art, sound art, documentaries and artistic photography.
The auditorium is another versatile and useful space with a capacity for 350 people; it is on the ground floor and its stage is often busy with concerts and conferences, among other events. Teaching activities are normally held in the classrooms set aside especially for this purpose. Finally, don't forget to visit the terrace and enjoy its incredible views of the building, the canopy and the courtyard designed by Arata Isozaki.
Before you head off, stop for a bite in the restaurant or take a peek at the shop/bookshop for an inspiring end to your visit.
Information of interest
How to get to CaixaForum Barcelona
By Metro: Lines 1 and 3, stopping at Espanya.
By FCG: Lines L8, S33, S4, S8, R5 and R6, stopping at Espanya.
By bus: Routes 13 and 150, stopping in front of CaixaForum.
By bicycle: Gran Via – Plaça d'Espanya (docking station 96) and Rius i Taulet (docking station 237)
This centre has been adapted for people with reduced mobility/sight.
Related
plans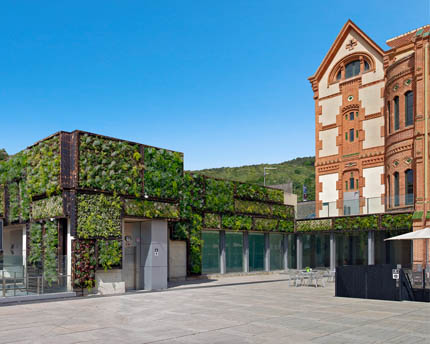 Museums and Art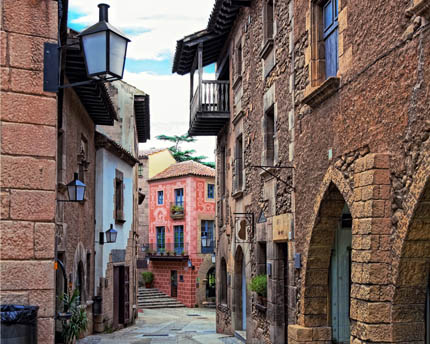 Museums and Art