Bilbao for groups: two cultural itineraries filled
with beer and pintxos
Bilbao is a city made all the more better if enjoyed in company, as its age-old custom (to txikitear or to potear) of going from bar to bar drinking small glasses of wine (txikitos) accompanied, naturally, by some delicious pintxos demonstrates. Behind every txikiteo is a group of txikiteros, and behind them, strong relationships that crystallise with the help of some good wine and the merry sounds of the bilbainadas. "Long live the songs of Bilbao, long live the joy of youth, long live union, long live harmony, long live the San Antón bridge," sings one of these traditional Basque songs, perfectly exemplifying this spirit. Examples of the Basque Country's rich architectonic history live side-by-side with one of the highest concentrations of bars in the whole of Europe. To check it out for yourself, below are two suggested cultural routes with a delicious common denominator: Basque food.
An architectural route through the Ensanche area (with a few pintxos thrown in)
The good thing about Bilbao is that whatever the purpose of your visit—cultural, sports-related or even business—it's hard not to savour a few pintxos. This is exactly the case for the route that we have in store for you—an itinerary taking in the architecture that the first expansion project (Ensanche), completed in the nineteenth century, bequeathed the city with.
Plaza Sagrado Corazón de Jesús, situated in the north-west of the city, is where the Gran Vía Don Diego López de Haro starts (or finishes, depending on how you look at it). Named in honour of the Lord of Biscay who founded Bilbao more than 700 years ago, it continues in a straight line for one and a half kilometres until it meets Plaza Circular. This long avenue, popularly known as the Golden Mile, due to the abundance of fashion houses that it is home to, takes you back in time to the Bilbao that flourished in the nineteenth century due to the boom in steel and naval industries. As we make our way along it, we see an intriguing mix of architectural styles, from the most modern, such as the office building occupied by the American company Babcock Wilcox (1963), to the most eclectic, such as Casa Lezama L. (1922) or Casa Anduzia (1928), without forgetting the fine example of Basque mountain regionalist architecture that are Casas de Sota (1919). Before arriving at Plaza Federico Moyúa, the midway point of the Gran Vía, the nearby bars of Mugi (Calle Licenciado Poza, 55), with an extensive selection of wines, and Bar Ízaro (Calle Alameda Urquijo, 66), declared "the temple of tortilla", will give us a much needed dose of energy.
Once we get underway again, from the oval shaped square we can see Palacio Chávarri (1894), built in neo-Flemish style and the current headquarters of the Civil Government of Biscay; the pre-rationalist building La Aurora (1935); and Hotel Carlton (1926), an example of French eclecticism. In the surrounding area, chiefly the pedestrianised Calle Diputación, are some pintxo bars that are highly regarded among locals: La Viña del Ensanche (Calle Diputación, 10), with its incredible Spanish ham; Lasa (Calle Diputación, 3), offering exquisite skewered monkfish and prawns; and El Globo (Calle Diputación, 8), whose magnificent foie gras pintxos and txangurro gratinado (stuffed crab) are its hallmark.
The final stretch of the route takes us closer and closer to the Nervión river and, in turn, the mythical neighbourhood of Casco Viejo. But before you head off to explore the winding streets and medieval spirit of the area, bear in mind that beyond Plaza de Moyúa is also the Eclectic-style Palacio de la Diputación (1900) and the buildings of BBVA (1910), Banco Santander (1950) and Banco de España (1923), all built in the classicist style. We're well aware that so much culture is enough to make you hungry, so, close to the Ayuntamiento bridge, be sure to refuel at Periflú ECF (Calle Ledesma, 5), whose codfish with garlic and chilli will take your breath away, and Café Iruña (Calle Berasategui, 4), famous for its pintxos morunos (Moorish-style pork skewers)—the perfect way to draw this Bilbao architecture route to a close.
The artisan beer route
If the tapas breaks in the previous itinerary were justified by an interesting but tiring cultural walk, the aim of this route is justified single-handedly by excellent artisan beer. Southwards from the Guggenheim Museum, situated on the banks of the Nervión river, is an extensive array of establishments specialising in beer made without the use of additives, preservatives or any type of pasteurisation.
Going bar hopping with a group is a fun way to soak up Bilbao's spirit at the same time as learning about the familiar yet little-understood world of beer.
The first stop is Bar Singular at number 2 Calle Lersundi. Here you can find types of beer that, by the time you finish the route, you will be very familiar with. For instance, the suggestive lager style of the Czech brand Pilsner Urquell, which shares the bar with a selection of five other beers, both international and local, that are rotated every week. And as if that weren't enough, they also have a modest selection of fifty bottled beers. However, the route doesn't end here, so we suggest sampling one before continuing on your way. Morrocotuda, on the nearby Calle Heros, offers from its four-tap beer tower one purely artisan beer as well as three well known Belgian beers.
'A coffee lab offering urban food' is how the creators of Cinnamon describe it, offering a hint of what can be found on offer in this establishment situated a few steps away from Albia Gardens. Enjoy top-quality coffee, great beer and a well-known local beer, La Salve Lager, on tap. If you prefer small bottles, there is a selection of local, national and international beers to choose between, such as La Socarrada, made with barley malt, honey and rosemary, or Er Boquerón, which includes seawater among its ingredients.
If you have correctly paced yourself at these three establishments, you'll surely want to try more. So, we've got three more suggestions right in the middle of the ancient Casco Viejo quarter. To get there, cross the Arenal bridge, and head down Barrencalle Barrena, one of the original seven streets of Bilbao. There awaits Taberna Zazpi Bide, which dazzles with its lines upon lines of pintxos and Basque and German beers on tap. At Carnicería Vieja 23, another one of the streets that gave rise to Bilbao, is a place of worship somewhat different to the nearby Santiago Cathedral: La Catedral de la Cerveza is a specialist shop that honours its name by boasting more than 500 brands of beer. They regularly organise workshops and tasting sessions in addition to inviting visitors to create their own beer with the kits on sale.
You can meander along the final stretch of the route however you wish. On one side is the La Ribera Market, with its own bar on the ground floor offering spectacular views of the river from its terrace. On the other side, returning to the left bank this time across the La Ribera bridge, is Txinpun, situated at number 14 of the Marzana Pier; many believe its terrace to be in a league of its own. Its gourmet style—it is the sister restaurant of the Michelin-starred Restaurante Mina—guarantees quality in everything that it offers, as diners will be able to attest to. And of course, at this point, your palate will no doubt be able to appreciate what truly makes a fine artisan beer.
Related
plans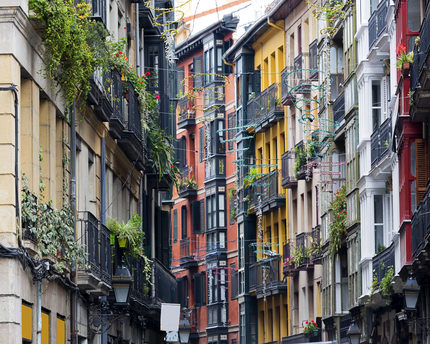 Places of Interest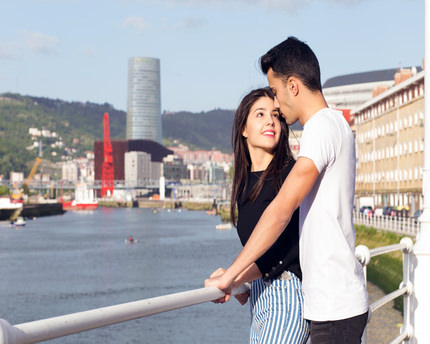 Leisure and Entertainment