Viewpoints in Fuerteventura:
fantastic windows onto the island's beauty
Imagine Fuerteventura like a great volcanic desert in the middle of the Atlantic Ocean; add 300 kilometres of coastline, sand dunes, volcanoes, cliffs, canyons and rugged mountains that offer glimpses of tiny white villages. It's an image that might remind you of several scenes from the Star Wars films and it can be enjoyed from numerous viewpoints dotted across the island.
There's no need to use a drone or book a helicopter ride (although they aren't bad options either) because we're going to reveal the location of the best viewpoints in Fuerteventura. All you need is a car to get from one point to the next so get ready to go exploring!
Morro Velosa viewpoint
This inland viewpoint in Fuerteventura is definitely worth visiting. Situated between the Betancuria massif and Santa Inés valley you'll find an ochre-coloured building with a wooden porch and tiled roof that has views of round-topped mountains, winding canyons and tiny villages scattered among the hills. The building was the work of renowned Lanzarote-born artist César Manrique who aimed to find a sense of harmony between art and nature. The Morro Velosa viewpoint is a natural window onto Betancuria Rural Park.
Guise and Ayose viewpoint
Two statues of impressive menceyes (ancient indigenous kings) can be found in the centre of the island; they have grave expressions and stand almost 5 metres high. These two figures are Guise and Ayose, kings who ruled the villages of Jandía and Maxorata before the Spanish conquest. The two monarchs firmly grasp their staffs and are dressed only in loincloths. The site of these two statues has outstanding views of the north of the island and Betancuria valley.
Las Peñitas viewpoint
An underground river flows under the Las Peñitas canyon between the municipalities of Betancuria and Pájara. That's why, when you visit Las Peñitas viewpoint, you can spot a small green oasis flourishing amid the mountains of this desert region. The view is remarkable thanks to the indigenous plants that proliferate around the underground water source; this spot is also often visited by squirrels.
Risco de las Peñas viewpoint
If you follow the road on from Las Peñitas viewpoint you'll find another impressive place where you should definitely stop the car to enjoy the surroundings. Risco de las Peñas viewpoint is 426 metres high and has spectacular panoramas across the Granadillo valley and the road that winds through the mountains. This area often has squirrels and crows—although it's tempting, remember not to feed them!
Sicasumbre viewpoint
Although every viewpoint on the island is different, each one has an exceptional panoramic view. Sicasumbre viewpoint is striking because it forms a perfect balcony for stargazing; it's decorated with posters that explain the constellations—an extremely helpful detail if you're visiting with binoculars. If you come here in the daytime, you'll also have impressive views of Jandía Natural Park, the Degollada del Viento, Montaña Hendida and Montaña Cardón Natural Monument.
Vallebrón viewpoint
Officially named the Degollada de Valle Grande viewpoint, this spot is better known as Vallebrón and it's located on the side of La Muda mountain. From here you can admire the sacred mountain of Tindaya in all its splendour. Indigenous people who once lived here attributed magic properties to Tindaya, as revealed by the more than 300 foot-shaped carvings that have been discovered here. This solitary mountain, eroded by the passing of time, stands out amid the flat landscape of the island. This viewpoint also has panoramas of the west coast and El Cotillo area.
Sotavento beach viewpoint
Visitors to this viewpoint enjoy the big advantage of being able to go for a swim or spend a day on one of the most beautiful unspoilt beaches on the island. Sotavento beach is actually formed by five tiny coves: La Barca, Risco del Paso, Mirador, Malnombre and Los Canarios. To access the beach you have to follow a dirt track from Risco del Paso beach to the viewpoint on Sotavento beach. A small cabin is perched at the top for shelter in the event of strong winds. This wind is a blessing for fans of surfing, windsurfing and kitesurfing. The distinguishing feature of Sotavento beach is that an impressive landscape of salt lakes is created on the sand at low tide.
Cofete viewpoints
Cofete beach is one of our favourites—it's located in one of the most isolated corners of Fuerteventura making it a wild and unspoilt treasure of outstanding beauty. The 12 km of this golden sandy beach and tempestuous seas can be admired from on high in two different ways. First, from the viewpoint on the unpaved road that crosses the mountains to Cofete beach. It's definitely worth getting out of the car to enjoy these views but remember to take care with the strong gusts of wind in this area. We describe the second way to enjoy views of Cofete below…
Los Canarios viewpoint
By visiting this impressive viewpoint on the Jandía Peninsula you can kill two birds with one stone, as the saying goes. You can admire Cofete and Sotavento beaches from on high, two of the prettiest in Fuerteventura—it was with good reason that Ridley Scott chose this location for the "parting of the Red Sea" scene in his film Exodus. In addition to the beaches, you can enjoy fantastic views of the Pico de la Zarza mountains and stunning Cofete valley that appears to lean towards the ocean.
The four viewpoints
The road between Costa Calma and Pájara has four viewpoints that have panoramas of the Jandía Peninsula, Cardón mountain and La Pared. They are a short distance from one another on the same road and have everything you could want all rolled into one because they're located on an isthmus.
Viewing Fuerteventura's landscapes and appreciating the wild beauty of the 'skeleton isle' as writer Unamuno described it, is easy to do and highly recommended. Feel like a powerful mencey as you gaze down from upon high.
Related
plans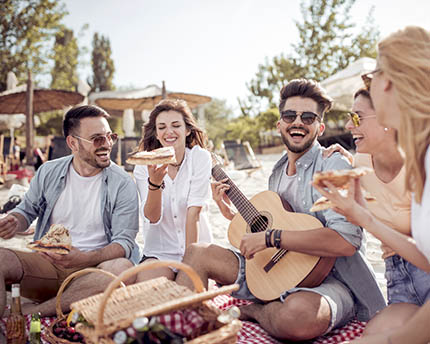 Leisure and Entertainment